Zelle fees for collecting rent payments may make it seem an attractive option for landlords. To collect rent using Zelle only requires your tenants to enter your mobile number or email address. Then, providing you are enrolled with Zelle, rent payments instantly arrive in your bank account. Typically, there are no fees to pay for rent payments.
Zelle is also an easy way for tenants to make rent payments. Using a digital wallet like Zelle is faster and more secure than writing a personal check or using cash for rent. Also, there are no fees to pay to send your monthly rent payment, and you can check your landlord has received the money. All you need to ensure is that your landlord uses Zelle.
But should you use Zelle for rent payments? Are there better digital payment options for landlords to collect rent from tenants? This article answers the vital question — what are the best forms of payments for landlords and tenants? Please read on to find out.
Despite Zelle being free to use for landlords and tenants, there are many reasons to avoid this app for rental payments.
Zelle lacks many features that make sending and receiving rent fast and efficient. For example, a mobile rent collection app like Rentdrop has features specifically designed for tenants and landlords. Tenants can make automatic rent payments for free. Additionally, Rentdrop lets tenants split the rent between roommates, process security deposits, send rent reminders. You can also block a partial payment—something you can't do with Zelle.
You can start using Rentdrop today by clicking below. However, if you're interested in Zelle fees for rent payments, please continue reading.
What is Zelle?
Zelle is a mobile payment service that transfers money between bank accounts. Unlike typical peer-to-peer apps, Zelle is a payment gateway. This means that you don't hold funds in Zelle. Instead, the rent payments go directly into your bank account. If the tenant and landlord use Zelle, there are no fees.
What are Zelle Fees for Rent Payments?
A key difference between Zelle and other peer-to-peer apps (PayPal, Cash App, or Venmo) is that small businesses can use Zelle without paying fees for business transactions. However, there are a few things to know about Zelle fees for rent payments.
For example, Zelle fees depend on your bank or credit union. According to the Zelle Pay website, you may have to pay fees for small business transactions if your financial institution doesn't accept Zelle transfers. In addition, your bank may support Zelle for personal transactions like sending money to friends. However, it may not support business transactions.
Related reading: Should you use Cash App, Zelle, or Venmo to collect rent?
Will Venmo Charge a Fee for Collecting Rent?
Typically, there are no fees to pay to use Zelle to accept rental payments from tenants. However, you must be enrolled in Zelle, and your banking institution must support Zelle bank to bank transfers. If this is the case, the limits for Zelle rent payments are determined by your bank's terms.
Is Zelle Free for Landlords to Use?
Yes, Zelle is free for property owners and landlords to use. The bank-to-bank payment is almost instant, and all rental payments go straight into your bank account. But it's good to remember that Zelle was never designed as a rent collection app. In fact, using Zelle could put your business at risk.
6 Reasons Avoid Accepting Rent Payments With Zelle
Although Zelle is convenient for paying family and friends, it's a lousy option for a landlord. Using P2P payment services removes payment control from landlords, offers no protection, and makes it challenging to track rental payments. In addition, you may have Zelle fees to pay, depending on your credit union or bank.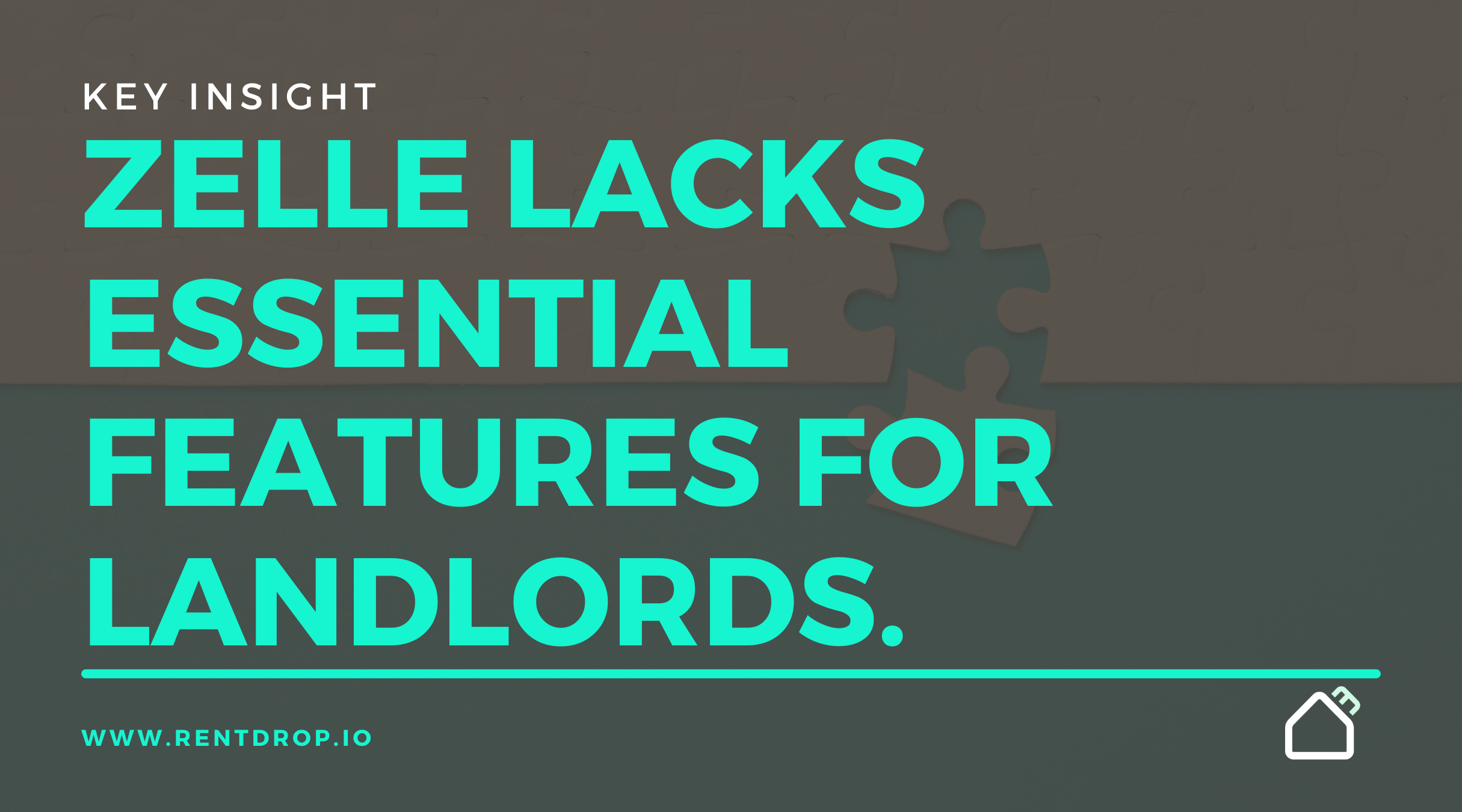 What are the drawbacks of using P2P payment services that make them unsuitable for a successful rental business? Here are six.
1. Zelle accepts partial payments
An important reason to stop accepting Zelle payments is that you can't block a partial rent payment. Zelle facilitates instant transfers, and you can't stop them. In addition, if you are trying to evict a tenant, accepting a partial payment could derail the eviction process.
Suppose one of your tenants constantly makes late rent payments. This is a lease violation and gives you grounds for eviction for non-payment of rent. In this case, your tenant can make a Zelle transfer of a few dollars, and you can't block or stop the payments.
2. No payment protection for landlords or tenants
Payment services like Zelle are designed for sending money to friends or family without transaction fees. Unfortunately, this means there is no protection for landlords when tenants transfer rent money. When the tenant initiates the transfer, they are making an authorized payment. But this can result in disputes between tenant and landlord.
The issue with Zelle is that it's easy to pay money to the wrong person — all the tenant needs to do is put in the incorrect email address. In this case, Zelle won't refund the tenant. It then becomes the tenant's responsibility to get the money back.
In the end, the tenant thinks they've paid rent on time. However, the landlord doesn't receive any payment.
3. Zelle fees for rent payments can be expensive for landlords
Although there are no Zelle fees for personal transactions, landlords may have costs associated with receiving rent payments. This is because each bank determines Zelle fees. For example, you can accept rent payments for free with the Bank of America. However, if you use the US Bank, you will pay 2.5 percent of the rental payment.
Although there are no limits for Zelle transfers and no bank transfer fees, you may face unnecessary costs to run a rental business.
4. Difficult to process rent payments
One of the payment issues with P2P payment apps and gateways is that automatic payments are problematic. For example, there are no features in Zelle or let you set up recurring payments. Like Zelle fees, this option depends on the bank or credit union your tenant uses.
While this may not seem a critical factor, automatic payments are one of the best ways to get your tenants to pay monthly rent on time.
Related reading: The worst methods to collect rent.
5. Zelle lacks crucial features for landlords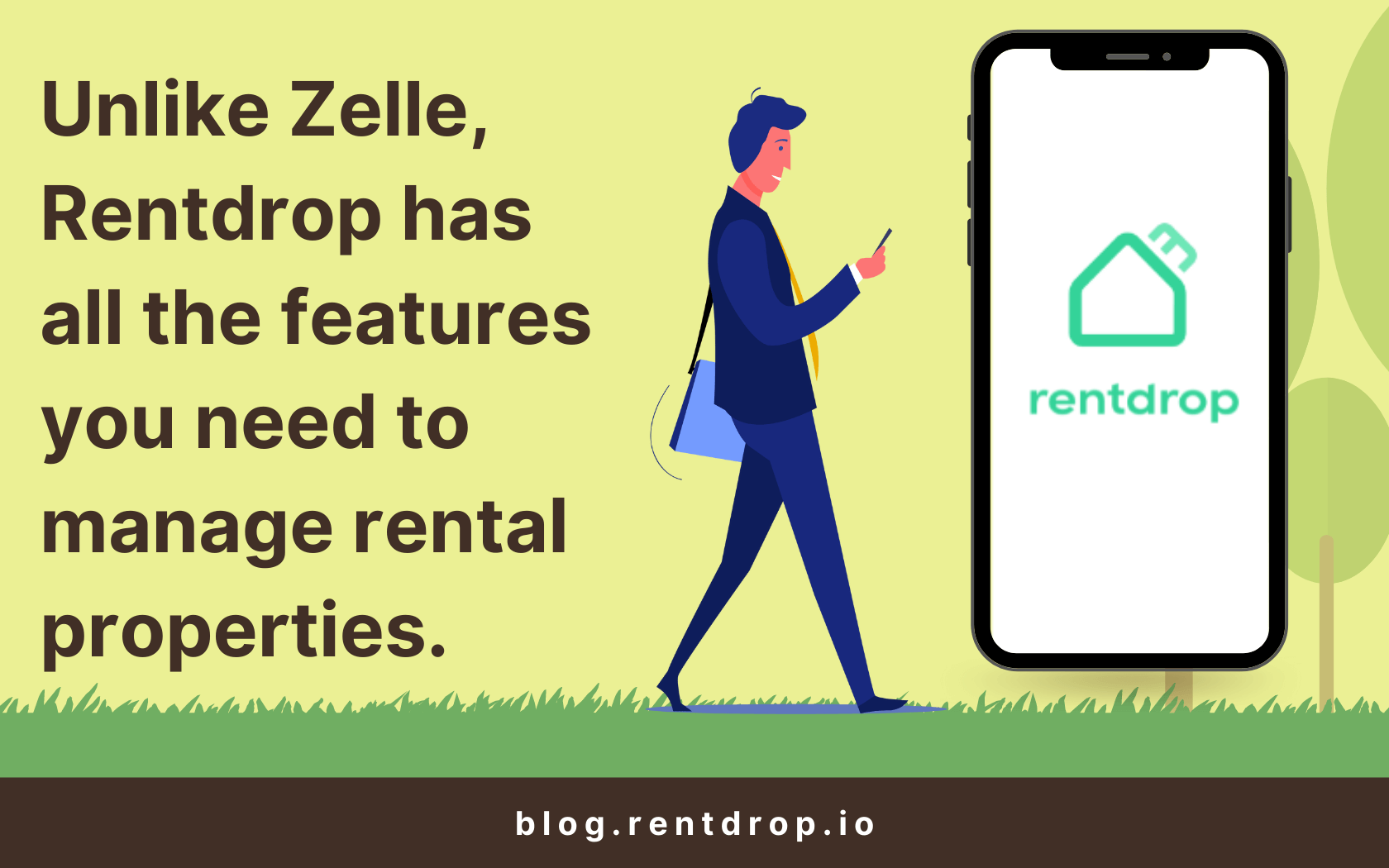 It's easy to see that Zelle was never designed for landlords to accept rent payments. Therefore, by using Zelle, you are missing out on the fantastic features of a dedicated rent collection app like Rentdrop. Here is a list of what many apps for landlords and tenants include:
Block partial payments
Send rent reminders to all your tenants
Tenants can pay rent for free using a debit card or ACH bank transfer
Landlords don't pay fees if tenants use a credit card to pay rent
Let tenants split the rent between roommates
Prorate rent
Let tenants

pay rent on a flexible schedule

— in weekly or biweekly installments
Process security deposits
Free funds transfer to your bank account
Related reading: Guide to being a successful landlord.
6. Alternative rent payment options are better than Zelle
It's easy to see that Zelle isn't the best payment method for your tenants. So, the question is, why continue to use Zelle when there are superior alternative options to collect rent? Using a dedicated rent collection app like Rentdrop allows you to accept online payments for free.
You get all the benefits of online banking without the limits of Zelle. In addition, Rentdrop helps you run a successful rental business with ease — regardless of whether you have one or several rental properties
How to Stop Accepting Zelle Payments for Rent
Landlords have the right to decide on acceptable forms of payment. Typically, you must provide at least two different methods of payment. This helps to ensure that all tenants can pay rent regardless of whether they have internet access or not.
The rental lease should clearly state your rent collection policy. Therefore, you can specify a particular online rent collection method in the lease terms, like Rentdrop or another property management app. In addition, you can provide an option to mail a paper check.
But what if a tenant already uses Zelle to pay rent? In that case, you must wait until the lease renewal before stopping Zelle payments. Then you can add a clause about your rent collection policy. Once the tenant signs the new lease, you can stop accepting Zelle payments for rent.
Zelle Fees for Rent Payments — In Conclusion
You may have to pay Zelle fees if you are a small business. However, savvy landlords know the benefits of avoiding peer-to-peer payment systems like Zelle, PayPal, Venmo, and Cash App. Not only are these apps difficult for collecting rent online, but they could also put your business at risk. So, why not try Rentdrop today to see how it can revolutionize rent collection.