Collecting rent is one of the biggest challenges that landlords face. If you want to run a successful rental property business, rent payments are your primary income source. Finding the best ways to collect rent payments is a top priority for any startup or experienced landlord.
There are many reasons why online rent collection is one of the best options for landlords. Apart from saving time, collecting rent online allows for automated payments, collecting security deposits, and lease management. However, collecting rental payments electronically also benefits tenants.
In this article, you'll find out about the many reasons to encourage tenants to pay rent online.
Before looking at the benefits of online rent payments, it's crucial to talk about one vital subject—the problem with paper checks.
Paper Checks vs. Online Rent Collection
For some reason, many tenants still prefer sending paper checks to make rent payments. Some reports indicate that over 40 percent of tenants still prefer to mail a check rather than pay rent online. But not only does it take longer for the money to get to your bank account, but checks are also a security risk.
Here are three reasons why online rent payments are superior to paper checks:
Checks take time: It can take between five and seven days from when a tenant mails a rent check until the money is deposited in your bank account. When cash flow is a significant issue, no landlord wants to wait that length of time.
Tenants forget: Tenants can easily forget to mail the check. With everyone leading busy lives, rent day can slip past unnoticed. The result is that tenants pay late rent and have late payment fees. Of course, landlords wait even longer for their rent payments.
Checks bouncing and check fraud: Paper checks are subject to fraud. One news report found that check fraud tops $15 billion in the US. Then there's the issue of checks bouncing where tenants don't have enough in their bank to cover their rental payment.
7 Reasons Why Landlords and Tenants Prefer Paying Rent Online
With more people switching to online banking and shopping, it makes sense to use online rent payment services. Here are some of the benefits of collecting rent online.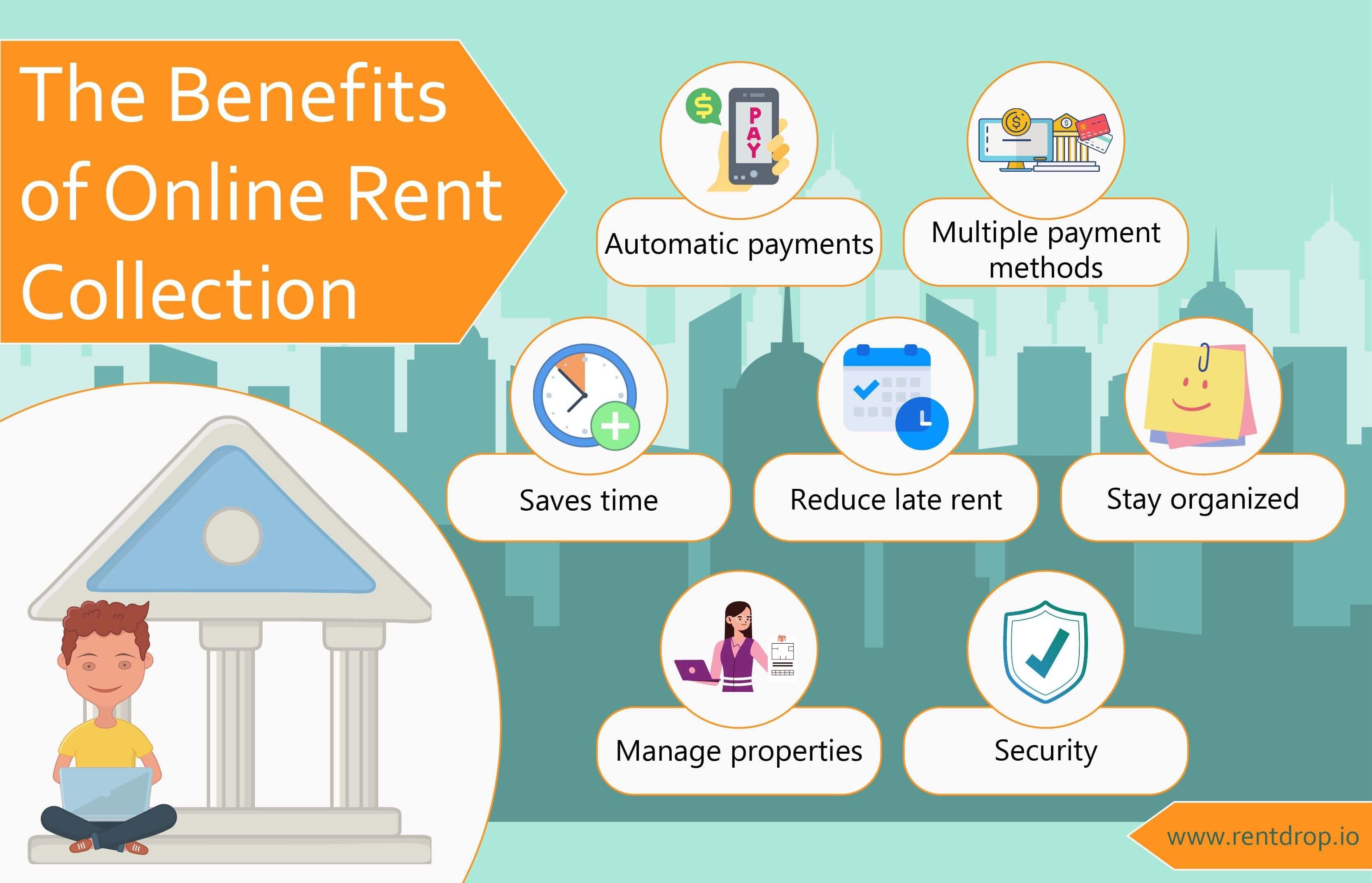 1. Accepting online rent payments saves time
The rent collection process can be a laborious task. Usually, accepting rent checks involves driving to the post office and then to the bank to deposit the check. Then, you need to wait until the check clears. But accepting any form of E-payment method does away with the time it takes to deposit checks.
The benefit to you is that you have more time to focus on your business's core aspects. You can use the extra time for rental unit maintenance or improving landlord-tenant relationships.
2. Set up automatic rent payments
If you use a rent collection app such as RentDrop, it's easy to set up automatic payments. Most landlords find that recurring payments are the best way to ensure tenants pay rent on time. This option also benefits tenants as it's one less thing to worry about. The result is that more tenants make rent payments on time.
3. Online rent collection allows for multiple payment methods
When you migrate to online rent payment systems, you give your tenants more rent payment options. For example, tenants can pay rent directly into your bank account with ACH transfers. But they can also pay rent by credit card, debit card, or eCheck.
Of course, there are many ways to make online payments—PayPal, Zelle, Skrill, etc. But using a rent collection app is superior to any other method of collecting monthly rent. For example, allowing tenants to pay with a service such as PayPal means they can make partial payments. If you have to start an eviction process, it can be difficult to evict tenants who make partial payments.
4. Online rent collection services reduce late rent payments
Landlords who get their tenants to pay rent online find that late rent payments decrease to a minimum. Not only can tenants set up automatic rent payments, but landlords can also send out reminders. This way, it's easier for renters to remember when their monthly rent is due.
The best rent collection apps have easy functions to set up rent payment reminders and automatic payment schedules.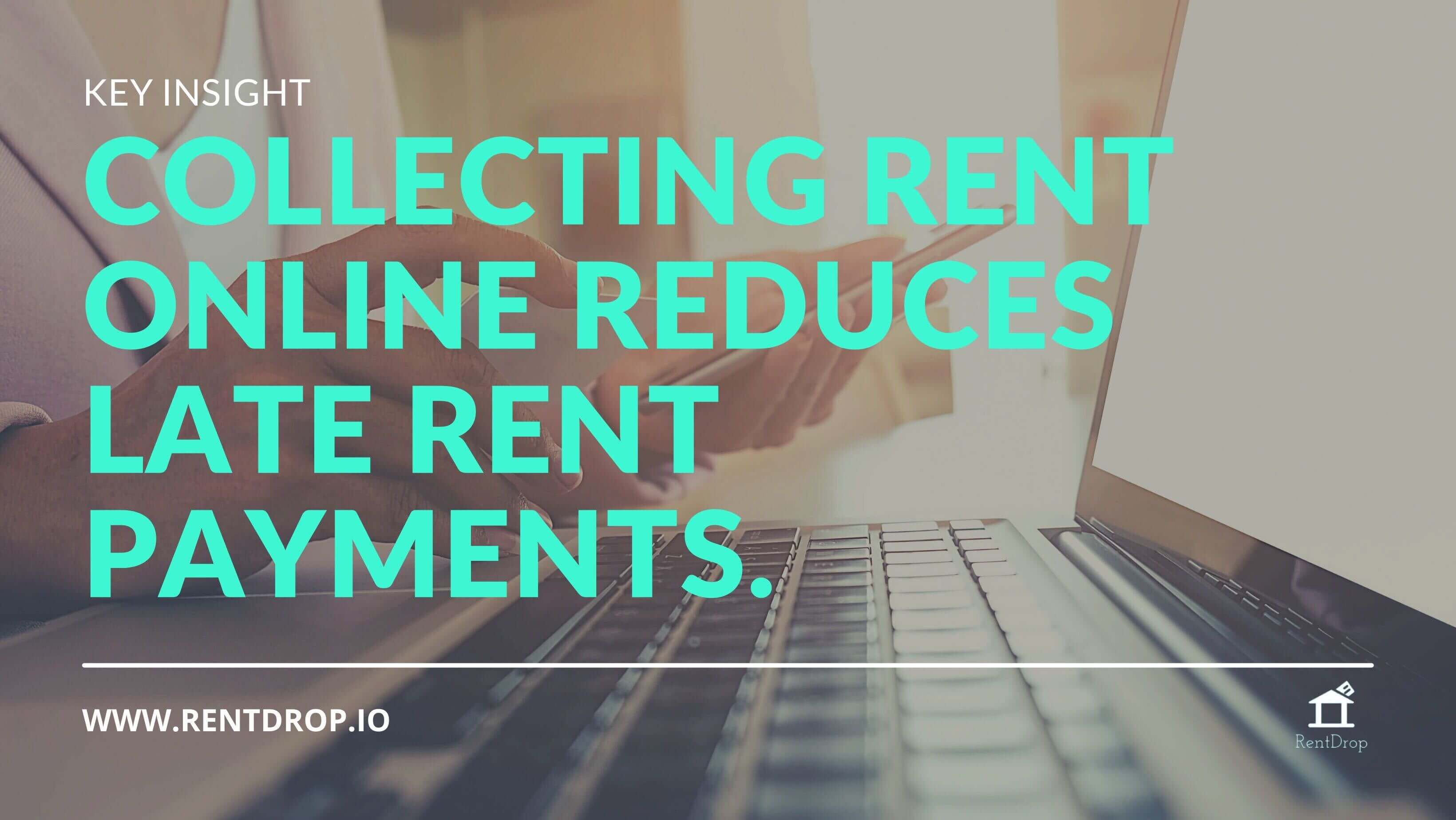 5. Rent collection software helps landlords stay organized
Collecting rent online using an app helps keep you organized. There are many benefits for you and your tenant.
First, all sensitive information is kept in one place in an encrypted, secure environment. This means you can quickly see if a tenant has paid or not. The best rent apps let you manage rental applications, eSign documents and accept maintenance requests. Of course, if you have one or two rental units, it's easy to stay organized. But if you have to manage multiple properties, then using a rent collection app is a must.
The benefits to your tenants are improved relationships. You no longer need to check through paper files to find out if someone has paid or not. So, no more misunderstandings about late rent fees or missed rent payments.
6. Online rent payment apps have many features
If you use a full-featured rent payment app, the chances are that you'll have many more features to use.
Here are some of the property management features that many rental apps include:
Automatic rent payment schedule
Automatically calculate late fees
See rent payment status in real-time
Accept security deposits
Maintenance tracking feature
Set up monthly reminders to pay rent
Tenant screening and background checks
Accept rental applications and eSign lease documents
7. Collecting rent online is the safest method
One of the most significant benefits of online rent collection is that it's safe. Tenants can pay rent every month, safe in the knowledge that their paper check won't go missing. Also, there are many regulations and safety measures in place to prevent online fraud and data breaches.
Online Rent Collection — In Conclusion
There are many simple solutions to collect rent online. Using a free rent collection app such as RentDrop saves landlords time, cuts down on stress, and helps streamline a lucrative rental business. Because online rent collection reduces late rent payments, landlords find that their cash flow significantly improves.
Tenants also love paying rent online because they can automate payments and avoid paying late fees.