An income verification letter is a vital part of the rental application process. Getting proof of income helps to ensure that prospective tenants can pay rent on time. You can also check sources of income with W-2 tax forms, pay stubs, bank statements, and tax returns. An employment verification letter from the tenant's employer can help to confirm their earnings.
Checking a potential tenant's income is one way to find good tenants for your rental property. Of course, thorough tenant screening also involves credit checks, rental history, references, and background checks. In the end, you need to find the right tenant who pays rent promptly and looks after your property.
Depending on a person's work status, verifying monthly income can be challenging. Someone could be self-employed, recently changed jobs, or run their own business. Also, tenants can be sensitive about revealing information on their finances.
However, someone who doesn't want to provide financial details to a landlord may have something to hide.
This article shows you how to check an applicant's income during the screening process.
What is Proof of Income?
Proof of income is a financial document that landlords use to confirm a rental applicant's earnings. For rental property owners, this information helps to see if the person can afford the monthly rent. Ideally, the monthly rent should be 30 percent of the tenant's monthly income.
Proof of income for rental applications includes the following:
Tax returns
Pay stubs
1099 forms
Banks statements
Social security documents
Income verification letter from employer
Pension
Court-ordered payments
When it comes to confirming a tenant's finances, it's best to get more than one proof of income. For tenants receiving paychecks, you should get an income verification letter from their employer.
Income Verification Letters for Rental Applications
Various types of income verification letters assist landlords in choosing the right tenant. The most common type of letter is from a prospective tenant's employer. However, some tenants may provide workers compensation letters or court-ordered award letters. These documents can help you decide if the candidate is a suitable tenant.
Here are four types of letters that can help determine income.
Income verification letters from employers
If your prospective renter works for a company, get an income verification letter from the employer. This letter should state the applicant's position and length of employment. It's also helpful if the letter confirms how much they earn and gives a brief character reference.
This letter is a helpful way to screen tenants. You can also use the employer's letter to confirm W-2 pay stubs. However, not all employers are willing to share this information.
Letter to verify income from courts
A tenant who receives worker's compensation can provide a letter from the insurance company. This letter verifies how much money the person gets due to a workplace accident. The amount of payment can be added to other sources of income the tenant provides.
Written proof of court-awarded income
What if the rental application shows that a divorced or single parent is applying to rent? In that case, a letter from the courts specifies the amount of child support or monthly alimony they receive. You can confirm this amount in bank statements the potential renter provides.
Benefit verification letter
Section 8 tenants can get a "benefit verification letter." A letter from the Social Security Administration (SSA) can confirm their monthly income. Usually, tenants receiving rental housing assistance can request a letter to verify income. Anyone receiving Social Security Income (SSI) or Social Security Disability Insurance (SSDI) can get this letter.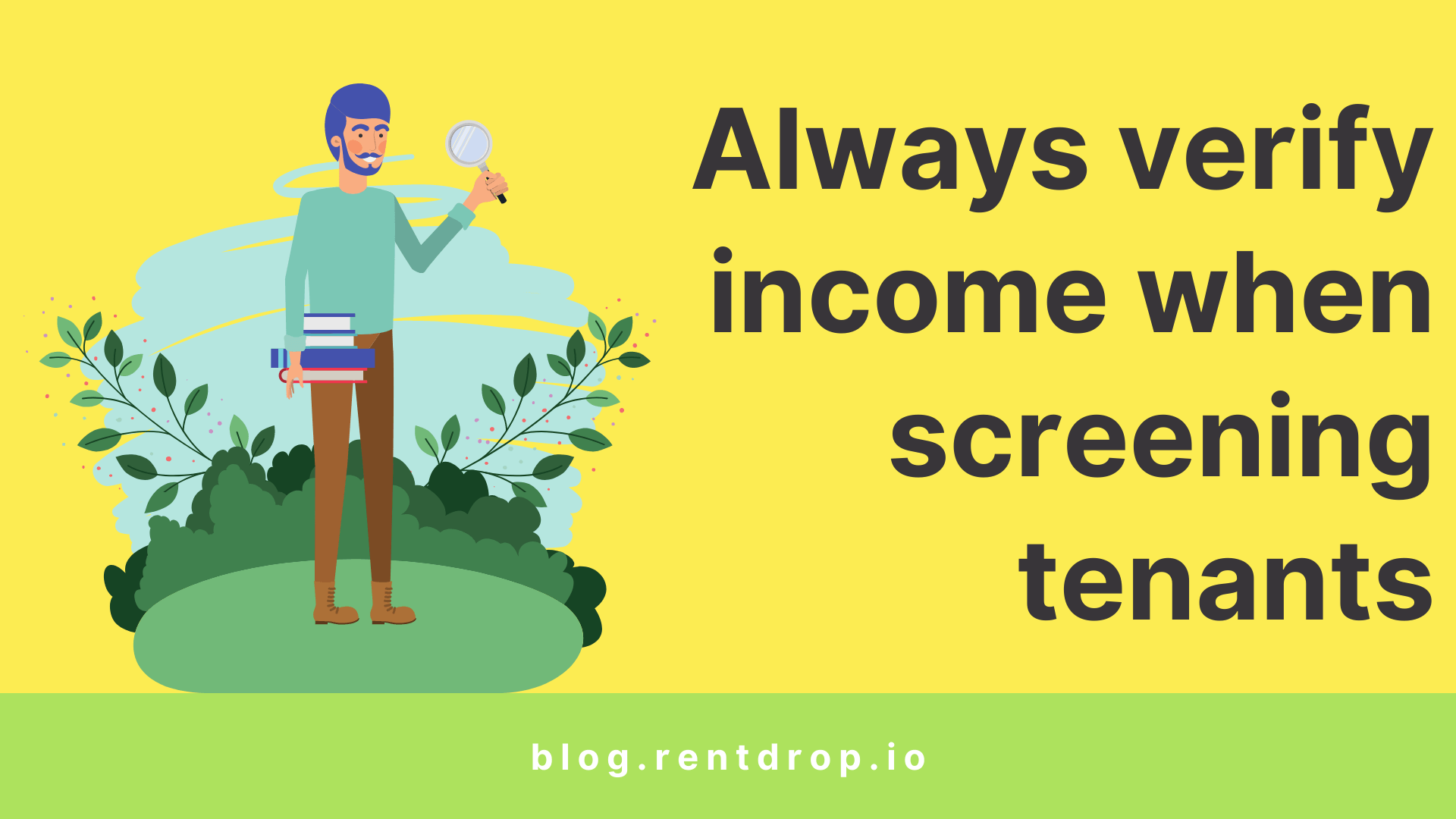 How to Verify Tenant's Income Using an Employer's Letter
The tenant employment verification letter should have the employer's contact information, length of employment, and applicant earnings. But it's always best to verify this information. After all, it's easy to fake a reference letter.
How can you use the letter to check that the tenant can afford rent? First, confirm that the employment address and phone number match public records. Second, when you call, ask to speak to the reference person on the letter. The next step is to ensure the information the tenant provided is correct.
Here are some questions landlords can use to verify a tenant's income:
Can you please confirm that [tenant's name] has worked for you since [date on reference letter]?
What is their position in the company?
Can you verify that [tenant's name] makes [salary]?
Is [tenant's name] a trustworthy employee?
Of course, an employer may not want to give out information about pay or give a character reference. However, you should at least be able to confirm the tenant's employment status.
Tenant Screening — Common Income Verification Methods
When screening potential tenants, you must check for a steady income to ensure they can afford rent. Let's look at the most common ways to check that your rental application meets your income requirement.
1. Pay stubs
Pay stubs can help determine how much full-time or part-time employees earn. Ask to see earnings from the previous two or three months. Getting pay stubs lets you know how often they are paid and what their salary is.
2. 1040 Tax return
The 1040 tax return is the best way to determine if a rental applicant can afford the monthly rent. The 1040 tax return shows their gross income, wages, and other sources of income. You can also check previous addresses and their social security number—useful when screening tenants.
3. W-2
The W-2 form is a useful financial document to check an applicant's declared income from the previous year.
4. 1099 form
Self-employed individuals usually provide a 1099 form. This proof of income can help to determine how much they earned the previous year. Others who may submit 1099 forms are gig workers, contract workers, or employed workers who also work self-employed.
5. Bank statements
Bank statements are useful to confirm income when screening self-employed tenants. Some renters also provide bank statements as secondary proof of income. You can also use bank statements for screening purposes. For example, you can check for bounced checks, regular utility payments, and previous rent payments.
6. Employer's income verification letter
Use a letter from the tenant's employer to verify information about wages. Of course, this shouldn't be the only proof of income you request. However, the letter is useful to confirm details.
7. Social security benefits statement
Anyone receiving a pension or disability benefit can provide a social security statement. Also, if you are renting to Section 8 tenants, you will need more information. Typically, income from social security tends to be low. So, it's wise to ask for bank statements to confirm they can afford their rent payment.
Letters and Documents to Verify Income
When screening potential tenants, it's wise to check two or three sources to verify income. For example, with pay stubs, you should also get a letter from the employer. Then you should call the employer. With tax returns from self-employed tenants, ask for bank statements.
Remember giving false information is a huge red flag. A potential tenant who tries to hide something can mean big problems for you down the line. It is always best to refuse applicants who lie during the rental application process.
The screening process takes time, but you shouldn't skimp on it. Processing rental applications correctly gives you an idea of the tenant's past. You can use the information to determine if they can pay rent and look after your property.
If you are sure about the tenant's income, you may decide to sign the rental lease. It is always best to collect rent and the security deposit online. Not only is online rent collection more secure, but it also helps tenants pay on time. Then, only after you have received the security deposit or first month's rent should you hand over the keys.
Income Verification Letters — In Conclusion
Verifying a tenant's income is crucial for the success of your business. Taking the time to process applications is a wise investment that pays off. Having good tenants in your rental units saves you time, money, and headaches in the long run.
To save even more time, savvy landlords use automated ways of screening tenants. For example, RentDrop streamlines the work of being a landlord. Collecting rent online, processing rental applications, screening tenants are just some of the automated features in RentDrop.