Collecting rent from tenants is the lifeblood of any successful rental business. So, it makes sense for landlords to look for a convenient, secure, and easy way to collect rent. However, any rent collection method must be easy for tenants to use. While cash and check are the traditional methods for rent payments, there are many better ways to collect rent.
The most common digital payment apps are Venmo, Zelle, and PayPal. These mobile peer-to-peer payment apps are popular with tenants who use them to pay all kinds of bills, including rent payments. But are these payment methods the best options for landlords?
Rentdrop surveyed landlords across the country to get their opinions on using Zelle, Venmo, or PayPal for rent payments. Their valuable insights into using a mobile payment service can help you choose a suitable form of payment to collect rent. In addition, you'll find out about fast, secure, and convenient options for tenants to pay rent.
Do you want to switch to the convenience of collecting rent online? Would you like to offer your tenants an alternative rent payment option to sending a check or making cash payments? What are the advantages of using a dedicated app for making a rental payment? This article answers questions about the best methods to collect rent payments from tenants.
Challenges of Online Rent Collection
Surprisingly, sending a paper check to pay rent still seems the method most tenants prefer. From the tenant's perspective, this rent payment method is easy. Write a check, mail it, and forget about it. But from a landlord's point of view, processing rent checks is cumbersome.
Apart from taking five to seven working days to process, there is always the chance of rent checks missing in the mail or bouncing.
Interestingly, even though many alternative options exist, not all tenants use online payment methods for rent. For example, the Federal Reserve Bank of Boston reported that the primary methods for paying rent are cash and check, making up 64 percent of all tenants.
What do landlords say about paying rent by check? Fort Worth real estate expert Brady Bridges says that many tenants still prefer the cash or check method for rent payments. However, tenants belonging to millennium and Gen-Z are more willing to use dedicated apps. The reason? Brady says that features like automatic payments and flexible payment options make paying rent easier for tenants.
Many landlords or rental property owners are shifting toward using payment apps for rent. So, let's look at what landlords are saying about the three most popular digital wallets for rent payments — Zelle, PayPal, and Venmo.
Venmo for Rent Payments
Venmo is a popular P2P payment service to make instant transfers. All the tenant must do is enter your email address or username to make the rental payment. However, business owners like landlords must pay a transaction fee for business payments. In addition, there are no features for automatic payments.
What do landlords and real estate investors say about using Venmo for rent payments?
According to Leonard Ang, CEO of iPropertyManagement Leasing, Venmo isn't that great for landlords. In his experience, Venmo doesn't do as much as advertised. Additionally, the fees associated with digital payment apps make it difficult to calculate the cost of doing business. Also, changes in regulations can make it hard to keep up with settling on the best app.
Although Venmo is excellent for sending money to friends and family, it's not great for paying rent. In fact, Venmo lacks many features you require to run a successful rental business. For example, this app is missing rent reports, recurring payments, rent payment reminders, and blocking partial payments.
Related reading: Why you should avoid Venmo for rent payments.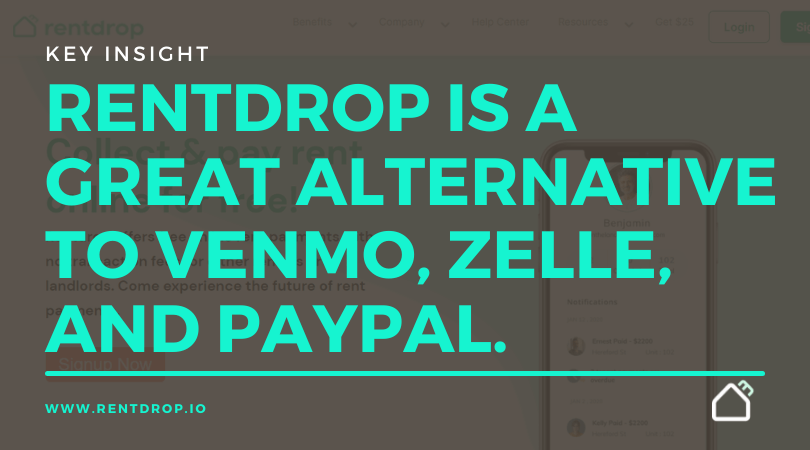 Zelle for Rent Payments
Zelle is a banking app to transfer money between bank accounts. Although it seems a simple way to make a rent payment, several issues make it useless for landlords. For example, you must have the app on your phone, and your bank or credit union must support Zelle payments.
What do landlords and rental property owners say about using Zelle for collecting rent online? Here are a few insights.
Full-time residential real estate developer in Chicago Bill from Blue Ladder Development has experience with Zelle. Bill says that Zelle's biggest payment issue is its maximum dollar amount. For example, due to Zelle transfer limits, one tenant had to make several payments over several days to pay the monthly rent.
However, there are other compelling reasons to avoid using Zelle for accepting electronic payments. For example, it's impossible to block a partial payment. In addition, although tenants can set up automatic payments, this feature is dependent on the bank. Also, it's impossible to report rent payments to credit unions — a handy feature for tenants in most rent payment apps.
Like the other popular digital wallets, Zelle fees for rent payments can make the app expensive for landlords.
Related reading: Zelle vs. Venmo for rent payments.
PayPal for Rent Payments
PayPal is a P2P payment app designed to transfer money between friends and make instant money transfers. Tenants can also use PayPal to pay rent by entering the landlord's mobile phone number or email address. However, landlords and property owners must pay fees for business transactions.
What do landlords say about using PayPal as an alternative payment app to collect rent money online? Interestingly, from landlords' comments, PayPal is the least popular of all the peer-to-peer apps. Here's what they have to say.
For Mitchell David of Beach Life Ocean City, processing fees for rent payments are the biggest pain point of using PayPal. For example, PayPal charges landlords 2.9% for each transaction, and landlords, not the tenant, must pay this. This means that rental property owners with several units spend a considerable amount on fees, which bites into profit margins.
Brady Bridges (quoted earlier) agrees. He says that landlords with multiple tenants must pay hundreds of dollars a month on fees. Also, PayPal lacks handy features like automatic payments and options for roommates to split rent.
From all the apps for landlords, PayPal comes out last in terms of popularity. However, there are plenty of reasons to avoid PayPal for rent payments. For example, because transfers are instant, there is a possibility that a tenant could pay the wrong person.
In addition, PayPal doesn't have options to block a partial payment, charge late rent fees, or report rent to credit bureaus.
Related reading: Reasons to stop using PayPal to collect rent.
What is a Rent Payment App?
An app for tenants to pay rent has all the convenience of using a digital wallet. However, unlike PayPal, Zelle, and Venmo, a rent payment app is packed with features that landlords and tenants need. In addition, using a dedicated app like Rentdrop simplifies the rental process for tenants and landlords.
What are the many features of a dedicated rent collection app? Here are reasons why a rental app can help streamline your business.
Use rent payment app to accept online payments
Using a rent collection app lets you ditch paper checks and accept ACH direct deposits, credit card, and debit card payments. Online transactions are secure and give you a permanent record of rental payments. In addition, offering tenants multiple forms of payment minimizes late rent payments or defaults.
When choosing a rent payment app, make sure that you don't have to pay any transaction fees. For example, some property management apps like Buildium charge a fee for each incoming transaction. However, other rent collection apps like Rentdrop don't charge landlords a cent.
Block a partial rent payment
The feature to block a partial payment is one of the most compelling reasons to choose a dedicated rent payment app. Blocking partial rent payments is necessary when evicting a tenant for a lease violation. However, the banking app Zelle, PayPal, and Venmo don't allow landlords to turn off payments or cancel payments.
Partial payment blocking is a standard feature of trusted rent payment apps. For example, suppose you are evicting a tenant. In that case, you can set the app only to accept the rent payment in full. This means that a tenant can't derail the eviction process by paying a few dollars in rent.
However, when choosing a payment app for your business, make sure it can block a partial payment. The best landlord apps like Rentdrop have this feature as standard. However, popular rent payment apps like Apartments.com (Cozy), Rentler, Innago, and RentRedi lack this vital feature.
Automatically charge late rent fees
Charging late fees automatically is another helpful feature that a mobile payment app lacks. Rent payment solutions like Rentdrop adds late rent fees automatically. This handy feature cuts down on many admin tasks and helps avoid disputes with tenants.
Send payment reminders to tenants
A rent payment app can stabilize your cash flow because it automatically sends reminders to tenants. Let's face it — we're all busy. And it can be easy to forget to pay a bill. So, sending a regular reminder before the rent due date can ensure you always collect rent from tenants on time.
Automatic rent payments
Setting up recurring payments is another way to collect rent from tenants every month. Unfortunately, most digital wallets lack the feature to set up recurring payments. This means that you risk missing a rent payment because a tenant forgets. However, most rent payment apps like Rentdrop support automatic payments.
Report rent payments to credit bureaus
Letting tenants report rent payments to credit bureaus is an excellent way to build their credit score. Think about it — the monthly rent payment is the largest recurring payment your tenants have. So why not let them report this to credit reporting agencies?
There are also benefits to you as a landlord by reporting rent payments. First, tenants have a strong incentive to pay rent on time. They are less likely to miss a rent payment when they realize their credit score will take a hit.
Also, offering to report rent to credit bureaus encourages tenants to stop using PayPal, Venmo, or Zelle for rent payments and switch to your preferred payment method.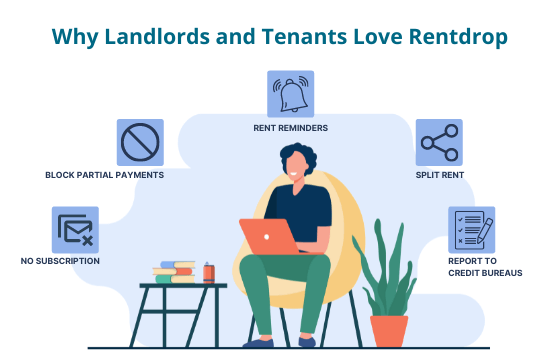 Alternatives to Venmo, Zelle, and PayPal for Rent Payments
Landlords have plenty of alternatives to digital wallets for collecting rent online. One alternative is Rentdrop — a fee-free rent payment and collection service packed with handy features. Landlords can receive rent from tenants for free. So whether your renters use a debit card, credit card, or direct deposit, you never pay a fee.
However, Rentdrop offers more than just free rent collection for landlords. It has a host of features for tenants. Here is a list of what Rentdrop includes:
No subscription fee
Receive funds in four business days or fewer
Block a partial payment
Report rent to credit bureaus (coming soon)
Split rent with roommates and co-tenants
Send payment reminders
Tenants can set up recurring rent payments
You can sign up to Rentdrop for free and start receiving online rent payments from tenants.
In Conclusion
Collecting rent online is faster, more secure, and convenient for landlords and tenants. However, choosing the right online payment solution is critical to keep tenants happy and streamline your business operations. That is why choosing a dedicated rent collection app is the best choice.
Rentdrop is an online rent tool designed specifically for tenants and landlords. It has features that typical digital wallets lack. You will find that using Rentdrop saves you time and money, allowing you to concentrate on your core business.