High Venmo weekly limits mean that many tenants and landlords use the instant money transfer app for rent payments. Venmo weekly spending limits are divided between personal payments and business payments, like paying rent. In addition, the app has a high per transaction limit, meaning it's suitable for most landlords and property managers. But does Venmo's high spending limit mean you should let tenants use Venmo for rent payments?
Collecting rent on time is a key priority for all successful landlords. Therefore, choosing the best online payment service to simplify the rental process makes sense. However, this requires the rental payment app to have excellent tools for tenants and landlords. Handy rent collection tools include automatic payments, late fee calculation, rent payment reminders, rent splitting, and options to block a partial payment.
Of course, like Venmo, which offers various payment forms, an online rent payment solution should allow tenants to pay rent with a debit card, credit card, or bank transfer.
When using Venmo for rent payments, it's worth considering all aspects of rent collection. How does Venmo work for paying rent? Are there limits to Venmo if your tenants want to use the digital wallet to make monthly rent payments? This article explores the pros and cons of Venmo for rent collection, including how Venmo limits can impact your rental income and cash flow.
What is Venmo For Rent Payments?
Venmo is a peer-to-peer payment app that makes it easy to send money to friends and pay for online services, like sending rent money. Venmo connects to your bank account or debit card. You can also use the Venmo credit card for rent payments to take advantage of special offers.
To pay rent using Venmo, a tenant must tap on "Pay or Request." They then enter the landlord's username, email address, or phone number. After that, they enter the rent amount, what the payment is for, and tap send. The rent money instantly transfers to the landlord's bank account.
Venmo Weekly Limits for Rental Payments
Venmo weekly limits make it suitable for most landlords to collect rent payments from tenants. However, both the tenant and landlord must be authorized users. Therefore, Venmo limits can make paying rent impossible if a user hasn't completed identity verification. Venmo also limits free rent payments because landlords must pay Venmo fees for business transactions.
What are Venmo's weekly limits for transferring money between friends and making business payments? Here are Venmo limits:
Payments to users who haven't completed identity verification: $299.99
Person-to-person payments: $4,999.99
Authorized merchant payments: $6,999.99
It's important to note that the same limits apply to using a Venmo Mastercard debit card to pay rent. Also, there is a limit on individual Venmo transactions. For rent payments, this is capped at $2,999.99.
How could Venmo limit or impact your rental cash flow? First, the limits on Venmo transactions mean that you must verify your identity. Otherwise, using Venmo for rent payments is impossible because of its weekly limit of $299.99.
Suppose the monthly payment is more than $3,000. In that case, using Venmo to pay rent is problematic because a tenant would have to make two Venmo payments. Paying rent this way doesn't seem very professional, especially when there are suitable alternatives to Venmo for rent collection.
Limits Using Venmo to Pay Rent
Venmo limits rent collection in several ways, making paying rent online tricky. Even if you charge less rent than the maximum "per transaction limit," Venmo lacks many tools tenants and landlords need for rent payments. In fact, online rental payments are the only advantage of Venmo compared to accepting rent checks.
What are compelling reasons to look for free alternatives to Venmo if you want to run a successful rental business? Here are a few reasons why Venmo is a lousy payment solution for tenants and landlords.
Venmo limits your options to block a partial rent payment
Venmo has restrictions on blocking a partial payment because you can't decline rent money from a tenant. Blocking a Venmo payment is vital if you must evict a tenant for non-payment of rent or another lease violation. In many states, accepting a partial payment halts eviction proceedings, and you must start eviction action again the following month.
Venmo limits on partial payment blocking can result in additional expenses for you. The eviction process is expensive and lengthy, and you typically must get a delinquent tenant out as soon as possible. Unfortunately, accepting Venmo rent payments could severely impact your cash flow.
Related reading: PayPal vs. Venmo for rent payments.
Venmo charges fees for accepting rent payments
Tenants can pay rent for free using Venmo. However, landlords and rental property owners must pay Venmo fees for rent payments. This is because Venmo charges business fees, making it an expensive solution for collecting rent online. How much are Venmo fees for business owners?
According to Venmo, business owners are charged fees for every incoming payment over $1.00. The standard Venmo fee is 1.9% + $0.10 per transaction. Although Venmo calls this a "low fee for every payment," Venmo fees add up to thousands of dollars in unnecessary costs throughout the year.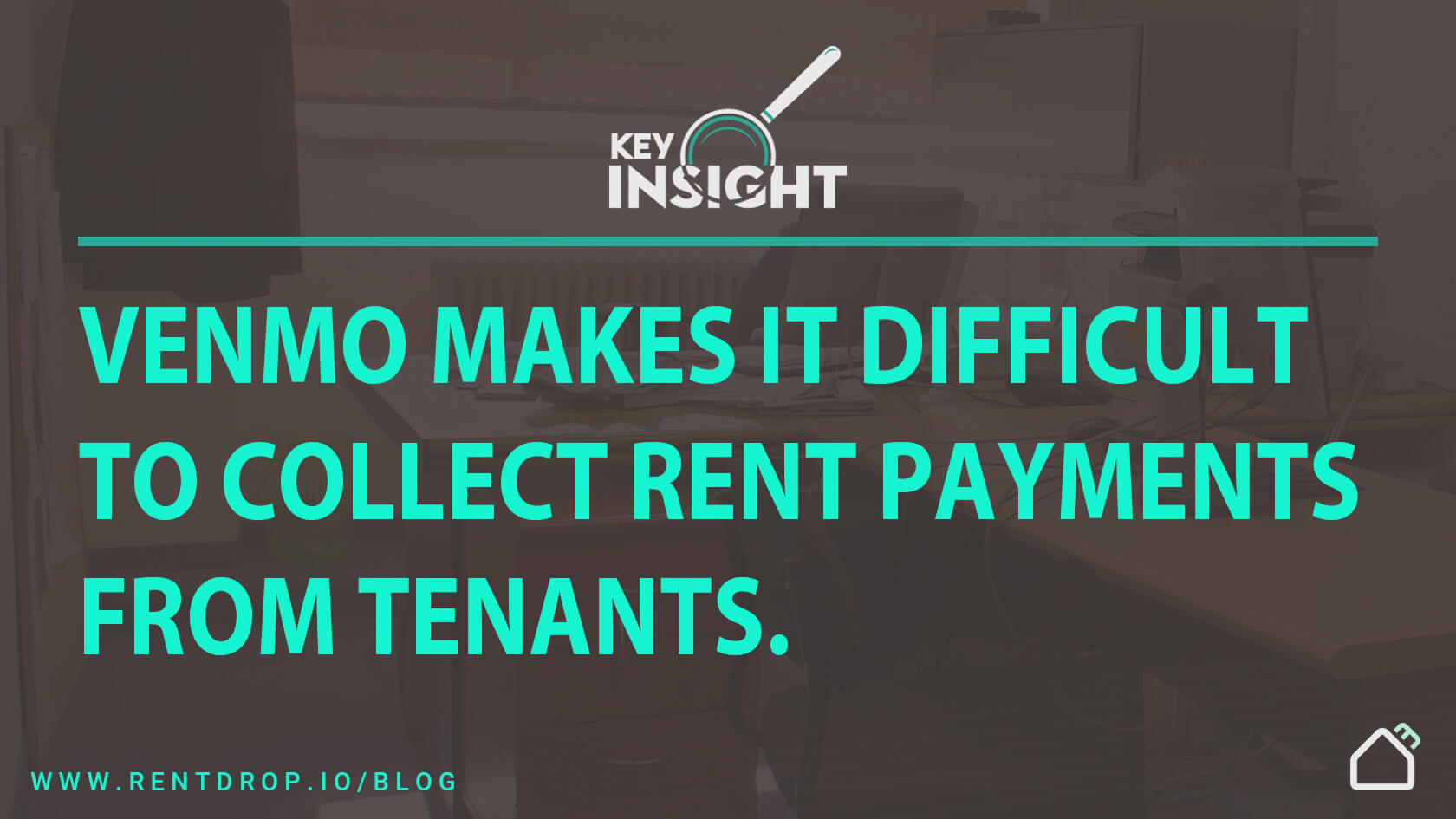 Suppose you manage four rental properties, each with an average monthly rent of $1,700. That means that you must pay nearly $130 per month in business transaction fees. During a year, the cost of using Venmo for rent collection amounts to over $1,500.
Venmo limits automatic rent payments
One reason to avoid using Venmo to collect rent from tenants is that they cannot set up recurring payments. However, setting up automatic rent payments has advantages for tenants and landlords. First, they simplify the rental process for tenants because, once the payment is set up, the rent month transfers automatically on a set date.
Recurring payments also improve your cash flow situation. For example, giving tenants the ability to set up automatic rent payments results in fewer missed payments. This results in stable rental income, and you avoid charging tenants late rent fees.
What does this mean if you run a rental business? The lack of recurring payments in Venmo could put your rental income at risk. For example, suppose two or three tenants miss a rent payment because they forgot. In that case, you may be unable to make mortgage payments or pay other essential bills.
Related reading: Which is best, Venmo, Zelle, or Paypal for rent payments?
Venmo lacks rent payment protection
Like most mobile payment apps, Venmo doesn't have purchase protection for business owners. In addition, Venmo was not designed for rent payments. Therefore, if the rent money mistakenly ends up in the incorrect bank account, there is no chance of reimbursement. Unfortunately, payment issues with Venmo can happen if the tenant mistakenly pays the wrong person.
Using Venmo to pay rent requires a tenant to enter monthly payment details. But suppose the tenant enters the wrong mobile number or username. In that case, you won't receive the rent money. Additionally, Venmo customer service won't help to return the money. It's up to the tenant to try can get the money back.
Venmo doesn't automatically charge late rent fees
A disadvantage of using Venmo as a payment option to collect rent is that there is no option to charge late fees automatically. It means that you would have to calculate late fees every month for each tenant who misses a payment. This increases the risk of mistakes and disputes with tenants.
The advantage of choosing a dedicated rent payment app over Venmo is the feature of calculating and charging late fees. The app will automatically make the appropriate charge to the following month's rent.
Here are several reasons why this feature benefits landlords and property managers:
Save time on calculating the correct amount of late fees to charge
Avoid mistakes because the calculating happens automatically
Prevent disputes with tenants
Avoid violating the Fair Housing Act because you treat all tenants the same
Alternative to Venmo for Rent Payments
Venmo lacks vital tools for landlords and tenants to make rent payments. Therefore, it makes sense for savvy landlords to look for free rent payment apps with features that Venmo lacks. A dedicated app rent collection app should make it easy for tenants to pay rent. Additionally, it must give landlords suitable payment controls.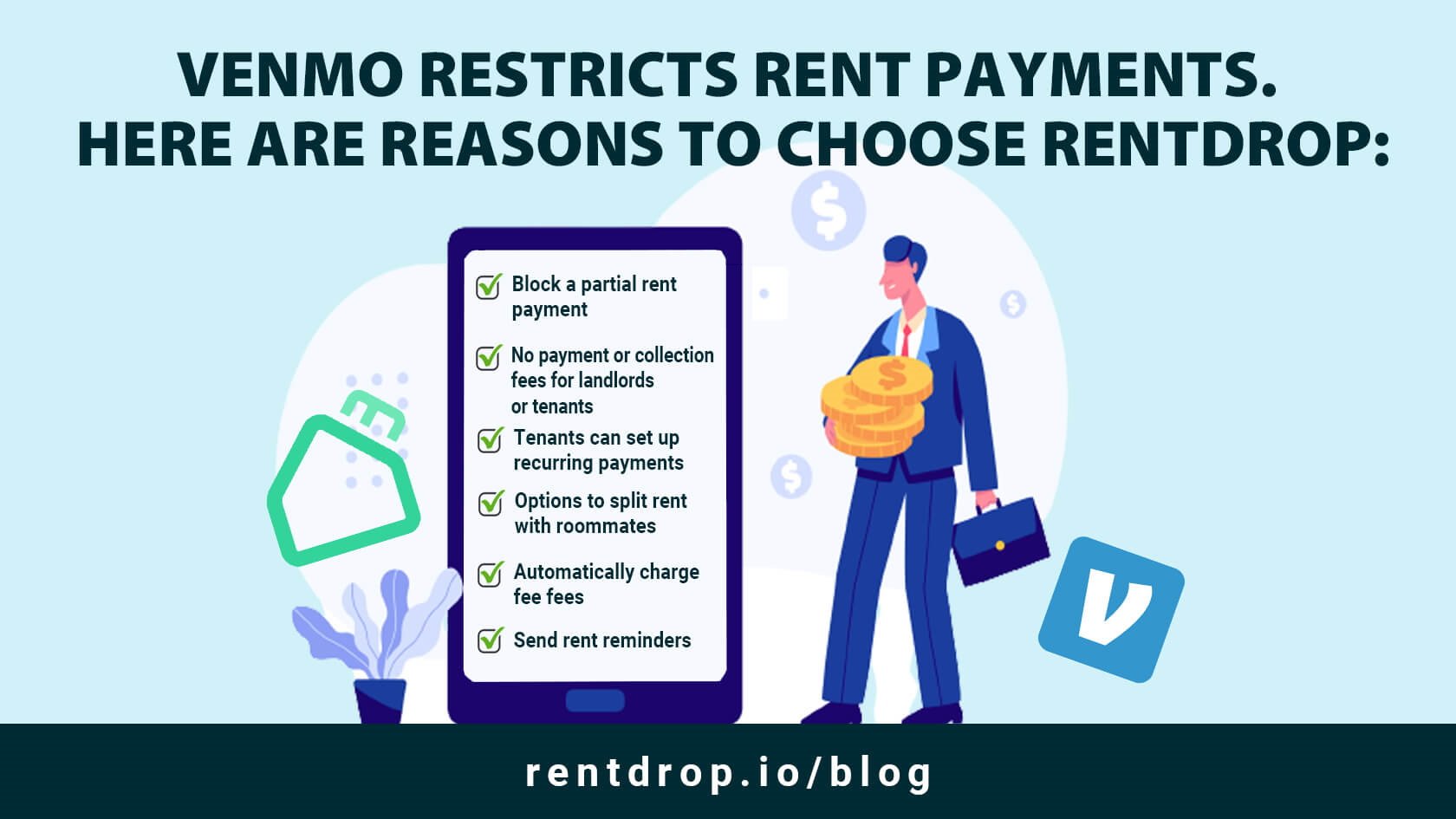 Rentdrop is an excellent alternative to Venmo because it has tools to simplify the rent payment process. Here are several reasons why landlords and tenants love using Rentdrop.
Related reading: Reasons to avoid Venmo for rent payments.
Collect rent for free with Rentdrop
Unlike Venmo, landlords have no subscription fee or transaction costs to use Rentdrop for rent collection. You won't pay a cent when a tenant transfers rent money. Additionally, tenants can pay rent with a debit card or ACH bank transfer for free.
But suppose a tenant wants to pay rent by credit card. In that case, the tenant is charged a small transaction fee. However, unlike other rent collection apps, landlords don't pay any fees for credit card transactions.
Block a partial rent payment with Rentdrop
The best rental payment apps have an option to block a partial payment. For example, Rentdrop gives you control over rent payments because you can decline rent payments that are not in full. Therefore, Rentdrop makes evicting a delinquent tenant easy, saving you time and money on extra fees.
The excellent feature with Rentdrop is that you can allow partial payments for responsible tenants. This option is ideal for tenants who want to pay rent in several installments throughout the month. However, if a tenant gets into arrears, you can limit the feature only to allow rent payments in full.
Rentdrop has recurring rent payment options for tenants
Encouraging tenants to set up automatic payments is one of the best ways never to miss collecting rent money. Rentdrop has a feature allowing tenants to enter their payment date and amount and then forget about it. This is one reason renters choose Rentdrop instead of Venmo to pay rent.
Calculate late fees automatically with Rentdrop
One rent payment tool that benefits landlords is the automatic late fee calculator. Inevitably, a tenant will occasionally pay rent late. In that case, you don't have to worry about working out the late fees. Rentdrop will automatically do this for you and charge the appropriate amount to the tenant.
No Rentdrop limits
Unlike Venmo, Rentdrop does not have limits on rent payments. The payment app will accept any rental amount, and your tenants aren't limited to a weekly transaction limit. Additionally, Rentdrop has high weekly payment limits for landlords—up to $100k per day.
In Conclusion
Although Venmo weekly limits typically don't affect rent payments, several features are lacking on the app that make rent collection difficult. For tenants, Venmo lacks the option to pay rent automatically and split rent with roommates. Venmo also limits a landlord's ability to control rent payments and collect rent every month on time.
Rentdrop has the rent payment feature landlords and tenants require. In addition to blocking a partial payment late rent fee calculation, the online rent payment platform lets you send friendly rent reminders.
Why not sign up for Rentdrop today? There is no subscription fee, and you can start collecting rent for free. Also, tenants don't incur any fee when paying rent with a credit card or direct deposit.