Collecting rent is a vital job for landlords. So, you might think that it doesn't matter how tenants pay rent — the most important thing is to pay rent on time. But, of course, the easiest and most convenient way to collect rent is by using a mobile app. Let's face it — someone should assign rent checks and cash payments to the history books. But when it comes to paying rent online, there are a ton of options.
Your decision as a landlord is this: Which is the best mobile app for tenants to pay rent? Should you use Zelle to collect rent?
Zelle and Venmo are two of the most popular ways to pay rent online. Both methods are easy for tenants to pay monthly rent. And many tenants love using Venmo or Zelle for paying a host of things, including rent. So, which money transfer app should you use to collect rent — Zelle or Venmo? Or is there a better rental payment platform out there that is great for both landlords and tenants?
This article puts Zelle and Venmo side-by-side to compare their usefulness for making rental payments. You'll also find out about an alternative cash app for paying rent — RentDrop. At the end of the article, you'll find out why a dedicated rent payment app is better than Zelle, Venmo, or PayPal for rent collection.
Why Pay Rent Online?
Paying rent online is the easiest option for tenants. Online rental payments are secure and provide proof of payment for landlord and tenant. There is no chance of rent checks getting lost in the mail or stolen. Additionally, online rent payment is usually in the landlord's bank instantly.
Other reasons for making online rental payments include paying by credit card, debit card, or instant ACH bank transfer. Then there is the sheer convenience of using a smartphone to pay your bills, including monthly rent payments.
What is Zelle?
Zelle is a mobile peer-to-peer payment app that is quick and easy to transfer money between friends. Zelle works with most US bank accounts, and all you need is a mobile phone number or email address to send money. So all the tenant and landlord need to do is connect their bank account to the Zelle app.
Should Tenants Pay Rent with Zelle?
The question for landlords is: should you accept rent payments through Zelle? To answer that, you must know the pros and cons of using Zelle to pay rent.
First, it's relatively easy for landlords to accept rental payments from tenants. The rent money arrives in your bank account the same day. And there are no processing fees with the major banks. For example, the Bank of America, Chase, and Wells Fargo don't charge businesses to send or receive Zelle Pay payments.
Sounds good? Probably if you don't take into consideration the cons of accepting Zelle rent payments.
Did you know that Zelle is on the list of the worst payment methods to collect rent?
Landlords should refuse rental payments using Zelle for several reasons. Here are compelling reasons to use an alternative payment app:
Partial payments: P2P payment apps like Zelle let tenants make partial rent payments. This can make it impossible for you to evict a delinquent tenant. Even if they pay $1 in rent, you will never get them out of the rental unit.
Pay the wrong person: Another con of collecting rent money with Zelle is that it's easy to send money to the wrong person. Missing a rent payment impacts your bottom line. And the tenant will have problems recovering the payment.
Late rent fees: Unlike rent payment apps like RentDrop, you can't automatically charge late fees. So, this means more admin work for you.
Transaction fees: The days of collecting rent for free with Zelle are numbered. Some banks charge transaction fees for accepting Zelle payments. Zelle also charges 1.9% for instant transaction fees.
No payment protection: Disputes can arise between landlords and tenants if a tenant makes an incorrect payment. In any dispute, P2P payment apps take the customer's side (tenant), not the recipient's (landlord).
Credit bureau reporting: Zelle cannot report rent payments to credit bureaus. However, your tenants will love the chance to build a positive credit history by reporting rent payments to credit bureaus.
If a tenant asks you: "can I use Zelle to pay rent?" The best answer is no. Instead, you can offer the tenant a suitable alternative such as RentDrop. This rent payment app is free for tenants and landlords and has features to make rent collection straightforward and secure.
To be the first to use RentDrop, sign up for our Waitlist here.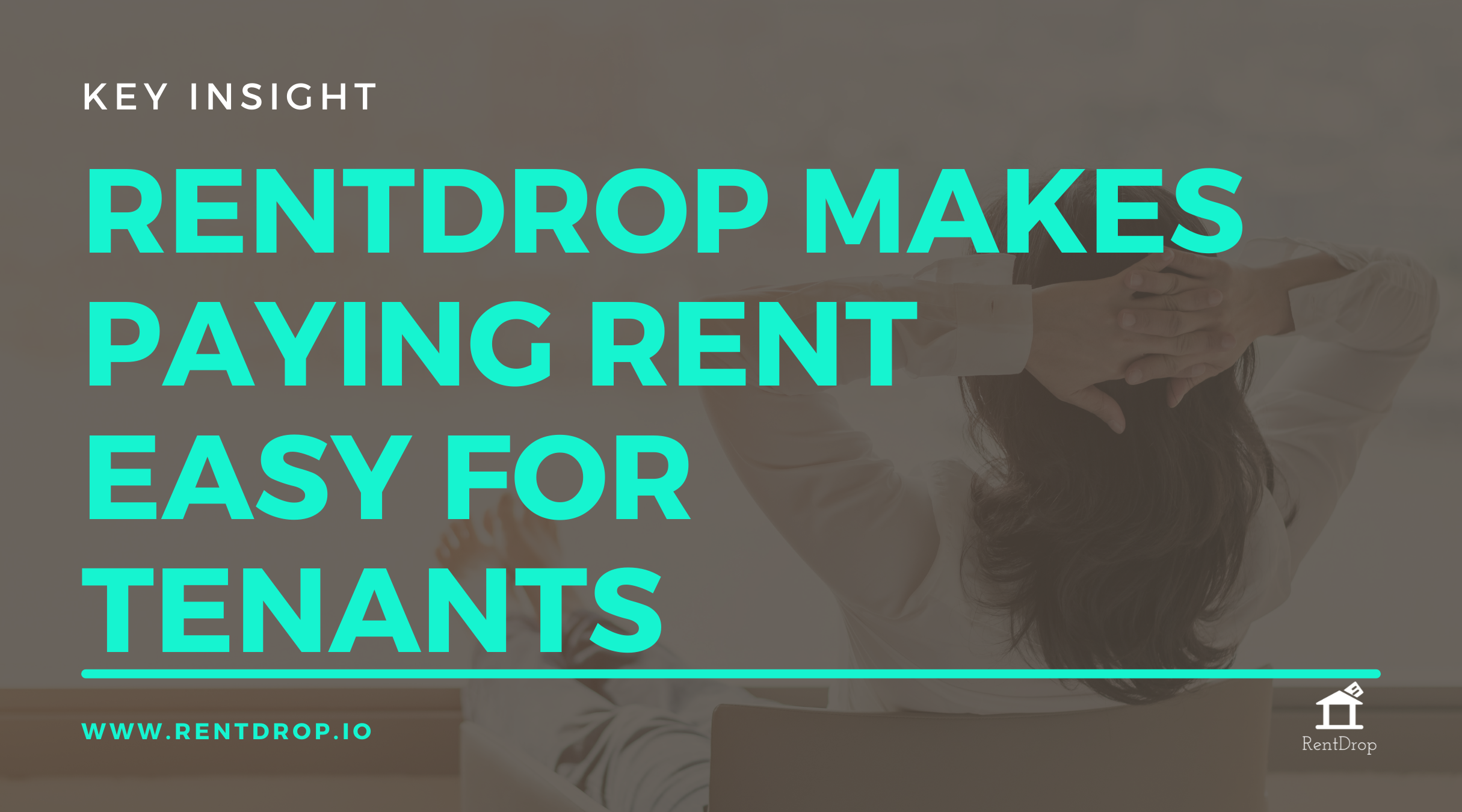 Should I Use Venmo to Charge Rent?
Venmo is a peer-to-peer payment app that is popular for paying rent. Like Zelle, Venmo is designed to transfer money to friends. However, over the past few years, it's become popular for landlords to accept rent payments from tenants using Venmo.
The crucial question for landlords is this: Is Venmo the best alternative to Zelle for charging rent? Unfortunately, the definitive answer is no. You'll understand why Venmo is a terrible option for paying rent when you discover the cons of Venmo.
Here are reasons to look for alternatives to Venmo for collecting rent:
Partial payments: The worst thing for landlords using P2P payment services is that you can't block partial payments.
No automatic payments: Unlike the best rent collection apps, landlords and tenants can't set up automatic payments. This increases the chances of late rent payments impacting your cash flow.
Steep business transaction fees: Venmo impacts a landlord's bottom line by charging substantial business transaction fees. On every monthly payment received, you lose 1.9% + $0.10.

Venmo says

these are "low fees," but they are still fees that you must pay.
Transfer time: It takes up to three business days for the money to arrive in your bank account.
Reporting to credit bureaus: Like Zelle, Venmo doesn't record your rent payments with any credit bureau. This is a definite disadvantage because tenants can't build a credit history with responsible rent payments.
Related reading: Zelle, Venmo, Cash App — What are their risk when collecting rent?
Zelle vs. Venmo — Which is Best for Collecting Rent?
When it comes to choosing Zelle or Venmo to collect rent, there is little to choose from. From a landlord's perspective, there are definite disadvantages to charging rent with Venmo or Zelle. You must pay transaction fees, can't block partial payments, and the processing time is long.
Related reading: Alternatives to PayPal for online rent collection.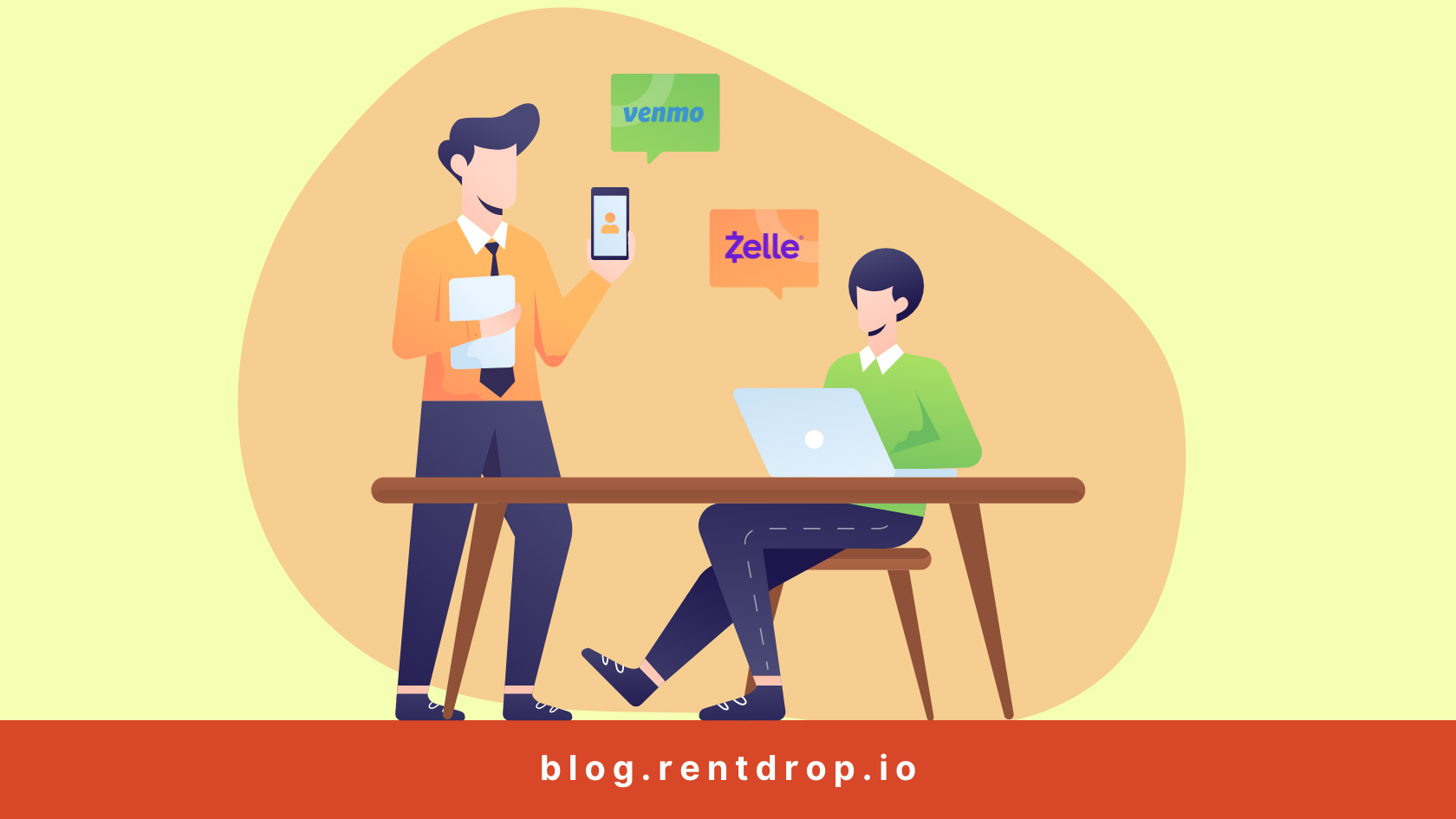 Why Choose RentDrop for Online Rent Payments
RentDrop is a mobile app and online service to make paying and collecting rent straightforward. Landlords can accept credit cards, debit cards, and ACH transfers. It's also easy to set up recurring rent payments, so tenants never forget to pay rent. In addition, you can collect security deposits and charge late fees automatically.
One of the significant advantages RentDrop has over Zelle or Venmo is that you can block partial payments. For example, suppose you need to evict a tenant for breaking the lease. In that case, you can prevent the delinquent tenant from paying part of the rent amount.
RentDrop also has a ton of features that make it easy for tenants to pay rent. Of course, online money transfers are the easiest and securest way to make rental payments. However, RentDrop allows tenants in multi-occupancy rental units to split rent easily. This is feature is great for roommates to pay their fair share of rent and make sure that you get paid on time.
But what if you are a tenant who wants to pay rent online, but your landlord only accepts a paper check? In that case, you have nothing to worry about. You can use RentDrop to pay rent, and we will send a check to your landlord.
But there are more advantages of RentDrop for tenants and landlords. Let's say you have tenants working in the gig economy. For them, paying rent on a flexible schedule may be the best option. Tenants can then pay rent in installments to suit their income flow. Not only are tenants happier, but you ensure you collect rent every month regularly.
In Conclusion — Should You Choose Zelle, Venmo, or RentDrop for Rent Payments?
RentDrop is a fully functional mobile payment app designed for landlords and tenants. Compared to Zelle or Venmo, RentDrop has all the features tenants and landlords need that other money transfer apps lack.
From a landlord's perspective, RentDrop makes rent collection straightforward, and there are no costly transaction fees to worry about. You can accept various forms of payments, including bank transfers, debit cards, and credit cards. Additionally, you can block partial payments in case of disputes with tenants. RentDrop will help you provide the most streamlined rent payment service to your tenants.
RentDrop is also incredibly easy for tenants to make monthly rental payments. There is no risk of paying the wrong person. And you can set up recurring payments to pay rent on time and avoid late fees. In addition, flexible rent payments, split rent payments, and same-day ACH transfers are all some of the ways RentDrop helps you pay rent.
How can you use all the fantastic features of RentDrop?