Venmo recurring payments would be a tremendous advantage for tenants and landlords. But unfortunately, Venmo can't do recurring payments. This inability to schedule Venmo payments puts the popular money transfer app at a significant disadvantage compared to dedicated apps for rent payments apps.
You know that regular rent payments are vital for rental revenue and a healthy cash flow if you are a landlord. And recurring payments are also excellent for tenants. Because all they must do is set up an automatic rent payment once and forget about it. Therefore, a payment app that allows recurring payments would simplify the rental process.
This article explores how the lack of Venmo recurring payments could seriously impact your rental business. You will also find if there are any ways to schedule a Venmo payment to make collecting and paying rent easier. At the end of the article, you'll learn about alternatives to Venmo for making recurring online payments.
Set up Recurring Payments on Venmo
If you are a tenant, you may ask yourself: "Can I set up a recurring payment on Venmo?" Although you can use Venmo to pay rent every month, it lacks the functionality to set up automatic monthly payments. So, to use Venmo to make rent payments, tenants must make the payment from start to finish.
According to their website, recurring payments on Venmo are impossible. All the company says is that "Venmo doesn't offer this option at the time." So, will Venmo recurring payments become a future feature? Only time will tell.
Despite Venmo being a subsidiary of PayPal, it lacks many of the features PayPal is famous for. For example, you can't transfer money between a Venmo and PayPal account. And despite being able to set up automatic payments with PayPal, the lack of recurring payments on Venmo makes it a poor choice compared to other digital payment methods.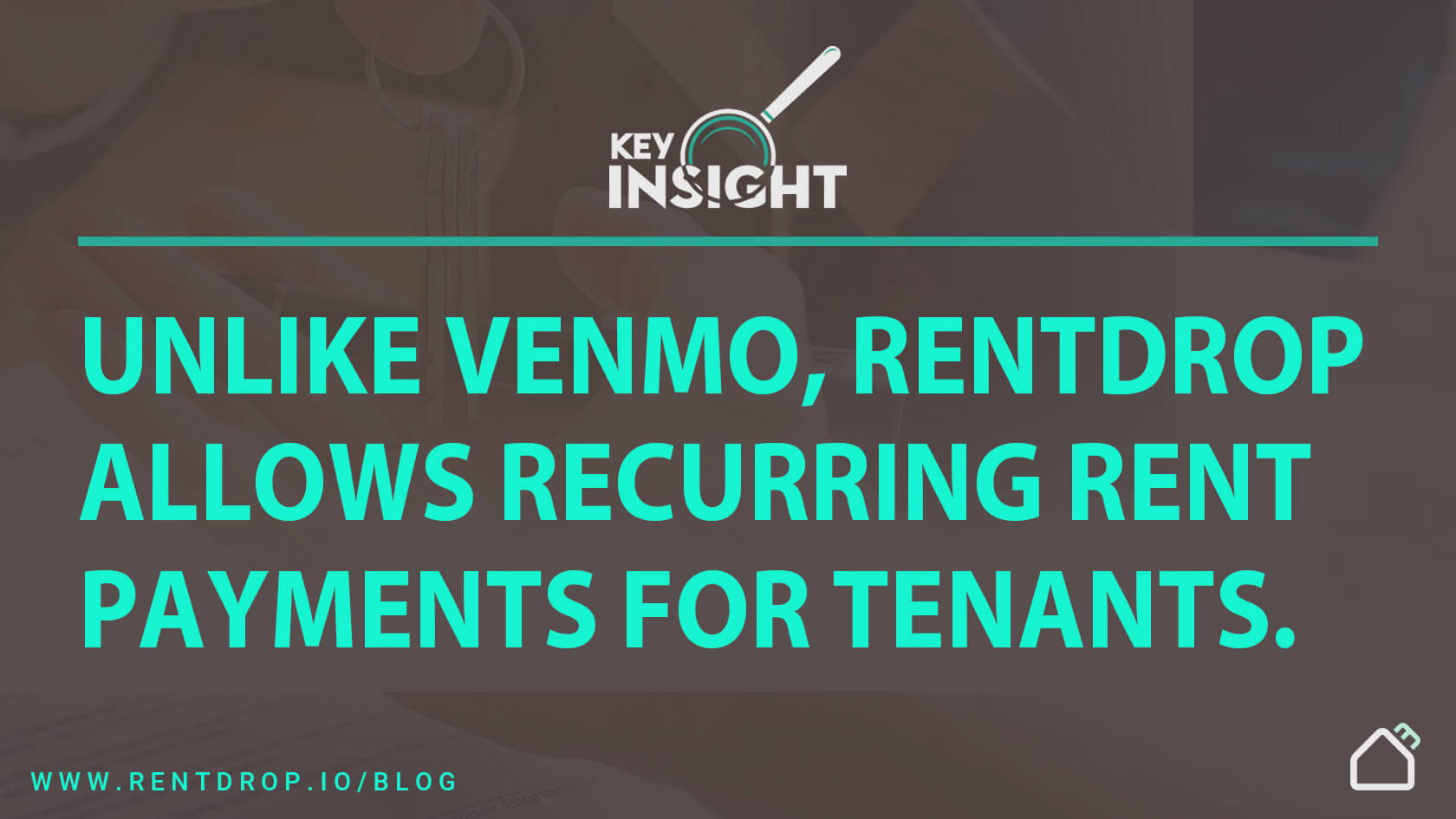 How to Pay Rent with Venmo
To pay rent with Venmo, the tenant must enter the landlord's name or email address, put in the amount of rent due, and the money transfer happens in less than 30 minutes. In addition, landlords receive a notification of an incoming payment. Therefore, paying the rent with Venmo is easier than a paper check.
Despite the lack of recurring payments on Venmo, some tenants and landlords use the money transfer app for monthly rent payments.
Set Up a Recurring Payment on Venmo — Alternative Methods
Venmo has a feature similar to setting up a recurring payment—the Venmo trust button. Some users use this to set up a Venmo recurring payment. All you need to do is add your landlord to your trusted circle, and making a regular payment becomes easier on Venmo.
Using the trust button makes paying rent with Venmo easier. Rather than having to enter the credentials and the proofs each time, you only have to enter the amount of rent to pay. This allows you to automate rent payments with Venmo—at least partially.
Venmo Recurring Payments — What Are the Alternatives?
The lack of Venmo recurring payments is a good reason to look for an alternative. While the mobile payment app is helpful for sending money to family and friends, it's not great for paying regular bills like rent and utilities. So what are the alternatives to Venmo for recurring payments?
Of the popular money transfer apps—PayPal, Zelle, Venmo, Cash App—the best alternative is PayPal. This app has a payment option for recurring payments, and landlords can send payment requests. This can make paying rent more straightforward for tenants.
Related reading: Should you use Venmo, Zelle, PayPal, or Rentdrop for Rent Payments?
How to set up recurring payments on PayPal
To set up a recurring payment on PayPal, your landlord must have a business profile on PayPal. They can allow recurring and subscription billing for clients using a button on their webpage. Then to set up a regular monthly rent payment, you can click the subscribe button.
Although this recurring payment feature seems better than Venmo, there are issues for landlords using PayPal for regular rent payments. First, business fees for recurring payments are higher than standard transaction fees. Additionally, setting up recurring payments on PayPal is tricky, requiring copying and pasting HTML codes.
Related reading: PayPal vs. Venmo for Rent Payments.
Other Reasons to Avoid Venmo For Rent Payments
The lack of recurring payments on Venmo is one reason to avoid this payment method for rent collection. But there are several additional reasons why Venmo is a lousy option for paying and collecting rent. These include no payment protection, no way to block a partial payment, and high fees for business transactions.
Let's look at these features in detail.
No recurring rent payments on Venmo
Not having a feature on Venmo for recurring payments is a significant disadvantage for tenants and landlords. It's easy to forget to pay a bill, even a regular one. If your tenant doesn't pay rent on time, you'll need to charge them late fees. Also, a missed rental payment is a lease violation.
A dedicated rent payment app like Rentdrop has a feature for tenants to set up a recurring rent payment. In some states, you could also require that they use this feature as part of the lease agreement. Landlords who encourage regular payments have fewer missed payments and healthier cash flow.
Venmo can't block a partial payment
Never use Venmo for rent payments because you can't block a partial rental payment. In addition, once a tenant authorizes the electronic payment, you can't cancel the transaction because it's an instant transfer. This means that a delinquent tenant could pay part of their rent during an eviction process, making it impossible to evict them.
Rentdrop is better than Venmo for rent payments because it allows you to stop partial payments. If you've served a "cure or quit" notice for nonpayment of rent, you can set Rentdrop to accept rent in full only.
You can't cancel a payment on Venmo
A disadvantage of using Venmo to pay bills is that it's impossible to cancel a payment. For example, say a tenant enters the wrong credentials when paying rent. In this case, they can't cancel the Venmo transaction, and the wrong person receives the money. This results in a missed or late payment.
No Venmo purchase protection
The lack of a purchase protection program on Venmo is another reason to avoid the app for rent payments. Venmo has some buyer and seller protection for some goods and services. However, according to Venmo Terms and Conditions, there is no purchase protection for real estate transactions.
Many users claim that in the case of a dispute, Venmo customer service tends to side with the buyer (tenant) rather than the seller (landlord).
High business fees for merchant transactions
Unlike the best free rent apps for landlords, Venmo charges fees for landlords to collect rent. And there is no way to charge these to the tenant. Venmo fees for each rental transaction are 1.9% + $0.10. Depending on the number of rental units you manage, Venmo can cost hundreds of dollars a year.
Rent reporting to credit bureaus
It is impossible for tenants to use Venmo to report rent to credit bureaus. However, many of the best rent collection apps allow for rent reporting. This is an excellent service for tenants because they can use their rent payments to build a healthy credit history.
Reporting rent to credit bureaus also has benefits for landlords. For example, rent reporting is a great way to get your tenants to pay rent online using a dedicated app. Additionally, this encourages tenants to pay rent on time every month, knowing that a late payment will impact their credit score.
Use a Rent Payment App for Recurring Payments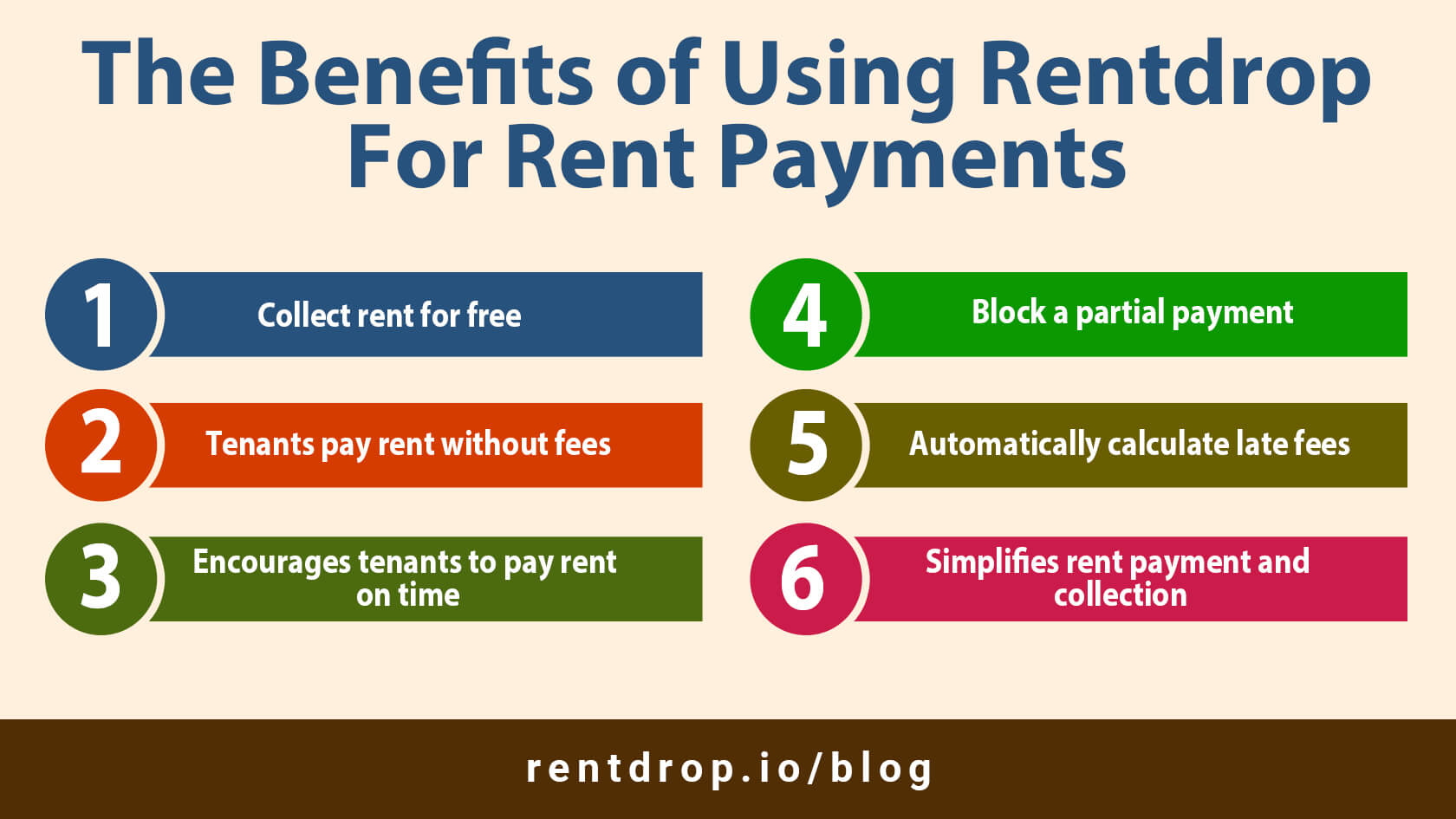 Because Venmo recurring payments don't exist, it is better to use a fully functional rent collection app to run a successful business. Although there are many payment apps to choose from, consider how Rentdrop compares with Venmo for rent payments.
Rentdrop allows recurring payments
The advantage of Rentdrop over Venmo is the option to set up automatic rent payments. A tenant can set up monthly or bi-monthly rent payments on their schedule, never missing a rent payment again. In addition, this option allows tenants to fund the rent payment by debit card, bank balance, or credit card.
The benefit of Rentdrop to landlords: Tenants pay rent on time and make fewer defaults.
The benefit of Rentdrop to tenants: Simplifies monthly rental payments.
Block a partial payment with Rentdrop
Rentdrop is a payment app designed specifically for landlords and tenants. Blocking a partial rent payment is one of the ways Rentdrop beats Venmo for rent collection. Landlords have complete control over payments and can stop tenants from paying part of the rental amount.
The benefit of Rentdrop to landlords: Stop rent payments not made in full during eviction proceedings.
Rentdrop accepts various payment methods
Being an online digital payment method, Rentdrop offers tenants several payment options. Tenants have the choice to pay rent by debit card, credit card, or direct debit payments (ACH bank transfers). There is no fee for the tenant or landlord when using a debit card or ACH debit.
It is also possible for tenants to use their Venmo credit card to pay rent through Rentdrop.
The benefit of Rentdrop to landlords: No transaction fees to pay for credit or debit card transactions or direct debit payments.
The benefit of Rentdrop to tenants: Choose the most convenient way of making monthly rent payments.
Automatically calculate late fees
A handy feature of Rentdrop that Venmo lacks is that it automatically calculates late fees. The fees are calculated taking into account the lease agreement, state laws, and maximum late fee charge. This feature significantly reduces administrative tasks for landlords and simplifies the rental process.
The benefit of Rentdrop to landlords: No more working out how much to charge a tenant who misses a rent payment. Also, you can reduce conflicts with tenants because this is an automatic charge.
The benefit of Rentdrop to tenants: Because the fees are automatically calculated, you don't have to worry that the landlord made a mistake.
Unlike Venmo, Rentdrop has no business transaction fees
Although tenants can pay rent with Venmo for free, it costs landlords to use it for collecting rent. The difference with Rentdrop is that landlords never pay a cent in fees for incoming rent payments. Additionally, tenants are not charged processing fees for debit card or direct deposit transactions.
The benefit of Rentdrop to landlords: Collect rent for free.
The benefit of Rentdrop to tenants: Flexible payment options to pay rent.
Venmo Recurring Payments — A Reason to Choose Rentdrop Instead
The lack of recurring payments in Venmo is a reason to choose an alternative for paying and collecting rent. Automatic rent payments are an integral part of Rentdrop that gives tenants options to pay rent in the most convenient way. Additionally, Rentdrop has a host of landlord and tenant-friendly features to simplify the rental process.
Why not sign up for Rentdrop today to see how easy it is to pay and collect rent online.