Using Venmo for rent payments seems like a great idea. Your tenant transfers the rent payment to your Venmo account, and it arrives instantly. Then all you must do is move the money to your bank account. What could be easier? Unfortunately, there are hidden dangers when using Venmo for rent payments. And collecting rent with Venmo could impact your cash flow and your rental business.
This article looks at the reasons why many tenants like using Venmo to pay rent. You will find out about the pros and cons of accepting Venmo payments from tenants. At the end of the article, you learn about some suitable alternatives to Venmo for rent collection.
Is Venmo a Rent Collection App?
Venmo is a digital wallet used for making instant transfers, including paying rent. However, it isn't a rent collection app. Of course, the mobile payment service allows a user to pay rent using a credit card, debit card, or bank balance. But Venmo lacks many valuable functions that landlords require.
Methods of Paying Rent
The most common method of paying rent is a paper check. Traditionally, the tenant would mail the rent check for you to receive it by the first of the month. But newer payment methods are available that make rent collection more accessible, faster, and straightforward. Here are a few of the alternative methods to rent checks that tenants can pay rent:
Cash: Despite being the worst method to pay rent, some tenants still prefer handing over cash when rent is due.
ACH bank transfer: A bank to bank transfer is a relatively secure method to collect online payments. Tenants can set up recurring payments to ensure they pay rent on time.
Mobile payment apps: Because cash apps and digital wallets are so handy, people use them for paying for many things, including rent. This is one reason why Venmo is a popular method to make rental payments. Other

forms of payments include PayPal

, Zelle, and Cash App.
Rent collection app: Many landlords use mobile payment apps that are designed for online rent payments. Apps such as

RentDrop

allow tenants and landlords to send and collect rental payments for free. However, they have a range of valuable features for rent collection that digital wallets lack.
Related reading: Is Zelle better than Venmo for rent payments?
The Pros of and Cons of Using Venmo for Rent Payments
Venmo is a popular peer-to-peer payment (P2P) app to transfer money. Over the past few years, it's become one of the most common ways tenants pay rent. Let's consider the benefits of collecting rent through Venmo and if there are any disadvantages.
The Pros of Collecting Rent with Venmo
As a landlord, you want your tenants to make monthly rent payments on time without any hassle. Additionally, your time is precious. So, any time you can save during the rent collection process is a benefit. For example, cashing paper checks, driving to the bank, or waiting on funds to clear take time and effort.
Here are some advantages of Venmo.
Receive rent payments fast. Usually, the rent money arrives in your Venmo account in a matter of minutes, not days. This eliminates the stress of waiting on rent checks to arrive in the mail or collecting rent in-person.
Requires little effort to receive money. The money transfer happens online, making the rent payment process effortless on both sides. As a landlord, you don't have to drive to the bank, stand in line, and deposit rent checks.
Request rent payments. A nice feature of some P2P payment apps is a money request. This feature is helpful for landlords who have tenants that forget to pay.
The Cons of Using Venmo for Rent Payments
Your job as a landlord involves more than just collecting rent payments. This is the reason why Venmo is a bad idea for landlords. For example, you may need to block partial payments during an eviction process. And you want to maximize cash flow by avoiding unnecessary transaction fees.
Here are eight disadvantages of Venmo.
Venmo charges fees for rent payments

.

Although you can transfer money between friends for free, you pay fees for business transactions. The Venmo transaction fee is 1.9% plus $0.10 to accept rent payments. If you have several rental properties, the Venmo fee for rent payments could cost you hundreds of dollars in fees. This fact means that Venmo is not a free payment app for landlords.

Do you think you can get around Venmo's transaction fees by accepting rent payments on a personal account? Think again. Venmo is cracking down on this practice. Venmo explicitly states that you can't use the app "to receive business, commercial or merchant transactions."

Now there is no way to get around the fact that Venmo charges fees to accept rent payments. Tenants can tag rent payments as "commercial transactions." This feature means that there is a measure of protection in the transaction. However, the transaction fee of 1.9% is deducted from the rent payment.

There is another thing to think about if you want to risk accepting Venmo rent payments for free. If you're caught, Venmo could suspend or terminate your personal account. So, any business funds in the account could disappear because you breached the payment policy.

Can your landlord business really afford to use Venmo when better free options are available?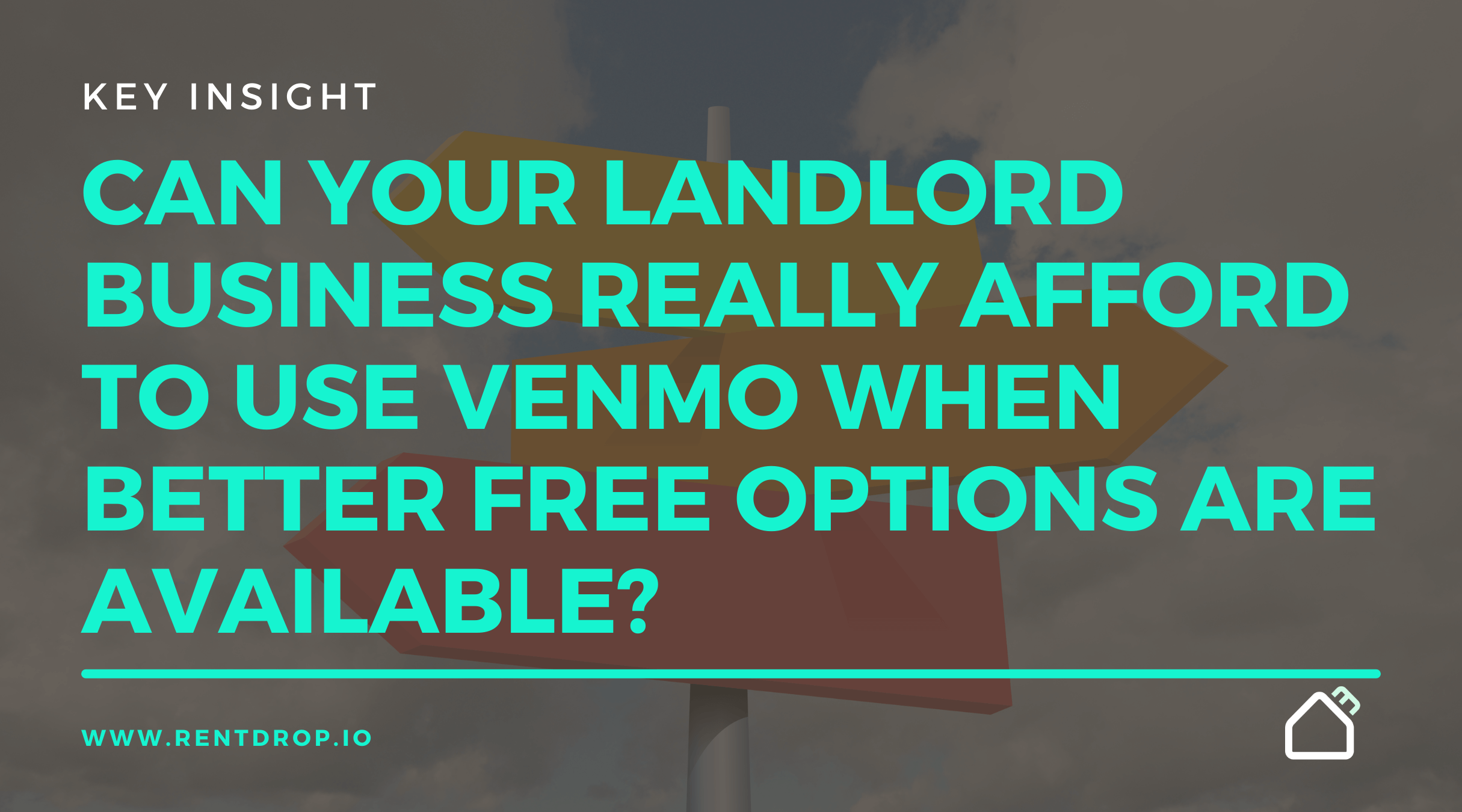 No control over payments

.

The biggest issue landlords have with Venmo is that you can't block partial payments. For example, suppose you are trying to evict a tenant for nonpayment of rent. In that case, you may find it impossible if they pay a few dollars in monthly rent. Unfortunately, Venmo doesn't give you an option to reject a payment transfer.

Can you imagine not being able to evict a non-paying tenant just because you decided to use Venmo for rent payments?
No recurring payments

.

According to the Venmo website, setting up automatic payments from a Venmo account isn't possible. Late payments can significantly impact your cash flow. And charging late fees is not something your tenants like. So, a disadvantage of Venmo compared to apps like RentDrop is that you can't set up regular, automatic rent payments.

Do you really want the hassle of dealing with late rent just because your tenant can't set up recurring payments?
Misdirected payments

.

A serious issue for landlords with P2P payment services is misdirected payments. Tenants can easily send money to the wrong person. All they need to do is make a typo, and the rent money arrives in the wrong bank account. Of course, this doesn't happen often; however, it does happen.

No payment protection for landlords. Another reason to avoid using Venmo for rent payments is that you have no protection. If the tenant pays the wrong person, you have no way of getting the money.
Venmo bank transfers are not instant

.

Remember, transferring money from your Venmo business account to your bank account is not instant. It takes one to three business days for the funds to arrive in your bank account. And, if you want to transfer money instantly, you must pay a processing fee of 1.5%.
No option to report rent payments to credit bureaus

.

One significant disadvantage of Venmo is that you can't report rent payments to credit bureaus. Rent is your tenant's biggest outgoing in the month. However, the credit bureaus don't know your tenants always pay rent on time. By using a rent payment app, you can let tenants know that they can build their credit score.
There are better alternatives to Venmo

.

The biggest con with Venmo is that there are superior rent payment methods for free. Rental payment apps have all the pros of Venmo without any of the cons.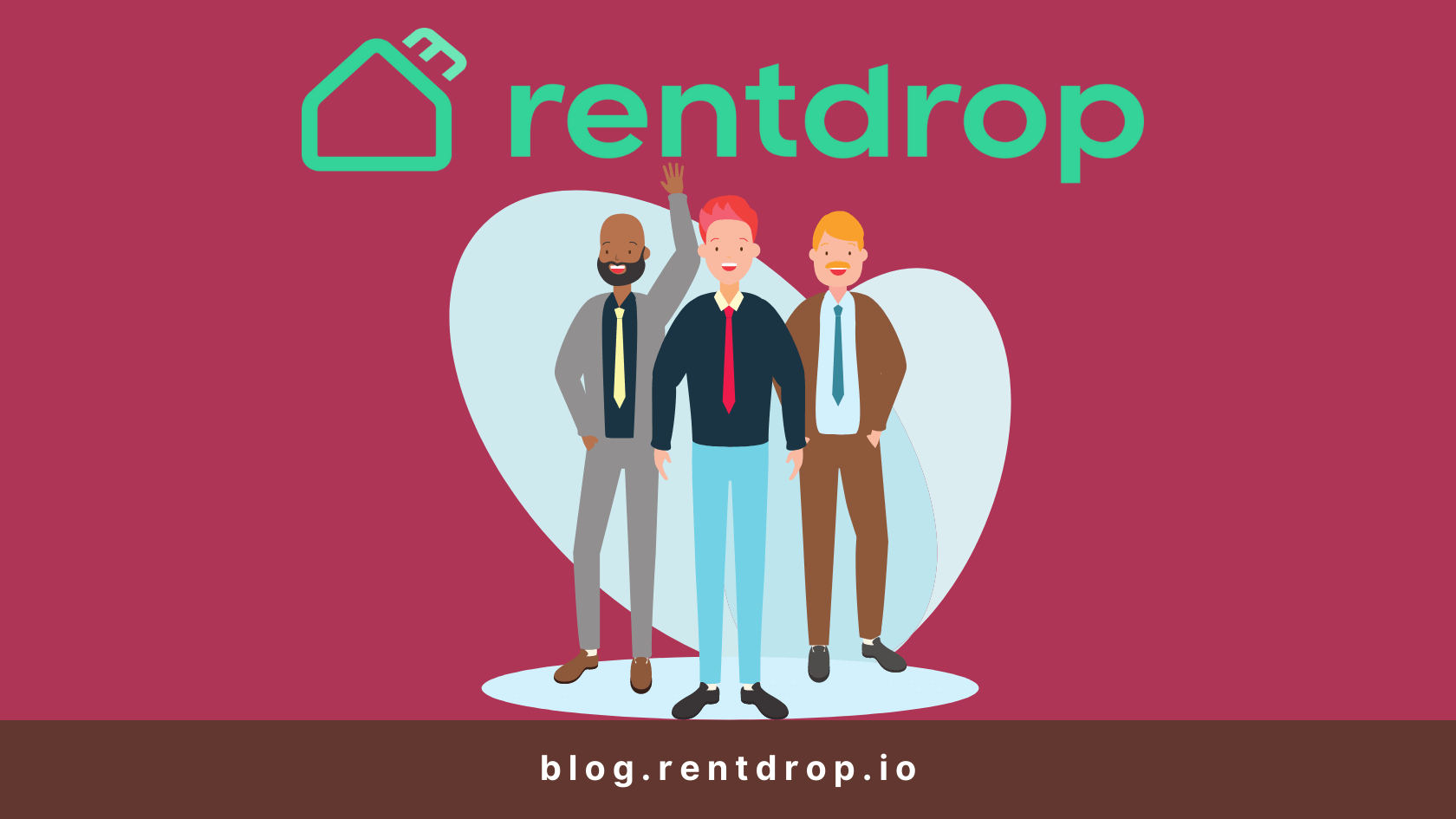 Alternatives Options to Venmo for Rent Payments
Rental payment apps are designed specifically with a landlord and tenant in mind. They provide valuable features for landlords — block partial rent, automatic payments, collecting security deposits, and late fee calculation. Likewise, they are useful for tenants — multiple payment methods, split rent, flexi rent, and recurring payments.
Why Choose RentDrop for Rent Payments
RentDrop is one of the many alternatives to Venmo for rent payments. So regardless of whether you are a tenant looking for a suitable online payment option or a landlord wishing to streamline the business, RentDrop has what you're looking for.
RentDrop is a Rental Payment Solution for Tenants
Are you looking for a mobile app to pay monthly rent? If so, RentDrop has many features that you need. Here are some of the ways that this app can help make regular payments.
Recurring payments: You no longer have to worry about paying rent on time. All you need to do is set up automatic payments in line with your rent schedule.
Multiple payment methods: You can decide to pay rent using a debit card, credit card, or bank transfer. This way, you can ensure that your landlord always receives the monthly payment on time.
Split rent: Do you live with roommates and need a way to divide rent evenly? With RentDrop, you can split the rent between your roommates.
Boost your credit score: RentDrop can report your rental payments to the credit bureaus. This is helpful information to build up a healthy credit history.
RentDrop is a Rental Payment Solution for Landlords
Do you want to streamline your rental business by accepting online rental payments? If so, here are the features that RentDrop has designed specifically for landlords:
Accept multiple payment methods: You can accept various methods to collect rent — anything from eChecks to credit card payments. RentDrop streamlines rent collection for you.
Process security deposits: Another advantage of RentDrop is that you can collect and process security deposits.
Charge late fees: Rent payment apps automatically charge late fees on the next month's rent. This saves you the awkward task of doing this yourself.
Payment reminders: Setting up rent payment reminders can significantly reduce the number of tenants who forget to pay rent on time. Additionally, you can also arrange recurring payments to make it easier for your tenant.
Offer flexible payment options: Who says that rent must be paid by the first of the month? Why not offer your tenants the option to pay rent in installments throughout the month. For example, some self-employed or gig workers benefit from paying rent at different times.
Options to pay rent: Why not offer tenants jobs to do around the property in exchange for rent credits? This way, you can save on maintenance costs, and your tenants can save on rent. Moreover, tenants who work on the property are more likely to look after their rental unit better.
RentDrop is free to use. The mobile app is fully functional, and all the features are available without any trial period. If you want to see how RentDrop can revolutionize your business, sign up today.