Venmo is a popular alternative to paying rent by paper check. Tenants can use Venmo as a digital wallet to pay rent with a debit card, credit card, or bank account balance. Landlords who use Venmo for rent collection receive the rent money directly in their account, making the whole process straightforward.
If you are a landlord or tenant, why should you consider alternatives to Venmo to pay the monthly rent bill? After all, many tenants and landlords use Venmo to pay and collect rent, making it one of the country's most popular mobile payment apps.
Typically, the most common alternatives to Venmo are Zelle, PayPal, and Cash App. And each one has its pros and cons when it comes to making online rent payments. However, there is now a growing trend among renters, landlords, and property owners to use a dedicated rental payment app to simplify the entire rental process.
This article compares the most popular peer-to-peer payment apps — Venmo, PayPal, Zelle, Cash App — to discover which is best for collecting rent online. Additionally, you'll learn about Venmo alternatives specifically designed for rent payments.
How Does Venmo Work For Rent Payments?
From the tenant's side, using Venmo to pay rent is uncomplicated. First, the buyer (tenant) taps the "Pay or Request" button. During the next step, they put in the recipient's (landlord) username, email, or phone number. Then they enter the rental amount and make the instant money transfer.
Receiving rental payments on Venmo is also easy for landlords. First, it is necessary to connect your payment card or bank account with your Venmo account. Then you receive a notification when a tenant has paid their rent. There is no need to accept the payment — it arrives automatically in your Venmo account.
There are several things to be aware of if you collect rent using Venmo. Some of the issues causing landlords to search for other payment options in place of Venmo include the following:
High Venmo transaction fees for business transactions
No fraud protection
Impossible to decline a Venmo payment
Tenants can cancel a Venmo payment if they send money to the wrong person
Allows partial payments from tenants
No rent payment reporting to credit bureaus
Popular Venmo Alternative Payment Apps for Rent Payments
Suppose you are looking for an alternative for rent payments. In that case, there are three similar digital payment apps to Venmo — Zelle, PayPal, and Cash App. How do these payment methods stack up against each other? Is there a better alternative to Venmo for rent payments?
Zelle vs. Venmo for Rent Payments
Tenants can pay rent with Zelle by making payments directly from their bank account to the landlord's bank account. All the tenant and landlord must do is link their bank accounts to the Zelle app. And the peer-to-peer payment app works with most US bank accounts.
One of the differences between Venmo and Zelle for rent payments is transaction fees. To run a business with Venmo, you must sign up for a business account and pay 1.9% + $0.10 for every incoming transaction. Because Zelle is a payment gateway between bank accounts, any cost to receive money depends on individual bank fees.
Unfortunately, Zelle and Venmo have similar issues that could impact a landlord's business. These include allowing partial payments, no automatic payments, and no rent reporting to credit bureaus.
However, Zelle has the advantage because it's cheaper to use, but only if the landlord's and tenant's bank accounts support Zelle. For example, Chase, Wells Fargo, and the Bank of America don't charge landlords to send or receive Zelle Pay payments.
Related reading: Venmo vs. Zelle for rent payments.
PayPal vs. Venmo for Rent Payments
Many tenants use PayPal as an alternative to Venmo to pay rent monthly. And both online payment apps work similarly — which is hardly surprising because PayPal owns Venmo. To make a rent payment with PayPal, the tenant enters the landlord's username, email, or phone number and transfers the rental amount.
Is PayPal better than Venmo to pay rent? PayPal was designed to send money between friends. With PayPal's "Friends and Family," it doesn't cost a cent to transfer money to friends. However, landlords must pay business fees for every incoming payment. This can make PayPal and Venmo expensive for collecting rent from tenants.
How much are PayPal fees if you are a landlord? PayPal charges 3.49% plus a fixed fee for each incoming payment, typically $0.49 per transaction. Also, PayPal limits the transfer time to send money to your bank account — usually one to three business days. And if you need to make an instant transfer, be prepared to spend 1% of the amount (up to $10).
When comparing Venmo and PayPal, it seems that Venmo is the cheaper option to pay rent. However, the issue for landlords is more than just price. Both apps make it impossible to reject a partial rent payment, making it challenging to evict a tenant for a lease violation. Also, there are no additional protections for payments for real estate transactions.
Related reading: Venmo vs. PayPal for rent payments.
Cash App vs. Venmo for Rent Payments
Cash App is popular with some tenants to pay rent because sending money is relatively straightforward. Like PayPal, Cash App was designed to send money between friends, split bills, and pay for services. To pay rent with Cash App, the tenant enters the landlord's information — email address, phone number, or $Cashtag — and taps "Pay."
When it comes to looking for a Venmo alternative for rent payments, Cash App is a poor choice. This is because the limits of Cash App are similar to Venmo — no payment protection for landlords, can't block a partial payment, and a high payment processing fee. However, Venmo is more popular than Cash App.
Related reading: Is Venmo better than Cash App for rent payments?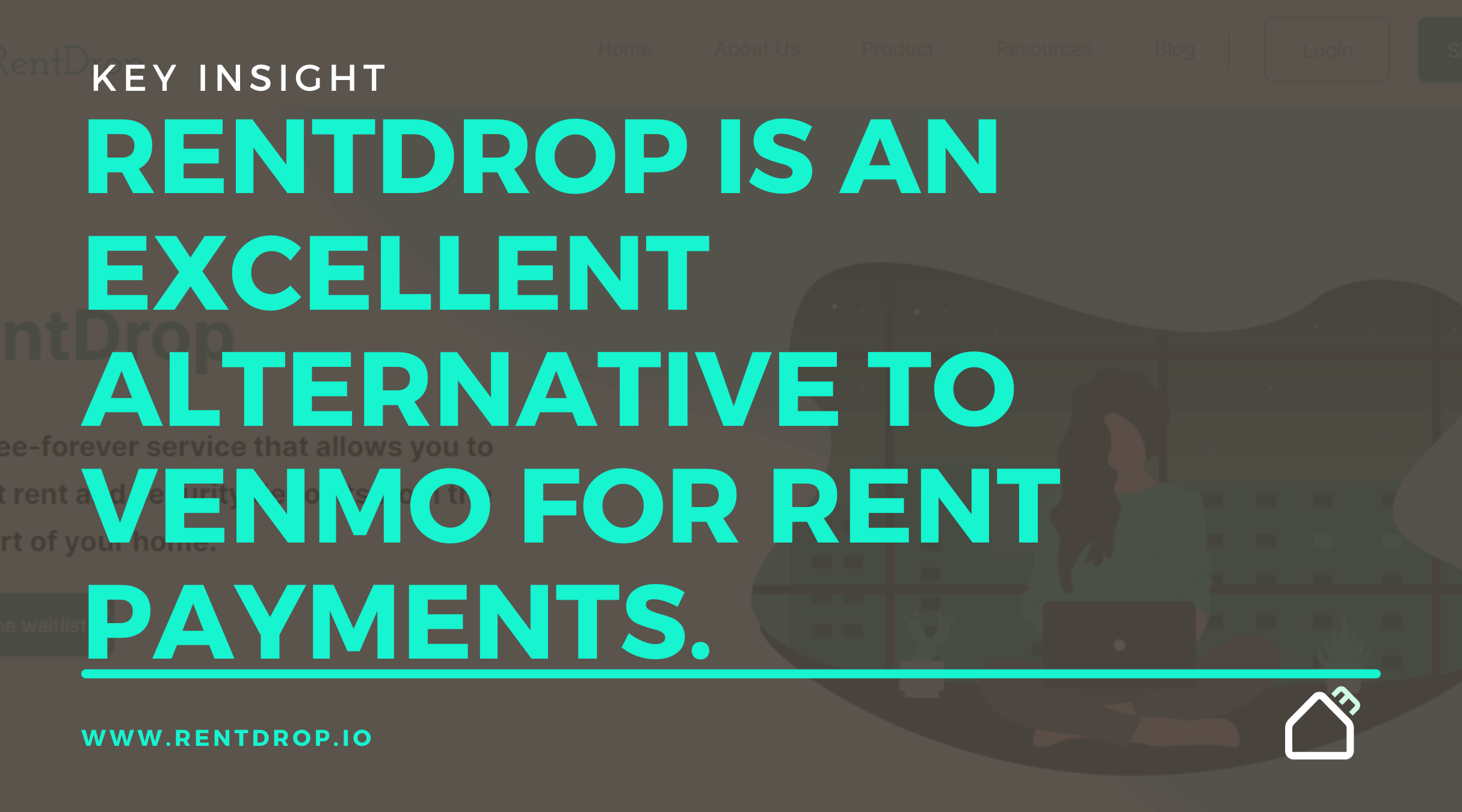 Why Look for Venmo Alternatives For Rent Payments?
From the comparison, it seems that Venmo beats its rivals when it comes to accepting payments. It has cheaper transaction fees than PayPal and Cash App and is more accessible than Zelle. But is Venmo the best person-to-person payment app for paying rent? Let's look at the features of Venmo to help decide.
Venmo Business Fees for Landlords
Venmo fee structure can make it expensive to collect rent from tenants. Although users can send money to friends for free, you must use a business profile for rent payments. According to Venmo's website, the standard rate is 1.9% + $0.10 of the total amount.
There are also a few caveats to be aware of with Venmo fees. First, fees are non-refundable. Second, if you need to make a same-day transfer to your bank account, you'll need to pay 1.5% (maximum $15).
When looking for an alternative to Venmo for rent payments, it's good to remember that there are several apps for rent collection that don't charge a cent for electronic transactions.
Venmo Recurring Payments
If you use Venmo to pay bills, including rent, are you not frustrated that there is no recurring payment option? Unfortunately, there is no ability for tenants in Venmo to set up automatic rent payments. This means that tenants must enter their landlord's detail and rent amount each month.
The lack of Venmo recurring payments for tenants can cause cash flow issues for landlords. For example, tenants who can set up automatic payments typically always pay rent on time. This can positively impact your rental revenue because you have fewer missed payments and don't have to send late fee bills to tenants.
Did you know that a dedicated rent payment app like Rentdrop has the option of recurring payments as standard? So all your tenants must do is set up their payment schedule once and forget about it.
Venmo Purchase Protection
Venmo has purchase protection for sellers and buyers. However, tenants and landlords are not covered by the "Venmo Purchase Protection Program." This means that your rental income could be at risk when using Venmo for rent payments. And in some cases, it can take up to 45 days for Venmo customer service to resolve any dispute.
The Venmo User Agreement clearly states that ineligible items and transactions under the Venmo Purchase Protection Program include transactions regarding "real estate, including residential property."
Does Venmo Have a Limit?
Venmo has high transfer limits that make it helpful in running a business. For example, suppose you are running a business using Venmo for payments. In that case, there are limits depending if your account is verified or not.
Here is a breakdown of Venmo limits.
Unverified weekly limit: Person-to-person payments — $2,499.99
Bank transfers — $999.99
Verified weekly limit: Person-to-person payments — $24,999.99
Bank transfers — $49,999.99
Venmo Weekly Spending Limit
Venmo places limits on weekly spending amounts. For tenants who have not verified their identity, paying rent is extremely difficult or nearly impossible. For example, unverified persons are limited to spending $299.99 a week using Venmo. This includes payments to authorized merchants and person-to-person payments.
Venmo limits are significantly higher for verified users, making it possible to use it for rent payments. The combined weekly spending limit is $6,999.99. However, there is a transaction limit of $2,999.99. So, if your rental unit costs more than $3,000 per month, a tenant will have to make two payments with Venmo.
Venmo Instant Transfer Cost
For most business users, transfer limits with Venmo are free if you are willing to wait one to three days. But suppose you need money instantly. In that case, you can pay a Venmo fee of 1.5% up to a maximum fee of $15. That way, you can access your money in 30 minutes or less.
Venmo Transaction Declined
One of the issues landlords and tenants face when using Venmo is the dreaded message: "There was an issue with your payment." A declined Venmo transaction can happen for several reasons. However, this issue with Venmo can severely impact your cash flow situation. Unfortunately, it isn't always clear why the Venmo transaction is declined.
Some common reasons for a Venmo declining a payment include the following:
There was an issue with the user's bank or card
The Venmo transaction triggered an automated security flag
The tenant's account is temporarily frozen
The tenant has gone over their payment limit
A Venmo transaction declined is worrying for landlord and tenant. Typically, the tenant must get in touch with Venmo Customer Support. All the while, you are left without the rent payment.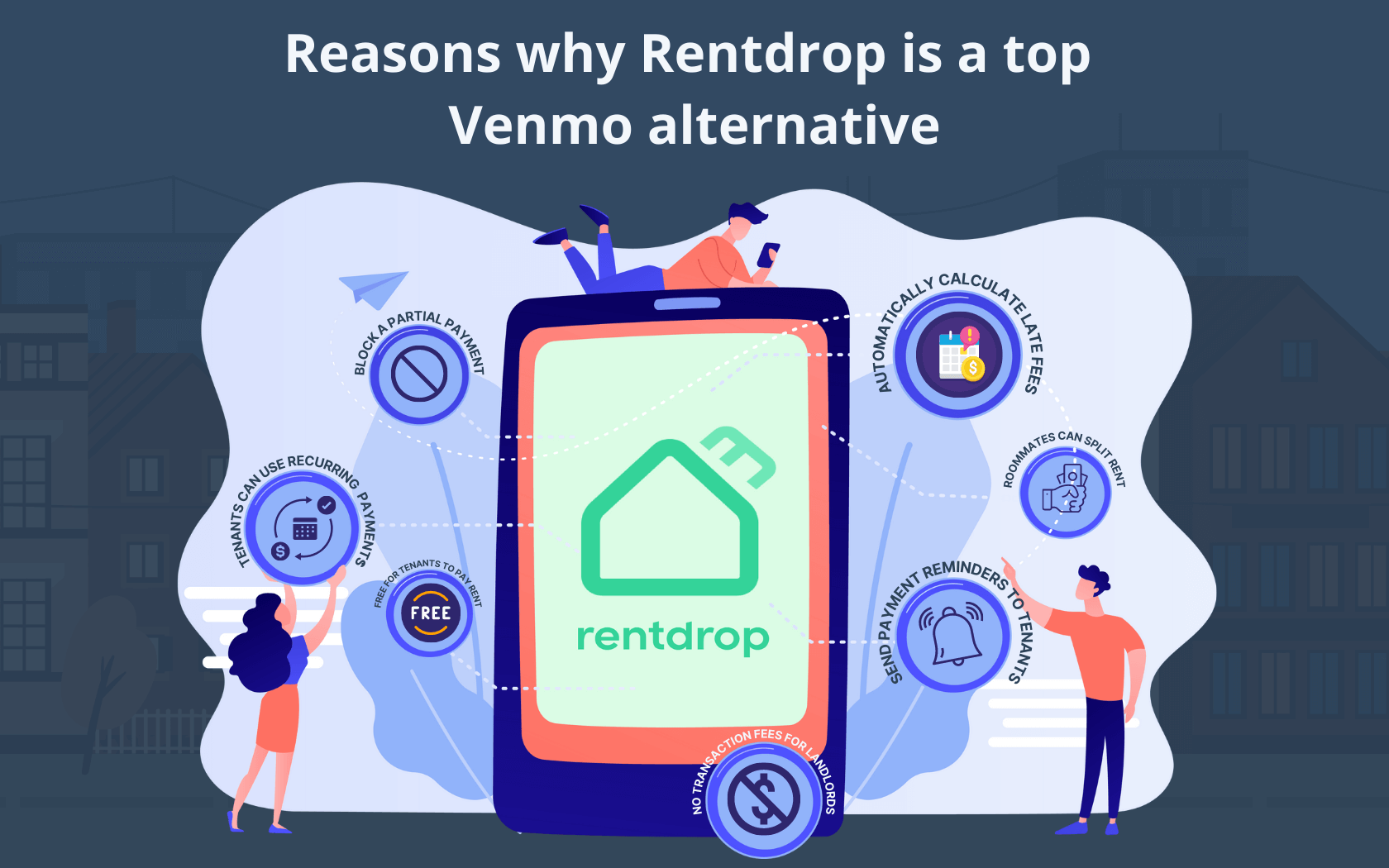 Cancel a Venmo Payment
It is impossible to cancel a Venmo payment once the tenant has authorized the payment. Similarly, a landlord can't cancel a partial payment from a tenant during an eviction process. So this issue with Venmo payments can have serious implications for landlords.
Canceling a Venmo payment may be necessary if the tenant mistakenly sends money to the wrong person. In that case, there is no way to reverse the transaction. This means that it's up to the honesty of the recipient to return the money. However, this can result in a late rent payment or the tenant defaulting on rent.
The inability to block a partial payment is not just an issue with Venmo. It affects all peer-to-peer online payment systems. That is why most savvy landlords use a dedicated rent payment app with a "block a partial payment" option.
Decline a Venmo Payment
Venmo doesn't have the option to allow landlords to decline payments. Venmo was designed to be a money transfer app between family and friends. It wasn't a payment processing tool. This means it lacks the functionality of payment software designed for paying bills, including rent.
How could not being able to decline a Venmo payment impact your rental business? For example, suppose you are trying to evict a tenant for non-payment of rent. But they send you a few dollars as a partial rent payment. In that case, the eviction procedure must start again. Therefore, declining a payment by blocking it must be a vital feature of a dedicated rent collection app.
Venmo Alternatives for Rent Payment — Rentdrop
Although it's great for sending money to family and friends, Venmo isn't ideal for rent payments. Yes, it does make sending money electronically easy and straightforward. However, it lacks vital features that tenants need to pay rent on time. Also, Venmo doesn't have an option for landlords to control rent payments.
Rentdrop is a great Venmo alternative because it has the payment functionality that makes Venmo popular, but it has a wide range of handy features for paying and collecting rent.
Here are some of Rentdrop's features that make it an excellent option for rent payments:
Block a partial payment
Free for tenants to pay rent
Setup recurring rent payments
No transaction fees for landlords to accept incoming payments
Automatically calculate late fees
Send payment reminders to tenants
Allow roommates to split rent
Let tenants pay rent by credit card, debit card, or ACH bank transfer
Record of rental payment history
Why Choose Rentdrop as an Alternative to Venmo
Rentdrop is a fee-free rent payment service for tenants and landlords. The software helps landlords simplify the rental process by including a range of advanced features for managing rental properties and payments. Also, tenants find that Rentdrop makes it easy to pay rent without having to remember every month.
Why not sign up for Rentdrop today to see how it can revolutionize your rental business and keep tenants happy.