Pet screening is essential when processing rental applications of prospective tenants with pets. A pet screening process is just as crucial as screening a tenant. The process helps to prevent potential noise complaints and protect your property from damage. Depending on the breed of animal, its behavioral history, and personality, pets can cause problems. For example, an unruly dog, angry cat, or certain exotic animals can cause more than "normal wear and tear." Untrained animals can also cause excessive noise, serious complaints from neighbors, and significant property damage.
As a landlord or property owner, you can usually decide if you will allow pets in your rental property. For example, you could allow certain breeds of dogs or cats but have restrictions on size or other characteristics.
However, it's essential to know that Fair Housing Laws protect tenants with disabilities. This means that you can't deny housing to someone with a physical disability who requires a service animal or emotional support animal. Even if you have a "no pet policy," you can't prohibit an assistance animal.
This article contains the best policies on allowing tenants with pets in your rental. You will also get a handy pet screening template to use when interviewing a potential tenant who owns a pet.
Should You Allow Pets in Your Rental?
Allowing pets in your rental property is an excellent way to attract more tenants and reduce vacancies. Having a pet policy means you can usually charge higher rent, collect a pet deposit, or charge pet rent. In addition, a robust pet screening service means you minimize the risk to your property.
Typically, you must allow a tenant with an emotional support animal or service animal to rent your property. However, there are a few conditions. For example, the property must be "reasonable accommodation." Also, therapy dogs are not considered service animals.
Benefits of allowing pets in your rental
What can help you decide to allow pet owners in your rental properties? Here are a few factors to consider about the pro and cons of renting with pets.
Pet owners tend to be responsible: Most pet owners tend to take care of properties. Likewise, responsible tenants with pets are used to caring for animals. So, they will likely look after your property well.
Longer tenancies: Tenants with pets are more likely to renew the lease because it can be challenging to find a suitable rental with pets. Additionally, moving can stress animals, so dog owners and cat owners don't move too often.
Prevent lease violations: By allowing tenants with animals, you can reduce the risk that a tenant tries to sneak in a pet without your knowledge. If you have a pet agreement, the tenant is clear from the outset about your policy on pets.
Charge more for rent: Unless it's a service animal, you can charge more for rent. Pet parents are willing to pay extra on top of regular rent because it's tricky renting with pets. Additionally, to cover costs associated with additional wear and tear, you can charge pet rent and require a pet security deposit or a non-refundable pet fee.
The disadvantages of allowing pets in your rental
Before you decide on the pros of having a pet-friendly rental property, it's good to consider a few things.
First, animals can cause extra damage in the apartment. They can scratch furniture, chew up rugs, have accidents, leave behind pet stains, and cause nasty odors. Then there is the issue of noise. A tenant's four-legged friend can disturb neighbors by constantly barking when the tenant's not home. In addition, some exotic birds can cause more noise than many furry pets.
The potential for pet damage emphasizes why pet screenings are so vital.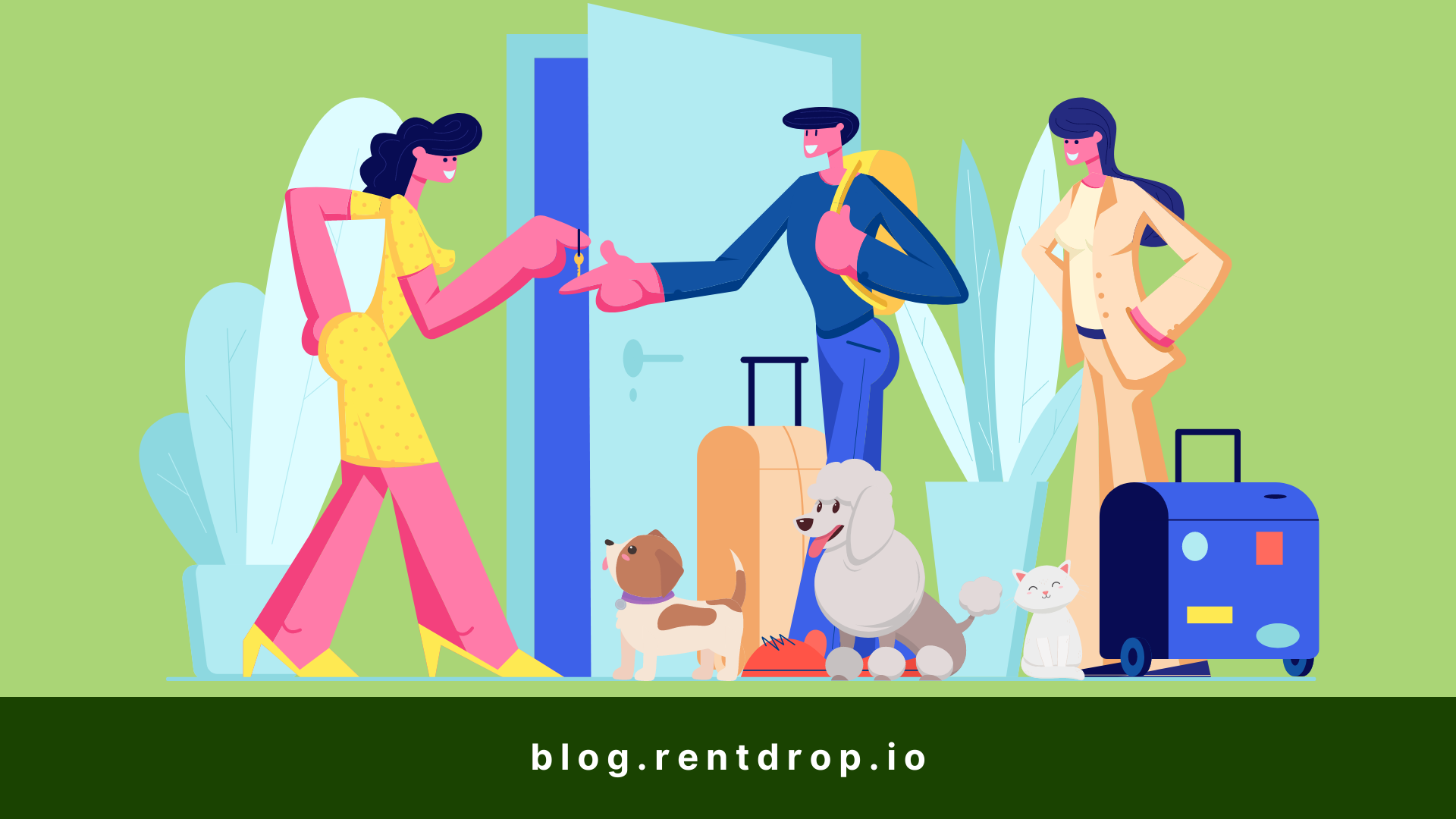 How To Conduct a Pet Screening and Pet Interview
The goal of pet screening is to avoid having a tenant move in with a pet that could cause damage or lead to complaints from other tenants. For the pet screening procedure, you should see the pet in person along with its owner. Pet screening allows you to see how the owner and pet interact.
Rental applicants who want to bring a pet into the apartment should be aware of your pet policy from the outset. The lease agreement should be explicit on the type of pet and animal size. The terms should also state if you require a pet deposit, monthly pet rent, or a one-time, non-refundable payment. You may also want to insist the tenant had renters insurance to cover potential damages.
When meeting with the pet and owner, you can go through specific commands with the pet, especially with dogs. For example, you could give simple commands such as "stay" or "sit." You can also see how the dog reacts to command from the prospective tenant. Then, it may be a good idea to walk around the building, taking note of how the dog interacts with children or other animals.
For example, if the dog becomes aggressive when you approach it, it is likely to act the same way with strangers.
Red flags to look out for include:
Bared teeth
Growling
Dog hackles, hair standing up along a dog's back and neck
Excessive barking
During the screening process, look for signs of a responsible pet owner. When screening owner and pet, observe if the pet is well-trained. Does the owner seem to care for the pet? Or is the animal fearful when the owner approaches? A sign of a responsible pet owner is that they have the right equipment.
What about if you get a request for an assistance animal?
Suppose a current tenant or prospective tenant provides a request for an assistance animal or service dog. In that case, you typically must allow the animal. However, it is still good to do a background check on the pet to get the proper documentation. Unfortunately, it is easy for an unscrupulous tenant to claim a pet as a service animal when it is only their furry friend.
According to HUD guidelines, landlords can "request reliable documentation when an individual requesting a reasonable accommodation has a disability and disability-related need for an accommodation that are not obvious or otherwise known."
For example, someone who has a sight impairment would not need to show documentation about their seeing-eye dog. Or a deaf individual may have a service animal to alert them when they hear various sounds.
However, not all disabilities are as apparent as others. For example, someone with a mental disability may have a service animal to remind them to take medication or help interact with others.
As a landlord, you can ask for a letter from a health professional confirming the need for a service animal. You can also request copies of the animal's service records. However, you can't require a pet deposit or charge pet rent. It's also against animal housing laws to make the tenant liable for any animal damage that isn't normal wear and tear.
It's also vital to note that not all animals can be claimed as assistance animals. For example, HUD states that only "animals commonly kept in households" are permitted. In other words, domesticated animals. This means that barnyard animals, monkeys, reptiles (apart from turtles), and kangaroos are not usually allowed as service animals.
In some cases, a miniature horse could be approved as a service animal. However, under HUD guidelines, this is only acceptable if the property or building can accommodate it safely.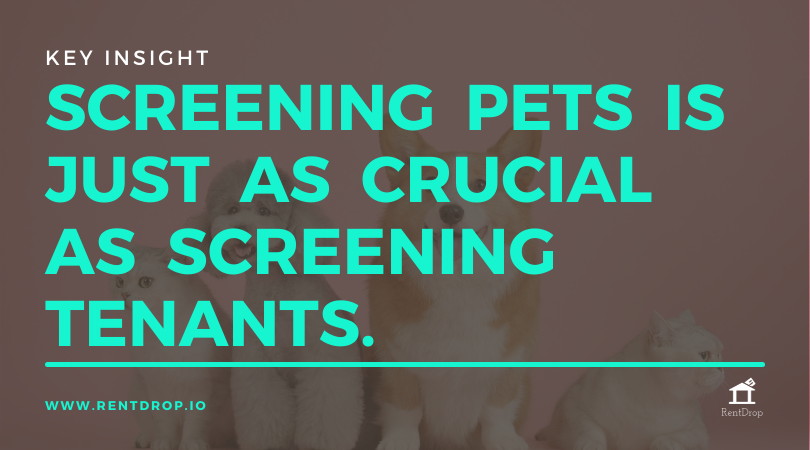 Pet Screening Application Template
Using a Pet Screening Application is the best way to ensure screening pets is effective. Like screening prospective tenants, you want to ensure the pet is a good match for your rental unit.
Here are several questions to include on a Pet Screening Application:
What type of pet do you have?
How long have you been the owner?
Can you provide documentation about proof of vaccinations and general health?
Does your pet suffer from any behavioral problems? If so, what training is being given?
Does your pet have any underlying health conditions? If so, what treatment is the pet receiving?
Has your pet ever injured anyone?
Can your current landlord provide a written reference for your pet?
What care arrangements are in place if you are on vacation or away for a prolonged period?
Is your pet housetrained?
Does your pet cope with being alone during the day?
Sending the Pet Screening Application along with the rental application allows you to gather information before the interview. This lets you prepare well to meet the prospective tenant and their furry friend. Screening pets helps minimize the potential problems that some pets can cause. It also means that your tenant will be happy and comfortable in their new home.
In Conclusion
Pet screening is essential if you decide to have pet-friendly properties. By allowing pets in a rental unit, you can minimize vacancies and increase revenue. You are also in a better position to accommodate tenants who provide requests for assistance animals. Screening pets can also determine if a service animal request is legitimate when the disability isn't apparent.