Running a successful rental business requires tenants to pay rent on time and in full. Online money transfer apps allow landlords to collect rent straight into their bank account. Using apps such as Venmo, Cash App, or Paypal may seem like an efficient way to enable tenants to pay monthly rent. But are these 'digital wallets' the best way to receive rental payments?
Thanks to modern technology, there is a surge in the number of people using mobile payment apps. According to research by PEW Trusts, 84 percent of Americans pay using a mobile app at least once a month. Although credit card and debit continue to be the preferred form of cashless payment, mobile apps are becoming more popular.
However, when it comes to collecting rent, it seems that cash or paper checks are still the method of choice. The Federal Reserve Bank of Boston reported in 2017 that 80 percent of tenants always pay rent by check, cash, or money order. Direct deposits, credit cards, and debit card payments only make up a small percentage of rent collection methods.
If you are a landlord who wants to start collecting rent online, it's crucial to choose the best rent payment method. Paying rent online via an app should be easy to use, designed for rent collection, and secure for both tenants and landlords.
Two common mobile payment methods are Venmo and Cash App. Some features of these apps are similar, but there are also some differences. However, the crucial question for landlords is: should you use either Venmo or Cash App to collect rent? Or are there better alternatives for rent collection?
How do Online Payment Apps Work?
Online payment apps link the user's credit card, debit card, or bank account to the account in the app. Tenants can then make payments directly via the app using their computer, smartphone, or another mobile device. Paying with an app means that tenants don't have to share any bank information, write rent checks, or hand over cash.
Can a Landlord Decide Acceptable Forms of Rent Payment?
Most states in the U.S. require landlords to accept rent in cash and provide at least one other method of paying rent. For example, in New Jersey, all rental property owners must take cash or rent check payments from renters. However, as all landlords realize, rent checks or cash are not the best methods of collecting rent.
So, although you can't force tenants to pay rent online, it makes sense to convince them of the benefits. Online payments are more secure, faster, and create a digital paper trail.
A Review of Venmo for Mobile Payments
Venmo is a type of digital wallet that allows you to send money to someone or request money. It is free to create a Venmo account, and you can send and receive money for free from your bank account or Venmo account. Using a credit card incurs a fee of nearly 3 percent per transaction.
Pros:
Rent payments happen instantly

Easy to send and receive money
Cons:
Limited to personal use according to Venmo T&Cs

Users pay a 2.9% transaction fee plus $0.30

Designed as a social media network app, not for collecting rent

Easy to send money to the wrong person
A Review of Cash App
Cash App is another app for sending and receiving money and works similar to Venmo. After creating a user account, it's possible to send and receive money using a $cashtag—your username, phone number, or email address. With Cash App, you can top up funds using your bank account or credit card. It is possible to pay rent because the payment system allows for business transactions.
Pros:
Easy to use and suitable for paying for a wide range of services

Use the mobile app for business payments
Cons:
Payments happen instantly and can't be canceled

Business transactions have a fee of 2.75% added

No payment protection
How Cash App and Venmo Compare for Collecting Rent
Both Venmo and Cash App are suitable for making online payments. If you have a property management business, your tenants may want to use a mobile app to pay rent. And, with Cash App and Venmo, it's possible to collect monthly rent payments from tenants who prefer paying with their digital wallet.
How they're similar
Both mobile payment apps work on a peer-to-peer (P2P) basis. So, as a landlord, you would need to use these apps if you allowed tenants this type of rent payment. However, both apps are free to download, set up, and there is no monthly fee to use the apps.
Another similarity with both Cash App and Venmo is that tenants have to pay a transaction fee. While 3% may not seem much, it will increase your tenant's rent. For example, if a renter pays $1,000 rent using either Venmo or Cash App, their monthly rent increases by nearly $30.
A common disadvantage with both apps when it comes to collecting rent is that there's no payment protection for landlords. It is very easy to send rent money to the wrong person if the tenant makes a typo. This problem with the online payment method could result in late or missed rent payments.
How they're different
When it comes to collecting rent, there is almost nothing separating the two apps in terms of functionality. There is little difference between transaction fees, the inability to cancel transactions, and taking up to three days to make bank transfers.
Should You Let Your Tenant Pay Rent with Venmo or Cash App?
Venmo and Cash App have the advantage in that it is simple and easy to make any kind of payments. In theory, landlords can collect rent online and security deposits with Venmo or Cash App. However, neither of the payment methods are suitable for collecting rent.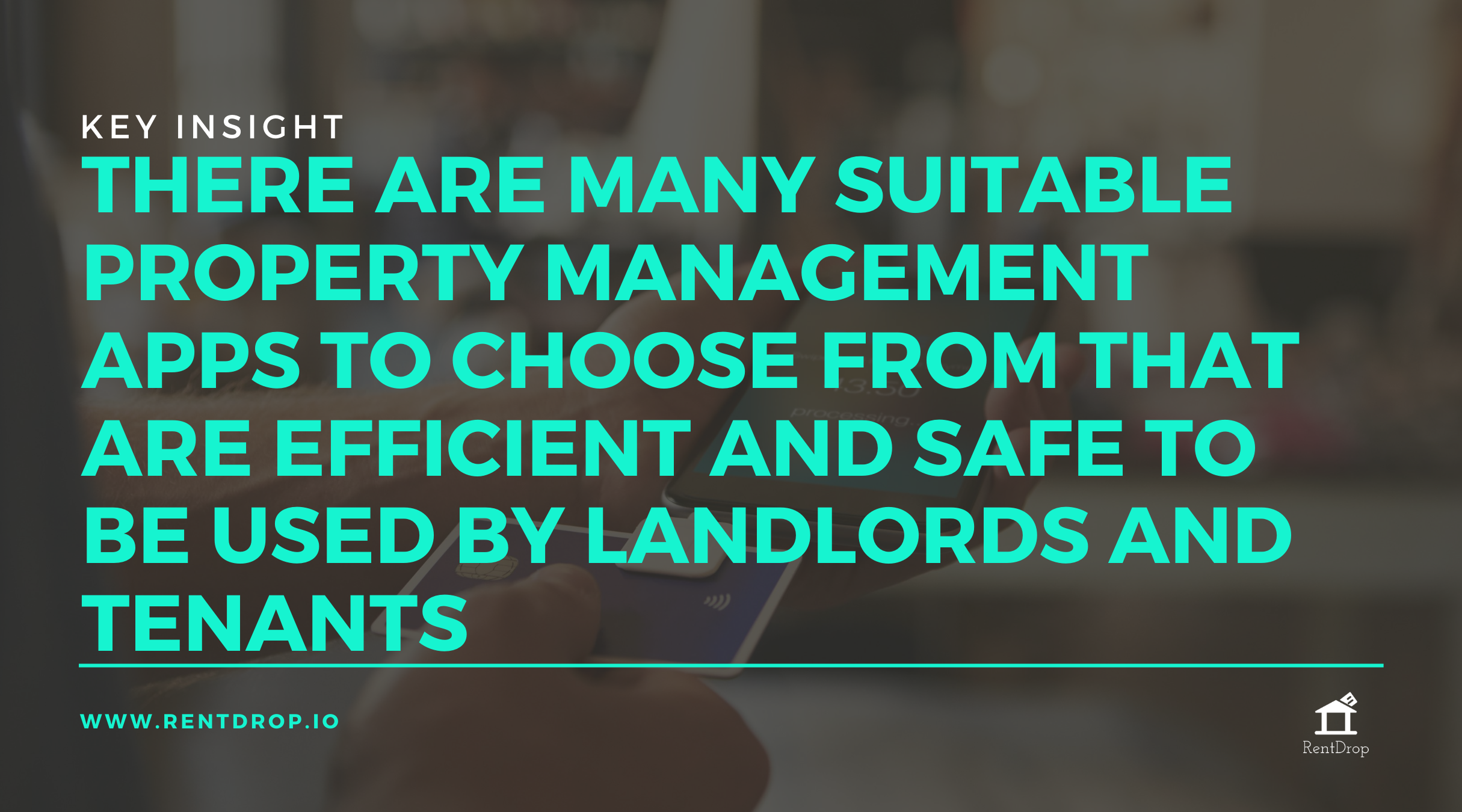 Why is it not a good idea to let tenants pay rent using Cash App or Venmo? Here are a few reasons:
Not for business use:

Most mobile payment apps are for personal use—i.e., sending money between trusted friends. To make business transactions requires setting up a merchant's account and incurring transaction fees. This then means that either your tenants pay more in rent or you lose money, and your cash flow suffers.

Easy to pay the wrong person:

Direct payment methods using P2P apps can result in paying the wrong person. This could result in the tenant thinking they've paid rent, but you never receive it.

Payment processing times:

Even

though

payments seem instant, the rent money can take up to three days to arrive in your bank account. This scenario can cause conflicts between tenants and landlords—tenants think they've paid rent on time but then have to pay late fees on next month's rent.

Tenants can make partial payments:

One reason why landlords stay away from apps such as Venmo, Cash App, PayPal, or Zelle is that tenants can pay whatever they want. This situation can be a problem if you're trying to evict a tenant for not paying rent. Accepting partial payments is one of the

eviction mistakes that landlords should avoid

.
Other Types of Online Payment Solutions
Many property management software solutions make collecting rent online straightforward. With these mobile rent payment apps, tenants can pay rent, set up regular automated payments, and track payment history. Landlords can manage leases, accept security deposits, automatically charge late fees, and even offer renters insurance.
Here are five of the top property management apps for landlords:
RentDrop:

This online rent collection service is free for landlords and tenants to use. The app allows tenants to pay by credit card, debit card, or ACH direct deposit. Also, you can track all tenants' rental payments and easily manage your rental units.

Buildium:

A complete property management solution for landlords with an extensive portfolio. For a regular monthly fee, landlords can collect rent, screen tenants, track leases, and accept maintenance requests.

AppFolio:

Similar to

Buildium, this app has a monthly fee plus extra costs for each rental unit you manage. As well as collecting rent, you can list vacant rental units, screen tenants, offer renters insurance, and link the app to accounting software.

Rentec Direct:

This property management app has various paid plans depending on the number of rental units you manage. One of the features of this app is the possibility to integrate it with utility bills. Of course, renters can also pay rent, late fees, and security deposits through the app.

ManageCasa:

You can use this app to manage many rental units for a reasonable monthly fee. As well as online rent collection, you can use ManageCasa to manage leases and maintenance requests.
RentDrop — Our Recommended Choice for Collecting Rent Online
After considering all the available electronic methods for paying rent, our top recommendation is RentDrop. One of the unique features of this property management app is that it's completely free to use. It is also fully functional for managing rental properties. The benefits of using the RentDrop app means that you can reduce overheads and pass on the savings to your tenants.
Conclusion
Landlords have several options for collecting rent. Although the old-fashioned methods of paying rent—cash, paper checks, money orders—are still prevalent, more people are switching to online payment methods.
Mobile payment apps such as Venmo or Cash App are suitable for sending and receiving money electronically—just not for making rental payments.
If you are a landlord who wants to convince tenants to pay rent online, then there are many suitable property management apps to choose from. These apps will not only give tenants a secure way to pay monthly rent—they will help you streamline your property management business.