Rentdrop and TenantCloud are two solutions for landlords that make it straightforward to collect rent. However, when it comes to running a successful rental business, using the right tools is crucial. After all, rent from tenants is probably your primary source of income. So, you want to make it as easy as possible for tenants to pay rent on time every month.
What should you look for in a quality online rent payment system? The essential feature to help determine the best mobile app for rent collection is simplicity.
A rental payment app for landlords should be straightforward for you and your tenants to use. Additionally, the app should have helpful features to help you streamline your rental business — automatic payments, partial payment blocking, late fee calculation, split rent, and flexible rent payments.
How do the features of Rentdrop and TenantCloud compare? If you are looking for free software to collect rent online, which one comes out on top?
This article puts two of the most popular rent collection apps for landlords side by side and then lets you decide which is best for your business.
Here is a list of the features we compare:
Pricing plans and subscription fees
Setting up recurring payments for tenants
Calculating and charging late fees
Report rental payments to credit bureaus
Accept rental payments online using a credit card, debit card, or ACH bank transfer
Direct deposit payments
Free online rent collection
Rental insurance
Allow tenants to pay rent on their schedule
Split rent with roommates
Property management features
TenantCloud vs. Rentdrop — At a Glance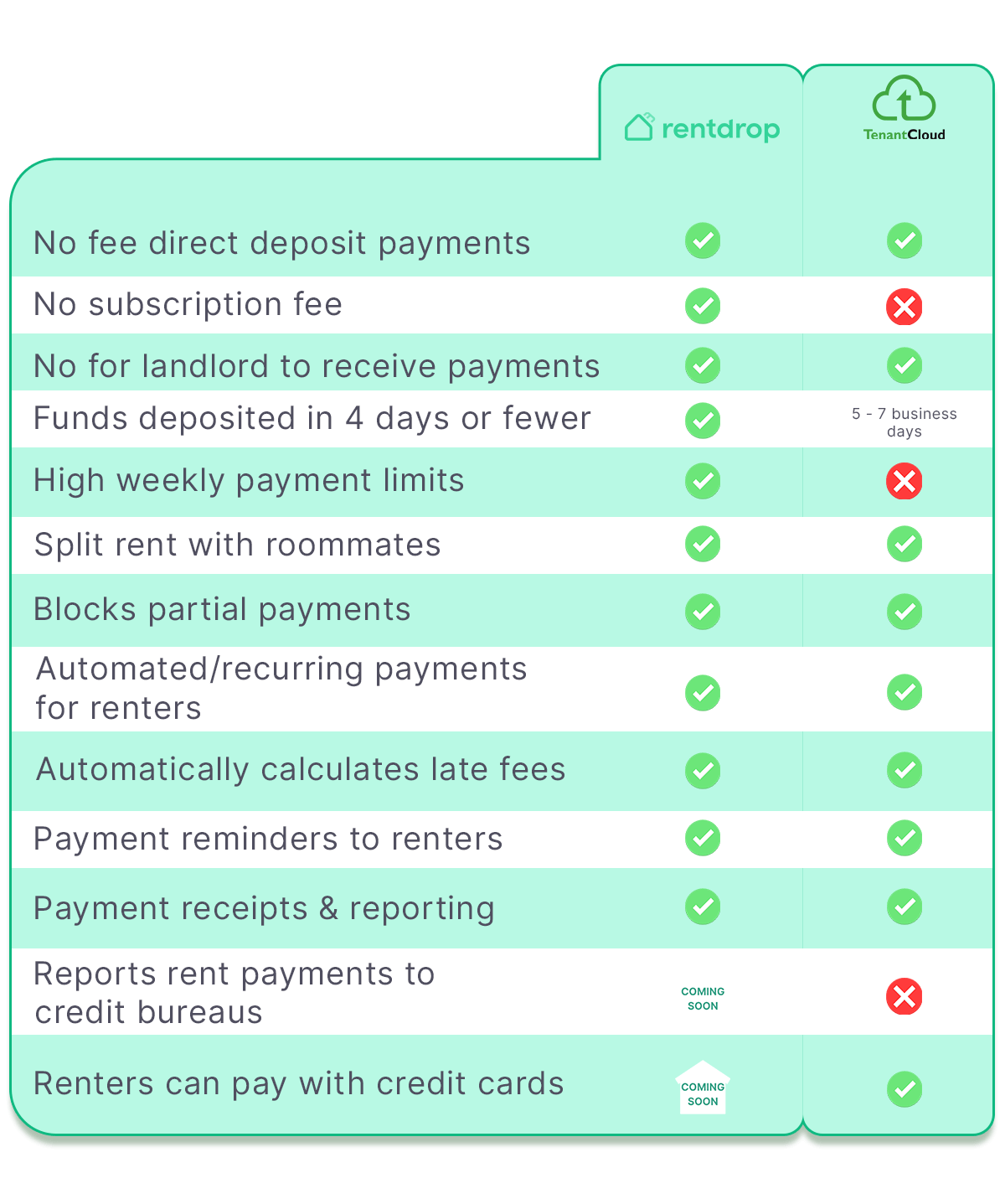 What is TenantCloud?
TenantCloud is an online popular property management solution for property owners and landlords. To access all the landlord-friendly features, landlords pay $12 per month. TenantCloud features include rent payments (debit, credit, and ACH), application processing, accountancy, and listing management. In addition, you can unlock additional features like maintenance requests and team management for an extra fee.
TenantCloud also has a free version of its premium software. This has basic features like service reminders, payment reminders for tenants, vendor management tools, and limited rent collection tools.
What is Rentdrop?
Rentdrop is a free online rent payment service to make collecting tenants' rent payments straightforward. Tenants can pay rent by credit card, debit card, or ACH transfers. Additionally, Rentdrop has valuable functions like splitting rent with roommates, sending rent reminders, collecting security deposits, and reporting rent payments to credit bureaus (coming soon).
An advantage of using Rentdrop is that all the features are available to tenants and landlords without any subscription fee.
Rentdrop vs. TenantCloud for Rent Payments — How They Compare
Rentdrop and TenantCloud have similar features for collecting rent online. TenantCloud is very landlord-orientated, with a focus on managing rental properties. However, Rentdrop is designed with tenants and landlords in mind. Therefore, it has more features for paying and collecting monthly rent as efficiently as possible.
Let's compare the features of TenantCloud and Rentdrop to see which one is best suited for your rental business.
Pricing plans and subscription fees
When choosing a digital solution to collect rent online, your first question is: "How much will this cost me?" Let's find out the differences between the cost of using Rentdrop or TenantCloud.
How much does TenantCloud cost? This property management software has four pricing tiers. This basic package is free to use. But to unlock all the property management features will mean paying a monthly subscription — either $12 or $40 per month, depending on how you plan to use the software. If you manage a team, you can request a custom pricing plan.
Rentdrop is free for tenants and landlords to use without paying additional subscription fees to unlock extra features. And there are no transaction fees for landlords or tenants for online payments. Also, additional features for tenants make it easier to manage a rent range of payment options.
Conclusion: Both Rentdrop and TenantCloud have free options for landlords and tenants. The difference is that all the features of Rentdrop are free, without any add-on subscription plans. However, TenantCloud incorporates comprehensive property management features for an additional cost.
Recurring payments so that tenants pay rent on time
A benefit of Rentdrop and TenantCloud is a function to set up recurring payments. This handy feature prevents tenants from forgetting to pay rent on time. And if there is not sufficient money in their bank accounts, they can make a payment by credit card.
However, there is a catch with TenantCloud. "AutoPay for Tenants" is only available with their premium services. This means you will have to pay a monthly fee to let tenants set up recurring payments. The benefit of Rentdrop is that this vital feature for on-time rent payments is free.
Setting up recurring payments is one reason to choose Rentdrop for online rent collection rather than a digital wallet. Mobile apps like PayPal, Zelle, Venmo, and Cash App don't allow recurring rent payments. In addition, using services like PayPal for rent payments could put your rental business at risk because they lack essential landlord features.
Related reading: Should you use Cash App to collect rent?
Landlord features — Rentdrop vs. TenantCloud
A dedicated rent collection solution should be packed with features that uncomplicate your job as a landlord. Rentdrop and TenantCloud are packed with excellent options for successfully managing a rental business.
Let's look at these features in more detail.
Calculating and charging late fees
Rentdrop and TenantCloud let landlords automatically charge late payment fees. This feature is helpful because it saves you from disputes with tenants. The automatic late fee amount is added to the following month's rent. In addition, you save time and resources when calculating how much to charge in fees for overdue rent.
Online rental payments
All property management software should have options for tenants to pay rent online. For example, you can save a lot of time processing paper checks, and online rent collection is more secure. Also, tenants prefer using a mobile app to make payments.
How do Rentdrop and TenantCloud stack up when it comes to paying rent online? Both rent collection solutions accept payments using credit cards, debit cards, or ACH deposits. However, there is a difference in pricing plans.
With Rentdrop, you can accept an ACH bank transfer for free. However, this option is only part of TenantCloud's premium packages. So, you will need to pay an extra cost to accept ACH deposits.
Free online rent collection
Rentdrop and TenantCloud have plenty of features to collect rent online for free. One of the differences is that Rentdrop has a broader range of payment options for tenants. This means that if you're looking for a fully-functioning rent collection app that is 100 percent free — Rentdrop is the best choice.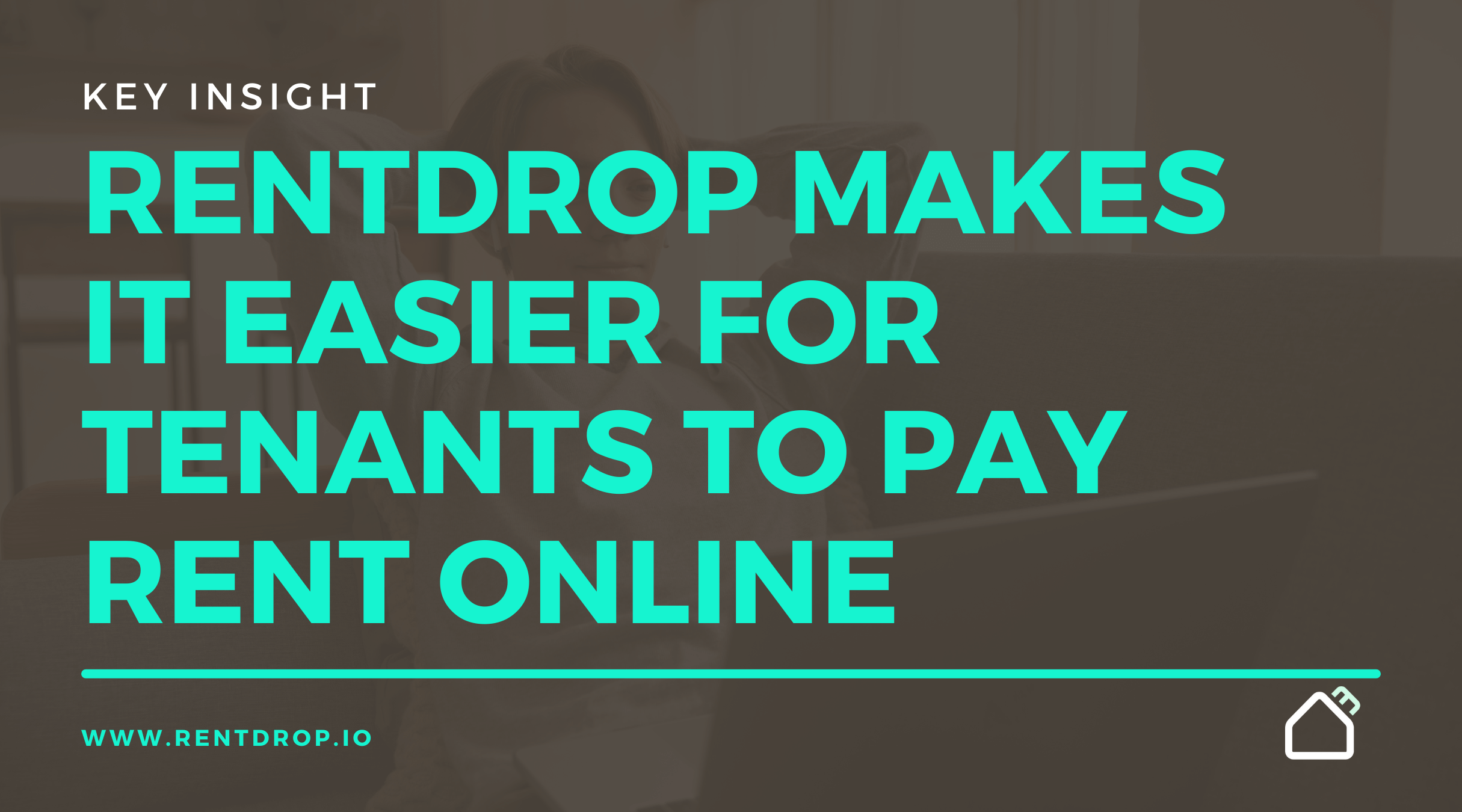 Block a partial payment
A vital feature of a rent payment app is to allow tenants to block partial payments. Why is this necessary? Suppose you must evict a tenant for non-payment of rent. In that case, it is vital to prevent the tenant from making any partial rent payment during the eviction process.
Both Rentdrop and TenantCloud put landlords in complete control of rent payments. This means that a delinquent tenant can't pay a few dollars in rent just to avoid eviction. So, by using an app like Rentdrop, you can improve your cash flow and avoid costly eviction mistakes.
Property management features
One of the strong points of TenantCloud is its full property management options. By paying $144 or $480 per year, you can access features like processing rental applications, screening tenants, property manager tools, tax services, and maintenance requests.
Rentdrop lacks some of the property management features of TenantCloud. Rentdrop was designed as a feature-packed app for rent payments. This means that Rentdrop has unique features for tenants to pay rent.
Rentdrop is for both landlords and tenants to make paying and collecting rent as uncomplicated as possible.
Related reading: The hidden costs of free rent payment apps.
Tenant features — Rentdrop vs. TenantCloud
Running a successful rental business means providing a stellar service to your tenants. Therefore, when choosing a suitable rent payment solution, it makes sense to choose one that is simple for tenants to use. Choosing a tenant-friendly rent payment app can also encourage tenants to ditch rent checks and pay rent online.
How do Rentdrop and TenantCloud stack up when comparing features for tenants?
Report rental payments to credit bureaus
One of the handy features of Rentdrop that TenantCloud lacks is reporting on-time rent payments to credit bureaus (coming soon). Reporting rent payments to credit bureaus can be a significant benefit to tenants. Not only do they have the incentive to pay rent on time, but it's also an excellent way to convince a tenant to switch over to online rent payments.
The monthly rent payment is a tenant's largest recurring payment. You can help them boost their credit score by reporting payments to a credit bureau. This can also be an excellent way to convince a prospective tenant to choose your rental unit.
Allow tenants to pay rent on their schedule
Rentdrop allows tenants to pay on their schedule — a cool feature that TenantCloud doesn't offer. Why is this feature something that landlords need? This answer is simple: provide an excellent service to your tenants and encourage on-time rent payments
For example, you can let tenants choose whether to pay rent weekly or bi-weekly. This option is excellent for tenants working in the gig economy or self-employed. Weekly or biweekly rent payments make it easier for them to pay you on time and give you more flexibility in managing your properties.
Split rent with roommates
Another using a mobile app like Rentdrop or TenantCloud for rent collection is the option to split the rent between roommates. This is a crucial feature if you manage multi-tenant rental units. Each tenant on the lease is responsible for their share of the rent, and they pay rent directly to you. This option encourages on-time rent payments and increased personal responsibility.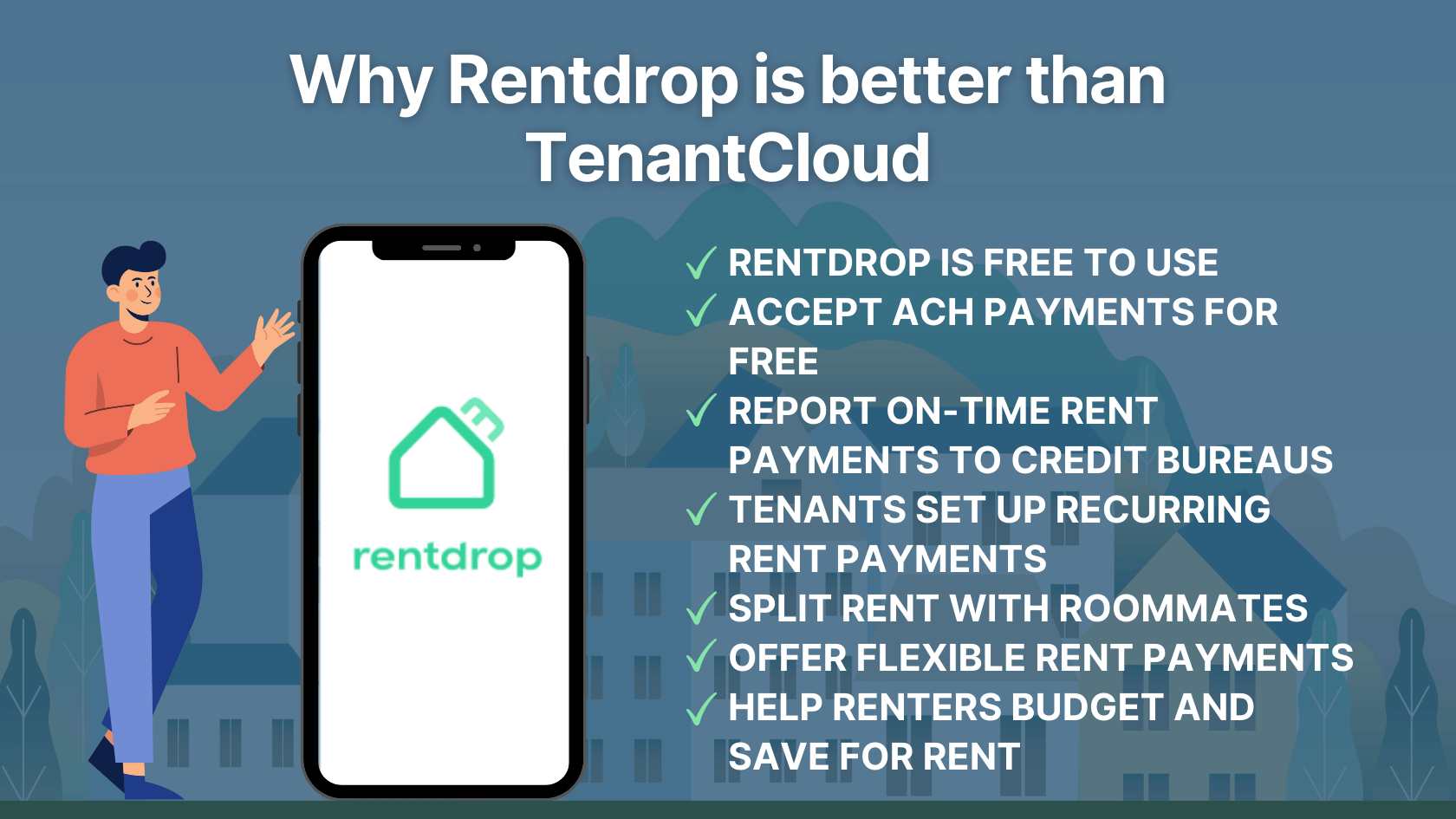 Who is TenantCloud Best For?
TenantCloud is a property management solution that can be customized to fit thousands of properties. It is typically used by managers who oversee an extensive portfolio of single and multifamily rental properties. For a monthly subscription fee. TenantCloud has features for complete property management.
Although TenantCloud has online rent collection options, it lacks some essential features in the free version. For example, your tenants can't set up recurring rent payments, and accepting ACH payments incurs an extra cost. In addition, you can't track and manage rent payments from tenants.
Who is Rentdrop Best For?
Rentdrop outperforms TenantCloud when it comes to its rent collection features. What's more, there are no subscription fees to unlock premium tools. Although it lacks many property management tools, it has excellent additional features to help collect rent and make it easy for tenants to pay rent.
Here are a few compelling reasons to consider using Rentdrop rather than TenantCloud for collecting rent online:
Rentdrop is free to use
Accept ACH payments for free
Report on-time rent payments to credit bureaus (coming soon)
Tenants set up recurring rent payments
Split rent with roommates
Offer flexible rent payments
Help renters budget and save for rent
Rentdrop vs. TenantCloud — In Conclusion
Rentdrop and TenantCloud are both excellent options for successful landlords. However, depending on the type of rental business your run, Rentdrop may be the better option.
Of course, if you manage an extensive portfolio with hundreds of rental units, TenantCloud has better management tools. However, if you manage several properties and require a solution to streamline rent collection, then we recommend Rentdrop. Not only does it have more advanced features for tenants than TenantCloud, but it is also free to use.