If you are a landlord or property owner and want to collect rent online, you may have heard of Rent Manager. This is an app for total property management designed for landlords. However, suppose you manage a few rental units. In that case, you may wonder if RentManager is the best landlord app for managing a small rental business. In addition, it's vital to ensure that tenants find Rent Manager easy to pay rent online.
You may be wondering, how much does Rent Manager Cost? Does it have all the features I need for property management? Is it the best app if I only have a few rental properties to manage?
Many landlord apps on the market make it easy for tenants to pay rent. For example, some tenants like paying rent using PayPal, Cash App, or Zelle. However, there are several reasons to avoid those digital wallets. This is because, if you are a rental property owner or landlord, you need functions to help manage a rental unit.
This article compares the features of Rent Manager and Rentdrop. Both mobile applications are designed for landlords and have similar features. However, if you manage a handful of properties, does one app have the advantage over the other?
The features or Rentdrop and RentManager we will compare in this head-to-head are the following:
Cost and pricing plans
Recurring payments for tenants
Automatic late fee calculation
Payment receipts and reporting
Report rental payments to credit bureaus
Accept credit card, debit card, and ACH bank transfers
Direct deposit payments
Free online rent collection
Rental insurance
Flexible payment options
Property management features
Rentdrop vs. Rent Manager — At a Glance
What is Rent Manager?
Rent Manager is a total property management solution for small to large businesses. Typically, property owners and landlords who use Rent Manager manage between 100 and 50,000 rental units. The software includes payments, credit checks, reporting, portfolio management, vacancy management, and rent tracking. The monthly fee is a minimum of $200.
What is Rentdrop?
Rentdrop is a free, fully functional landlord app to collect monthly rent payments online. Typically, Rentdrop customers are landlords or property owners who manage up to 100 units. The many features of Rentdrop include recurring payments, payment receipts and reporting, partial payment blocking, split rent, flexible payment schedules, and default renters insurance coverage.
Rentdrop vs. Rent Manager — Comparison of Two Rent Payment Apps
The main difference between Rent Manager and Rentdrop is the customer base. Rent Manager has many features to manage all aspects of property management. On the other hand, Rentdrop is focused on making it simple for tenants to pay rent while giving landlords complete control over rent payments.
To get a better idea of how the two rental apps compare, let's put their features side-by-side to help you make an informed choice.
Pricing plans and subscription fees
When choosing any service to use, your first question is: "How much will this cost me?" So, much does it cost to collect rent online using Rentdrop or Rent Manager?
Rent Manager costs landlords $200 per month for the basic package. However, the premium package has a hefty monthly subscription fee of $450. For the basic package, you get online rent collection, integrated accounting, tenant portal, tenant screening, and rental application processing.
Rentdrop has no monthly subscription and is free for tenants and landlords to use. This means that you have no monthly fees to pay to use its many rent collection features. Additionally, tenants can pay rent for free, set up recurring payments, and report rent to credit bureaus (coming soon).
Conclusion: Rentdrop beats Rent Manager when it comes to its pricing plan. There is no subscription fee to use the fully functional rent management features.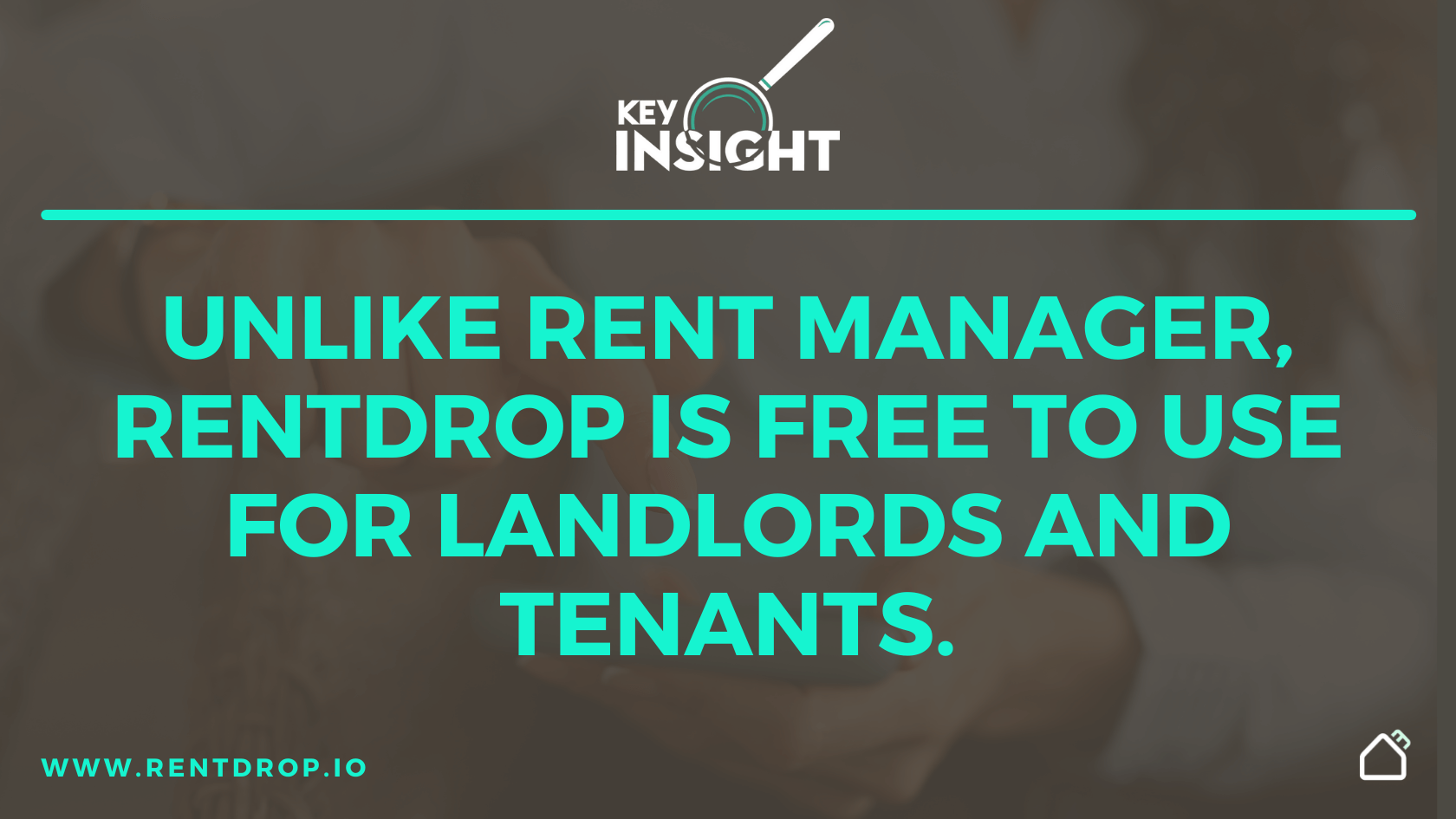 Online rent payment options
Rent Manager and Rentdrop have excellent options for tenants to pay rent online. Tenants can pay rent using a debit card, credit card, or ACH bank transfer. Many studies show that landlords who switch to online rent collection get more on-time rental payments and charge fewer late fees.
However, it seems that many of Rent Manager's features to allow tenants to pay rent require integration with third-party apps with a monthly subscription fee. Therefore, if you want to use a property management app primarily for rent payment management, there are cheaper options to choose from.
Rentdrop never charges landlords a cent if tenants pay rent using a credit card, direct deposit, or debit card. For instance, if a tenant uses a credit card, any incurred transaction fees are charged to the tenant, not you.
Conclusion: RentManager and Rentdrop offer online payments to collect rent. Rentdrop works out as the cheaper option for property owners with a few units.
Related reading: Why electronic payments for rent collection are better for landlords.
Automatic/recurring rent payments
A benefit of getting tenants to use Rentdrop or Rent Manager to pay rent is setting up recurring monthly payments. A tenant can arrange for an automatic payment when the rent is due. This means that they will never forget about paying rent on time. Additionally, if there are not enough funds in their bank accounts, they can pay by credit card.
This feature of setting up an automatic rent payment schedule sets Rentdrop and Rent Manager apart from other mobile payment apps like Zelle, PayPal, and Cash App. However, there are several reasons to avoid using digital wallets to collect rent.
Conclusion: Rent Manager and Rentdrop offer excellent options for tenants who want to set up automatic payments.
Block partial payments
One of the essential features of a rent collection app is to block a partial payment. Landlords must have control over a tenant's rent payment. This means preventing a delinquent tenant from paying partial rent during an eviction process. Otherwise, a tenant could successfully disrupt the eviction and make it difficult for you to get them out.
After reviewing Rent Manager features, the basic plan doesn't provide a way to block a partial payment. This would only be possible if you use a third-party plugin and add to the monthly cost of Rent Manager's payment options.
Rentdrop includes blocking partial payments as standard. We realize that landlords must be in control of rent payments and have the ability to stop tenants from derailing any eviction procedure. So, unless a tenant pays monthly rent in full, the payment is marked as not received.
Conclusion: Unlike Rent Manager, Rentdrop includes the option to block a partial payment for whatever reason.
Calculate and charge late fees
A helpful feature of RentManager and Rentdrop is automatically charging late fees. Incorporating late fee calculations makes collecting rent straightforward. If a tenant is late with their rent, the appropriate fee is automatically charged to the next month's rent. Apart from making your life easier, you avoid disputes with tenants because the process works automatically.
Conclusion: Both rent collection apps charge late fees as part of the payment and rent collection options.
Report rental payments to credit bureaus
Giving tenants the option to report rent payments to credit bureaus is an attractive option. For most tenants, rent is their most significant monthly expense. Rent Manager and Rentdrop (coming soon) have rent-reporting options for tenants.
Allowing tenants to report this bill payment to credit bureaus has several advantages. First, they have an incentive to pay rent on time. Second, it's a great way to convince a tenant to switch to online rent payments.
How do the two apps compare? Rent Manager offers this service as a third-party app. Tenants would subscribe to RentTrack and pay $6.95 per month to use the service. With Rentdrop, the service is free for landlords and tenants to use.
Conclusion: Rentdrop has the edge over Rent Manager with reporting to credit bureaus - a feature coming soon - because it is a free service.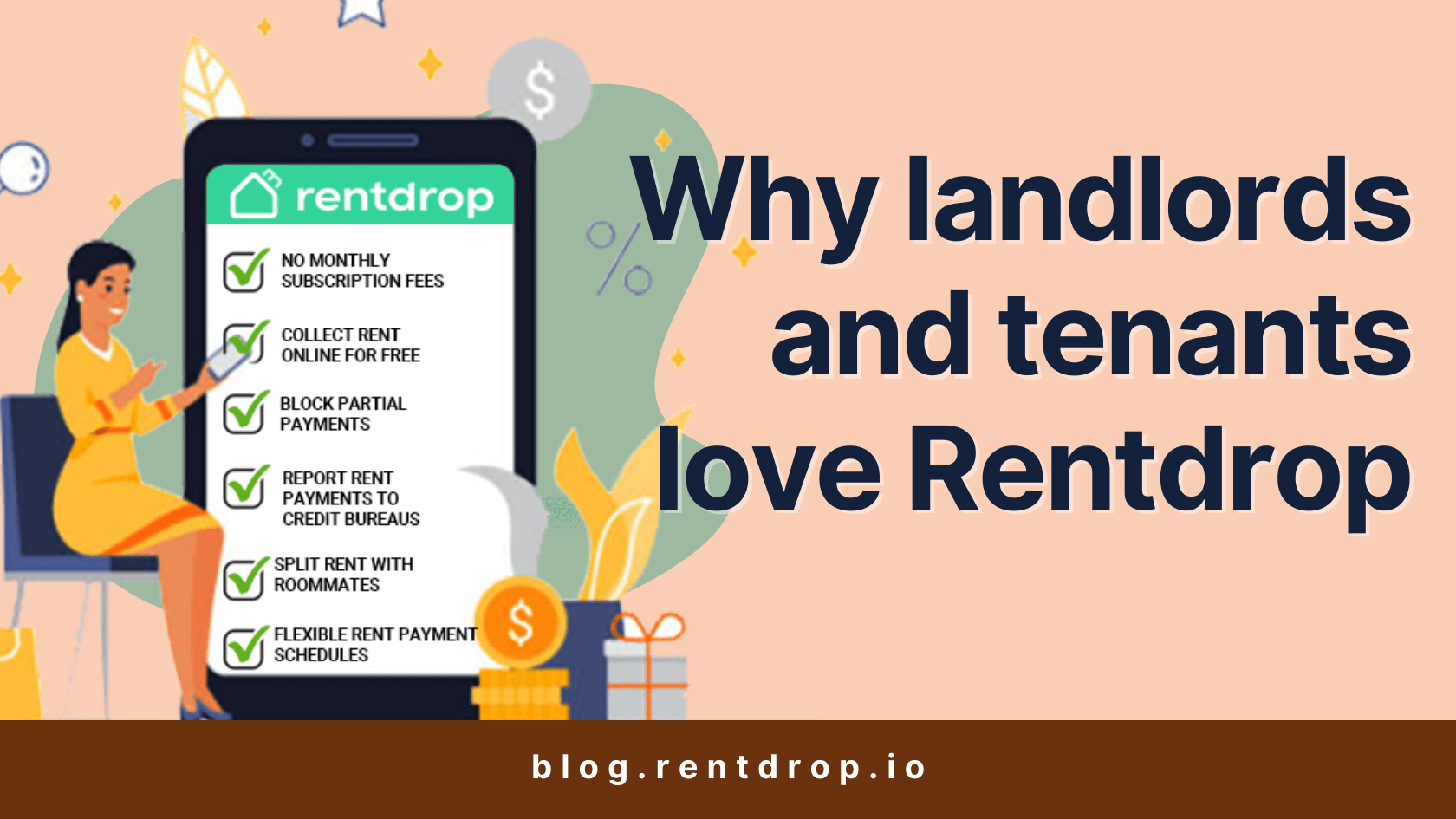 Offer flexible rent payment schedules
Rentdrop offers landlords a unique feature — allowing tenants flexible payment schedules. This option is excellent for tenants working in the gig economy or self-employed. For example, you can let tenants pay rent weekly or bi-weekly. Flexible rent payments encourage on-time rent payments and are a handy feature for many tenants.
Unfortunately, there is no information on the Rent Manager website about using the service for flexible rent payments.
Conclusion: If offering Flexi-rent is an option that your tenants would benefit from, Rentdrop is the only choice.
Split rent with roommate options
Another feature of Rentdrop lacking in Rent Manager is allowing roommates to split rent. This is an essential feature if you manage multi-tenancy rental units. It means that every tenant on the lease is responsible for their portion of the rent. Each tenant pays rent directly to you.
Conclusion: Rentdrop is the obvious choice of rent collection app over Rent Manager if you have several paying tenants living in a single unit.
Property management features
If you are looking for a digital solution for total property management, Rent Manager has more features than Rentdrop. Rent Manager has a plethora of services for managing large apartment buildings. For example, it has management features for tax, insurance, portfolios, lease agreements, and maintenance requests. It is also helpful for managing commercial properties.
Rentdrop is light on features like maintaining a corporate website, tracking investment portfolios, and managing commercial tenants. This is because Rentdrop was with individual rental property owners in mind. It was never set up to compete with total property management apps.
Conclusion: If you need a solution for total property management, then Rent Manager is the obvious choice. However, suppose you want an app for collecting and tracking rent, security deposits, payment processing, tenant screening. In that case, Rentdrop is a cost-effective alternative.
Who is Rent Manager Best for?
Rent Manager is one of the best property management solutions for investors with an extensive rental property portfolio. It is typically used by property managers or owners who manage multi-family and single units and commercial properties. The accounting reporting and business operations are customizable for thousands of properties.
Who is Rentdrop Best for?
Rentdrop is the best option for property owners or landlords who manage up to 100 properties. The fully-functioning rent collection solution is free and has all the features to streamline rent collection. In addition, it has been designed specifically for landlords and tenants to make rent payments easier.
Rent Manager vs. Rentdrop for Rent Payments — In Conclusion
Finding the best solution to collect rent online doesn't have to be challenging. Two excellent rent collection apps are Rent Manager and Rentdrop.
RentManager is helpful if you are willing to pay a couple of hundred bucks a month for property management software to manage hundreds of units.
On the other hand, Rentdrop is free for landlords and tenants to use and makes all aspects of collecting rent easier. In addition, Rentdrop's mobile app interface and online tenant portal are more straightforward for tenants to use.