Are you looking for an easy way to collect rent online? If you are trying to decide on the best mobile app for rent payments, this article is for you. As a landlord, you need to find a way to collect rent on time every month. It is also vital to provide an excellent service for your tenants to make it straightforward to make monthly rent payments.
Many landlords find that using a rental application is the best way to manage a successful business and streamline the rental process. Even if you only manage one rental unit or a few, a rental app is ideal for collecting rent online, letting tenants set up recurring rent payments, avoiding late rent.
This article will compare the features and benefits of two mobile apps for rent payments — TurboTenant and Rentdrop. After reading this review, you will have a clearer understanding of which rental application is best suited for your business.
The features we will compare are:
Pricing
Recurring payments for tenants
Automatically calculate late fees
Block a partial payment
Rapid transfer of funds
Payment receipts and reporting
Report rent payments to credit bureaus
Help tenants budget and save for rent
Split rent with roommates
Turbo Tenant vs. Rentdrop — At a Glance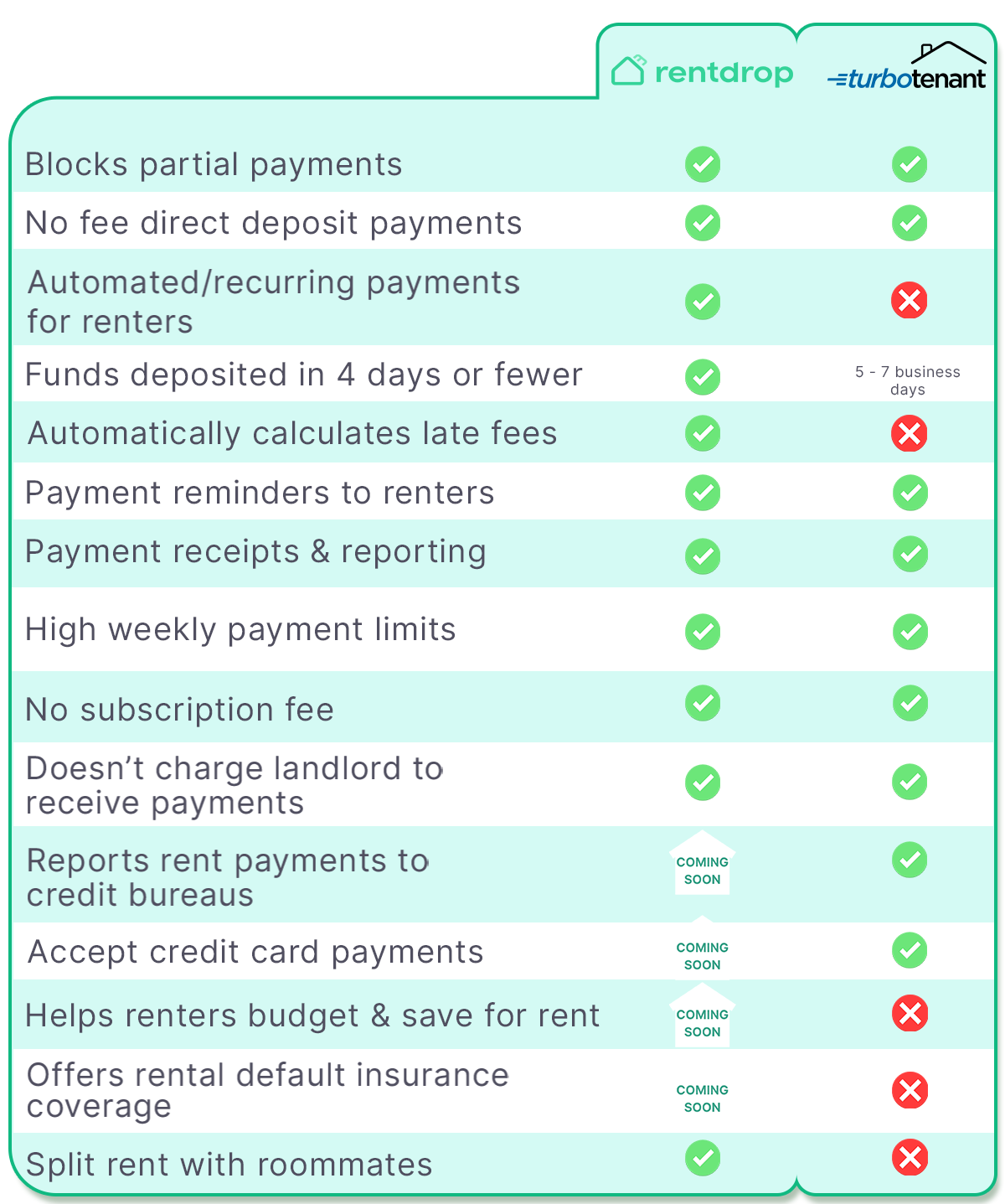 What is TurboTenant?
TurboTenant is a property management app to manage rental units. The tool lets landlords receive rental applications, screen tenants, and market vacant rental properties. Like all rental tools, it enables tenants to make online payments. It is free for landlords to use, and additional premium features cost extra.
What is Rentdrop?
Rentdrop is a free rent collection app that lets landlords collect monthly rent payments without transaction fees. Rentdrop features for landlords include blocking partial payments, automatic late fee calculation, and fast transfer of funds to bank accounts. Additionally, Rentdrop allows recurring rent payments for tenants, splits rent with roommates, and reports rent payments to credit bureaus (coming soon).
Rentdrop vs. TurboTenant — How the Rent Payment Apps Stack Up
A trusted app for rent payments should ensure that it's straightforward to use for landlords and tenants. So, any online rent payment method you decide should streamline rent collection, reduce late rent payments, and lower vacancy rates.
However, to ensure that your tenants are happy, it's also good to choose a rent collection method that works for tenants. For example, offering rent installment plans, splitting rent with roommates, reporting on-time rent payments to credit bureaus, and recurring payments are essential features to look for.
How does Rentdrop stack up with TurboTenant for rent payments? Here is a comparison of the features of both apps.
Pricing
Both Rentdrop and Turbo Tenant are free for landlords to use. There are no transaction fees for landlords, even if tenants pay by debit card or credit card. Unlike mobile payment apps like PayPal or Venmo, any transaction fees are charged to the tenant. So, tenants can make bank transfers for free. The tenant, not the landlord, pays the debit and credit card transaction fees.
Conclusion: When it comes to pricing, both Rentdrop and TurboTenant have attractive plans for landlords.
Recurring payments for tenants
One feature that sets Rentdrop apart from TurboTenant is the feature for scheduling recurring payments. With Rentdrop, tenants can arrange for automatic payments on the day of the month when rent is due. With TurboTenant, the regular payment feature is based on the tenant's bank.
Why is the option to set up recurring fees vital for a rent collection app? Let's face it, everyone is leading busy lives and can easily forget important things. And the facts show that setting up recurring payments is one of the best ways to reduce late rent payments.
So, it could mean that tenants using TurboTenant can't set up recurring payments from their debit card. Additionally, they may have additional fees to pay depending on their bank or credit union.
Both apps also have one-time payment features, which are helpful for collecting the security deposit, charging late fees, or paying a rent debt.
Conclusion: Rentdrop is the best choice of app for a busy renter if you want to give tenants the option to pay rent automatically each month.
Automatically calculate late fees
Many landlords prefer a rental app that automatically calculates late fees. This helps resolve disputes with tenants who have missed the due date. As a landlord, you don't have to get into a heated discussion with the tenant about the late fees. Instead, they are automatically added to the next month's rent.
How do Rentdrop and TurboTenant stack up when comparing the late fee's feature? Rentdrop automatically calculates late fees without you having to do anything. With TurboTenant, you must use its "One Time Charge" feature.
Conclusion: Although both apps let you charge late fees to tenants, Rentdrop has the edge because it's an automatic feature.
Block a partial payment
Blocking a partial payment is an essential feature of TurboTenant and Rentdrop. This feature prevents making a partial rent payment if you are trying to evict a delinquent tenant. This also ensures that you take control of rent payments rather than leaving it up to tenants.
The 'block a partial payment' feature of Rentdrop and TurboTenant is one reason to use either of these apps over PayPal or a similar digital wallet. Using PayPal to collect rent puts you at risk of partial payments can make it difficult to evict a tenant for non-payment of rent.
Conclusion: Rentdrop and TurboTenant have robust features to prevent tenants from paying partial rent.
Rapid transfer of funds
Running a successful rental property business requires a healthy cash flow. Therefore, the time it takes to transfer deposited funds is an important consideration when choosing a rent collection app. How does Rentdrop compare with TurboTenant regarding bank transfer times?
Rentdrop takes four days or fewer to transfer funds to your bank account, and there is no charge to landlords. There are also options for instant, same-day ACH bank transfers.
TurboTenant takes between five and seven business days.
Why is the time it takes for funds transfer important? Consider this scenario. Let's say you use TurboTenant to collect rent, and you initiate a bank transfer on a Friday. In that case, it could take up to 11 days for the funds to arrive. In the same scenario, transferring funds with Rentdrop means money would be in your bank by the following Thursday.
Conclusion: Rentdrop takes less time to deposit funds in your bank account. It is also good to note that underlying rent funds are held by an FDIC-insured member bank.
Related reading: A definitive guide to collecting rent online.
Payment receipts and reporting
As you would expect from a trusted rent collection app, Rentdrop and TurboTenant provide receipts for rent payments. This vital feature allows landlords to monitor and check rent payments. It also provides a secure digital 'paper trail' of rent payments — essential if disputes about rent or missed payments arise.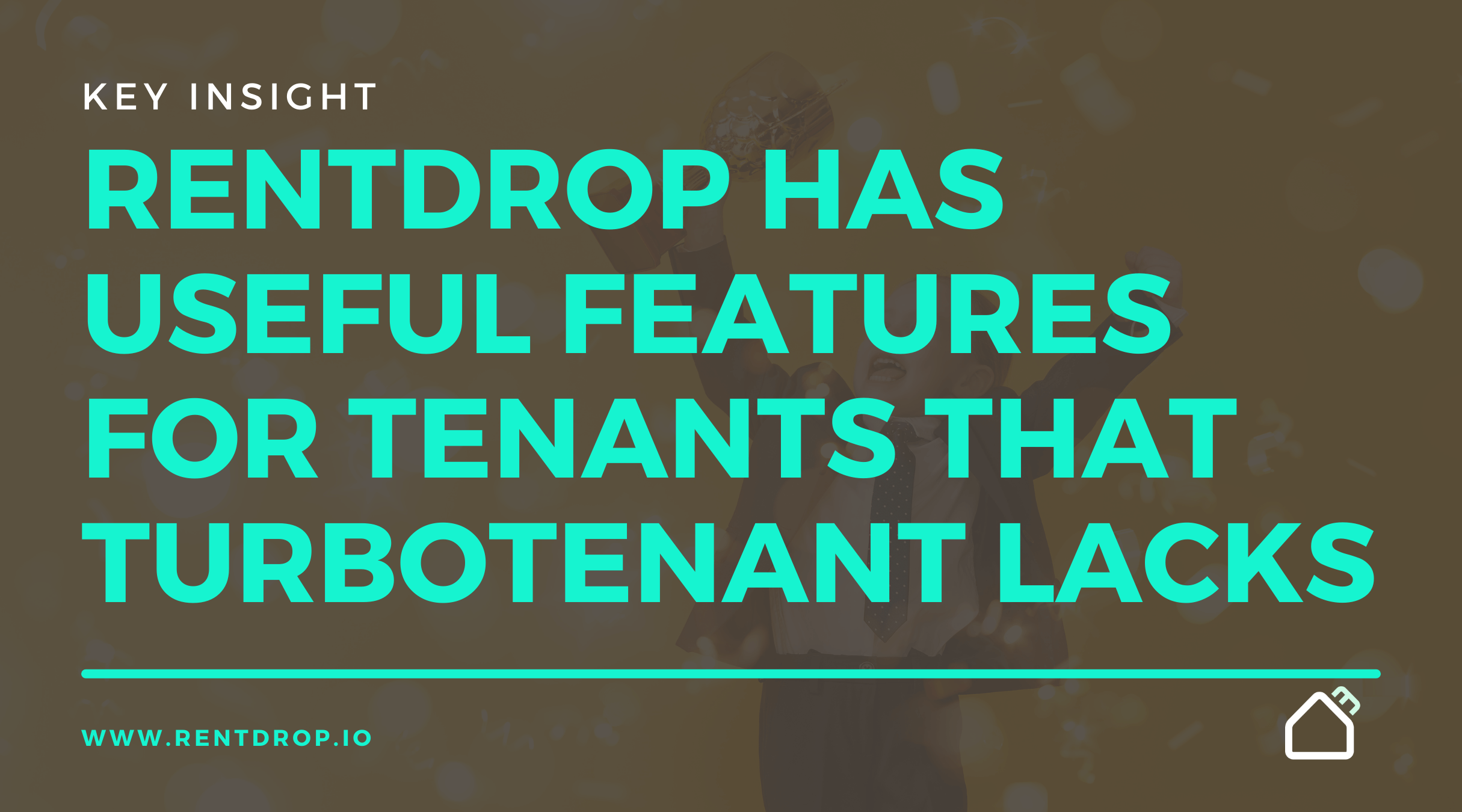 Other handy reporting features of both apps are rent payments, payment history, late payments, and sending out automatic rent reminders.
Conclusion: TurboTenant and Rentdrop have excellent reporting features. These are helpful for landlords during tax season, an eviction process, or automatic bookkeeping.
Report rent payments to credit bureaus
Credit reporting offers tenants the chance to boost their credit scores for free. A handy feature of TurboTenant and Rentdrop (coming soon) is letting tenants build their credit history. Rent payments are automatically reported to credit bureaus. The benefit for tenants is that they can report large bill payments to increase their credit score.
How does reporting rent payments benefit landlords? Here are two ways:
Minimize the risk of late rent payments because tenants have an incentive to pay rent on time.
Provide a comprehensive service to your tenants.
Conclusion: TurboTenant already has rent reporting built-in to its functionality. However, this feature will soon be available in Rentdrop as well.
Offer flexible payment schedules
Rentdrop stands out from TurboTenant because it has the ability for tenants to pay rent each month in installments. Many people work in the gig economy or are self-employed. This means that paying rent weekly or bi-weekly may be a better option for them. Rentdrop lets landlords set up flexible rent payment schedules based on the tenant's income schedule.
Conclusion: Rentdrop is the best rent collection app if you want to offer your tenants flexible rent payments.
Help tenants budget and save for rent
Unlike TurboTenant, Rentdrop lets tenants budget and save for rent. This handy feature is ideal for tenants who can afford rent but have irregular income — for example, gig workers or self-employed folk.
Additionally, Rentdrop will allow parents to help their college kids with monthly rent payments. And you will be able to offer rent credits to tenants in exchange for carrying out maintenance tasks in the rental unit or building. These are several features in Rentdrop that TurboTenant lacks.
Conclusion: Rentdrop beats TurboTenant regarding helping tenants save for rent and reduce the burden of paying rent.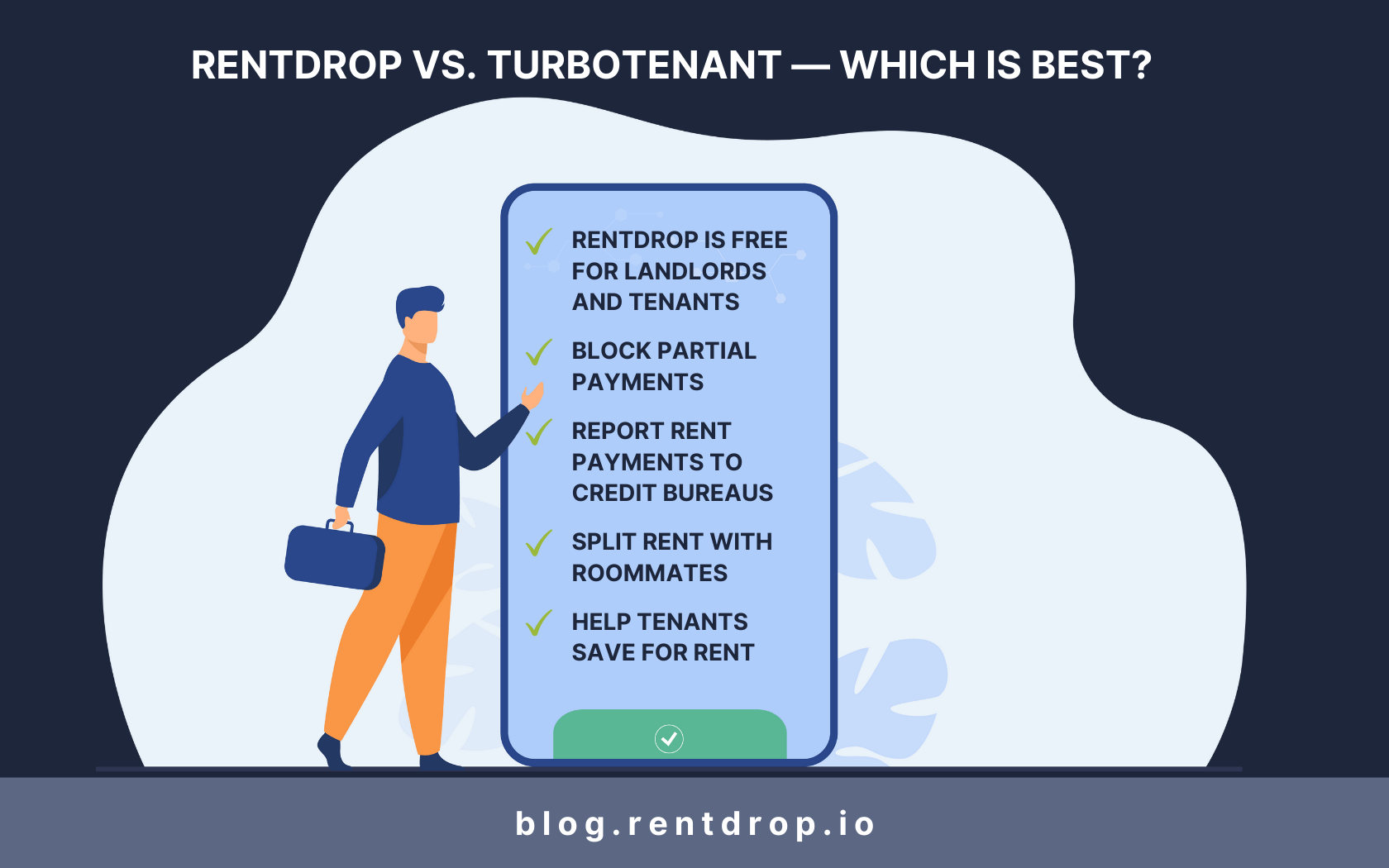 Split rent with roommates
If you manage a multi-tenant rental property, Rentdrop is a better option than Turbo Tenant. One of the unique features of Rentdrop is allowing roommates to split rent. This feature makes it simple for each tenant listed on the agreement to pay rent.
With TurboTenant, you must use the partial payment feature to allow tenants in a multi-tenancy unit to pay their portion of rent. However, this doesn't work as well as Rentdrop's split rent feature.
This means that by using Rentdrop, your tenants avoid the hassles of one tenant being responsible for collecting rent from everyone. Additionally, the feature to split rent increases the individual responsibility for each tenant.
Conclusion: Compared to TurboTenant, Rentdrop comes out on top for its feature to let roommates split rent and pay directly to the landlord.
Alternatives to TurboTenant
There are a few things to consider when it comes to choosing between TurboTenant and Rentdrop. Both rental applications are free for landlords to use without incurring additional fees. The apps solve the issues regarding paying rent in cash or waiting for a paper check in the mail. In this respect, there is little to choose from.
TurboTenant has some nice features that can make certain tasks easier for landlords. For example, there are good marketing features to fill vacancies, and you can also accept maintenance requests. Additionally, you can process and manage lease applications and agreements. However, TurboTenant lacks some valuable features that help tenants pay rent regularly.
Although Rentdrop doesn't have some of the sophisticated features of TurboTenant, it excels in other ways. For example, Rentdrop facilitates more flexible rent payment options — something that tenants love. For example, tenants can pay rent in installments, set up recurring rent payments, split rent with roommates, and report rent to credit bureaus (coming soon).
TurboTenant vs. Rentdrop — In Conclusion
Rent collection should be straightforward and uncomplicated for landlords. The simplicity of Rentdrop with features like recurring rent payments and automatic late fee calculation help improve cash flow.
Also, Rentdrop for tenants will offer several options missing in TurboTenant that improves the whole rental experience — flexible payment schedules, pay rent in advance, and parent pay.
Sign up for Rentdrop today and see why landlords and tenants love using it for rent payments.