Rentdrop and Buildium are two rental payment platforms popular with landlords. Using a mobile app for rent payments can make a big difference to your day-to-day operations.
For you as a landlord, you have complete control over your tenants' payments. For example, an online rent payment solution automatically charges late fees and blocks partial payments. In addition, you can get rid of the burden of collecting rent checks or cash payments.
For your tenants, paying rent online is many advantages. They can make payments by debit card, credit card, or ACH direct deposit. In addition, tenants love features like splitting rent with roommates, setting up automatic payments, and reporting rent to credit bureaus. These are valuable options for tenants to make rent payments uncomplicated and easy to manage.
Buildium is a well-known property management platform used by rental property owners and managers. But how do the rent collection features of Rentdrop compare to what Buildium offers? This article reviews these two rent collection apps to find the answers to two questions:
Which is the best mobile app for tenants to pay rent?
How do the rent collection features of Rentdrop and Buildium compare?
The comparison of Buildium and Rent drop puts the following features side by side:
Monthly subscription fee
Cost to landlords to receive rent payments
Features to make online rent payments easy
Landlord friendly options to streamline rent collection
Property management options
The review will look at the four main categories a useful property management platform should have. These are costs, convenience, automated features, and value to tenants.
Rentdrop vs. Buildium — At a Glance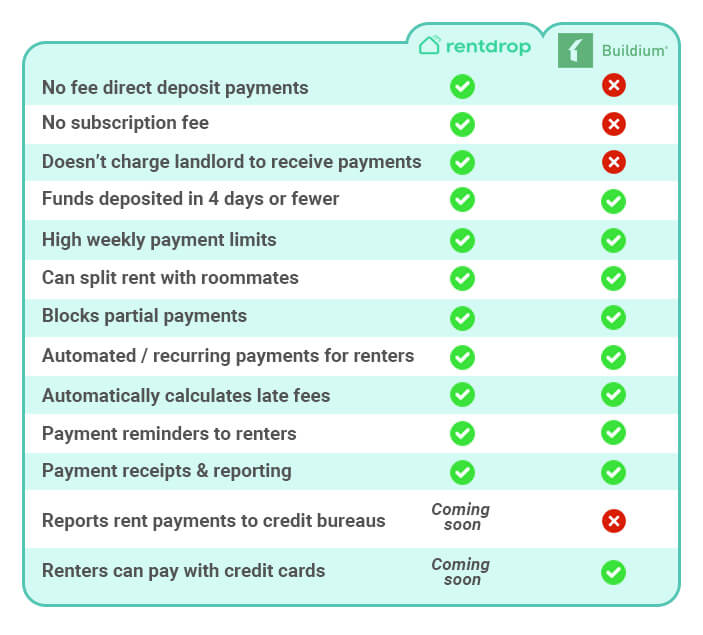 Rentdrop or Buildiium? A Brief Overview
Comparing Rentdrop and Buildium reveals that both options help streamline core landlord tasks. Rentdrop is an excellent choice for landlords who manage up to 100 rental units and want a free rent collection app. Buildium fees start from $50 per month, and it's for property managers with 100 to 5,000 units.
What is Buildium?
Buildium is a property management platform for property managers and real estate investors. The software includes tenant screening, online payments, rent reporting, and rental application processing. Buildium has three plans — Essential, Growth, and Premium, costing between $50 and $460 per month to use, plus additional transaction fees.
Related reading: Alternatives to Buildium for rent payments.
What is Rentdrop?
Rentdrop is a rent payment app for landlords who manage several rental properties. The software includes free online rent collection, rent splitting for co-tenants, recurring payment for tenants, payment reports, and automatic late fees. In addition, Rentdrop reports rent payments to credit bureaus (coming soon). Rentdrop is free for tenants and landlords.
Rentdrop vs. Buildium — Costs, Subscription Fees, and Pricing Plans
How much does it cost to use Buildium for property management? For example, do Rentdrop and Buildium let landlords collect rent for free
Rentdrop is 100% percent free for landlords and tenants to use. You never have to pay transaction fees to collect rent online. So, if your tenant makes a direct deposit payment, uses a credit card or debit card — you have nothing extra to pay.
Tenants don't have to pay any fees when using Rentdrop to make a payment by debit card or ACH transfer. However, suppose a tenant decides to pay by credit card. In that case, the transaction fees are charged to the tenant, not you.
How Rentdrop and Buildium compare on costs
Comparing the cost of using Rentdrop and Buildium, it's clear which one is more cost-friendly to landlords and tenants. Rentdrop won't cost you a cent to use, and you have access to all its features for free. However, Buildium can be costly, especially if you only manage a few rental units.
Rentdrop vs. Buildium — Landlord Features
The main reason to choose a trusted rent online payment platform is to make the day-to-day job of being a landlord more straightforward. The features to look out for are high weekly payment limits, funds deposited in four days or fewer, automatic late fees, and payment reminders. These essential features help to ensure you receive rent on time.
Another important option to look for is the option to block a partial payment. For example, suppose you are trying to evict a tenant for non-payment of rent or another lease violation. In that case, it's crucial to stop them from making a partial rent payment. Even if they pay a few dollars in rent, they can derail the eviction process.
Related reading: Costly evictions mistake to avoid.
Buildium Features
Buildium has all the features most landlords expect from a property management software. You can manage rental units by listing vacancies, arranging property inspections, processing rental applications, and it has full accounting software. The comprehensive features in Buildium are helpful for a property manager or rental owner with many, maybe hundreds of units to manage.
Rentdrop Features
The core features of Rentdrop focus on making rent collection uncomplicated for landlords while being simple for tenants to use. To ensure on-time payments, landlords can use Rentdrop to send payment reminders, block a partial payment, and get full access to payment receipts and reporting.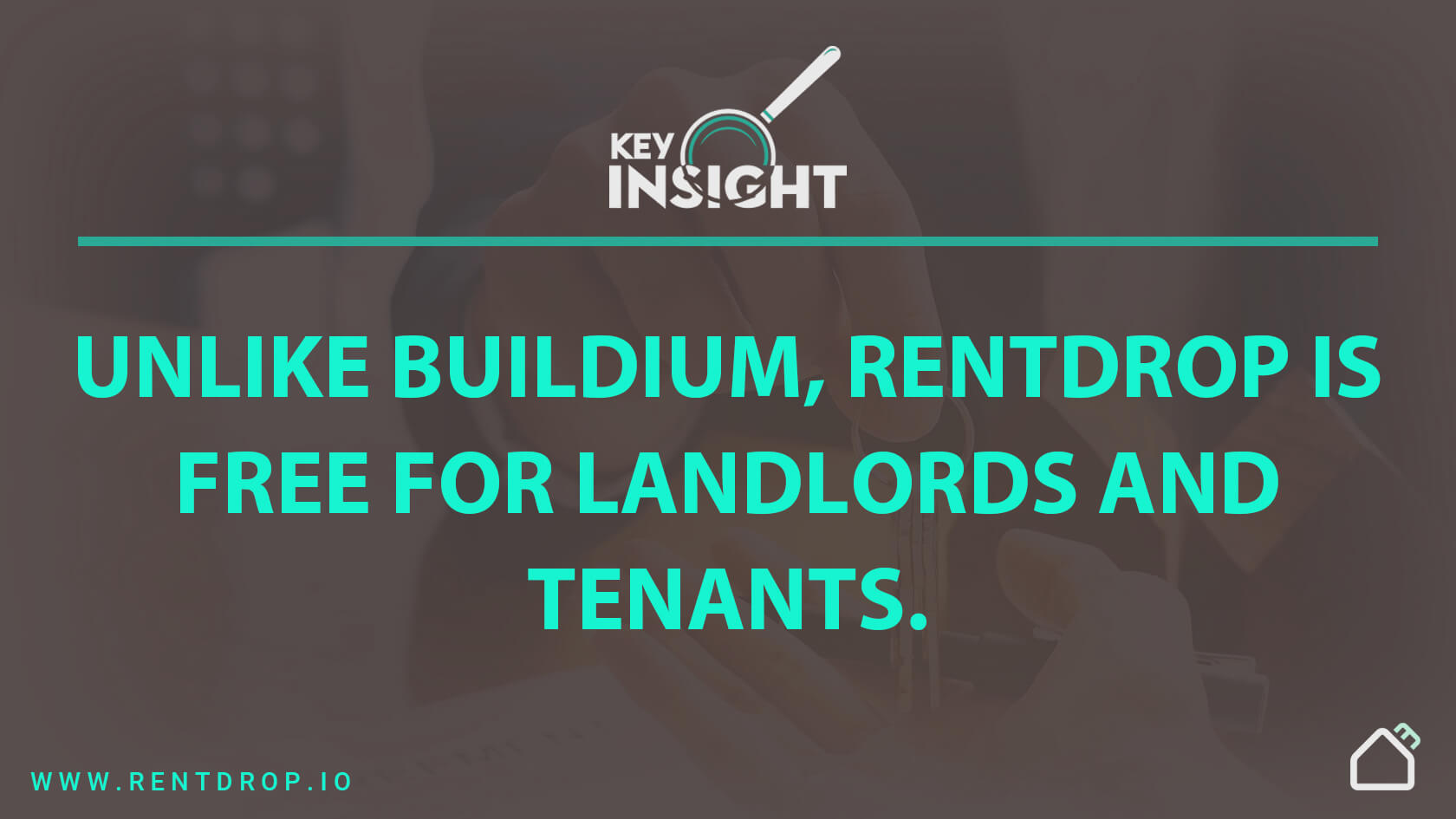 How Rentdrop and Buildium compare on features for landlords
For making rent collection straightforward, both apps perform exceedingly well. Rentdrop and Buildium give you complete control over rent payments. This means you can prevent tenants from paying part of the rent if you're trying to evict them.
Buildium indeed has more extensive features when it comes to managing properties. However, landlords who manage a few rental properties typically don't require comprehensive property management options, especially when they have a high monthly premium.
Rentdrop vs. Buildium — Tenant Portal
A vital consideration when choosing software to run a rental business is that it's easy for tenants to use. The app should give tenants a range of payment options, set up automatic payments, and split rent with roommates. Another handy feature to convince tenants to pay rent online is reporting to credit bureaus. So how do Buildium and Rentdrop compare?
Buildium tenant portal
Buildium gives tenants several options to pay rent online and manage their monthly rent payments. In addition, they can use the desktop tenant portal or the Buildium mobile app for convenience. Additional features of Buildium include sending maintenance requests, document storage, and sending emails to landlords. However, Buildium lacks the feature of reporting rent to credit bureaus.
Rentdrop tenant portal
Like all the best apps for rent payments, Rentdrop allows tenants to pay rent and fees online, set up automatic payments, and view their payment history. The excellent features that the app includes for tenants are splitting rent with roommates, setting up recurring payments, and viewing payment history.
How Rentdrop and Buildium tenant portals compare
Rentdrop and Buildium have similar features to help tenants pay rent online regularly and on time. One thing to be aware of is that landlords must pay an incoming payment fee — something that Rentdrop doesn't charge. Also, Rentdrop reports payments to credit bureaus (coming soon) — a feature loved by tenants to build their credit score.
When comparing the benefits to tenants, our recommendation is to choose Rentdrop. There are two reasons why Rentdrop is superior to Buildium for collecting rent — cost to landlords and reporting rent payments to credit bureaus (coming soon).
First, unlike Buildium, Rentdrop allows you to accept online payments for free. While it may not seem much to slap a $1.00 transaction fee on every incoming payment, they can add up over the year. For example, say you have 20 tenants who pay rent online. In that case, you are paying around $240 in additional fees, over and above the $600 Buildium subscription fee.
Why is reporting on-time rent payments to credit bureaus so vital? Think about it — the monthly rental fee is probably your tenant's largest monthly bill. If they pay rent by cash, paper check, or an app without this feature, they will find it challenging to build their credit score. With Rentdrop, you can offer your tenants this valuable service.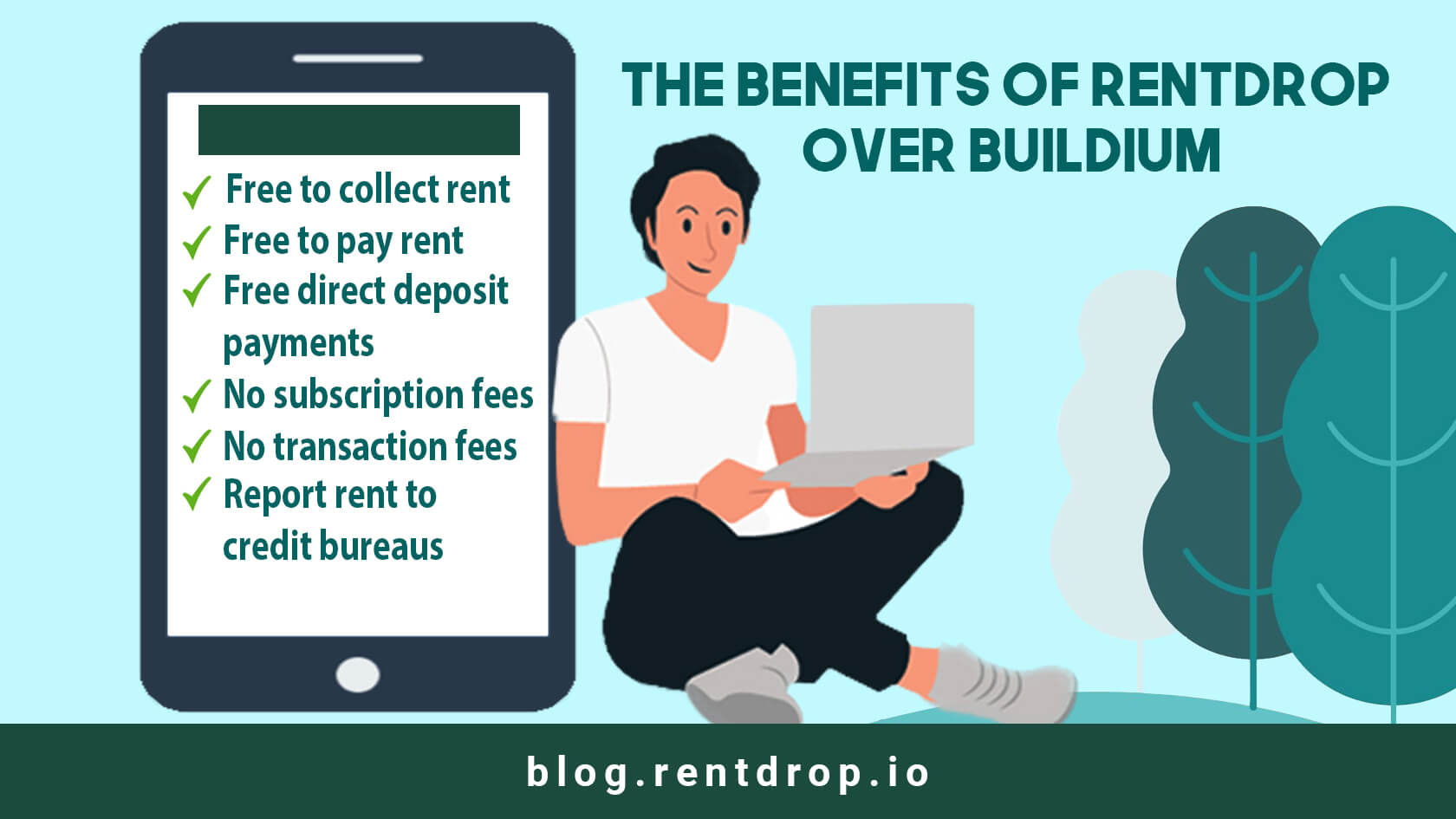 (The report rent to credit bureaus is a feature Rentdrop will soon have)
Rentdrop vs. Buildium — Property Management Features
Depending on the size of your rental business and the number of units, a mobile app with property management features may be helpful. Property management platforms allow property managers to list vacancies, process maintenance requests, screen tenants, e-sign documents, and arrange regular inspections.
Comparing Buildium and Rentdrop, it's clear that Buildium is designed with complete property management in mind. However, because Rentdrop is to streamline rent payments for tenants and landlords, it lacks many features for managing an extensive rental portfolio.
However, there is an important question to answer:
Do you need the property management features of Buildium?
The cost of using property management software is one of the most important considerations. Paying subscription fees will affect your cash flow. And depending on your rental business, you may not need an app to syndicate vacancies, process rental applications, and carry out basic tenant screening.
For example, suppose you only have two or three rental units with exceptionally low tenant turnover. In that case, you end up paying a hefty monthly subscription with Buildium for comprehensive property management features you rarely use.
But with Rentdrop, you never have any subscription fees to pay, and you collect rent online for free. So if you need to screen a tenant or process an online application form, is it not more cost-effective to make a small one-off payment?
Who is Buildium For?
Buildium is for rental property owners and property managers who require a comprehensive range of property management features. Buildium can cost upward of $640 a year to use, not counting additional fees for transactions and other services. Therefore, Buildium can be a good solution for managing 100 to 5,000 rental units.
Who is Rentdrop For?
Rentdrop is for individual landlords who need a robust and easy-to-use solution for rent payments. Rentdrop is free for landlords and tenants to use and helps you streamline the core aspects of running a successful rental business. If you manage one rental unit to 100, then Rentdrop is our top recommendation.
Rentdrop vs. Buildium — In Conclusion
Rentdrop and Buildium are two excellent apps for landlords. Comparing both platforms reveals that Buildium is for property managers with an extensive portfolio. It can cost upwards of $50 per month to use Buildium. On the other hand, Rentdrop is free to use and an ideal solution for landlords with few rental units. It offers a straightforward way for your tenants to pay rent online.