Avail and Rentdrop are both free rent payment solutions for landlords. If you are a busy landlord, it's vital to explore all options when it comes to streamlining your successful rental business. Because collecting rent payments on time is vitally important, choosing a suitable rent collection app is key to running a lucrative business.
The best online rent collection solutions should be easy for tenants and landlords to use. However, to operate a profitable business and protect your reputation as a landlord, you can't afford to use outdated rent collection methods. For example, collecting rent by check is not only time-consuming. It impacts cash flow and is fraught with security risks.
In addition, tenants who are forced to use an awkward online property management app may give up using it. And the last thing you want is for tenants to feel compelled to use a payment service like PayPal, Cash App, or Venmo for rent payments. Using trusted rental payment software like Rentdrop lets tenants set up automatic rent payments, report rent to credit bureaus (coming soon), and access their payment history.
Avail landlord software is a well-known property management platform. However, how do the features of Rentdrop stack up against Avail? There is only one way to find out — compare both rent collection apps to see which is best for landlords and tenants.
This comparison of Rentdrop and Avail examines in detail the following features:
Fees for direct deposit payments
Subscription fees to access all the app's features
Costs to landlords to receive payments
How fast a landlord receives funds in their bank account
High weekly payment limits
Feature to split rent with roommates
Ability to block a partial payment
Automated/recurring payments for renters
Automatic late fee calculation
Payment reminders to renters
Payment receipts and reporting
Report rent payments to credit bureaus
Can renters pay with credit cards?
Our comparison will split these features into four categories — cost to landlord or tenant, convenience, automated features, and value to tenants.
Putting the two rent payment apps side-by-side will help you make an informed choice on which is best for simplifying your day-to-day landlord tasks.
Avail vs. Rentdrop for Rent Payments — At a Glance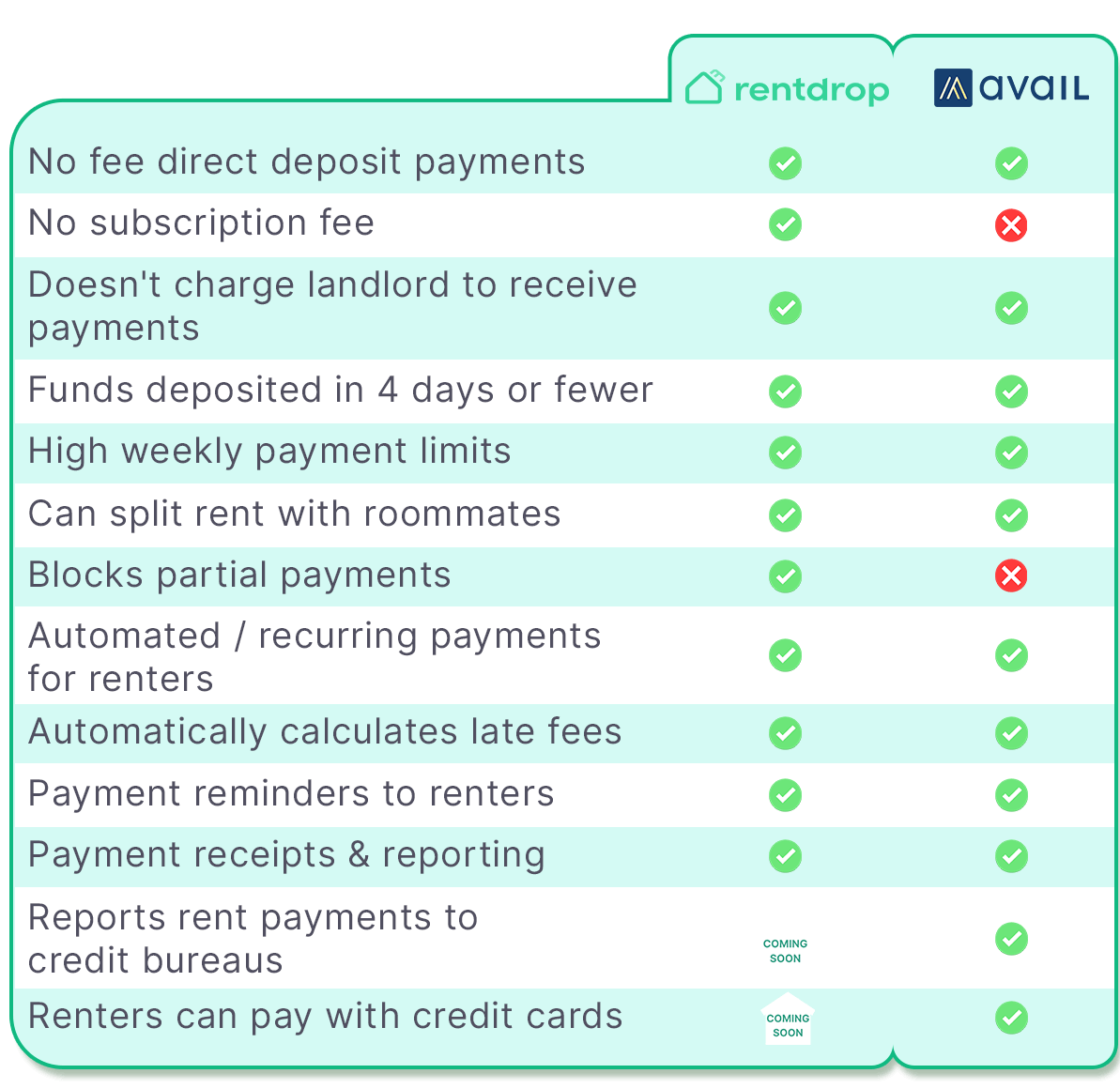 What is Avail?
Avail is a property management software solution that lets landlords collect rent online, track maintenance reports, create property listings, and screen tenants. The basic features of Avail are free for landlords and tenants to use, however certain payment features with a premium subscription fee per unit.
What is Rentdrop?
Rentdrop is a free app for rent payments for landlords, property managers, and tenants. The landlord features of Rentdrop include automatic payment reminders, late fee calculation, and block a partial payment. Tenants can use the app to pay rent for free, set up automated rent payments, and report payments to credit bureaus (coming soon).
Rentdrop, Avail, or PayPal for Rent Payments?
A brief comparison of the rent payment features of Rentdrop and Avail shows they are both excellent options for landlords and tenants. Tenants can make direct debit, ACH transfers, and credit card payments. In addition, both apps have robust reporting features to track rental payments and charge late payment fees.
An advantage of using a digital payment app is avoiding collecting rent by check or cash. Not only are these rent payment methods outdated, but they also impact your cash flow. For example, it can take longer than a week from when a tenant mails a check until the cash is in your bank. So, using an online rent payment service is more secure and creates a "digital paper trail."
Many tenants ask if they can use digital payment apps like Venmo, Cash App, Zelle, or PayPal for rent payments. Unfortunately, there are several reasons to avoid collecting rent with a service like PayPal. For example, peer-to-peer payment services don't have rent reporting or tracking. Additionally, it's impossible to block a partial payment.
Another reason to use a dedicated rent payment app like Rentdrop is to collect rent payments for free. Did you know that PayPal, Zelle, and Venmo charge up to 3% for every payment you receive? Not only that, but you also must pay even more fees if you want to get your money faster than the typical three to five business days.
Rentdrop vs. Avail — Costs to Tenants and Landlords
The cost of using an online solution for rent payments is of primary importance. Both Rentdrop and Avail are free to collect rent and have no fees if tenants pay from their bank account. However, are there any extra costs to consider when using these apps for your rental business?
Avail
Although the basic plan Avail offers is free for landlords and tenants, fees are associated with some rent payments. For example, when tenants pay rent from their bank account on the free plan, they must pay $2.50 per bank transfer. In addition, if they pay rent by credit card or debit card, they must pay a hefty 3.5% per processing fee — regardless of which pricing plan you are on.
The issue for landlords is that tenants may not want to pay processing fees to pay rent by debit card or credit card. And if you're going to waive fees for ACH transfers, you must subscribe to the Unlimited Plus plan — currently, $5.00 per rental unit
Rentdrop
The beauty of Rentdrop is that there are no fees for tenants or landlords when tenants pay rent by direct deposit or debit card. This can be a compelling reason to encourage tenants to use Rentdrop. There is a processing fee for credit card payments. However, that is standard across the board on all property management apps.
Rentdrop and Avail Cost Comparison
Comparing the costs of Rentdrop and Avail, it's clear that Rentdrop comes out on top. Landlords can collect rent for free using all online payment methods. Tenants can make debit card payments direct deposits for free. And if they pay by credit card, they pay the fees, not the landlord.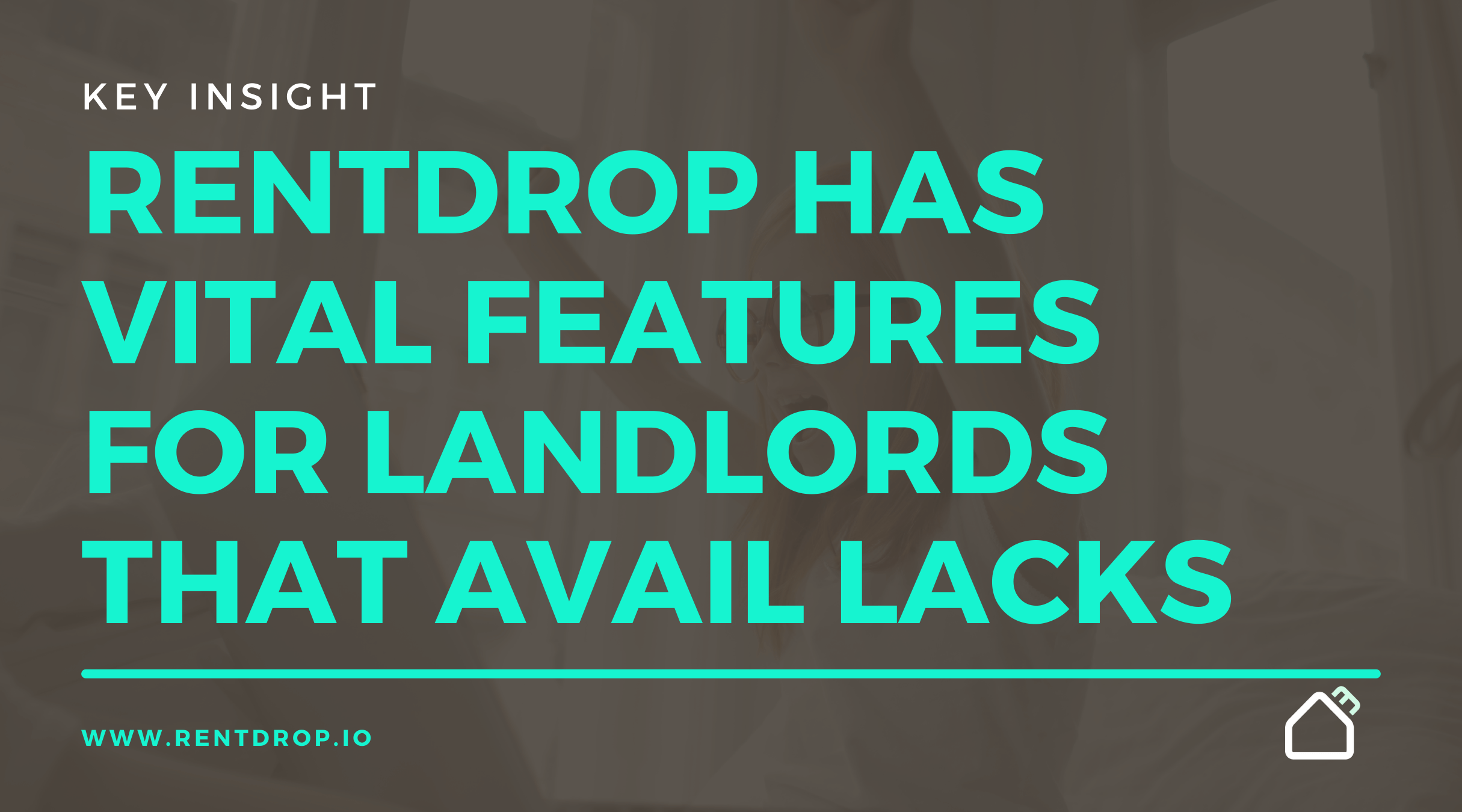 Rentdrop vs. Avail — Convenience for Landlords and Tenants
When it comes to convenience, which rent payment app comes out on top? What do we mean by convenience? For landlords, a convenient rent collection app means fast deposits and high weekly payment limits. For tenants, the app should have an option to split rent with roommates.
Avail
Avail's standard payments system takes up to three business days to deposit money in a bank account. There is also a FastPay option for tenants to transfer money in one business day. Credit card payments are faster than the standard payment but incur a 3.5% transaction fee.
With Avail, the next day rent payment feature is in the Unlimited Plus subscription.
Avail is convenient for tenants because it allows them to split rent. This is an essential feature if you have a rental property with several tenants on the lease agreement. Each tenant is then directly responsible to you for their share of the rent.
Rentdrop
Like Avail, Rentdrop deposits funds in only a few business days. Typically, the time it takes funds to arrive in your bank depends on your bank or credit union. Also, it's possible to have funds deposited faster than the normal four days for an extra charge.
Does Rentdrop have an option to split rent with roommates? Yes, like all the best rent collection apps, renters can use it to split rent if they share the unit with others. This feature not only makes rent collection for you more manageable, but it's an excellent service to offer your tenants.
Comparison of Rentdrop and Avail — Convenience Features
When comparing the convenience of Rentdrop and Avail, it's clear that both apps are excellent choices. With Avail, you must subscribe to their premium features for tenants to pay with debit cards without incurring fees. However, with Rentdrop, that feature is free to use.
Rentdrop vs. Avail — Automated Features and Landlord Tools
Automation can help streamline your rental business. Features like automatic rent payment reminders and recurring payments can help ensure that tenants always pay rent on time. In addition, automatically calculating late fees and blocking partial payments are invaluable features to help run a successful business. So, how do the apps stack up?
Avail
Avail features automation for tenants. For example, tenants can set up recurring rent payments to ensure they are never late. In addition, they can always access their rent payment history.
For landlords, Avail has features like sending reminders, automatically calculating late rent payment fees, and rent payment records. These options are vital for helping to keep track of a tenant's payments. However, there seems to be a critical feature lacking in Avail that other property management apps have — blocking a partial payment.
Rentdrop
Rentdrop also has excellent automated features for tenants and landlords. Like Avail, Rentdrop users can set up automatic payments. Also, they have 24/7 access to their rental payment history. Many tenants like this feature because it sets Rentdrop apart from Venmo or Zelle for paying rent.
Like the best rent collection apps, Rentdrop makes it straightforward for landlords to send rent reminders to tenants. Many app users report that this feature has helped reduce the number of late rental payments. In addition, Rentdrop automatically calculates late fees — in the rare case that a tenant is late with rent.
However, there is one area where Rentdrop surpasses Avail — preventing partial rent payments. The option to stop a tenant from making a partial payment is vital when trying to evict a tenant for non-payment of rent. Rentdrop only records rent payment when the total rental amount is received.
Comparison of Rentdrop and Avail — Automation
Rentdrop and Avail are solid contenders for being the best apps to facilitate rent payments. However, one difference is that Rentdrop puts landlords in complete control of rent payments by allowing you to block a partial payment.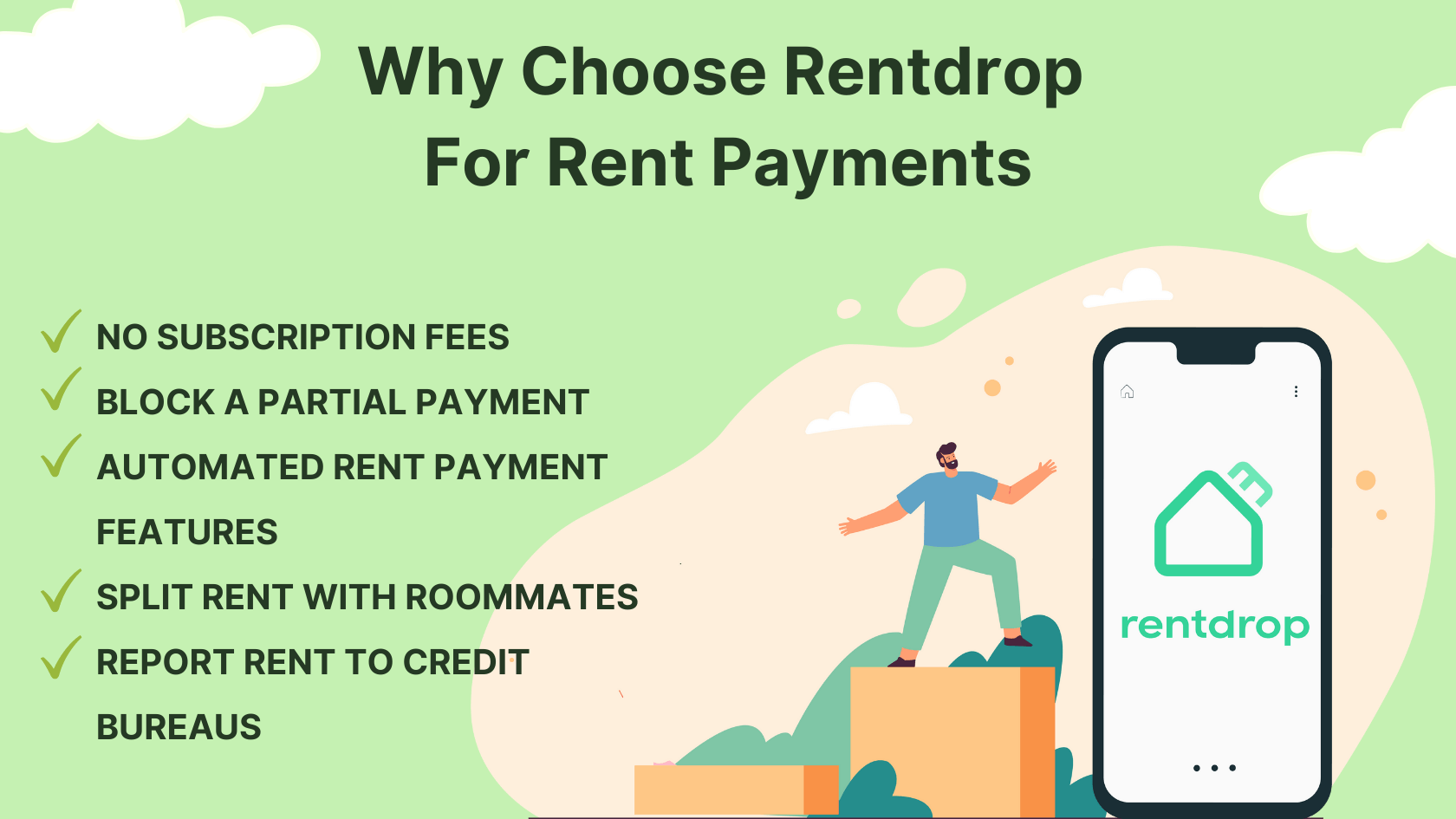 Rentdrop vs. Avail — Value to Tenants
Do you want to offer the best service to your tenants? Landlords who provide renters a premium service can usually get top rental rates for their units. Therefore, it's vital to ensure that the rent payment app you recommend to your tenants is something of value to them.
There are two features to compare that can add value to tenants — reporting rent to credit bureaus and paying with credit cards. Unfortunately, even some highly respected property management apps don't provide all these services.
Avail
Avail facilitates rent reporting to credit bureaus. Through CreditBoost, Avail can report rent payments. This is an excellent feature for all landlords because it's an incentive for tenants to make on-time rent payments. Also, tenants are encouraged to use the rent payment app because of this feature.
Avail also allows tenants to pay rent with a credit card, where the tenants pay a 3.5% processing fee.
Rentdrop
Rentdrop will also allow rent payment reporting to credit bureaus. Offering this feature is one way to convince a tenant to switch to online rent payments. It's good to remember that not all property management apps have this feature. Therefore, it can be a unique selling point when you advertise vacant properties.
Rentdrop and Avail — Which Offers Best Value to Tenants?
Both Rentdrop and Avail offer excellent value to tenants. The ability to report on-time rent payments to credit bureaus is a vital feature that many renters demand.
Rentdrop vs. Avail — In Conclusion
Rentdrop and Avail have excellent features to offer tenants a straightforward option to pay rent online. Also, landlords find both apps are easy to use and make automatic rent collection uncomplicated.
Who is Rentdrop for? Rentdrop is the best choice to offer tenants a simple solution to pay rent online. Features of Rentdrop include the following:
Automated rent payments
Pay rent by credit card, debit card, or free ACH deposits
Rent payment reporting to credit bureaus (coming soon)
Automatic late fees calculation
Partial payment blocking
No subscription fees to access premium services
Who is Avail for? Avail property management solution has been designed to assist property managers who manage hundreds of units. Avail is helpful for listing vacancies, processing rental applications, managing maintenance requests, and collecting rent online.
If you are looking for an online solution specifically for rent collection, our recommendation is Rentdrop. Although it doesn't have the property management solutions of Avail, it has vital features for paying and collecting rent that Avail lacks.