Rent splitting is a crucial rent payment app feature to help landlords collect rent money on time every month. In some cases, splitting rent with roommates is straightforward. However, knowing how to split rent fairly can be tricky in other multi-tenancy rental units. For example, rent splitting when there's a couple in the apartment or tenants have significantly different sized bedrooms is not straightforward.
Landlords and rental property owners find it helpful to use a dedicated rent payment app for rent money collection. The feature to split rent along with other landlord tools simplifies the rental process. For example, rent payment reminders, automatic late payment fee calculation, debit card payments, and recurring payments make a landlord's job easier.
Also, tenants using an app for rent payments find it easier to pay rent on time every month. A rental app with a split rent feature is the perfect solution for roommates sharing a place. In addition, tenants also have helpful tools like automatic payments and reporting rent payments to credit bureaus.
Why is a rent splitting feature for roommates so valuable in a rental payment app? Or is it best to use a digital wallet like Venmo, Zelle, or PayPal to pay rent money online? After all, many people use digital payment apps to split bills. And What other essential features should you look for in an app for landlords?
This article answers these questions and more.
Why Use a Calculator for Rent Splitting?
A rent split calculator is an invaluable tool for tenants to divide rental costs equally. The calculator splits rent by taking into account room size, the number of tenants, and the monthly rental price. It is also possible to include other factors to split rent payments fairly between roommates.
A rent split calculator is also vital for roommates when a couple is living with other tenants. When this is the case, simply dividing rent between each tenant may not be the best way to split the rent.
Using PayPal, Zelle, or Venmo to Split Rent Between Roommates
Mobile payment apps are common for splitting bills. So, why not use Venmo, PayPal, or Zelle to collect rent from tenants in a multi-tenancy rental unit? Typically, this payment method relies on one tenant paying the rent bill and collecting individual rental payments from the roommates.
There are several issues with using a peer-to-peer payment platform to collect rent from tenants. And not having a split rent feature is just one.
Although PayPal, Zelle, and Venmo are useful for sending money between friends, co-tenants cannot use them to pay their share of rent directly to landlords.
For example, one of the tenants would still be responsible for collecting rent from their roommates. The tenant would then send the entire monthly rent payment to the landlord. But what happens if a roommate is late with rent?
So, there could be serious issues with roommates paying their share of the rent. For example, if one tenant can't pay rent, the other roommates would have to make up the deficit. Otherwise, they are all at risk of eviction. Understandably, this can lead to friction and disputes among co-tenants.
Reasons To Avoid Using a Digital Wallet to Collect Rent Money
Using a digital wallet to collect rent from tenants is helpful for three reasons. First, you can avoid accepting rent in cash tenants paying rent by check. Second, a digital wallet creates a digital paper trail and makes rent collection faster and more secure. Lastly, tenants can make credit card or debit card payments.
Of course, apps like Venmo are touted as "bill-splitting apps." However, the lack of rent collection tools like "split rent with roommates" makes Zelle, PayPal, and Venmo a poor option for landlords and tenants. Here are a few reasons why:
Digital wallets lack an option for tenants to split rent
Landlords can't block a partial rent payment
Tenants cannot set up recurring automatic rent payments
Landlords pay transaction fees for incoming rent payments
No automatic late fee calculation
No rent reporting to the major credit bureaus
Digital wallets don't have payment protection for landlords
Rent Splitting — The Benefits of Using a Mobile Rent Payment App
Most rent collection apps have a handy feature to split rent with roommates. This is an invaluable payment tool for tenants sharing an apartment. However, an app for landlords also provides vital payment controls if there are issues with monthly rent payments from tenants.
When using an online payment service, each roommate named on the lease agreement is responsible for their share of the rent. So, rather than giving the responsible tenant a cash payment or sending money through a digital wallet, they send the rent money directly to the landlord. This means that each co-tenant has an accurate record of rent payments.
Using a rent payment app to split rent makes it easier for landlords to resolve payment issues. For example, suppose a co-tenant misses the monthly payment or cannot pay rent. The landlord can charge late fees to the individual tenant in this case.
In addition, if a tenant doesn't pay rent, the landlord can start eviction proceedings for non-payment of rent. However, the other tenants' rights to remain in the rental are protected. This, in turn, protects the landlord's rental income and reduces vacancy rates.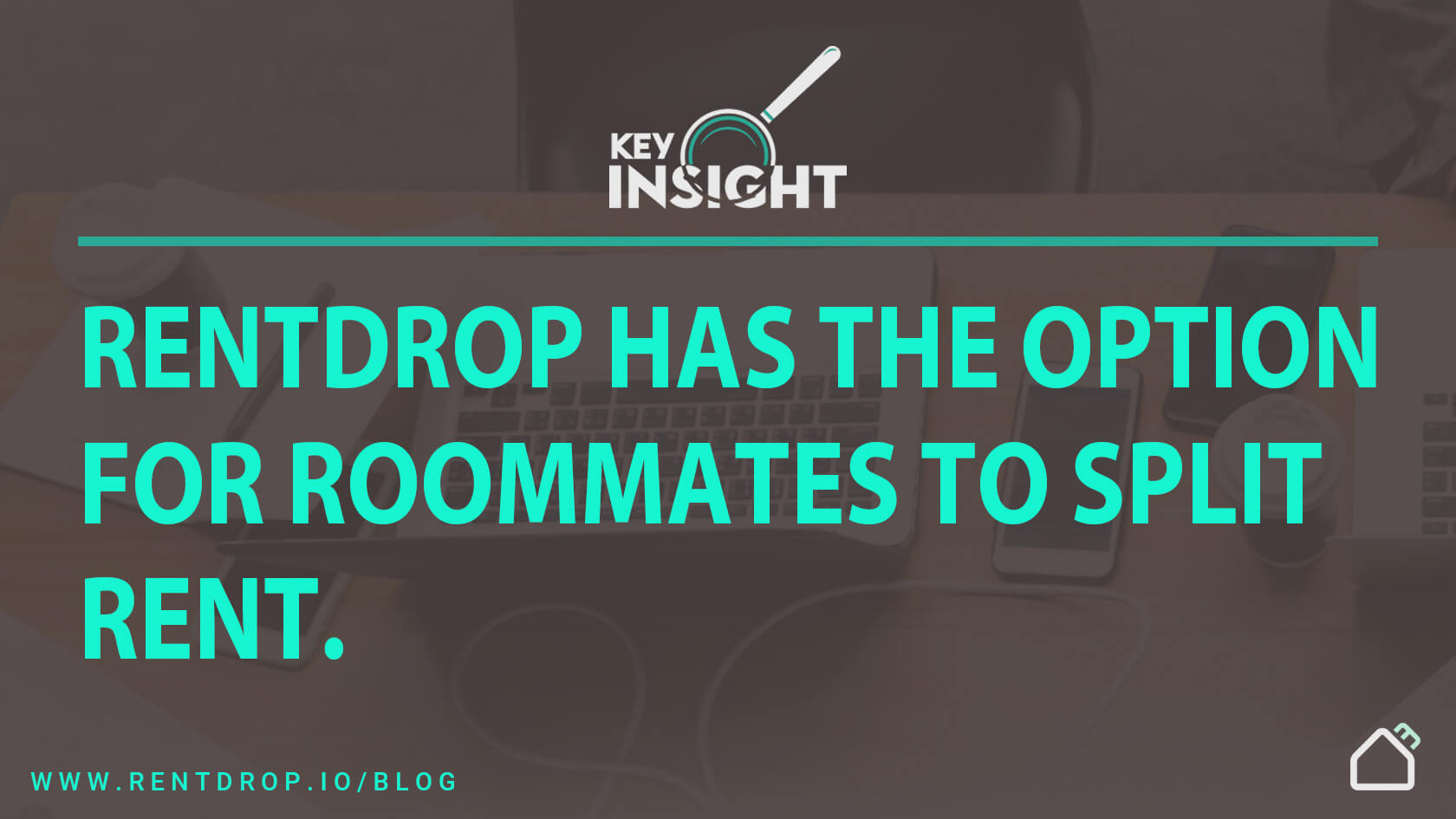 Rent Split Calculator — How to Split Rent Between Roommates
A rent split calculator is a valuable tool for landlords and roommates. Therefore, it's crucial to come up with a fair way to divide apartment costs between tenants. The challenge is that there are several ways to split rent with co-tenants.
The simplest way is to divide the rental costs equally among tenants. So, suppose there are three roommates, each with similar-sized bedrooms. In that case, each could pay one-third of the rent. This way works well when square footage is about the same for everyone.
However, what happens if one tenant has better facilities than the others? For example, an en suite bathroom, a better view, a private parking place, or a significantly larger bedroom? A rent split calculator can ensure everyone's rent is fair in these cases.
How to Split Rent With a Couple
Knowing how to split rent fairly is a challenge when a couple shares an apartment with one or more tenants.
For example, say you split rent equally between the number of tenants. This means that the couple pays a higher proportion of rent per bedroom than the individual tenants. But they use more of the shared living space.
A split rent calculator typically divides the rental cost by the number of bedrooms. Then the cost of utilities is split by individuals. You could also calculate the square footage of the shared space and divide this by the number of tenants.
Rent Splitting with Roommates by Total Space
A fair way to split rent is to calculate the square footage of private living space. For example, you would work out the floor space of bedrooms, including walk-in closets and en suite bathrooms. You would then divide the total floor space of the apartment, divide by individual living space and multiply by the total rental cost.
Here's an example:
Suppose a four-bedroom rental includes one ensuite bedroom and one shared bathroom. The bedroom with the private bathroom measures 310 sq. ft., and the other three bedrooms are 140 sq. ft. That is a combined total of 730 sq. ft. Let's say that the total rent is $3,200 per month. Here is how to split the rent for roommates:
Large en suite bedroom: (310 ÷ 730) x $3,200 = $1,358.90
Each smaller bedroom: (140 ÷ 730) x $3,200 = $613.70
How to Split Rent Based on Income
Roommates may use a calculator to split rent based on their income. Each tenant negotiates how much they can afford, and together they come up with the total rental amount. Unfortunately, this method tends to work only for good friends who are roommates.
Rentdrop — A Rent Payment App With Options for Rent Splitting
The easiest way to split rent is to use a modern rent payment platform like Rentdrop. First, each roommate is assigned their share of the rent, which forms part of the rental agreement. Then every month, co-tenants pay rent money electronically using the digital payment app.
Rentdrop also simplifies rent payments because it has many tools for landlords and tenants. Here are ways Rentdrop can help your tenants pay rent on time every month. You will also find out how Rentdrop puts you in control of rent payments.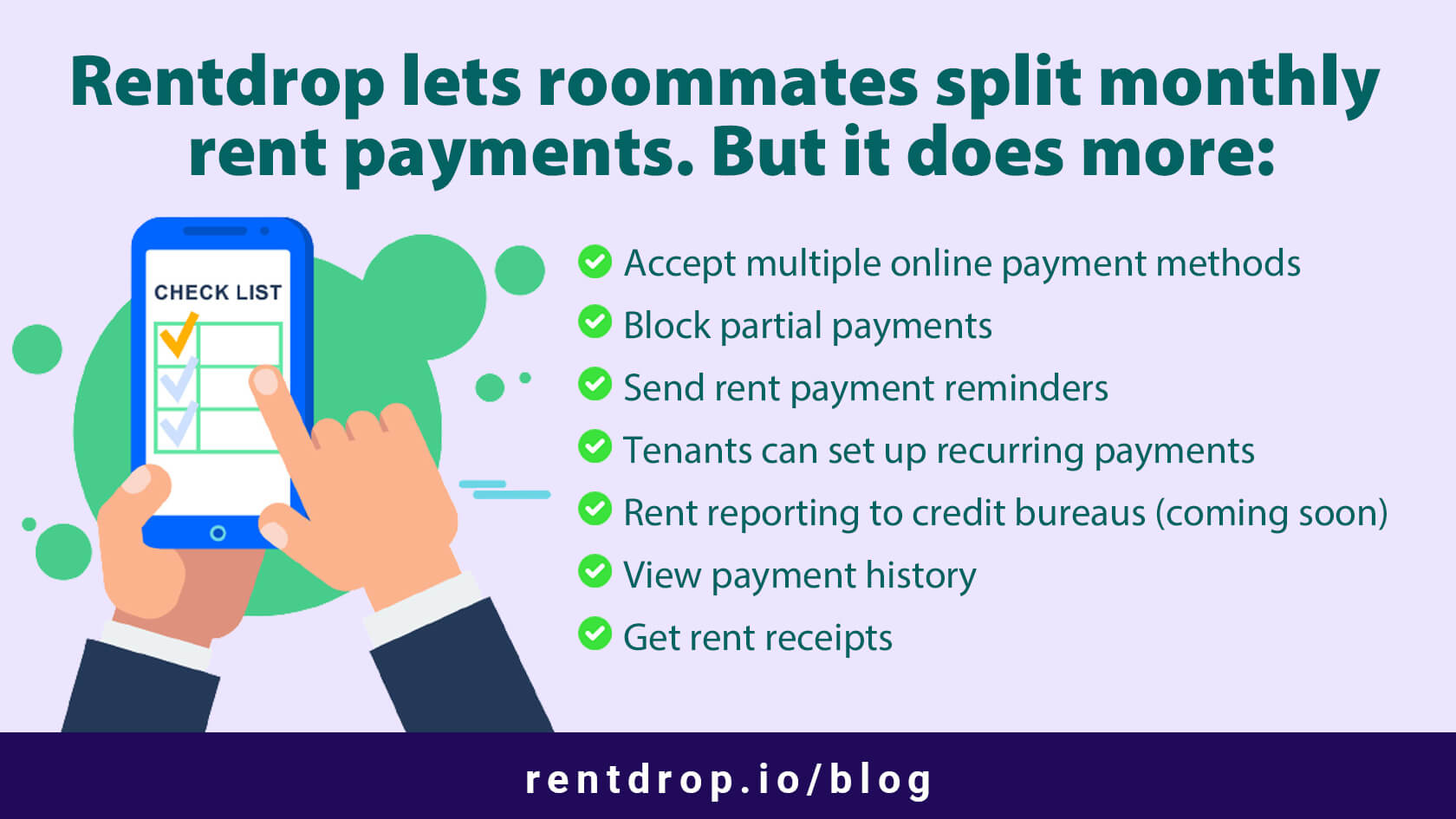 Partial payment blocking
A vital feature of Rentdrop is you can block a partial payment. This essential landlord tool is crucial during an eviction process. The option prevents a tenant from being able to pay part of the rental amount. Without this function, a delinquent tenant could send a few dollars in rent to halt eviction proceedings.
Automatically charge fees for late rent payments
A handy tool for landlords is the feature to calculate and charge late fees automatically. For example, suppose that a tenant is several days late with the rent money. In that case, Rentdrop charges late fees to the next month's rent bill. This not only cuts out many administration tasks but it prevents mistakes and disputes with tenants.
Tenants can set up recurring rent payments
An excellent feature for tenants is the option to set up automatic rent payments. With Rentdrop, a tenant can enter the rent amount and the payment date to create a recurring payment. This service makes it easier for tenants to pay rent on time. And it also ensures regular rent collection, which positively impacts your cash flow and rental income.
Multiple payment methods
Rentdrop gives tenants several payment options to pay rent money online:
Pay rent by debit card
Pay rent by credit card
Make an online direct deposit payment or bank transfer
Of course, tenants can use digital payment apps like Venmo to pay rent. However, you must pay a processing fee to use this type of app for business payments. This can result in paying hundreds of dollars per year in unnecessary costs.
Report rent payments to credit bureaus
One of the valuable tools coming soon to Rentdrop is the option to report rent to credit bureaus. The benefit for tenants is that they can use rent payments to build a healthy credit report and boost their credit score. The benefit for landlords is more on-time rent payments because tenants have a compelling reason to pay rent on time.
View rent payment history
Unlike using popular money transfer apps to pay rent, Rentdrop gives tenants and landlords full transparency of payments. The app provides access to payment receipts, and it's easy to check the payment status of every tenant.
Automatic rent payment reminders
An excellent feature for landlords is the option in Rentdrop to send an automatic reminder email to each tenant before the rent date is due. Landlords know that sending out reminders helps minimize the number of late rent payments. It's also an excellent way to keep in touch with tenants when you personalize the payment reminders.
Rent Splitting — The Rentdrop Solution
The option for rent splitting between roommates is just one of the excellent features for tenants Rentdrop provides. The rent payment app is packed with rent collection features at no additional cost to landlords or tenants.
Rentdrop is a fee-free online rent payment service to ensure a smooth rental process for tenants. Also, the app has been designed to give landlords the crucial payment controls they need.
Why not sign up today to see how easy Rentdrop makes paying and collecting rent online for you and your tenants.