A rent payment app with the function for automatic payments is an excellent way to maximize rental income. Tenants love the option of setting up recurring rental payments because it reduces their risk of missing a monthly rent payment. Additionally, they can plan to pay rent based on their income schedule and avoid the problem of paying late fees.
An auto-pay option for rent payments should be a feature of the best rent collection systems. However, automatic payments are not just great for tenants — they can also simplify your job as a landlord or property manager.
But what is tenant auto-pay? And why should you use a rent collection app with this feature? This article explores the benefits of automating the rent collection and payment process for landlords and tenants.
What is an Automatic Payment?
An automatic or recurring payment is to pay a bill regularly on a scheduled basis. Once set up, automatic rent payments don't require additional effort on the tenant's part. The recurring rent payment is processed through a bank account, credit card charges, or debit card transactions.
Automatic Rent Payments — A Feature of Rentdrop
Rentdrop is a fee-free digital rental payment system that facilitates automatic rent payments. Tenants can opt to make a one-time rent payment or set up monthly or bi-monthly rent payments on their schedule. In addition, Rentdrop gives landlords complete control over rent collection, with the added function of blocking a partial payment.
Automatic Payments — Why a More Convenient Way to Pay Rent
Automated rent payments mean that tenants never miss a payment again. Tenants no longer have to bother about mailing a rent check, worrying about postal delays, or trying to juggle payday with rent dates. The tenant only must set up a recurring rent payment on their preferred date to pay rent on time.
Collecting rent online and encouraging tenant auto-pay services have advantages for landlords and property owners. To greatest advantage? Fewer missed rent payments. This means avoiding charging late fees, getting into disputes with tenants, and not fretting about a paper check being late in the mail. The result for you? Better cash flow and stable rental income.
Automatic Rent Payments — It's What Tenants Want
A rent payment app with auto-pay features meets the demands of tenants. More and more consumers are looking for options to pay their bills — including rent — online. In addition, most people set up recurring payments for their regular bills, so why not offer automatic payments for rent?
Trends in online payment systems show that demand for digital payments is growing. Here are a few statistics about electronic payments:
Eighty percent of consumers

use online banking, and two-thirds use mobile banking apps.
Six in ten bills are paid automatically or online.
Consumers pay more than half of their bills by credit card or debit card.
Over sixty percent of consumers use at least one payment app —

Venmo, PayPal, or Zelle

.
Other studies show that automation and mobile payment options play an increasingly important role in consumers' lives. For example, one survey found that offering autopay services could convince tenants to switch from mailing rent checks to adopting an online rent payment system.
Related reading: The best alternatives to receiving rent checks.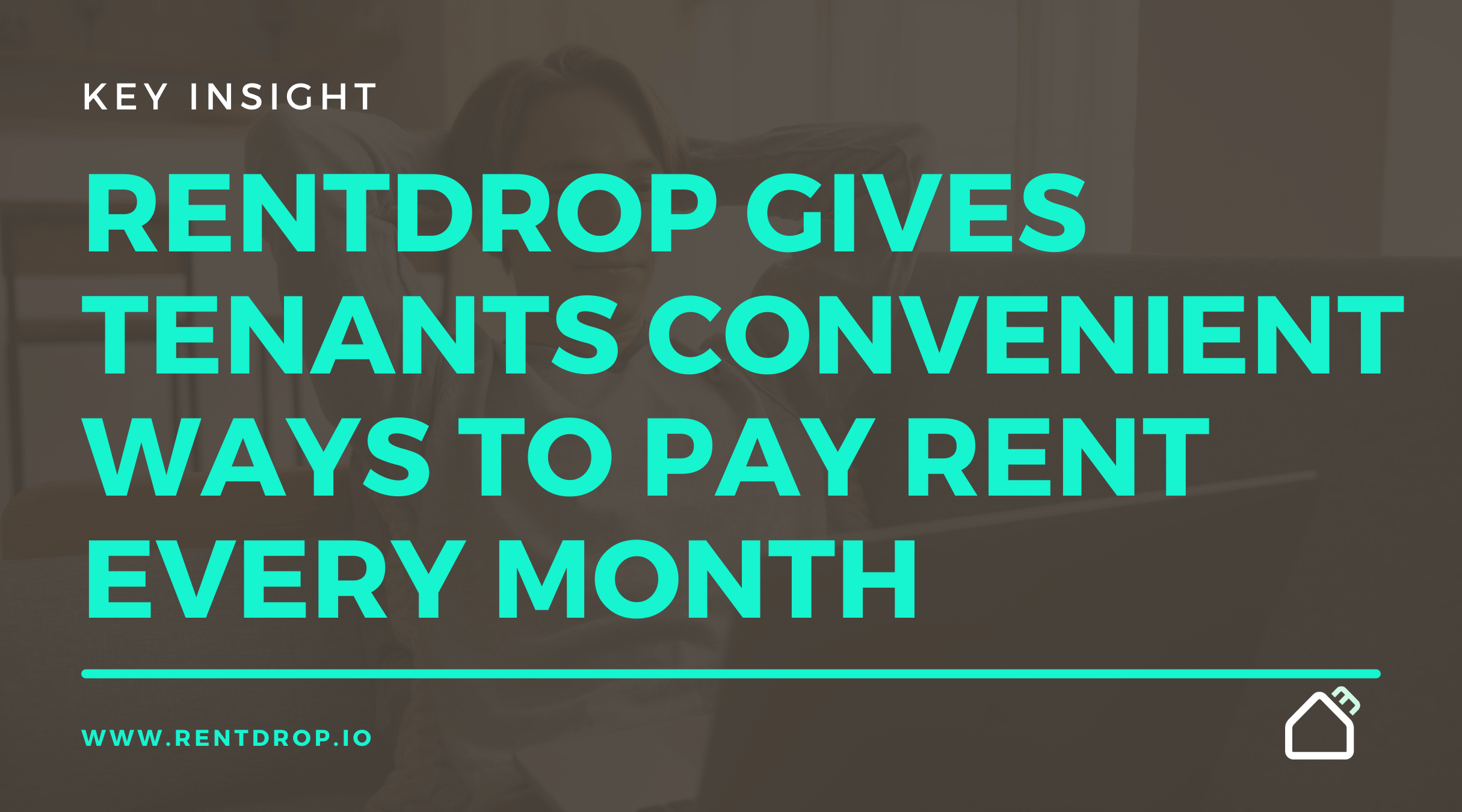 Rent Payment App vs. Zelle, Venmo, or PayPal for Automatic Payments
Can tenants use Venmo, Zelle, or PayPal to pay rent automatically every month? One of the reasons to avoid peer-to-peer apps is that they are not the best solution for online rent collection. For example, automatic payments on PayPal are possible. However, Zelle and Venmo have no payment automation features.
Why Zelle, Venmo, and PayPal Are Not for Rent Payments
There are several reasons why Zelle, PayPal, and Venmo are bad choices for rent payments. Here are a few:
No automatic payments: Automatic payments on Venmo and Zelle don't work for paying rent. This means that tenants must remember to transfer the rent money every month, increasing the risk of missed rent.
Fees for collecting rent from tenants: The three popular P2P payment platforms

charge landlords a transaction fee

for every incoming payment. Over a year, this can add up to hundreds of dollars.
Impossible to block a partial rent payment: One of the most compelling reasons to avoid digital wallets for payment of rent is that it's impossible to stop a partial rent payment. Also, you can't

cancel a payment on Zelle

, PayPal, or Venmo, meaning that tenants can pay less than the total amount. This issue can mean that a tenant could delay an eviction process.
No rent reporting to credit bureaus: The best apps for rent collection report monthly rent payments to credit bureaus — something you can't do with Zelle, Venmo, Cash App, or PayPal.
Payment reminders: Another feature lacking in digital payment apps is sending rent reminders. A friendly reminder that rent day is approaching is just as crucial for boosting rental income as automatic payments.
No payment protection: A serious issue with these payment apps is that it's easy to pay the wrong person. Money transfers happen instantly, and when authorized, it's

impossible to cancel a Venmo payment

. The same is true for Cash App, PayPal, and Zelle.
How Automatic Payments Maximizes Rental Income
Recurring payments are one of the best ways to ensure a stable cash flow situation in your rental property business. However, a missed rent payment — even by a few days — could cause issues with your income and affect your ability to make mortgage payments. In addition, charging late fees can cause friction with tenants and increase your administrative tasks.
How Automatic Payments Work for Rent Collection
Autopay helps tenants make payments on time. This prevents charging late fees and saves tenants and landlords time each month. Automatic payments also eliminate the need for cash payments, writing checks, and mailing checks. It also simplifies tasks for landlords — no more driving to the bank to process rent checks.
What should you know before setting up recurring payments to pay rent? Here are some helpful tips on making sure tenant autopay works for you.
Set up automatic rent payments
Autopayments usually happen through the tenant's bank account and the Automatic Clearing House (ACH) service. Tenants complete the ACH form to instruct their bank or credit union to debit the rental amount each month. Using a mobile collection app for renters means they don't have to share sensitive information with you.
Landlords and rental property owners who use an app for rent collection give tenants some control over paying rent. You don't have to worry about processing sensitive data, and tenants can cancel autopay at the end of the lease. In addition, Rentdrop sends out rent reminders if tenants opt for one-time payments.
Establish online payments and recurring payments in the lease
In most states, landlords must give tenants at least two ways to pay rent. The traditional rent payment method is sending a rent check. However, you can also specify which online payment method is acceptable for rent payments. Depending on state laws, you could include recurring payments as a clause in the lease.
Whatever payment method you choose, always check current laws in your state. In addition, you may need to consult with an attorney regarding updating existing leases for long-time renters to require online rent payments.
Eviction proceedings and automatic payments
One of the benefits of using Rentdrop as the preferred rent collection method is when trying to evict a tenant for a lease violation. Setting up recurring payments should only be used to pay rent in full. However, to give you control over rent collection, Rentdrop has an option to prevent you from accepting a partial payment.
Offer several online methods to pay rent
Setting up automatic payments doesn't guarantee you will be paid rent on time. All it does is attempt to pay you if the tenant has enough funds in their bank account. If there are insufficient funds, the tenant may miss the payment and can be charged a nonsufficient funds fee.
One way to ensure regular, on-time rent payments is to offer multiple online solutions. For example, as well as facilitating ACH payments and debit card transactions, Rentdrop can also accept credit card payments. This can be an excellent solution for a tenant experiencing a temporary cash-flow issue.
Additionally, many tenants prefer paying rent by credit card to take advantage of cashback and special offers.
Knowing how to end recurring payments
At some point, it's vital to know how to cancel automated payments. For example, the tenant may move out, or you may have started eviction proceedings.
Tenants who use Rentdrop find it straightforward to cancel recurring payments. The information is transferred to the bank, and it takes up to three business days to stop the payments.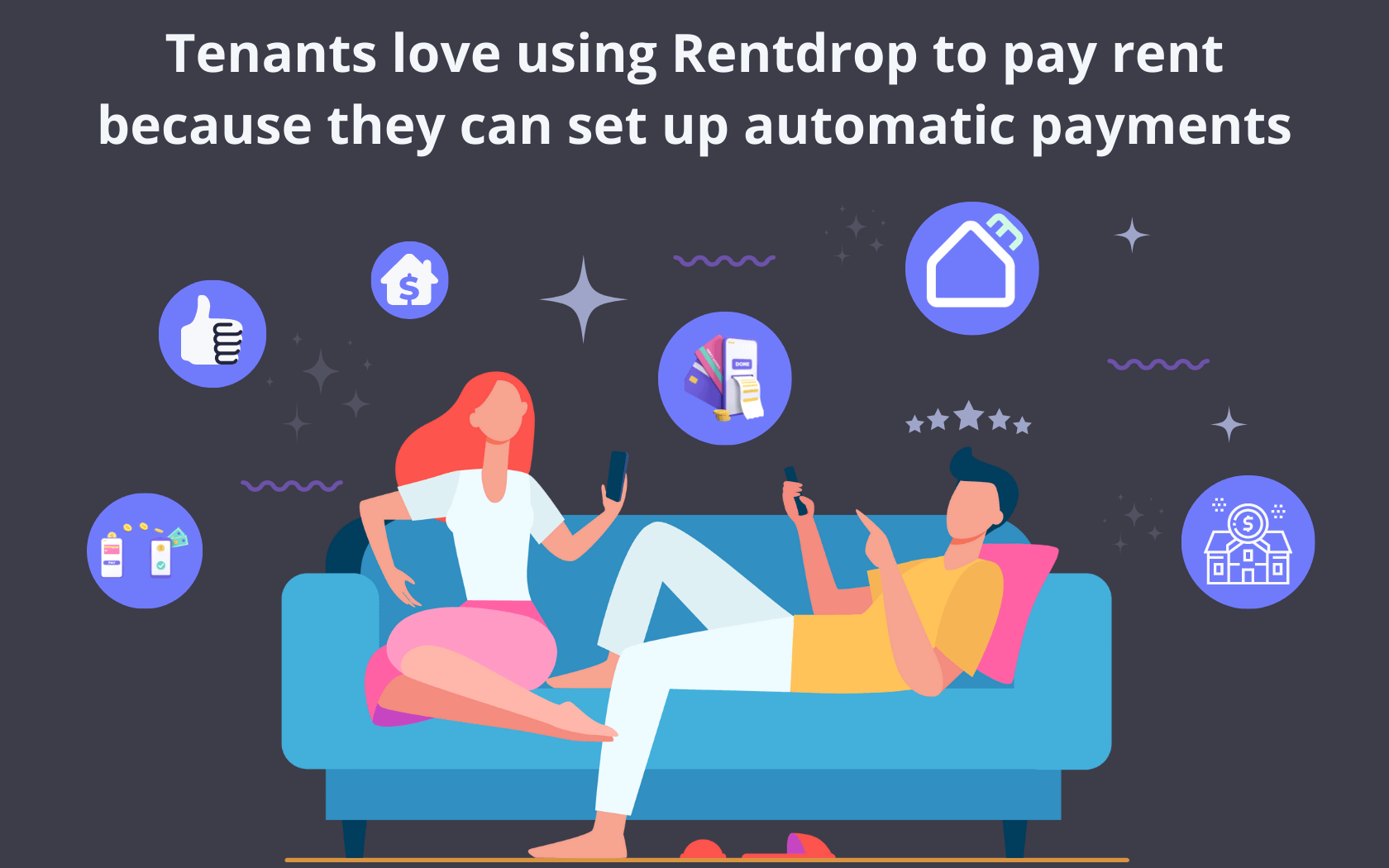 Rentdrop — A Rent Collection App for Automatic Payments
Rentdrop is a simple solution if you are looking for an online rent payment tool. The autopay option for tenants is one of the best ways to stop chasing late payments. Tenants can set up recurring payments to ensure they never miss their rent due date.
Rentdrop has many online rent payment features for landlords and property managers. Apart from the benefits of tenant autopay, you can use the app to send automated reminders and payment notifications. In addition, you never have to pay fees to use the service. And rent payments never incur a transaction fee.
Payment controls also ensure that you can block a partial payment. This is an invaluable feature that instant transfer cash apps lack. Also, you have complete payment records to keep track of your tenants' payment statuses.
Some of the additional online rent payment options for tenants include fee-free direct deposit transfers, split rent with roommates, and recurring payments.
It's easy to sign up for Rentdrop today. All you have to do is click on this link to get started to enjoy the benefits of paying and collecting rent online for free.