A rent payment app is one of the most valuable tools for streamlining a successful rental business. Using an online rent collection app allows you to save time, save paper, and save money.
An app for rent payments is not only about collecting rental payments. The best rent payment apps have features to split rent, set up automatic recurring payments, block a partial payment, and send reminders. In addition, the payment solution should have no cost to landlords or tenants to use.
If you are a landlord or rental property owner, it is also crucial to provide tenants with an easy way to pay rent on time. As an incentive to use a rental payment app, many landlords offer services like reporting rent to credit bureaus, splitting rent with roommates, and paying by credit card or debit card.
Many tenants who ask: "How can I pay rent electronically?" may suggest using a digital wallet. The chances are that most of your tenants already use a peer-to-peer mobile app like Venmo, Zelle, PayPal, or Cash App for paying bills or sending money to friends. So why not use one of these for online rent payments?
This article explores why using a rent payment app is the best way to collect rent from tenants. You will also learn about features of popular online rent payment systems that improve cash flow and make your life as a landlord easier.
What is A Rent Payment App?
A rent payment app is a service to collect rent online from tenants. Like similar money transfer apps, the money transfer occurs securely and quickly between the tenant and the landlord. Additionally, a trusted online rent collection service has landlord-friendly features designed to simplify a rental business.
Why Use an App for Online Rent Payments?
Functionality is the main reason tenants and landlords use an online rent collection option. Tenants can pay rent from their mobile devices, wherever they are. They can set up recurring rent payments, split rent, and report rent to credit bureaus. Landlords can see rent payment status from a handy dashboard.
Additionally, making online payments is more straightforward than writing a paper check. And accepting a cash payment is a terrible way to collect rent. If you use a rent payment app, you don't have to wait for the rent check to arrive in the mail. Transfer times to your bank account is fast.
Is Venmo Good for Rent Payments?
Venmo is a good online payment method to send and request money from friends. In addition, tenants can use Venmo to pay rent. But Venmo isn't suitable for landlords because rental payment incurs a transaction fee. Furthermore, there is no recurring payment option and no partial payment blocking.
Related reading: Why avoid Venmo for rent payments.
Is PayPal a Good for Rent Payment App?
Tenants can use PayPal to pay rent, but there are several reasons you should avoid PayPal. For example, PayPal doesn't allow landlords to block a partial rent payment. Like Venmo, PayPal charges a fee for landlords to collect rent. Additionally, the app for a business account doesn't include payment protection for "real estate transactions."
Related reading: Why stop using PayPal for rent payments.
Is Zelle Good for Rent Payments?
Zelle is a popular mobile payment app. However, like PayPal and Venmo, Zelle lacks the vital features you need to run a rental business. For example, there are no features like partial payment blocking, rent reporting, and payment protection. In addition, there may be fees for business users to pay.
Related reading: Why using Zelle for rent payments is a bad idea.
Rent Payment Apps for Landlords
So, forget using Venmo, Zelle, or PayPal to collect rent — use a dedicated rent payment app instead. Not only does an online rent payment app let you accept rent payments for free, but it's packed with features for landlords designed to simplify your business.
Let's look in detail at compelling reasons to use a fee-free rent payment app like Rentdrop.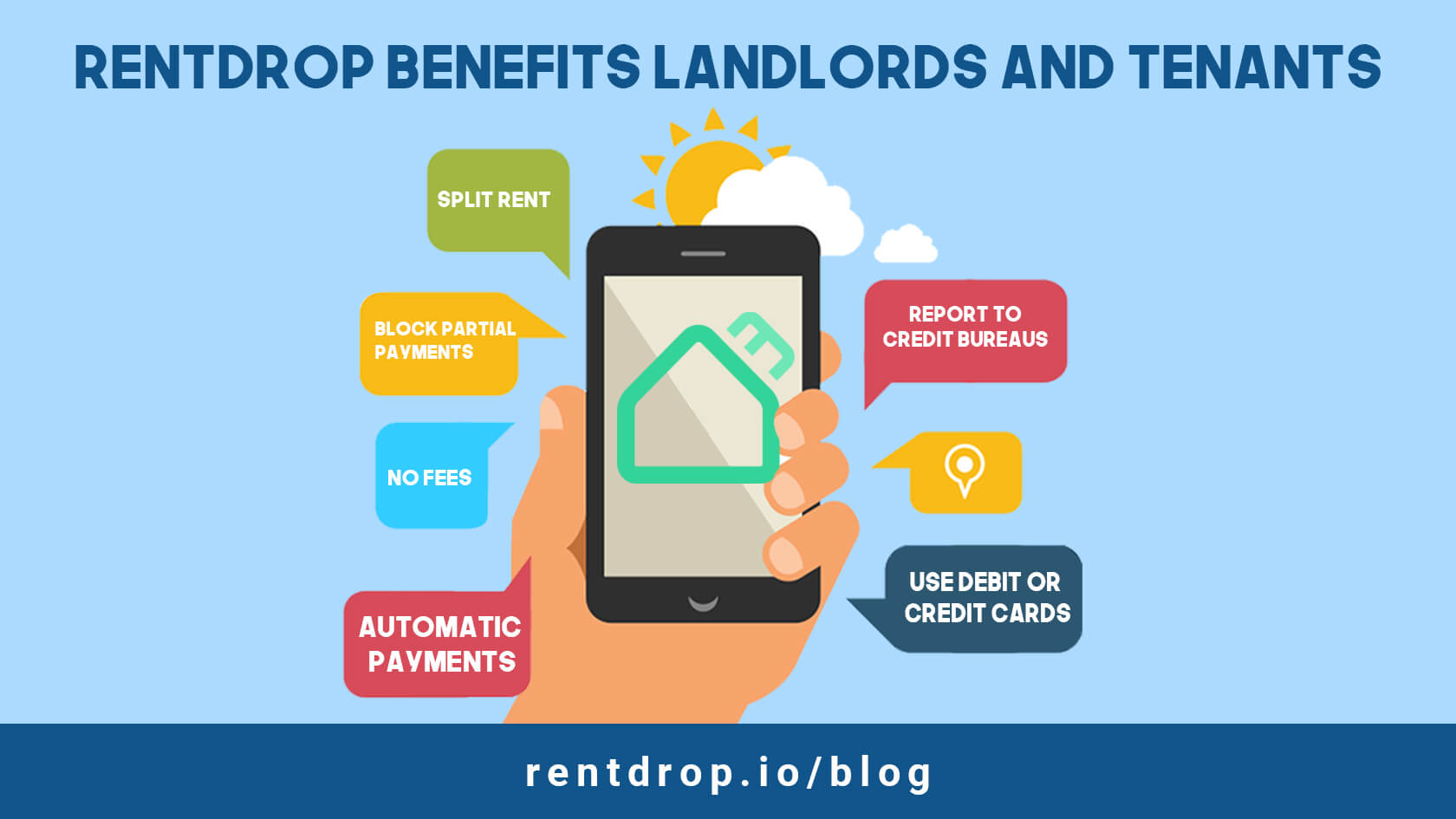 Use a rent payment app without subscription fees
The method you choose to collect rent should benefit your rental business. That is why the best rent payment apps don't have a subscription fee for tenants or landlords. Therefore, you can maximize your cash flow without paying a hefty monthly subscription.
Of course, PayPal, Venmo, Cash App, and Zelle are also free for tenants to use. However, if you are a landlord, you must set up the app for business payments. Then, every time you receive a rental payment, you pay up to 3% on business transaction fees.
Block a partial rent payment
A persuasive reason for landlords to use a rental payment app is to block a partial payment. This option for landlords is crucial during an eviction process. Without this function, a tenant facing eviction could pay a few dollars in rent to halt the process.
Suppose a tenant is in violation of the lease agreement for non-payment of rent. You can then serve a notice to "cure or quit." During this period, you can set the Rentdrop app only to accept payment in full. In this case, you stop the tenant from paying part of the rent.
No charge to landlords to receive online rent payments
The best rent payment apps let landlords collect rent payments from tenants for free. Tenants can make a debit card payment or pay by credit card or ACH transfer without adding to their rent bill. Additionally, unlike popular digital wallets, you have no processing fees to pay.
Suppose a tenant wants to make a credit card rent payment. In that case, the credit card transaction fees are charged to them, not you.
Automatically calculate late fees
One of the handy landlord features in an app for rent payments is calculating late fees. For example, Rentdrop automatically charges late payment fees to the next month's rent. The benefit is that you avoid confrontations with tenants over late rental payments.
Send payment reminders to tenants
A rent payment app can help you collect rent on time by sending out monthly rent reminders. Let's face it, everyone is busy, and it's not uncommon for your most reliable tenant to forget a rent payment every so often. In that case, an automatic reminder email can ensure that they pay rent by the due date every month.
Flex rent payments
Making flexible rent payments is also a feature you may find on a rent payment mobile app. Tenants who work in the gig economy or are self-employed often find that making two or three partial rent payments in the month makes it easier to budget their income.
If you decide to offer flex rent payments to a tenant, ensure that the payment terms are in the lease agreement. It is also vital to state your preferred payment method if they make rent payments according to their schedule.
Related reading: A guide to collecting rent online.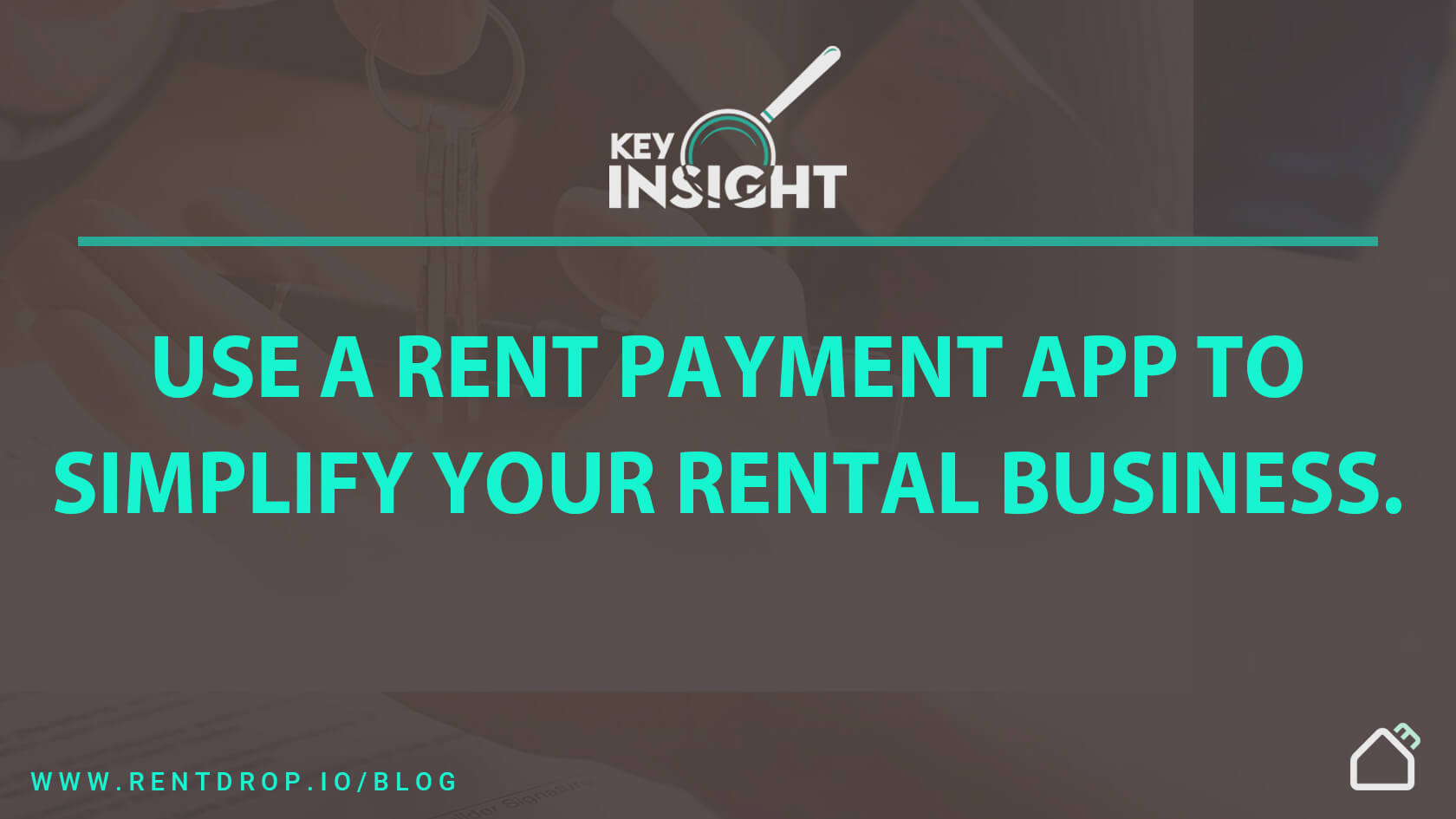 Rent Payment App for Tenants
When choosing a preferred method to accept rent from tenants, the mobile rent payment app must be easy for tenants. Also, it's a good idea a tenant has incentives to use the app. This is especially important as many tenants still find it easier to mail a rent check each month.
Split rent with roommates
Are you a landlord or rental property owner of a multi-tenancy rental unit? If so, the option for roommates to split rent is invaluable. Co-tenants on the lease agreement can use Rentdrop to pay their share of rent directly to you. This arrangement promotes responsible rent payments and prevents tenant disputes.
Of course, roommates could use digital wallets like PayPal, Venmo, and Zelle to split the rent. After all, they are helpful mobile payment apps to send money to friends. However, it still requires that one of the tenants is responsible for collecting rent.
Report rent to credit bureaus
The option for tenants to report rent payments to credit bureaus is a crucial feature of any online rent collection method. You and your tenants benefit in several ways when reporting rent to Experian, TransUnion, or Equifax. Here are just a few:
Reporting rent to credit bureaus promotes regular, on-time rent payments.
A tenant has an incentive to use the rent payment service to build their credit score.
You can offer this service as a bonus to tenants, improving the level of service you provide.
Set up automated monthly rent payments
Automatic payments can help reduce instances of late rent. Trusted rent collection apps like Rentdrop make it easy for tenants to pay rent each month automatically. This way, they set the rent payment in line with their paycheck schedule and forget about it.
Unfortunately, many digital wallets like Zelle and Venmo lack this vital feature. Although PayPal facilitates recurring payments, you must pay expensive transaction fees on a business account.
Pay rent with a debit card, credit card, or ACH transfer
The option to pay rent electronically makes the rental experience better for you and your tenants. Most tenants pay bills online using a debit card or direct deposit — so, why not their monthly rent bill? Also, accepting online rent payments saves you time, money, and effort.
Think about the time and effort required to process a rent check. First, you must wait for the rent check to arrive in the mail. Next, you drive to the bank to deposit the check. After that, you must wait several business days for the check to clear and get the funds in your bank account.
It can take between five and seven business days from when the tenant mails the check until you can access the funds. And that doesn't take into account the fact that checks can bounce. Therefore, if you want to guarantee a healthy cash flow for your rental business, switch to a rent payment app.
What About WIPS Rent Payments?
Allowing a tenant to use a WIPS rent payment option is ideal for anyone who can pay electronically. Using WIPS for rent payment is the perfect solution for tenants who want to pay rent in cash and for the landlord to accept electronic payments. Of course, paying rent with WIPS is also possible to use a debit card. With thousands of convenience stores across the country accepting WIPS payments, tenants can easily pay rent while shopping for groceries. Using
Rent Payment App — Why Choose Rentdrop
Rentdrop is a fee-free online rent payment app. It has the convenience of popular digital wallets but has excellent features you need to run a successful rental business.
If you are a landlord, Rentdrop lets you block partial payments, collect rent electronically, and calculate late fees. It also provides access to payment receipts and reporting. Additionally, funds are deposited in your bank account in four days or fewer.
If you are a tenant, Rentdrop has super features to make paying rent easy. For example, you can choose the type of rent payment you prefer. In addition, you can set up recurring payments, split rent with roommates, and report rent to credit bureaus (coming soon).
Tenants and landlords can sign up for Rentdrop free today.