Should tenants pay rent money using PayPal? That's a question many landlords and rental property owners ask. PayPal can help collect rent online because it's easy to use and a popular mobile app for money transfers. However, there are many myths about using PayPal for rent collection. One of the biggest myths about PayPal and rent money is that landlords can collect rent online for free.
Collecting rent from tenants on time every month is a key priority for every landlord. Rent payments and rental revenue probably make up most of your regular monthly income. Therefore, tenants who pay rent late interrupt your cash flow. This, in turn, can make covering your financial obligations extremely challenging.
This article exposes the myths about using PayPal for rent collection online. You will learn how the digital wallet could put your cash flow at risk and make it difficult to evict delinquent tenants. At the end of the article, you'll learn about suitable rent online rent collection platforms to simplify your rental business.
How to Choose an Online Rent Payment Tool
When choosing the best online rent payment method, it makes sense to ensure the mobile app simplifies the rent collection process—for you and your tenants.
An easy online rent collection method should have handy features for tenants. For example, recurring payments, rent reporting to credit bureaus, and rent splitting are three popular features tenants require when making online rental payments.
The online payment service should also be straightforward for landlords. It should give landlords vital rent payment controls such as blocking a partial payment, sending rent reminders, automatically calculating late fees, and getting rent receipts.
How Tenants Can Use PayPal to Pay Rent Money Online
PayPal is a convenient and secure way for tenants to pay rent online. To pay a landlord rent, the tenant enters the landlord's email address, the amount of rent, and purpose. Then the rent money is taken from the tenant's debit card, bank balance, or credit card.
From the tenant's perspective, it's exceedingly straightforward to pay rent using PayPal. The issues with using the digital wallet to run a successful rental business are related to landlords.
How Landlords Can Use PayPal for Online Rent Collection
To accept rent payments from tenants using PayPal, a landlord needs a PayPal business account. Rent money arrives in the account minus additional business fees that PayPal charge. Then, the landlord can transfer money from the PayPal account to their bank account. This usually takes a minimum of one business day.
Alternatives to PayPal for Rent Payments
PayPal is more convenient than collecting rent in cash or processing rent checks. However, PayPal lacks vital features that many free rent collection tools offer. This means that digital wallets like Venmo and Zelle are also poor alternatives to PayPal. Therefore, the best way to run a rental business is to use rent collection software.
For example, Rentdrop is a fee-free online rent collection service. The app has tools for landlords and tenants to help automate rent payments. In addition, it also has essential tools to put landlords in control of payments, something that PayPal cannot do.
7 Myths About Using PayPal to Collect Rent Money Online
The biggest myth about using PayPal for rent payments is that it's free to use. Of course, there is no fee for tenants to pay rent. However, landlords must pay transaction fees for every incoming rental payment. But what other myths are associated with using PayPal to collect rent online?
Myth #1 — PayPal is free for landlords
The truth is that PayPal charges expensive fees to collect rent online. For every incoming rent payment, you must pay a processing fee. And if you need to get your money instantly, there is an additional convenience fee to pay. So PayPal fees make it an expensive rent payment option.
How much are PayPal fees for rent payments? To collect rent money online using the app, landlords must pay 3.49% plus a fixed fee of $0.49. The fees make PayPal one of the most expensive options to collect rent online.
How much could it cost you to use PayPal for rent collection? Suppose you have four rental units with an average rent of $1,500 per month. In that case, you will pay a whopping $276.43 in fees every month or over $3,300 per year.
Is that something you can afford, considering there are plenty of better free alternatives?
Myth #2 — Landlords can use their personal PayPal profile to collect rent money
In reality, it goes against PayPal's Terms and Conditions to use a personal account to accept money for goods and services. Therefore, you can't use PayPal's "Friends and Family" service to collect rent money for free. In addition, PayPal could withhold your funds or even cancel your account if you are caught.
Related reading: 5 reasons to avoid PayPal for rent payments.
Myth #3 — PayPal lets landlords decline a rent payment
It's true that you can't block a partial rent payment using PayPal. The lack of payment controls for landlords can put your business at risk and severely impact your rental revenue. The reason is that PayPal doesn't stop tenants from paying part of the rent. And landlords can't cancel a payment.
Here's a scenario where using PayPal can make it almost impossible to evict a tenant for non-payment of rent.
Suppose you must evict a tenant because they can't pay rent. So, you serve the required "Cure or Quit" notice to start eviction proceedings. However, a tenant could send a few dollars of rent money via PayPal. There is nothing you can do to decline a PayPal payment.
In that case, a judge would rule that the tenant is trying to pay rent. You would then need to start eviction proceedings again. This costs you time, money, and unnecessary stress. You also have a non-paying tenant in your rental unit, and you can't advertise for a new tenant until you evict the current one.
Related reading: PayPal vs. Venmo for rent payments.
Myth #4 — Tenants can set up recurring rent payments
Many landlords wrongly assume that PayPal makes it easy for tenants to set up automatic monthly rent payments. In reality, landlords must set up recurring billing and put the button on their website. This means that users won't see an automatic payment option in their app.
Another reason why PayPal's recurring billing doesn't work for landlords is that there are expensive transaction fees.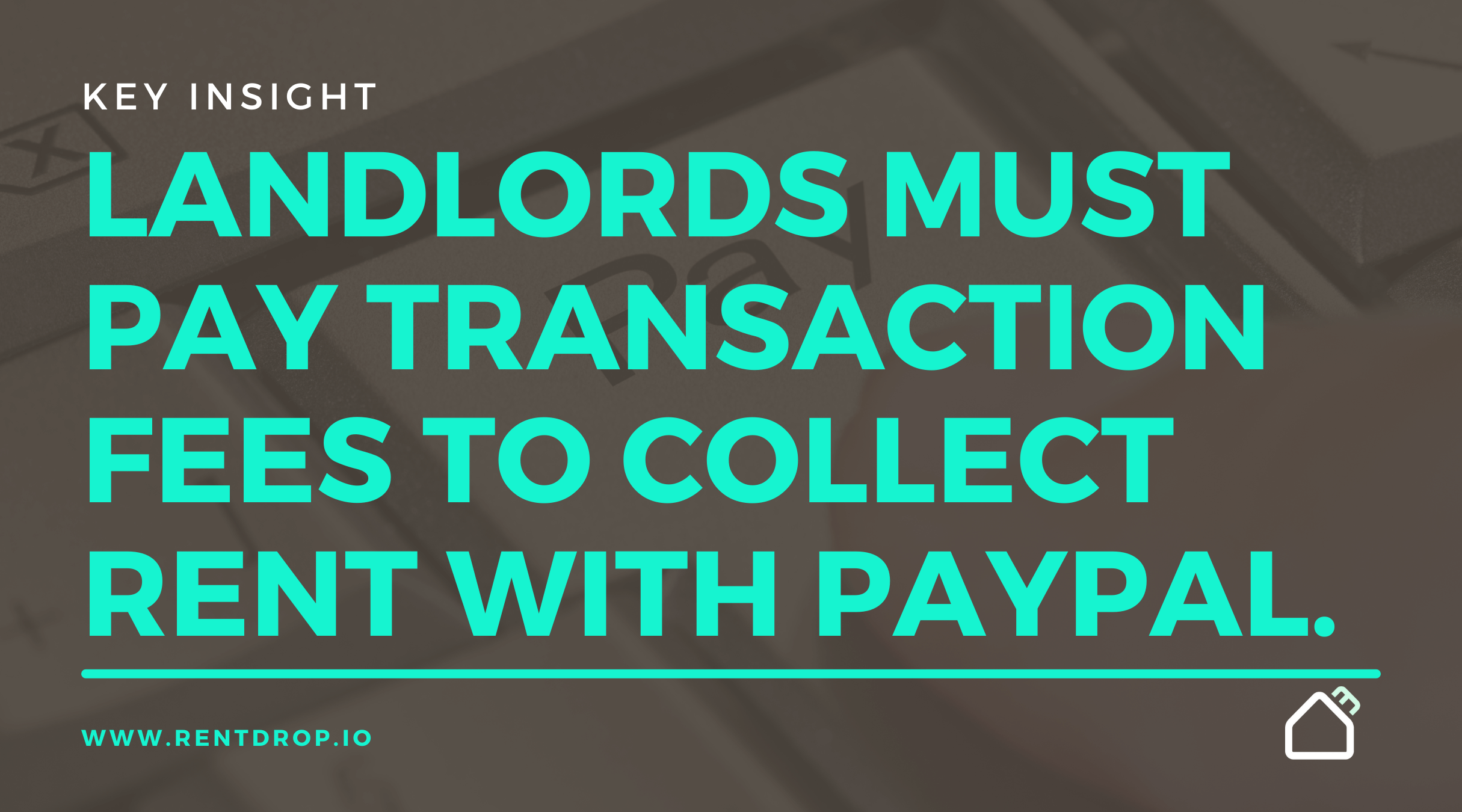 How does the lack of automated payments affect cash flow? For example, tenants may forget to pay rent on time. But with recurring payments, you can minimize the risk of late payments and avoid charging late fees.
Myth #5 — PayPal money transfers are always instant
Another myth associated with PayPal is that rent payments instantly appear in your account. While this is true most of the time, rent payments can get held up in PayPal for various reasons. The result is that you don't receive rent money on time.
PayPal can withhold or put payments on hold if they suspect suspicious activity. Unfortunately, there is nothing you can do about this. How seriously could this affect your cash flow? According to PayPal, they can hold funds for up to 21 days. And the lack of adequate customer support can make it challenging to resolve issues when funds are on hold.
Myth #6 — PayPal lets roommates split rent easily
It's not true that PayPal has a rent payment function for rent splitting between roommates. But, of course, PayPal makes it easy to send money to friends. And many co-tenants use the money transfer app to pay their share of the rent. However, one of the tenants remains responsible to the landlords for rent payment.
How does an online rent collection app like Rentdrop differ from PayPal? The reason is that each tenant on the lease agreement can use the app to make payments directly to the landlord. This helpful feature makes it easier to collect rent and helps prevent disputes among co-tenants.
Myth #7 —PayPal helps tenants pay rent on time
It could seem that PayPal is ideal for collecting rent on time by eliminating cash payments or mailing paper checks. However, PayPal lacks crucial features that promote on-time rent payments. Here are just a few ways why PayPal won't resolve late payment issues:
No recurring rent payments: The inability to set up automatic payments mean that tenants can forget. However, a

rent payment solution like Rentdrop

lets tenants set up a recurring payment schedule.
No rent reminders: Landlords can't use PayPal to send out automated rent reminders. Sometimes, a friendly nudge to pay rent on time is all that's needed to ensure timely payments.
No rent reporting to credit bureaus: PayPal lacks the crucial feature of reporting rent payments to the major credit bureaus. It's a fact that rent reporting incentivizes on-time rent payments. After all, tenants know that a missed bill payment can impact their credit score and history.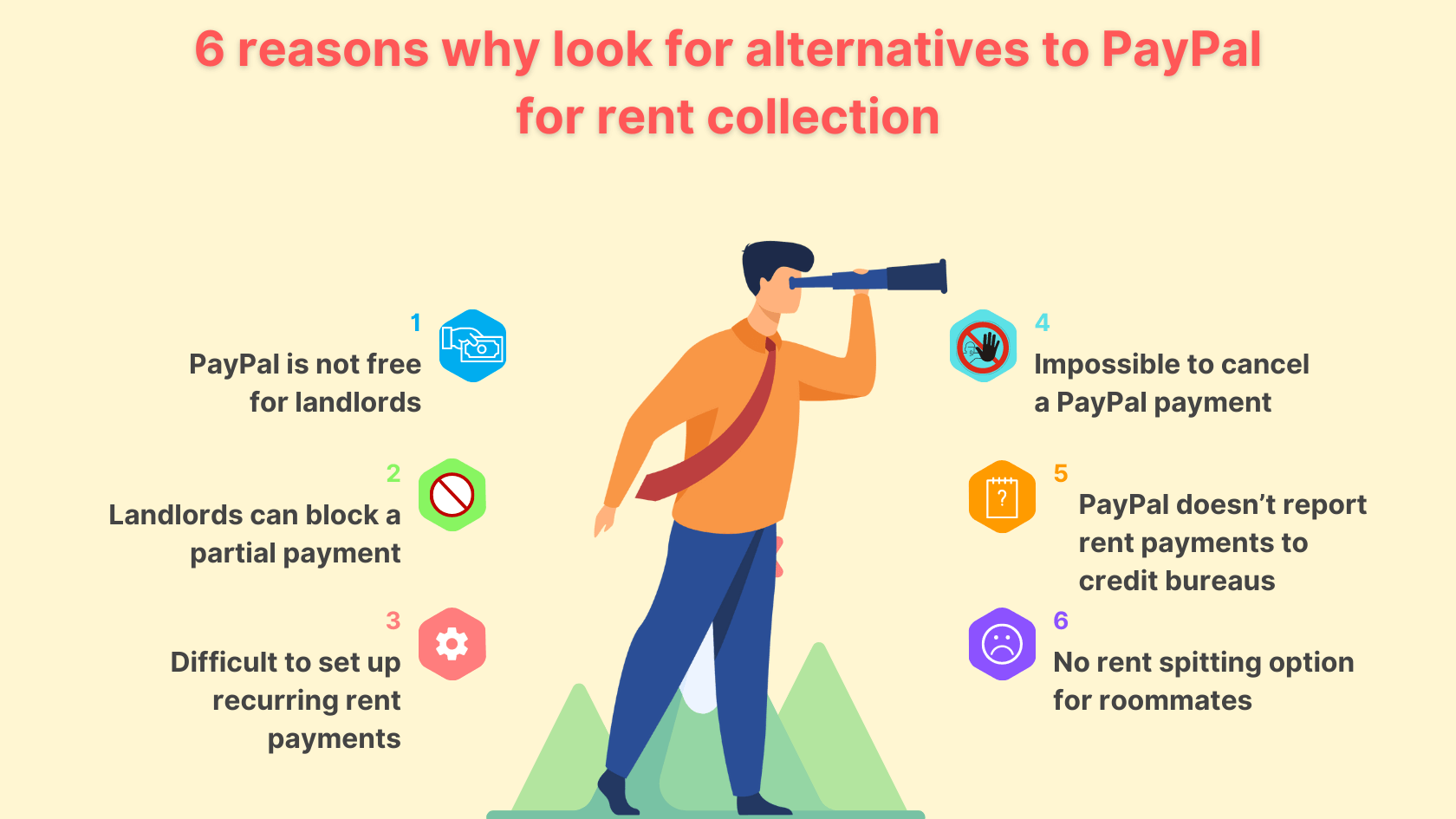 PayPal was never designed to be a rent collection tool for landlords. So while it's handy for sending money to family and friends and paying bills online, it lacks crucial online rent collection tools.
Why Choose Rentdrop for Rent Payments
Rentdrop is a dedicated rent payment app ideal for independent landlords and property owners. The rental payment solution has all the convenience of PayPal for transferring money. For example, tenants can do the following:
Pay rent by debit card or bank transfer for free
Make credit card payments to landlords for a small fee
Pay rent securely without disclosing sensitive personal or financial details
Create a digital paper trail
Rentdrop does so much more than PayPal regarding online payment options for rent. Here is the array of landlord tools Rentdrop offers:
No subscription fees for landlords or tenants
Accept rent payments for free
Block partial rent payments
Tenants can set up automatic rent payments
Option for roommates to split rent
Automatic late fee calculation
Send automated email reminders to tenants to pay rent on time
Accept various forms of payment—debit cards, credit cards, direct deposits
Check tenant payment status
Rentdrop helps you streamline one of the most critical aspects of property management — rent collection.
Rentdrop makes it easy for tenants to pay rent on time. They can set up automatic rent payments or make a one-time rent payment. Tenants can also use rent payments to build a healthy credit history, providing incentives for prompt payments.
Rentdrop gives landlords the tools to run a successful rental business and maximize rental revenue.
It's easy to sign up for Rentdrop today. There are no join-up fees and no subscription fees. Rentdrop puts you in control of rent payments and helps you provide the best service for your tenants.