Venmo and PayPal are popular peer-to-peer payment solutions used by millions of people to pay bills. Many tenants also want to use PayPal or Venmo to make rent payments. And for tenants, paying the rent with one of these digital apps is straightforward. They can pay rent by credit card, debit card, bank account funds, or money in their digital wallet. However, accepting rent money via PayPal or Venmo may not be the best solution for landlords. In reality, there are many reasons you should refuse to collect rent through these apps.
Undoubtedly, paying rent electronically has many advantages for you and your tenants. You no longer have the hassle of processing paper checks or waiting for rent checks to arrive in the mail. Also, your tenants probably prefer using a digital app to pay rent; therefore, you're providing a better service.
This article examines which digital wallet is best for rent payments — Venmo or PayPal. However, to help make an informed choice, you will learn about the advantages of using a dedicated rental payment service like Rentdrop.
Should you use PayPal or Venmo to collect rent from tenants? Please read on to find out.
What is Rentdrop?
Rentdrop is a convenient and secure way to simplify online rent payments for tenants and landlords. Tenants can pay rent by debit card, direct bank transfer, or credit card. Additionally, they can set up automatic payments. Landlords can get rent reports, calculate late fees, and block partial payments.
One of the differences between Rentdrop and apps like PayPal and Venmo is that it is free for landlords and tenants to use.
PayPal for Rent Payments
It is easy for tenants to make online payments to landlords using PayPal. Tenants enter the landlord's email address or mobile number to complete an instant transaction. There are no fees for tenants to pay when using funds in their digital wallets or bank accounts. However, they must pay a 2.9% fee for credit card and debit card payments.
While this may seem cheap and straightforward for tenants, several issues are associated with using PayPal to collect rent.
Does PayPal charge landlords a fee for rent payments?
Yes, landlords must pay a fee when using PayPal for rent collection. PayPal's processing fees for "goods and services" are between 1.9% and 3.5%. Although this doesn't seem much, it can be a big chunk out of the monthly rent payment.
Is it possible to use PayPal's "send money to family and friends" service to pay rent for free? Unfortunately, this service is only for non-business transactions. Using PayPal friends and family for collecting rent is a breach of the terms and conditions. Therefore, you must sign up for a PayPal business account.
Can you cancel a PayPal Payment?
Another issue for landlords using PayPal to run a rental business is that you can't block payments or cancel them. This option is vital when trying to evict a tenant for a lease violation. In many states, a tenant can halt an eviction process by making a partial payment. And if you collect rent with PayPal, there is nothing you can do to stop this.
The option to block a partial payment is one reason why many savvy landlords use a property management app to collect rent. Even free rental collection apps usually have this function.
Related reading: Five reasons to avoid using PayPal to collect rent.
Does PayPal have seller protection for landlords?
The question of canceling a PayPal payment may come up if a tenant mistakenly pays the wrong person. For example, suppose your tenant puts in the wrong phone number or email address. In that case, the instant payment happens immediately. But unfortunately, this may mean that someone else receives the money, and your tenant has to retrieve it themselves.
In these circumstances, PayPal doesn't offer landlords any purchase protection and won't get involved in payment issues. In addition, PayPal's terms state that there is no protection for real estate business payments. Therefore, if the tenant can't get the money back, the chances are they will be late with the rent or miss the payment altogether. This can severely impact your cash flow situation.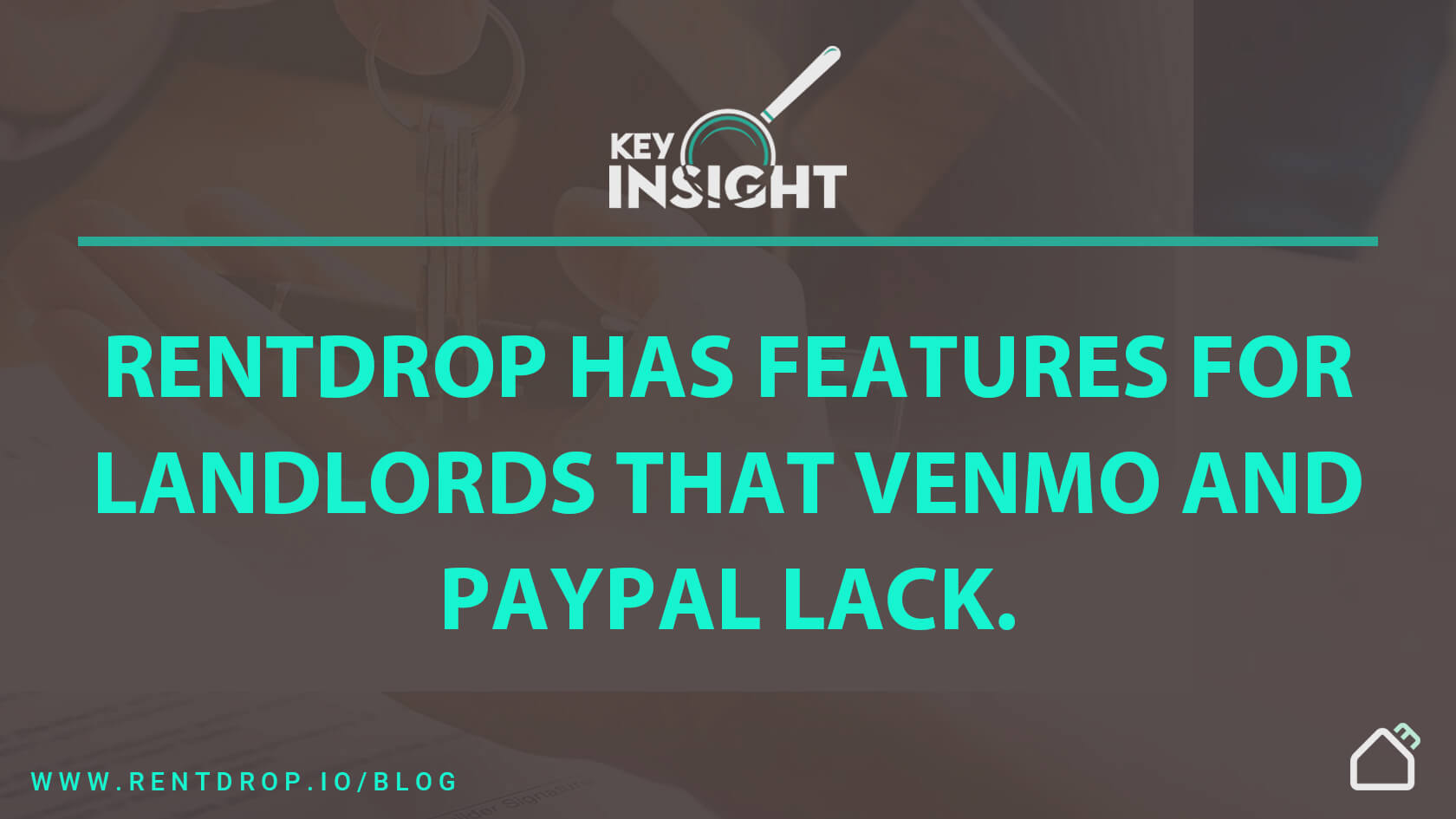 Venmo for Rent Payments
Venmo is a mobile payment service used to send money to friends and family, and you can use it to pay rent from a mobile device. Many tenants use Venmo to split the rent between roommates. Similar to PayPal, Venmo facilitates instant transactions, and you can make rent payments from anywhere.
However, just because Venmo seems straightforward for rent payments, there are several reasons why it's not an ideal app for running a rental business.
Venmo business fees for landlords
Landlords (sellers) must pay Venmo transaction fees for receiving rent payments. The standard rate is 1.9% plus $0.10 for every transaction. Since 2021, landlords who sign up for Venmo to collect rent payments no longer have a trial period where they can accept payments for free.
No payment protection for accepting rent payments with Venmo
Another issue landlords and tenants face using Venmo is a lack of payment protection. The terms and conditions of Venmo state that real estate transactions for residential property (i.e., monthly rent payments) are ineligible for Venmo Purchase Payment Protection. Therefore, your income is a risk when using Venmo for rent collection.
Purchase protection is crucial for landlords because it protects your income and cash flow. For example, suppose a tenant sends the rent payment to the wrong person. In that case, Venmo won't intervene in the dispute. In other cases, a tenant could cancel a Venmo payment after leaving the property. There are also several reasons why a Venmo payment could be put on hold that are neither your nor your tenant's fault.
Venmo recurring payments
Can you set up automatic payments with Venmo to pay rent? Unfortunately, the answer is no. It is impossible to set up recurring payments. This means that you must rely on your tenants to remember to pay rent on time if you want to protect your cash flow.
Getting your tenants to set up automatic recurring payments is one of the best ways to avoid charging late fees. The tenant can set the schedule once and then forget about it. And even though most tenants are conscientious about paying rent promptly, there is always the chance of them forgetting.
Canceling a Venmo payment
Like PayPal, Venmo has no option for landlords to cancel or block a partial payment. Instead, when a tenant authorizes the payment, the instant transfer occurs. So, the flaw in the system allows a delinquent tenant to put the brakes on an evection process by making a partial rent payment.
On the other hand, using a dedicated app like Rentdrop puts you — not your tenant — in control of payments. Therefore, if you are trying to evict a tenant for non-payment of rent, you can prevent them from only paying part of the total amount. This way, you force the tenant to "cure or quit."
Related reading: Why Venmo for rent payments is a bad idea.
Venmo vs. PayPal — Which is Best Rent Payments?
PayPal and Venmo have advantages for tenants paying rent. Both are free to use, and tenants typically don't pay any transactions fees. Therefore, there is no competition between the two mobile apps for paying rent.
The issue of using Venmo or PayPal for rent payments is better decided from the landlord's perspective. A landlord should consider the cost of transaction fees, payment protection, and control over rent payments. So which comes out on top? Venmo or PayPal?
When it comes to setting up recurring rent payments, PayPal is the winner. Business owners (landlords) can set recurring fees to ensure they collect rent on time. Venmo has no option for recurring fees
However, it seems that Venmo is cheaper for landlords to use because the transaction fees are lower — around 1.6% lower. That means if you are collecting an average rent of $1,800 per month, Venmo works out at about $345 per year cheaper than PayPal.
Venmo vs. PayPal — Issues for Landlords
Landlords using Venmo or PayPal discover compelling reasons to look for alternatives. After all, digital wallets were not designed for landlords.
Here are a few reasons to avoid Venmo and PayPal for collecting rent.
Block a partial payment
The most crucial reason to use a free property management app to collect rent is to prevent partial payments. Unfortunately, PayPal and Venmo don't allow landlords to control rent payments. In some cases, this could put your business at risk if you can't evict a delinquent tenant.
Cost to accept rent payments
There is no way to use Venmo or PayPal to collect rent for free without violating the terms and conditions. You must accept rent payments through your business profile. Depending on the number of rental properties you own, this could work out at thousands of dollars per year in unnecessary fees for business transactions.
No landlord-friendly features
Venmo and PayPal may be great for sending money electronically, but that's it. There are no additional features that make rent collection easy for you.
For example, a rent collection solution like Rentdrop has no subscription or transaction fees. So, it's free for landlords to use.
Also, you can block payments — vital if you start an eviction process.
Other features that property management apps include are:
Send payment reminders to tenants
Automatically calculate late fees
Report rent payments to credit bureaus
Allow co-tenants to split rent
Accept many forms of payment for free — credit cards, debit cards, and direct deposit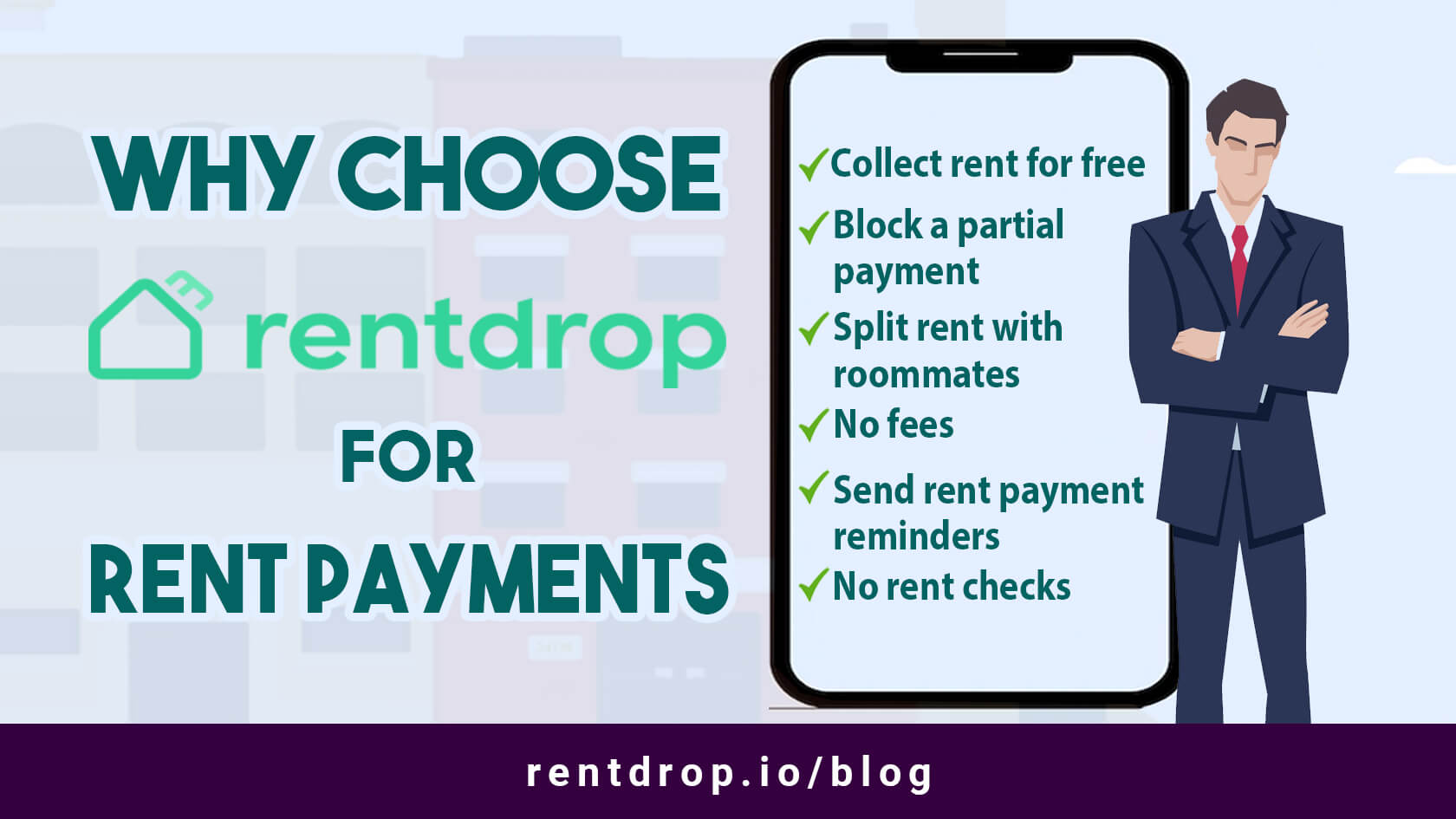 Related reading: The best alternatives to PayPal for rent collection.
Why Choose Rentdrop Over Venmo or PayPal
Rentdrop is designed to streamline the rent payment process. It also includes many useful features for running a successful rental business. For example, unlike PayPal or Venmo, landlords have no transaction fees to pay. The only costs tenants incur are when paying the rent with a credit card.
However, there are more reasons to choose Rentdrop than just the cost. Rentdrop can be a valuable tool to assist your tenants when paying rent.
For example, a feature of Rentdrop (coming soon) is to report rent payments to credit bureaus. Think about how valuable this is for tenants. The monthly rent is their largest recurring bill. So, offering the option to report these payments can help boost their credit score.
Rentdrop is a helpful tool for tenants in a multi-tenancy rental unit. Each tenant can pay their share of rent directly to you. The feature encourages responsible rent payments and helps prevent disputes between tenants. In addition, if you need to evict a tenant, you can set the Rentdrop app only to accept rent payments made in full.
Venmo vs. PayPal for Rent Payments — In Conclusion
The best advantage of using a digital payment app like Venmo, PayPal, Zelle, or Cash App is that tenants can make electronic payments. However, that is where the benefits stop.
It is more advantageous for landlords to choose a trusted solution like Rentdrop to accept electronic payments. Not only is it free to use, but it also comes packed with landlord-friendly features to help streamline a property management business.