From all the mobile payment options, tenants seem to prefer using PayPal to send money for rent payments. PayPal is quick to set up, you can send money instantly, and you can pay rent by credit card, debit card, or bank account balance. In addition, PayPal is more secure than traditional rent payment methods like cash and personal checks.
If you are a landlord or property owner, it may seem that PayPal is a convenient way for tenants to send rent money. You don't need all the hassle of waiting for a rent check in the mail, going to the bank to cash it, and then worrying if the check will bounce or not. You might even think that using a personal PayPal account allows you to collect rent for free.
How should you react if a tenant asks: "Can I use PayPal to send money for rent payments?" You might think that this would be the best method to collect rent online.
There are several compelling options to avoid using PayPal for rent payments. First, PayPal is not a free rent collection method. Many landlords don't realize that PayPal fees make this rent collection method costly. Second, PayPal offers no seller (landlord) protection in the case of a dispute. Lastly, PayPal doesn't allow you to block a partial payment — a feature you must have in a rent collection app if you are evicting a tenant.
Most savvy landlords use alternatives to PayPal for rent collection. For example, Rentdrop is a trusted rent collection app packed with features for landlords. Apart from being free to use for tenants and landlords, Rentdrop has the all-important feature of blocking a tenant's partial payment. Additionally, you can give tenants options to split the rent, pay rent on a flexible schedule, prorate rent amounts, and set up automatic rent payments.
Before explaining the many landlord-friendly features of Rentdrop, this article examines issues around using PayPal to send money for rent payments.
Should Tenants Use PayPal to Send Money for Rent Payments?
A tenant can send money via PayPal to make a monthly rent payment. From the tenant's perspective, it is relatively straightforward. After all, your tenants may already use PayPal for online payments, shopping, sending money to friends, or paying other bills. Also, PayPal's monthly limits are enough to make regular rental payments.
To run a successful landlord business requires regular cash flow. Due to this, there are several reasons why it's not a good idea to let tenants use PayPal for their rent payments.
Here is a list of reasons why sending rent via PayPal is a bad idea if you're a landlord
Using PayPal to send money can disrupt cash flow
Collecting rent on time is key to running a successful rental business. Even if you only manage a single rental unit, income from your tenant is crucial. However, how PayPal works can mean serious cash flow issues for your business.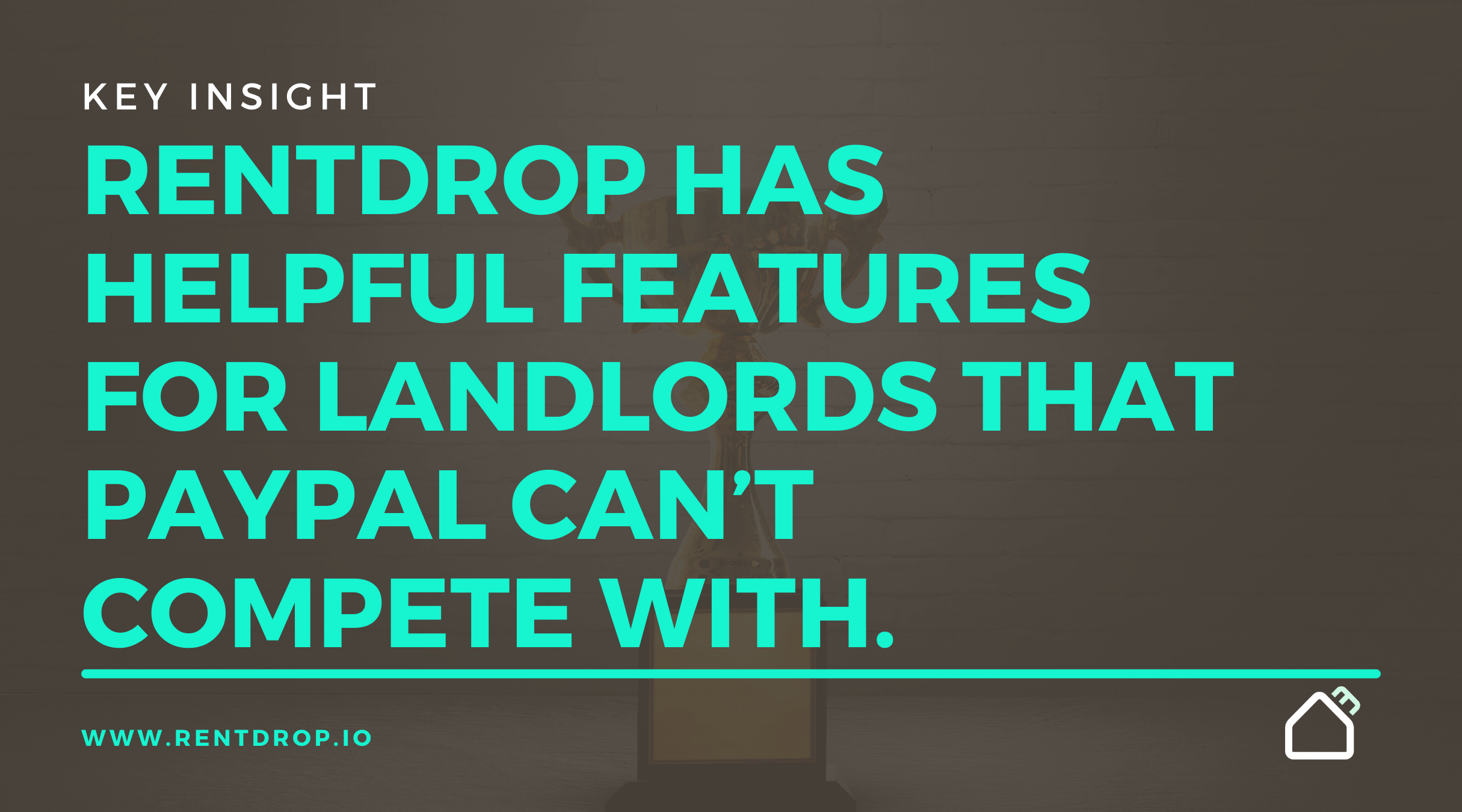 Here are a few problems landlords report when tenants use PayPal to send money for rent payments:
Sending money to the wrong person: It is easy for a tenant to send money accidentally to someone else. When a PayPal user authorizes the payment, the money arrives instantly in the recipient's account. If they make a mistake, you won't get the rent money. However, PayPal won't intervene. So, it's up to the tenant to retrieve the money. During this time, you are missing a rental payment.
PayPal freezes accounts: If PayPal detects suspicious activity — real or not — they can freeze the user's account. This means that money on recent transactions may be frozen. The result is that temporarily you can't access your funds. However, from the tenant's point of view, they have paid rent in good faith.
PayPal transfer times: The time it takes to send money is also an issue many landlords report. Transferring money to your bank account from a PayPal account is free. However, it can take up to five business days for the funds to arrive. If you want an instant transfer, you will

have to pay PayPal fees

.
PayPal chargebacks hurt your business: Expensive chargebacks is another issue landlords report when tenants use PayPal to send money. If a tenant raises a dispute about a rental payment, PayPal usually takes the buyer's (tenant's) side. They could then refund the money, causing your business to lose money. You may also be charged up to $20 on top of losing the rent money.
Sending money with PayPal is costly for landlords
PayPal is not a free mobile payment app for landlords. To use PayPal for rent payments, you must have a business account. This means that you — not your tenant — pay a transaction fee for business payments. How much does it cost to receive a rent payment via PayPal? Processing fees with PayPal range from 1.9 percent to 3.5 percent, depending on the payment method.
What about using a personal PayPal account to receive rent payments for free? Doing so would be a violation of the Terms and Conditions. The user agreement on PayPal says: "If you use your PayPal account to receive payments for the sale of goods or services or to receive donations, you must pay any applicable fees for receiving the funds."
But suppose your tenant is a family or friend. Could you ask them to send money through family and friends for the rent payment.? Again, this is in breach of PayPal's Terms. Here is what PayPal says when using the service to receive money for a rent payment (goods and services): "Not ask your buyer to send you money using the "send money to a friend or family member." If you do so, PayPal may remove your PayPal account's ability to accept payments from friends or family members.
So, there is no getting around it — PayPal is expensive for you if you allow tenants to use PayPal for sending money to pay rent.
Tenants using PayPal to send money can avoid evictions
One of the most compelling reasons to prevent tenants from using PayPal for rent payments is blocking payments. There is no provision in PayPal to block or deny payments from tenants. This becomes an issue if you are trying to evict a delinquent tenant for non-payment of rent.
Suppose you start an eviction process due to a rental agreement violation — not paying rent or causing property damage. In that case, a tenant could make a partial rent payment of a few dollars to avoid eviction. Because of this, you must wait the stipulated period before starting eviction proceedings again.
Just think how easy it would be if you had a rent collection app like Rentdrop that could block partial payments?
PayPal doesn't offer landlords protection
There is no payment protection for landlords under PayPal's Terms and Conditions. So, for example, what happens to your income if there is a dispute between you and your tenant? Or say the tenant says the paid rent through PayPal, but it didn't arrive in your account?
Here is what PayPal says about the level of purchase protection it offers landlords: "The following items or transactions are not eligible for PayPal's Buyer Protection program — real estate, including residential property." In other words, no protection.
Monthly rent payments are classified as real estate transactions that involve residential property. Therefore, it makes sense to look for alternatives for rent collection.
Related reading: Should you use Venmo or Cash App for rent collection?
How Long Does PayPal Take to Send Money?
It can take between one and five working days for PayPal to send money. According to PayPal, standard transfers typically take one day. However, in some cases, you must wait five days. In addition, even some standard transfers have a processing fee depending on your bank or credit union.
PayPal can send money instantly if you are willing to pay a fee of 1.5% of the transaction amount. The PayPal limit for instant withdrawals is $25,000.00
The fastest way to get money from PayPal is using a PayPal Debit Mastercard.
Interestingly, PayPal will also send money by check if you prefer that method. It takes PayPal five to ten business days to send money by paper check. There is also a $1.50 transaction fee.
The Advantages of Rentdrop Over PayPal for Rent Payments
Rentdrop is one of the easiest ways to facilitate online rent payments. The mobile payment platform is designed to make it easier for landlords to collect rent online without the risks of PayPal. Additionally, there are several features for tenants to streamline monthly rent payments.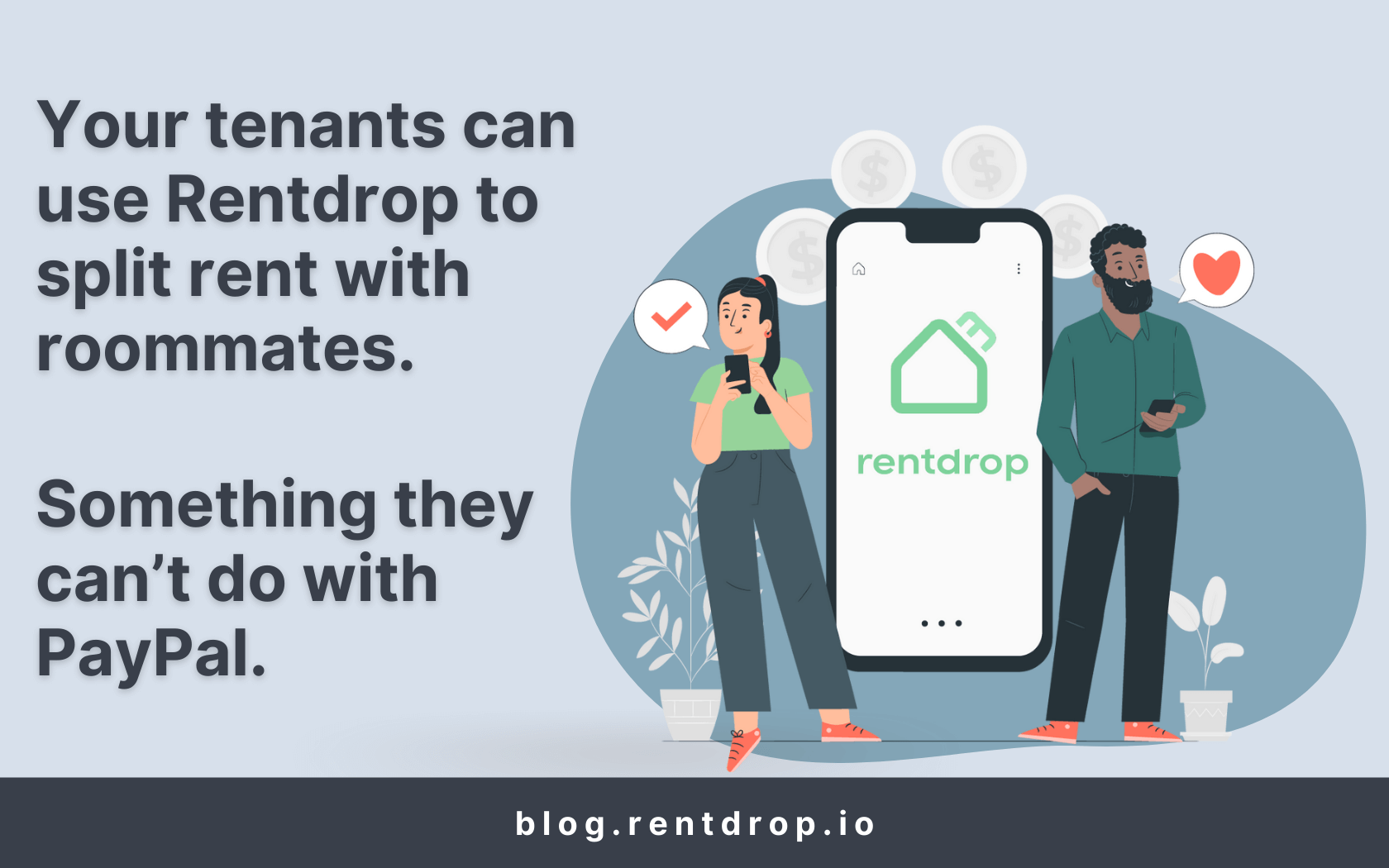 Rentdrop for landlords
Here is a list of the features Rentdrop includes for rental property owners:
Send automatic rent reminders
Automatically charge fees for late payments
Process security deposits
Block a partial payment
Accept several forms of payment — ACH direct deposit, credit card, debit card, or eCheck
Set up an individual payment schedule for each tenant based on their income
Screen tenants
Encourage on-time rent payments by allowing automatic payment scheduling
Landlords love Rentdrop because it puts them in control over payments. This simple fact makes it easier to collect rent online and prevents tenants from making an unauthorized partial payment.
Rentdrop for tenants
Rentdrop is designed to make paying rent straightforward and seamless for tenants. Here are some of the features for tenants:
Set up recurring monthly rent payments
Split rent with roommates
Allow parents to pay for part or all your rent
Report on-time rent payment to credit bureaus to boost your credit score
Communicate directly with your landlord with the in-app features.
Even if your landlord wants to receive a paper check in the mail, you can use Rentdrop to pay rent, and we will mail the check.
PayPal Send Money for Rent Payments — In Conclusion
Despite its popularity for rent payments, PayPal is not the best option to collect rent online. PayPal puts your rental business at risk — regardless of whether you manage one or several rental properties. The peer-to-peer payment service charges fees for business transactions, gives no purchase protection, and doesn't block partial payments.
Rentdrop has the convenience of mobile apps like PayPal but with additional features. For example, you are in control of rent payments, and you can provide professional payment services to your tenants. The best part is that Rentdrop is free for landlords with no hidden transaction fees to pay.