If you are using PayPal to collect rent, knowing the cost of PayPal fees for rent payments is vitally important. PayPal fees for merchant sellers (landlords) don't appear to be much. However, paying a processing fee for PayPal transactions can mount up if you manage several rental properties. In some cases, you could be paying thousands of dollars a year for using this "free" mobile payment app.
Using a digital payment solution like PayPal seems like a great way to collect rent online. The tenant initiates the rental payment, and the money is almost instantly in your PayPal account. However, you will notice that the money the tenant sends and the amount you receive are lower. Why? PayPal transaction fees. While PayPal is free for tenants to send money, it's not free for landlords to receive online rent payments.
RentDrop is an excellent alternative to PayPal for rent collection. Not only can you collect rent for free, but your tenants can also pay rent quickly. In addition, RentDrop simplifies the rent payment process. It does this because it has features landlords require for streamlined rent collection. But there are more compelling reasons to consider RentDrop as a suitable payment platform for rent.
This article explores the PayPal fees you must pay if you accept this digital wallet as a rent payment method. You will also find why using RentDrop as an alternative to PayPal can benefit your rental business.
PayPal Fees for Rent Payments
PayPal charges fees to landlords when they collect monthly rent payments. PayPal fees for rent payments are typically 3.49% of the rental amount plus $0.49 per transaction. Also, you will have to pay PayPal fees if you accept e-checks, debit cards, or credit card payments.
Using PayPal to Pay Rent — Why It's a Bad Idea for Landlords
PayPal is a popular digital payment platform to pay for many services, including rent. Many landlords also use PayPal to make online purchases. So it seems like an excellent solution to collect rent on time. However, while PayPal is easy for tenants to pay rent, some issues can impact your rental business.
PayPal fees when paying rent is just one reason why you shouldn't accept this form of payment. For example, suppose you have five rental units, and each tenant pays $1,400 in monthly rental payments. In that case, you must pay nearly $250 a month in PayPal fees. Over a year, that is an eye-watering $3,000 in fees for business transactions.
So, you must ask the question: "Is PayPal a payment option for collecting that I can afford to use?" The answer to that question becomes apparent when you find out that you may have to pay even more PayPal fees than the basic transaction fees.
PayPal Fees for Rent Payments — ACH Transfers are Costly for Landlords
PayPal may charge 1% in fees when transferring money from PayPal to your bank account. To avoid paying the fees, you can make a regular bank transfer and wait for one to three business days. But, say you need the money instantly. In that case, PayPal fees are 1% (up to $10).
Of course, paying $10 in PayPal fees may not seem a lot for a large cash transfer. However, can you see a pattern here? PayPal fees for rent payments are starting to mount up, impacting your cash flow.
PayPal Fees for Rental Payments — Paying Rent by Credit Card or Debit Card
If you use PayPal to accept credit card or debit card rent payments, you will pay fees. The cost to your landlord's business if you allow tenants to use PayPal is 2.99% plus $0.49. Once again, you will see your revenue drop by accepting PayPal rent payments.
Of course, it makes sense to allow tenants to use multiple forms of payment—debit card, credit card, or ACH transfer. But why should you pay the processing fee for business transactions?
Here is one why where RentDrop is superior to PayPal. Tenants can pay rent using a debit card for free, and you have no fees to pay. Of course, you can also allow credit card payments. However, in this case, the tenant pays the associated fees. Do you want to find more of the advantages of RentDrop?
PayPal Blocked Payments Could Hurt Your Rental Business
A serious issue to consider before accepting PayPal as an online rent collection method is blocked payments. PayPal reserves the right to hold payments as pending if they notice suspicious activity on the buyer's (tenant's) account. This means that while the issue remains unresolved, you can't receive the rent payment.
Suppose your tenant is the victim of a phishing scam and PayPal notices something suspicious. PayPal could put the user's account, along with all payments, on hold. In some cases, the tenant has done nothing wrong. But the red flag on the account can cause an unnecessary dispute between you and your tenant.
Related reading: Alternatives to PayPal for rent collection.
Is PayPal the Best Mobile App for Rent Payments?
PayPal is a great option to pay for online services. But, unfortunately, it's a terrible option for landlords who want to run a successful rental business. Apart from the hefty fees for accepting rent payments, PayPal has several additional downsides for landlords.
Here are some reasons to consider an alternative to PayPal.
PayPal is Not Free for Landlords
PayPal fees for rent payments mean that using the mobile payment app eats into your revenue. Depending on the number of rental units you manage, you could pay thousands of dollars per year in fees. In addition, there may be additional fees to pay, depending on how you manage your cash.
PayPal Has No Purchase Protection for Landlords
PayPal doesn't offer any payment protection to rental property owners. This means that if there is a payment dispute, PayPal typically decides in favor of the tenant. The terms and conditions of PayPal state that transactions involving real estate and residential property are not covered in the Seller Protection program.
For example, the tenant has no payment protection if they send the rent money to the wrong person. If the money ends up in someone else's PayPal account, the tenant may never get the money back. Even if the "wrong person" returns the cash, this may end up as a late rent payment.
But consider this: how will you and the tenant resolve the dispute if the tenant can't recover the money? According to PayPal, they won't help you or the tenant.
PayPal Can't Block Partial Rent Payments
PayPal gives tenants control over payments. This means that you can't block partial payments if you are trying to evict a tenant. Unfortunately, the ability of a tenant to make an instant transfer of a few dollars effectively nullifies any eviction process. In the end, you may have to wait until the lease ends to include a clause of your preferred payment method.
Therefore, the ability to block partial payments is an essential feature of any online rent payment system. Blocking partial payments is one of the attractive features of RentDrop.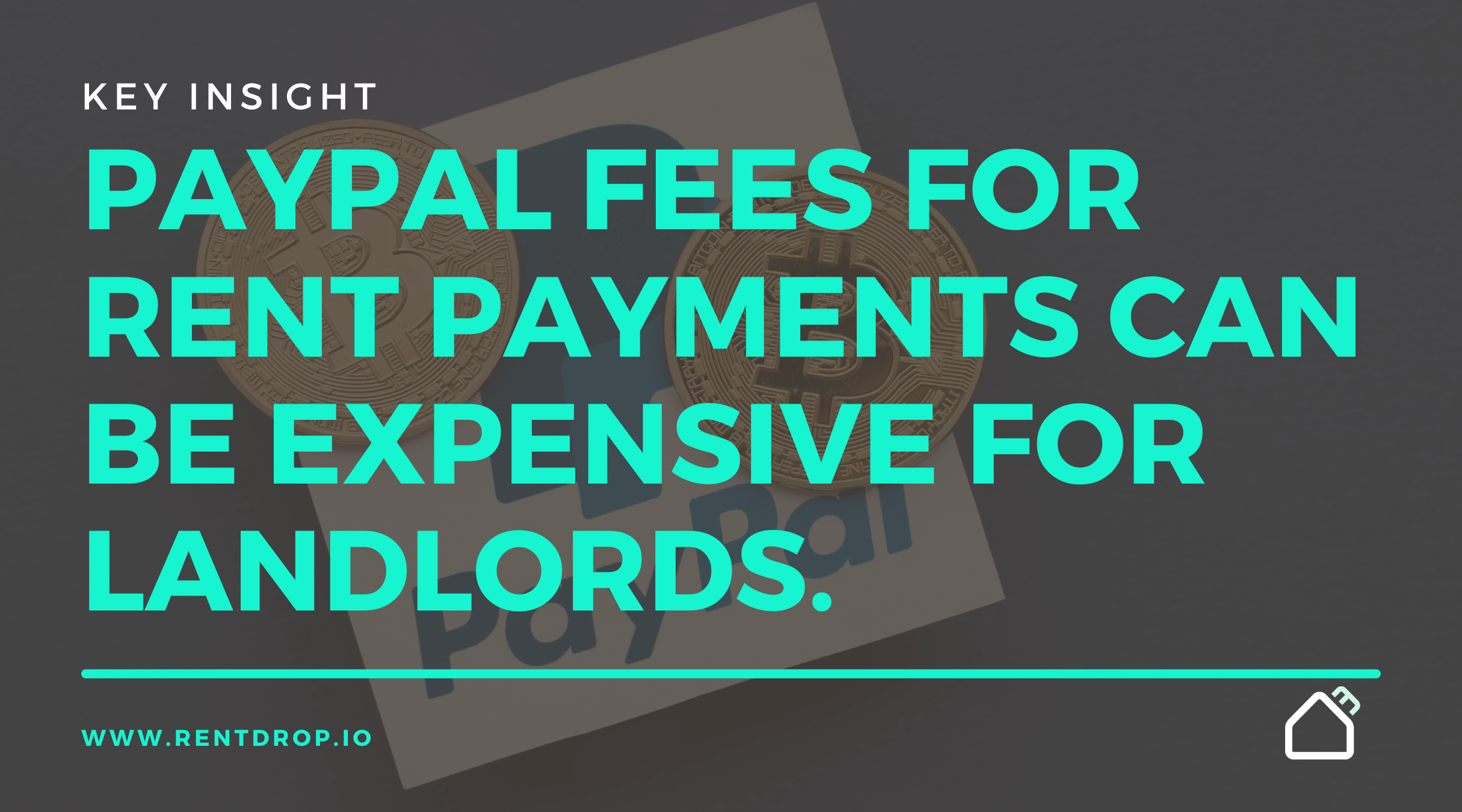 PayPal Lacks Features Landlords Need
The most significant reason to avoid accepting PayPal payments from tenants is that it lacks the features you need. PayPal was designed as a way to send money to friends. While it incorporates many features for small businesses, it lacks features landlords need.
If you are a landlord, think how useful the following features would be in rental management software:
Send automatic payment reminders to tenants to avoid late payments
Automatically charge late rent fees
Allow tenants to set up automated rent payments
Let tenants pay rent on their schedule—pay rent in a single transaction or installments
Screen tenants from the app
Process digital rental applications
Avoid misdirected payments
Block partial payments from difficult tenants
Split rent between tenants in multitenancy lease agreements
Process security deposits
Tools to prorate rent amounts
Attract more prospective tenants by offering a fully-functional rent payment app
RentDrop is a Specialty Rent Collection and Payment Application
Although PayPal works well with many small businesses, it doesn't have the advanced features RentDrop has for landlords.
RentDrop is designed specifically with tenants and landlords in mind. The feature-rich application lets you collect rent online and avoid the hassle of dealing with rent checks.
In addition, your tenants will love using RentDrop to pay rent. They can set up recurring payments, see their payment history, and interact with you through the app.
As a landlord, using RentDrop as a preferred method of rent collection has many advantages. You can track all tenants' rent payments in one place. You can also take advantage of the many features for landlords that PayPal lacks.
PayPal Rent Payment Processing Fees — In Conclusion
Considering how much you may have to pay in PayPal fees to collect rent, looking for an alternative payment method makes sense.
RentDrop ensures that the rent collection process is as straightforward as possible. You can also block partial rent payments during ongoing eviction proceedings.
However, the most attractive feature of RentDrop for landlords is that it is free for you and your tenants to use. So sign up for RentDrop today and start using all the features designed to make your life managing rental properties more straightforward.