Online rent payment systems are the best way to simplify the rental process. Using a trusted online app for rent payments should simplify rent collection and provide a landlord or property manager with tools to control rent payments. However, online rent payment systems should incentivize tenants to pay rent online and on time every month.
The greatest challenge for landlords is to collect rent money from tenants. Tenants may have preferred methods of paying rent that is easy for them. However, a rent payment system should make it easier for you to manage rental payments. So, while a tenant may prefer writing and mailing a rent check, that probably isn't the best rent payment system for you.
So, for many landlords and rental property owners, the greatest pain point is convincing tenants to switch to a better rent payment system — like paying rent online.
However, when it comes to using an effective online rent payment system, there are several options for landlords or property managers. For example, online payment methods can include an ACH bank transfer, using Venmo or Zelle for rent payments, or switching to a dedicated app for rent collection.
Which is the best online rent payment service to ensure on-time rent payments and keep tenants happy at the same time? This article explores the best online rent payment options and what features they must include.
The Best Rent Payment Methods to Collect Rent
Online rent collection has many advantages over collecting personal checks or accepting cash payments. An online rent payment tool ensures that rent money is transferred quickly and securely. In most cases, the online transfer happens instantly, and you receive rental income fast. You also have digital income receipts in case there is a dispute.
Why is online rent collection better than cash or a rent check? Here are a few reasons:
Why collecting rent by paper check is a bad idea
Rent checks are a bad idea because so much can go wrong. For example, the rental check can go missing or get held up in the mail, impacting your rental income. In addition, processing rent checks takes up your precious time and resources. And there is always the risk of the check bouncing.
Collecting rent in cash is a bad idea
Accepting cash payments is a terrible method to collect rent. First, there is no official record of the cash payment, leaving you open to tenant disputes. Also, the cash could be stolen or lost, and you have no way to recover the lost rental income.
Online rent payments are the best option
Any method of collecting rent online is better than cash or a rent check. Therefore, it's best to choose a digital payment solution that allows tenants to pay rent by credit card, debit card, or directly from their bank account. You usually have two options to facilitate online rental payments — an app for rent collection or a digital wallet.
Can You Pay Rent via Venmo, Zelle, or PayPal?
Tenants can pay rent using a peer-to-peer payment method like Zelle, Venmo, or PayPal. These payment services let tenants choose different ways of paying rent. Typically, money transfers happen instantly, and the money is in your account. You even get a payment notification for each rent payment.
However, collecting rent with Venmo, Zelle, or PayPal is not suitable for landlords. Here are a few reasons why:
Landlords pay a high transaction fee for every rent payment received
It's impossible to block partial rent payments
There is no payment protection for rent payments
It's easy for tenants to pay the wrong person
Tenants can't set up recurring payments
Impossible to send reminders to tenants
No option to automatically calculate late fees
While using a digital wallet for rent payments is better than cash, it is not the best rent payment system for successful landlords.
What Is the Best Online Rent Payment System?
The best way to collect rent from tenants is to use a dedicated rental app with online rent payment features. An online rent app like Rentdrop has the efficiency and ease of paying the rent with Venmo or Zelle but additional features for landlords and tenants.
8 Features of the Best Online Rent Payment Systems
The online rent collection features of a trusted rent app should do more than only tenants pay rent electronically. For example, the payment processing service should allow you to block a partial payment, send rent reminders, accept rent payments for free, and allow roommates to split rent.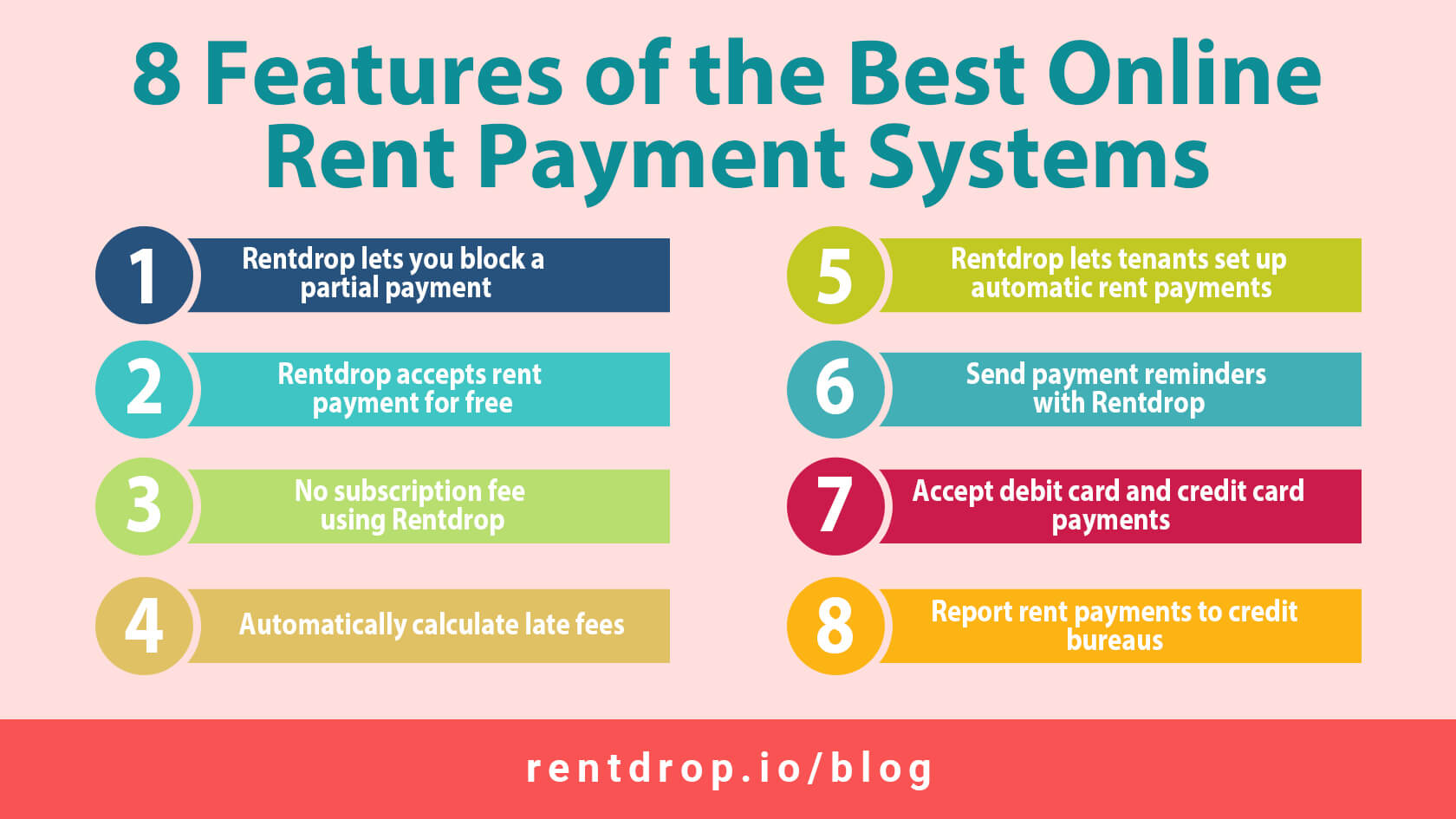 Let's look at how the features of the best online rent payment systems like Rentdrop can revolutionize your rental business.
1. Rentdrop lets you block a partial payment
The option to block a partial rent payment is vital to protect your cash flow and rental income. Blocking partial payments is necessary when evicting a tenant for non-payment of rent or another violation. You can stop a tenant from derailing the eviction process by forcing them to pay rent in full.
One of the differences between Rentdrop and digital payment apps like Venmo or Zelle is the partial payment blocking feature. P2P payment platforms transfer money instantly, and there is no way you can cancel or stop the payment.
2. Rentdrop accepts rent payment for free
The best online rent payment systems should be free for landlords and tenants to collect and pay rent. For example, using Rentdrop, tenants can make a debit card or credit card transaction, and there is no fee for landlords. Additionally, making a direct bank deposit to pay rent is also free.
Although tenants can pay rent for free using Venmo, PayPal, or Zelle, landlords must pay fees — sometimes up to 3.5% per transaction. Even some dedicated rent collection apps like Avail charge landlords for incoming rent payments or debit card transactions.
However, Rentdrop is always free for landlords to accept any rent payment. In addition, tenants don't pay fees when paying rent by debit card or ACH bank transfers.
3. No subscription fee using Rentdrop
Rentdrop is a fee-free app for online rent collection and payments. This means maximizing your cash flow and limiting unnecessary overheads to process rent payments. Additionally, tenants don't have to pay a subscription fee to use Rentdrop.
4. Automatically calculate late fees
The best online rent collection systems should have an option to calculate late fees automatically. A feature like auto-late fees calculates grace periods and charges the appropriate fee for late rent payments. The payment app also takes into account state laws on the maximum fee you are allowed to set.
Using a rent app like Rentdrop eliminates the hassle and disruption of working out late fees. It also saves you from making mistakes and getting into unnecessary disputes with tenants.
5. Rentdrop lets tenants set up automatic rent payments
One of the advantages of Rentdrop versus Venmo is that tenants can set up recurring rent payments. Setting up an automatic payment is one of the best ways to avoid late payments. Tenants can set up the payment schedule once and then forget about it. However, they also have the option of making a one-time rent payment if they prefer.
To encourage on-time rent payments, explain to tenants about the auto-pay function. The benefits are that they don't have to remember to arrange the money transfer, they can reduce laborious tasks, and it saves them money if they forget to pay rent.
6. Send payment reminders with Rentdrop
One of the excellent features of Rentdrop is the option to send regular rental payment reminders to your tenants. A simple reminder can be all it takes to motivate tenants to pay rent on time and maximize your monthly cash flow situation. Then, when they pay on time, send a thank-you message to build a good tenant-landlord relationship.
7. Accept debit card and credit card payments
To offer the best service to your tenants, give them a wide range of payment options to pay rent — credit card, debit card, and ACH transfers. Some tenants want to use a credit card to pay rent and other bills to take advantage of sign-up benefits and cashback options.
Many tenants also use third-party services to facilitate credit and debit card rent payments. However, many of these providers slap a transaction fee on each payment. However, if you use a dedicated app for rent collection, you can provide them with stellar customer service. As a result, you can make it easier for them to pay rent on time.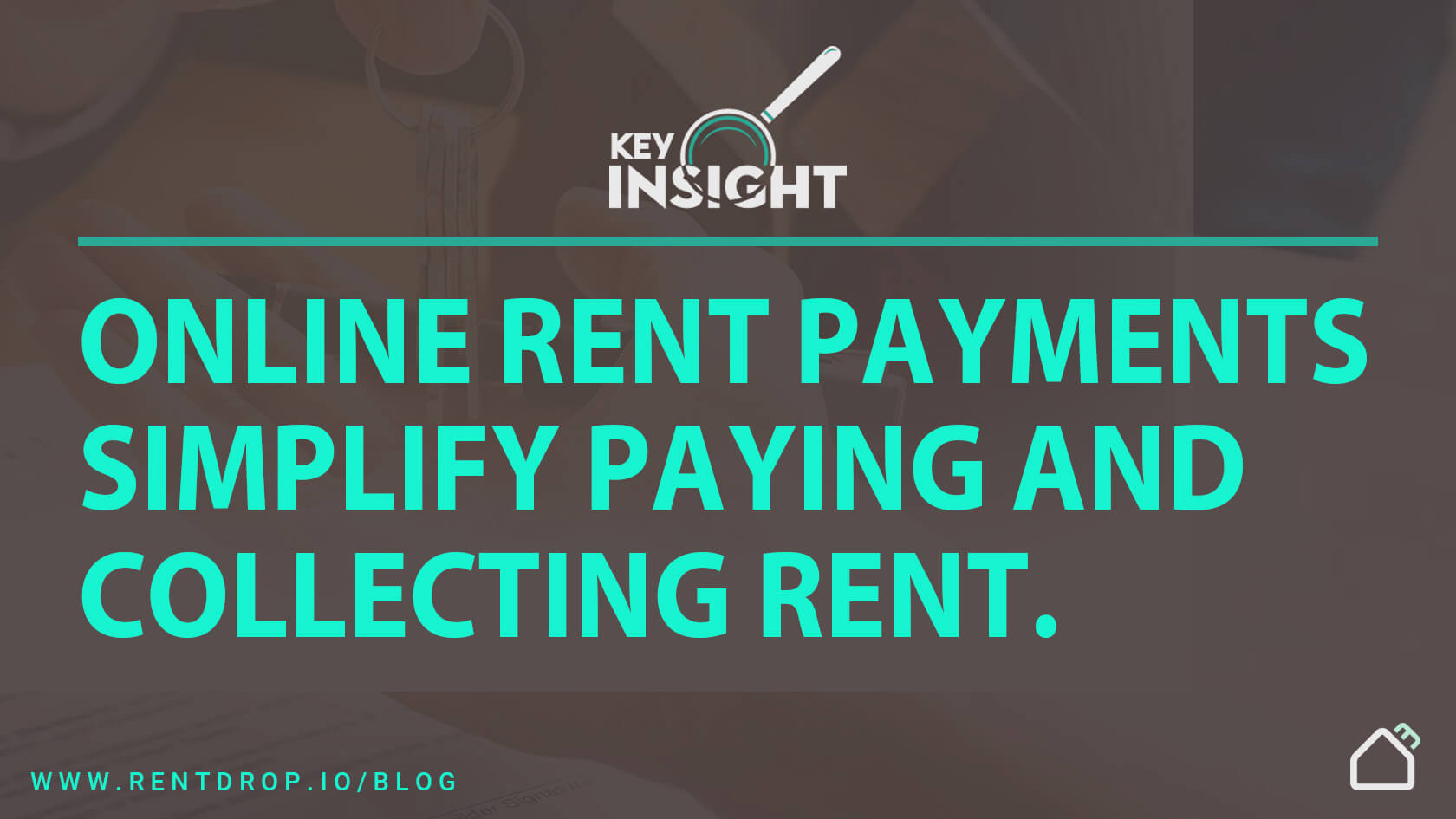 8. Report rent payments to credit bureaus
The best mobile rent collection apps have a service for credit bureau reporting. Reporting rent payments is a fantastic incentive to get tenants to use an app like Rentdrop for rent payments. After all, their biggest monthly bill is probably their monthly rent.
Tenants can build a healthy credit history by reporting rent payments to the major credit bureaus. They appreciate the possibility of improving their credit rating to secure lower interest rates on a credit card, buy a car, or apply for a mortgage.
Reporting to credit bureaus is also an excellent motivator for tenants to pay rent online. But it will also ensure they make their monthly rent payments on time to avoid hurting their credit score.
Credit bureau reporting is a feature soon to feature on Rentdrop.
Online Rent Payment Systems — In Conclusion
Choosing the best online rent payment solution can help simplify your rental business. Key rent collection features should include blocking a partial payment, tenant rent payment history, credit and debit card payments, auto-pay, and automatic late fee calculation.
The good news is that you can find all these features and more in Rentdrop. So why not sign up for Rentdrop today to see how easy it is to start accepting rent payments online. The tenant-friendly features of Rentdrop mean that your clients will enjoy using it to manage their monthly payments.