With more demand for digital communication and online payment, it's not surprising that many residential landlords are considering switching to an automatic system.
Using advanced technology to track rental properties also makes it easier to run a successful property management business.
Like many landlords, you are probably asking—should I invest in property management software?
But before diving into that question, let's talk about whether property management software is a must.
Do you need property management software?
It's not a must, but property management software often comes with all the tools you need to run a business with minimal effort.
Yes, manual systems still work. In fact, it's useful to have a copy of the essential documents. But you have to adapt and use new technology to keep up.
What is a typical day for a residential landlord like you?
You may be used to reconciling between different bank accounts, going through a mix of various Excel tracking sheets, and checking your online bank statement. But how much time is that taking? Probably too much.
And it's not necessarily the best system to run your business.
If managing the property is taking too much effort, you have options. You could use better property management tools or hire someone to help.
A more efficient system that accommodates everything you need in the rental business could solve the problem. It would cut down the time you spend on managing the business.
But are all these benefits worth the price?
To know that, it would be useful to know how much a new system would cost you.
How much does a property management software cost?
Pricing models differ from one provider to another. It would also depend on the services you want to take advantage of.
And here's an estimate of the average prices for real estate property management software.
Pay-per-unit
Most property management software in the market today will charge based on the number of properties you own. But some providers have a minimum monthly fee.
Published rates for Appfolio as of writing are $1.25 per unit/month for residential units, but there is a minimum monthly fee of $250. Based on these numbers, you should have at least 200 units to benefit from the price of $1.25/unit.
On the other hand, Buildium has a starting price of $50/month for the first 20 units. There could also be a separate set up fee and additional fees for services like collecting rent online, tenant screening, and electronic lease signing.
Tiered Pricing
Some property management software providers also offer tiered pricing alongside pay-per-unit offers. This pricing method may also have a freemium model. Free users could only access certain features while paying users could unlock more tools for managing their rental business.
There could also be specific offers based on the volume of the transaction. Companies often have monthly and annual subscription options. Clients who choose the yearly option enjoy lower fees than monthly subscribers.
The annual cost of these services could be anywhere from $1,000 to $5,000 per year.
Pay-per-transaction
Although pay-per-transaction pricing is less common, some property management software goes for this type of payment structure. Actual spending could depend on the provider you are using.
Sometimes, a pay-per-transaction model could be the most practical choice, especially for landlords who are still trying to find the right service.
Now that you have a general idea of how much it costs to use property management software, it's time to move on to the most crucial question.
Should I pay for a property management tool?
No two businesses are alike. And it all depends on your preferences and the nature of your rental business.
When you have specific needs, spending on customized management software could be worth it.
For instance, you want a property management system that supports a language, currency, or payment method that most providers do not offer. Or you may want to have full control over customization options to complement your business strategy.
In these cases, using property management software for your business may be worth it.
Larger companies may prefer proprietary tools that would be a core component of their business operations. Although it requires a more significant investment, it makes their whole process more efficient.
But if you run a simple residential business, spending money on property management software may not be worth it.
For most landlords, additional spending on managing the property would be another burden. And with many free but useful options, you can use property management tools without spending anything.
And with many free options, it may not be necessary.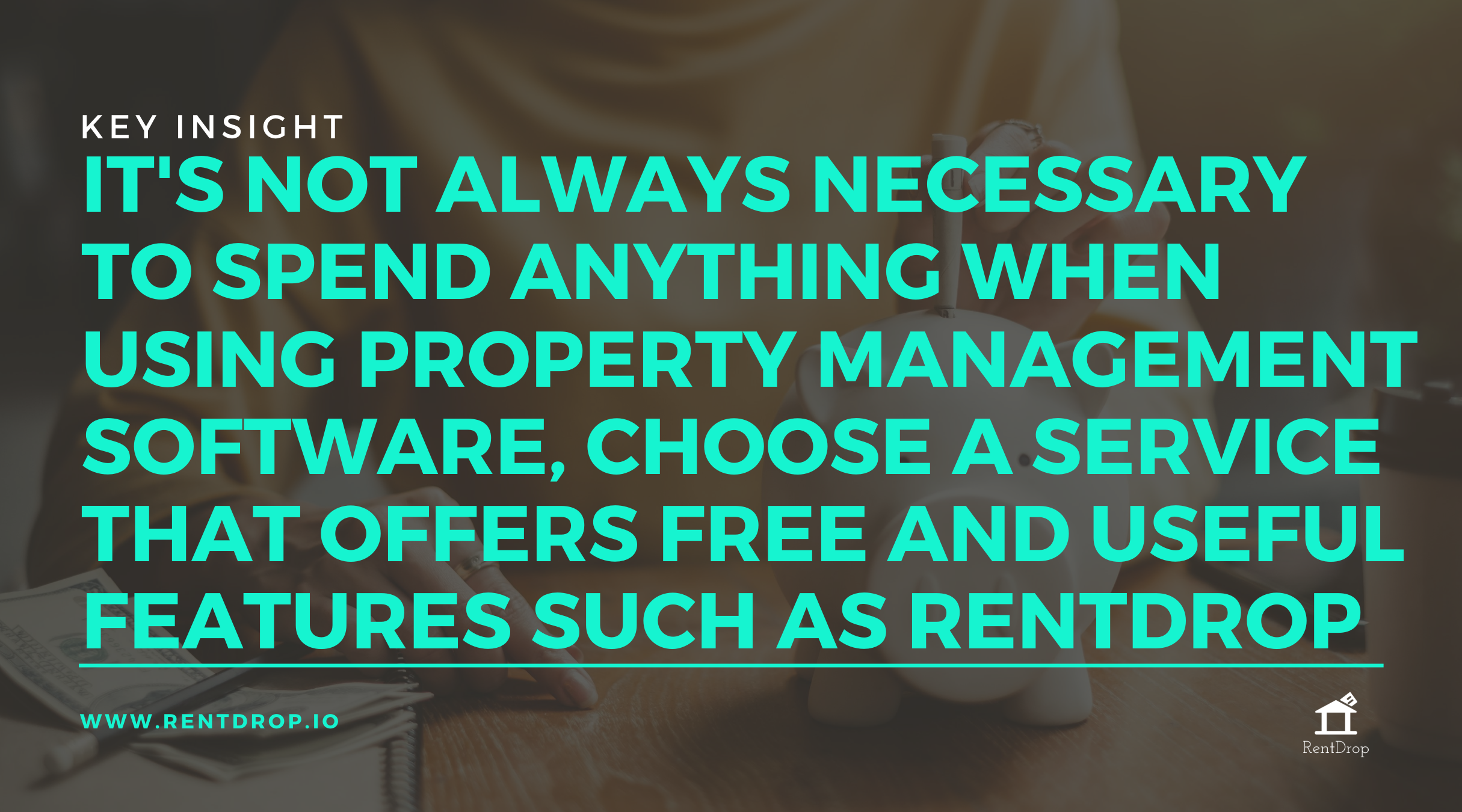 And here's another tip—figure out how spending on property management software affects your returns.
Most residential investors consider an ROI of at least 8% acceptable, but the goal is to be around 10 to 12%. Some investors will go for a return of at least 20%, but it's all based on preferences.
Nevertheless, these numbers could help you assess if paying for property management software is worth it.
Try Free Property Management Software
With more business solution providers focusing on real estate, you have more access to useful tools in running the business. And if you're on a budget, you can take advantage of free software.
Landlords who are still using a manual system should consider accepting rent online first. Collecting rent online could save you from a ton of headaches.
If, by now, you're still not accepting payments online, consider signing up for a rent collection service. It's not just about seeing tenant payments in real-time or checking a tenant's payment status anytime, anywhere. It's also about being a more efficient landlord.
Tracking payments in real-time, automatically setting up late fees, and even collecting the security deposit are all possible with a free online rent collection platform like RentDrop. Aside from that, this platform accepts multiple payment options from debit cards to credit cards and even ACH.
Collection solutions like this are free to use. Tenants will also receive notifications and even set up automatic payments.
While managing rental collections with an app like RentDrop could reduce your workload, property management tools with this service may not be as extensive as paid software. But you could always use other tools to manage other aspects of your rental business.
Sometimes, property management software is not enough
Even with the right tools, some landlords may find it hard to balance their time between commitments. And in this case, the issue may not lie with the software but in delegating landlord duties.
So, if you have the same struggles, maybe it's time to evaluate more options.
Consider Hiring a Property Manager
Let's face it, rental properties are time-consuming. The whole process from finding tenants to handling repairs and maintenance requests and collecting rent requires commitment. And you have to live close to the property.
If handling tenant complaints is too hard for you, hiring a property manager may be the better option.
Most property managers charge around 10%. So, if your tenant pays $3,000 every month, you will only receive $2,700, the $300 goes to the property manager.
When the whole process of managing the property is too much, and you want a hands-off approach to your business, paying a manager rather than investing in a tool may be the right option.
Delegate Landlord Duties
Some aspects of property management are easier to manage than others. If all the paperwork is too much, hire an assistant to help you.
Unlike hiring a property manager, you still have full control over the property, and you know everything that's going on. Sometimes, hiring a part-time worker could cost you less than having a third party manage the property. But even with other people helping you with the business, access to the right tools still makes it easier to manage your property.
Right Tools Helps You Run a Profitable Rental Business
Using property management software, especially for the rent collection process, is a must for any modern landlord. Unfortunately, many landlords feel averse to using property management software to run a better rental business because of the cost.
But it's not always necessary to spend anything. In many cases, you don't need all those fancy features in paid software.
Focus on online rent collection first, then worry about other tools when you have to. After all, collecting rent is the way your business makes money. And with free online rent collection solutions such as RentDrop, the cost is never an issue.
Once you know you need more features and investing in a tool could improve returns, it may be time to start paying for property management software. But until then, take advantage of free but reliable tools to run a better rental business.