Do your tenants want to use Cash App for rent payments? Have you wondered if Cash App is safe for rent payments? Of course, all landlords and property owners want to find the best and most secure option to accept rental payments. Cash App is just one of the popular digital wallets or peer-2-peer payment services to transfer cash instantly. So, it may seem like allowing tenants to use Cash App payments to transfer rent money seems like a great idea. However, if you are a landlord, you may be surprised to learn that Cash App isn't the safest option for accepting online rent payments.
It is challenging to manage several rental properties. So, it makes sense to look for any way to streamline running your rental business.
Is Cash App Safe to Pay Rent?
Cash App is a secure way to pay rent because it uses encrypted methods to send and receive money. The payment transfer app allows you to send money to friends or people you know. Tenants use Cash App to pay rent or their share of rent in a multi-tenancy apartment.
Cash App is a digital wallet owned by Square, Inc. The app works similarly to PayPal, Venmo, and Zelle for making instant cash transfers.
However, information on its website shows that Cash App is not always a safe way for making rent payments. In fact, there can be severe risks involved in using the app to make rental payments. Here are scam warnings from Cash App about transferring money, including rent payments:
Using Cash App to Cash App payments are instant, and it's impossible to cancel a payment
Payments that include typos, incorrect $Cashtags, or names could end up going to the wrong person
Some unscrupulous vendors use Cash App scams when advertising apartments and home rentals
Cash App has no buyer protection and should be used to send small amounts of money between family members, friends, and acquaintances
Of course, the risks of using Cash App as a digital wallet for rent payments are the same for any peer-to-peer payment app.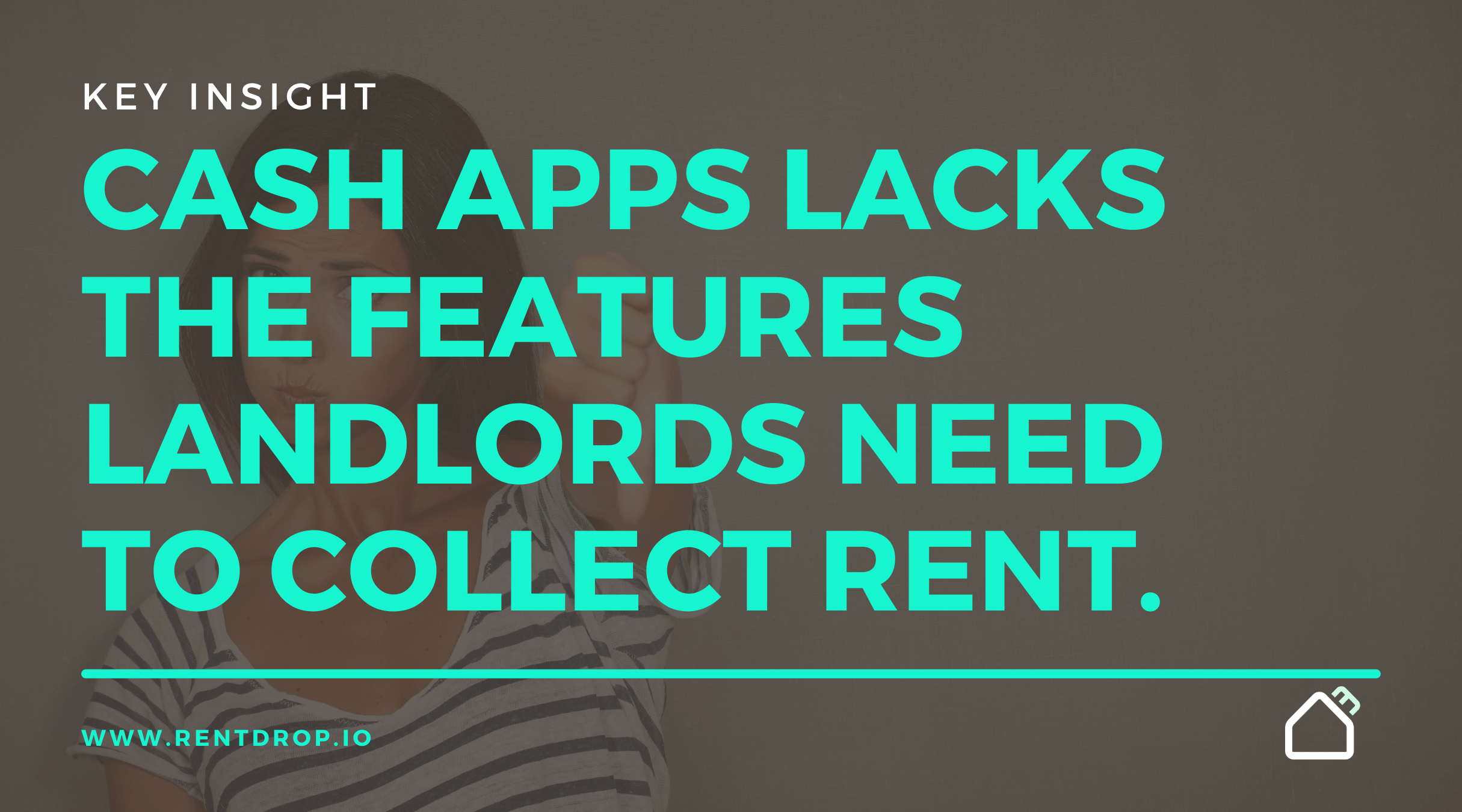 The Challenge Landlords Face Collecting Rent
You probably know that collecting rent is one of the most challenging tasks you face. First, you must keep track of all monthly rent payments. Then, if your tenants still pay rent by check, you have even more work. Then, you must deal with tenants who pay rent late. So, you have to work out and charge them late fees. And in the case of non-payment of rent, you probably must decide on working out a payment plan or starting an eviction process.
Related reading: How to prevent tenant evictions.
So, any way to make it easier for your tenants to pay rent will improve your business. Most landlords offer their tenants multiple forms of payment. Popular payment methods include accepting debit card payments, credit cards, direct deposit bank transfers. And many of these methods are possible using a mobile payment app.
Before looking at whether a particular peer-to-peer payment app is a good idea, it's worth considering RentDrop.
This is an online payment app for tenants to pay rent. Landlords who use RentDrop can easily track rent payments, set up automatic rent payments, charge late fees, and allow tenants to pay rent on their schedule. RentDrop is free for tenants and landlords to use and is an excellent alternative to cash payment apps for collecting rent.
Related reading: How to convince your tenants to pay rent online.
But before looking at the features of RentDrop, let's look at using Cash App as one of the forms of payment.
How Does Cash App Work for Rent Payments?
To pay rent for free using Cash App, both tenant and landlord must have the app installed on their mobile device. The tenant then enters the landlord's email address, phone number, or $Cashtag. The next step is to enter the reason for payment. Then, after clicking on the "Pay" button, the rent money is instantly in the landlord's account.
Tenants can link their bank account, debit card, or credit card to the app. Then, when sending a monthly rent payment, the money comes from their Cash App balance. When the landlords receive the instant transfer, the cash goes into their Cash App balance. They can then withdraw the money when necessary (depending on the daily or weekly limit).
Does Cash App Charge Fees to Pay Rent?
Cash app is free to send and receive money. So, it seems that this payment method is an excellent rent collection solution for landlords. But there are fees associated with using Cash App for rent payments to consider.
For example, if you are a landlord, you must pay a 1.5% fee to make an instant transfer to your bank account. Otherwise, you must wait for between 1 and 3 business days for the transaction.
There is also a weekly limit of $7,500 if you are a verified account holder. Of course, if you only manage a few rental properties, this should be an issue. However, most professional rental property owners use a dedicated rental payment app because it includes landlord-friendly features without restrictive transfer limits.
Why Cash App Is Not Safe for Landlords to Accept Rent Payments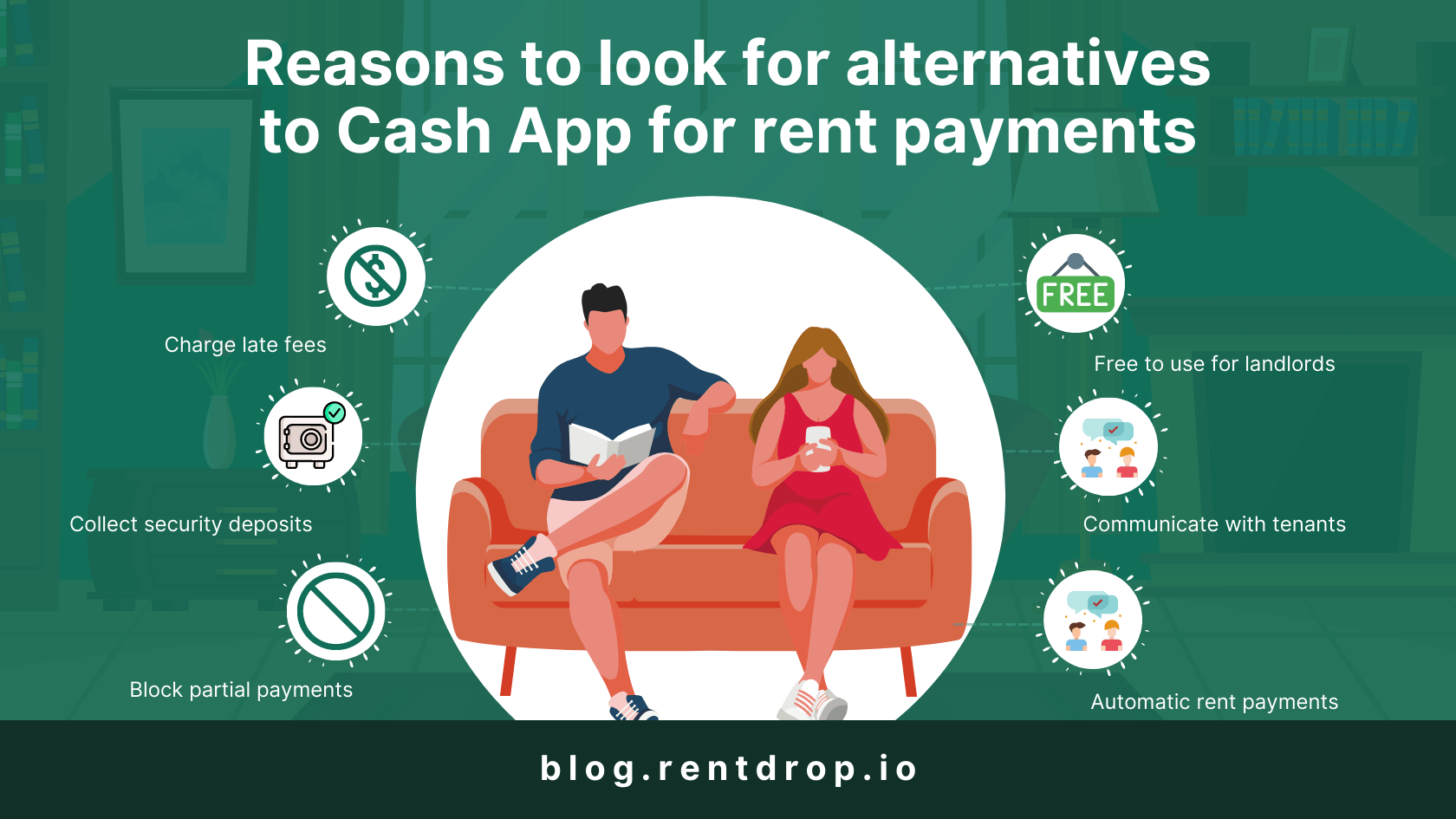 Although Cash App is safe for tenants to pay rent, there are severe concerns about collecting rent using this payment method. And the fact that P2P payments are secure doesn't mean it's the best option to manage rental properties, even if you only have a few units to manage.
Let's look briefly at why Cash App is not a safe method of payment for landlords.
Accepting Cash App payments can make it harder to evict a tenant
Cash App doesn't give landlords the option to block partial rent payments. This means that if you are trying to evict a tenant for non-payment of rent, Cash App makes it exceedingly difficult. The issue is that a tenant facing eviction can make a partial payment. This flaw means that potential eviction proceedings are complicated. Unfortunately, there are no settings in the app to block a particular tenant from making partial payments.
Cash App lacks purchase protection for tenants and landlords
Another safety concern using Cash App for rent payments is purchase protection. Suppose your tenant makes a mistake in your $Cashtag or email. In that case, the rent money—probably over $1,000—could end up in the hands of someone else. So, the question is, what will you do?
According to the company, "payments are instant and usually can't be canceled." So, if the tenant accidentally sends money to the wrong person, it's their responsibility to retrieve it. Cash App has a request function to return the money. But there is no guarantee that the recipient will do this.
The result is that you don't receive the rent payment. And your tenant may or may not get the money back. During this time, you are out of pocket and must consider that this is a late or missed rent payment. You then must negotiate a solution with your tenant.
There is another issue of concern. Suppose the tenant is a victim of fraud. In that case, there is no federal protection in the same way that other financial institutions and bank accounts are protected. The only hope to retrieve money is to contact Customer Support. Again, however, there are no guarantees.
Cash App fees for landlords
Do you think you can receive business payments with Cash App for free? Unfortunately, you must pay business fees when accepting rent payments. Using a Square Cash App Business account incurs a 2.75% fee per transaction. While this doesn't seem much for a single transaction, it can cost you thousands of dollars per year, depending on the number of rental units you manage.
But can you not use a personal Cash App account to accept rent from a single tenant? Some landlords may think so, but you go against the Cash App terms and conditions that could lead to your account being canceled.
Additionally, changes to the tax laws mean that all aggregate payments over $600 through a "third party settlement organization" are sent to the IRS. This means you will automatically receive a 1099-K Form. So, you will have to declare any income from your rental property.
If Cash App is Not Safe for Rent Payments, What Are the Alternatives?
The issue about Cash App not being safe for rent payments is from the perspective of the landlord. But, of course, tenants can typically use it to pay rent without any problems.
However, if you are a landlord using this form of payment, you could leave your business open to various risks.
So, what are the alternatives to a money transfer app such as Cash App?
Here are some of the advantages that a rent payment app such as RentDrop offers landlords and tenants that Cash App lacks:
Block partial payments—RentDrop gives landlords the option to block rent payments that are not the total amount. This essential feature for landlords gives you complete control over payments, ensuring that you control your cash flow situation and the actions of tenants.
Send payment reminders—It's a fact — sending payment reminders results in fewer late payments. This is a feature that digital wallets lack and landlords require. Although cash apps have payment requests, you have to send these every month, and they are not automatic. Do you really have the time for that?
Process security deposits—With a trusted online payment service, you have the option to process security deposits. This feature can help keep security deposits separate from your cash flow and rental revenue.
Automatically charge late fees—RentDrop has the option to charge late fees automatically. This feature can save you time and hassle if a tenant is late with their rent money. Additionally, you ensure that your late-fee policy is implemented fairly across the board.
Automated rent payments—It's a fact that tenants who can set up recurring rent payments usually pay rent on time. Payment apps like Cash App,

PayPal, and Venmo for rent

lack this essential feature. However, this is one of the basic features of RentDrop.
Payment receipts and reporting—Having a rent receipt in electronic form creates a trusting relationship between tenant and landlord. This ensures that there is transparency about rent payments, which reduces the risk of disputes.
Report on-time rent payments to credit bureaus—Your tenants can improve their credit score when you report their rent payments to credit bureaus. Very few landlords do this, and you can use RentDrop to provide a unique selling point when attracting prospective tenants.
In Conclusion — Is Cash App Safe for Rent Payments?
Cash App is safe for transferring money to friends and family. However, the mobile payment app lacks the essential features you need to run a successful landlord business. Additionally, using Cash App for rental payments puts you at risk of accepting partial payments.
On the other hand, RentDrop has all the necessary features you require as a landlord to collect rent from your tenants. But, your tenants will also find it easy to pay rent regularly. In addition, they can set up automated rent payments and boost their credit score. So, RentDrop is a win-win situation for you and your tenants.