One of the most frustrating things about residential property management is when tenants don't pay on time.
Like you, 84% of landlords worry about collecting payment from tenants. And if you always struggle to track down who already paid, whose check bounced, and who deposited an unknown amount in your bank account, it may be time to rethink how you do things. It may be time to consider asking tenants to pay rent online.
Payment solutions for collecting rent online are more secure than mailing a check since money gets routed to your bank account right away. Electronic payments also make it easier to manage and track rent payments. But as a landlord, you have to consider if your tenants are willing to comply with your new payment setup.
While it's true that not all renters pay bills online, it's never too late to encourage tenants to switch to online rent collection. And we have nine tips to help you convince your tenants to pay rent online.
Give Incentives to Tenants Who Pay Rent Online
If you want to encourage tenants to adopt a new system, offer something in return. Receiving perks is the easiest way to make renters interested in supporting the move to electronic payments.
To tenants who pay rent online, you could offer rewards like these:
Promise no rent increase for a certain period
Give out a small discount on rent payments
Gift cards for a local store
Free newspaper subscription
The type of incentive program is up to you. You can offer one incentive after another, but you could also allow the tenant to choose among different options.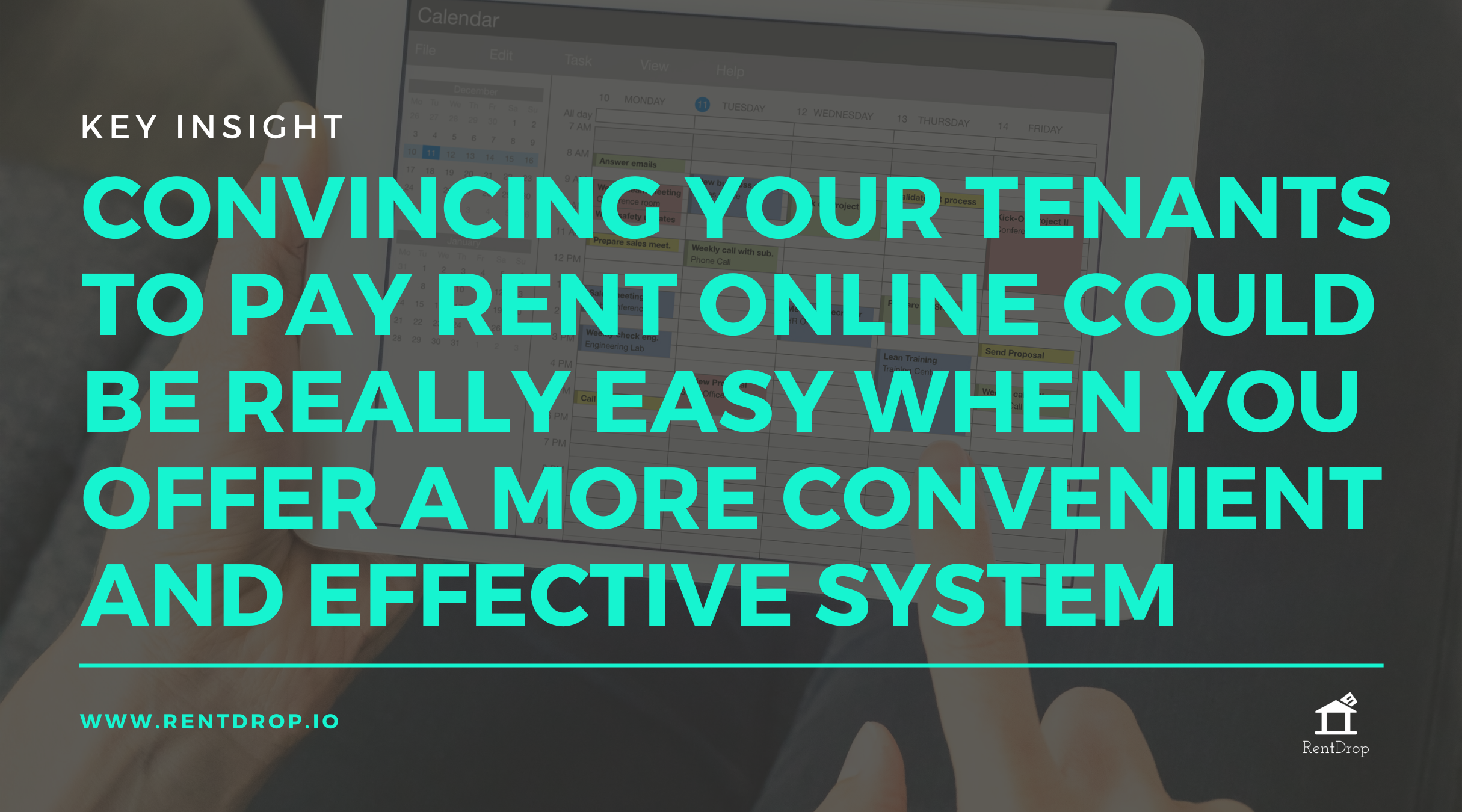 You can even take it a step further and offer a reward for anyone who enrolls in an auto-pay program.
Offer a tempting reward like lower monthly rental payments for tenants who agree to sign up. An auto-pay system makes it less likely for your tenants to miss a rent payment unless they don't have money.
The discount you're giving them for these programs could more than make up for the effort it takes to call and remind them to pay rent every month.
Make it Free of Charge
In an age where 75% of shoppers demand free shipping—even for items cheaper than $50, it's easy to skip a payment option that requires a service fee. Like offering free shipping, you can encourage tenants to pay using your collection app by allowing them to pay without any add-on charges.
It would be best if you emphasized how convenient it is to pay rent online—and it's completely free.
So, it's crucial to have a system where tenants can pay rent online without any convenience fee. No matter how small the fees, tenants are more likely to seek other payment options if they have to make additional payments.
Ask Tenants to Sign Up When They Move In or Renew Their Lease
The golden opportunity to sit down and talk to your tenant about online rent collection methods is before getting the keys. This way, you can explain the process and what they need to do next.
For existing tenants or those who did not take advantage of online rent collection, there's another opportunity to remind them about paying rent online—when they renew the lease. Take the time to walk them through the process and help them set up recurring payments if needed.
Include Online Rent Payment on Your Lease
What does your lease say about your rent collection methods?
Yes, you can mandate an acceptable payment option on your lease without getting into legal trouble for discrimination. But this requirement should apply to all tenants.
Remember, renters with no bank accounts are not a protected class. And you have every right to refuse cash payments—which is a common source of disputes between tenants and landlords.
Getting paid in cash may seem attractive, but it is never a good idea for landlords. Unless you're strict with issuing a receipt for every cash payment, there could be no paper trail. And even if there was, cash is hard to track and easy to lose.
Refusing cash payments and requiring online payments during the lease term is acceptable as long as you include it in the lease. But to be on the safe side, consult your lawyer beforehand to cover all your bases.
Communicate the Benefits of Paying Rent Online
Reaching out to your tenants about changes in collecting rent payments is also a must. Some tenants may not understand why electronic payments are faster and easier to process than a paper check.
Your goal here is to make tenants realize that using electronic payments is a win-win situation. They don't have to mail the check and wait for days for the check to clear—the rental payment reflects instantly. They can also avoid getting charged for non-sufficient funds, usually around $35, if they're unable to deposit funds on time.
And with coronavirus concerns worldwide, making online payments would be the most practical way to collect rent.
Explain these benefits to help your tenants understand why you're making new arrangements. And help them see that by agreeing to pay rent online, they help you keep overhead costs down, keeping rent increases at a minimum.
Tenants would be more receptive to agreeing to new arrangements when they see what's in it for them. So, don't forget to outline all the benefits they can reap from this new system.
Emphasize the Security Features of Your Online Payment Portal
Some people are reluctant to pay online because of security concerns. But what these people don't realize is that electronic payments are more secure than sending a check. Paper checks include personal information and banking information. So, if the rent check gets lost or stolen, the sender could be a target of fraud.
Even in 2013, the US Department of the Treasury and Federal Reserve Bank required a switch to electronic payments. Among the factors cited for the switch was that you are 125 times more likely to have problems with a check than with electronic payment. Lost and stolen checks and fraud were also other concerns.
But all these explanations are not enough.
You need to make your tenants feel safe and secure when making an online payment. Ensure your payment gateway meets security standards. You also have to emphasize the steps you're taking to protect your tenants and yourself from data leaks and identity fraud.
Allow Tenants to Check Rent Payments and Statements Online
Having your tenants pay rent online is not enough—it should also provide an easier way to track their rent payments. Rather than agree to receive online bank transfers, offer a way for tenants to see their rent payment history in real-time.
Having a payment system that allows you and your tenant to see the status of the payment —whether it's scheduled or paid—makes everything more transparent. It's also easier to track whether a tenant has paid the monthly rent or not.
If there are rent payment disputes, your tenant can immediately find the issue by checking their rent payment history and find out if they transferred the correct amount. And this digital document makes it easy to check anytime, anywhere, which is beneficial for tenants and landlords.
Another advantage of having an online rent collection system is that you can set up automatic reminders. About 61% blame forgetfulness for making late payments, and some are often too busy with jam-packed schedules, so it's always better to send a reminder. By sending a due date notification, your tenant becomes aware that it's time to pay the rent.
Offer Multiple Payment Methods
When you allow tenants to pay rent online, you have to give them options. An effective online collection system accepts different payment methods from ACH, check payments, debit cards, and credit cards.
The top payment method in the US is through credit cards. With 80% of people paying through a credit card, you want to give your tenants this payment option.
And don't think people use credit cards for purchases they can't afford. Sometimes, people only use a credit card to earn rewards or when the due date falls before their paycheck arrives.
Don't forget to set up a system allowing tenants to make recurring payments if they're interested in autopay.
Have a Payment Kiosk to Assist Tenants Who Need Help
While more people are paying their bills online, including the older generation, some are not too computer savvy. For renters who prefer mailing a rent check, rather than paying online, it could be useful to have payment kiosks, especially if you maintain multiple properties.
Anyone who has a checking account would probably be able to get a debit or credit card with their bank. With a payment kiosk, these renters could make online payments even if they don't have a computer. But be sure to have someone available to assist them or provide clear instructions on how to use the payment kiosk.
Online Rent Collection Makes Life Easier for Both Tenants and Landlords
An online rent collection payment system is one way to make property management more effortless. You can see the rent payment status and resolve issues anywhere.
And with renters below 30 years old making up 49% of tenants, it's easier to require online rent payments. Older tenants may also be willing to adopt online payments if you provide the right incentives.
Always communicate with your tenants and explain how the shift makes it more convenient to pay and track rental payments. Remember, an effective rent collection system makes it easier to settle payment disputes and address issues faster.