The ability to decline a Venmo payment is vital if you use the money transfer app for online rent payments. From the tenant's viewpoint, there is little reason to deny a payment on Venmo. However, landlords who collect rent money electronically must have control over rental payments, including rejecting a partial payment.
The option to decline a payment is typically a feature of the best payments apps for paying rent. A landlord can use the "block payment" feature if a tenant tries to send a partial amount of rent. On the other hand, it can be helpful for the landlord to allow partial payments on a weekly or bi-monthly basis. This will enable tenants to pay rent on their schedule
If you are a landlord, when would you ask yourself: "Can I decline a Venmo payment?" Suppose you start an eviction process against a tenant for a lease violation or non-payment of rent. You would then need to have the option to decline all rent payments that are not for the entire amount. Otherwise, the delinquent tenant could send a partial rent payment and stop eviction proceedings.
This article answers the following questions — How can landlords decline a rent payment if their tenants use Venmo? How can tenants cancel a Venmo payment if they make an accidental payment to the wrong person? And what are the best Venmo alternatives for collecting and paying rent?
What Is Venmo?
Venmo is a peer-to-peer (P2P) digital payment app that makes it easy to send money to family and friends for free. The app is connected to the user's bank account, debit card, or credit card. Venmo is ideal for sharing payments, splitting bills, and paying for utilities — including rent bills.
There is also a Venmo Credit Card where users can earn up to 3% cashback, pay bills, and purchase cryptocurrency.
Can You Decline a Venmo Payment for Rent?
It's impossible to decline a Venmo payment from tenants who pay a partial rent amount. As soon as the tenant authorizes the transaction, the money immediately arrives in your Venmo account. Unfortunately, because the money transfer is instant, you can't reject the payment, or the tenant cannot cancel it.
What is "Venmo Payment Declined?"
In some cases, the tenant gets a message on Venmo "Payment Declined." Does that mean there is a way to deny an incoming rent payment? Unfortunately, no. A declined Venmo payment only happens if there is a payment issue with the tenant's card or bank account. You cannot initiate the declined payment.
Can Tenants Cancel a Venmo Payment?
Unfortunately, a tenant can't cancel a Venmo rent payment. Requesting to cancel payment to an existing account can sometimes be necessary if the tenant sends money in error to the wrong person. According to Venmo, the only way to retrieve the funds is to ask the recipient to send the money back.
Similarly, you can't cancel a Venmo payment you have received. Venmo customer support service says: "There's no way to cancel a payment you've received. Instead, you can pay the other person back." This means that the inability to decline a Venmo payment or cancel can severely impact your rental business.
Related reading: How to cancel a Venmo payment for rent.
Why It's Impossible to Decline a Venmo Payment Sent to You
The reason why you can decline a payment on Venmo is simple. This is a peer-to-peer payment app to facilitate instant, online payments. Once the sender (tenant) hits the "Pay" button, the money leaves the account and arrives in the recipient's account. The landlord doesn't have to accept the payment.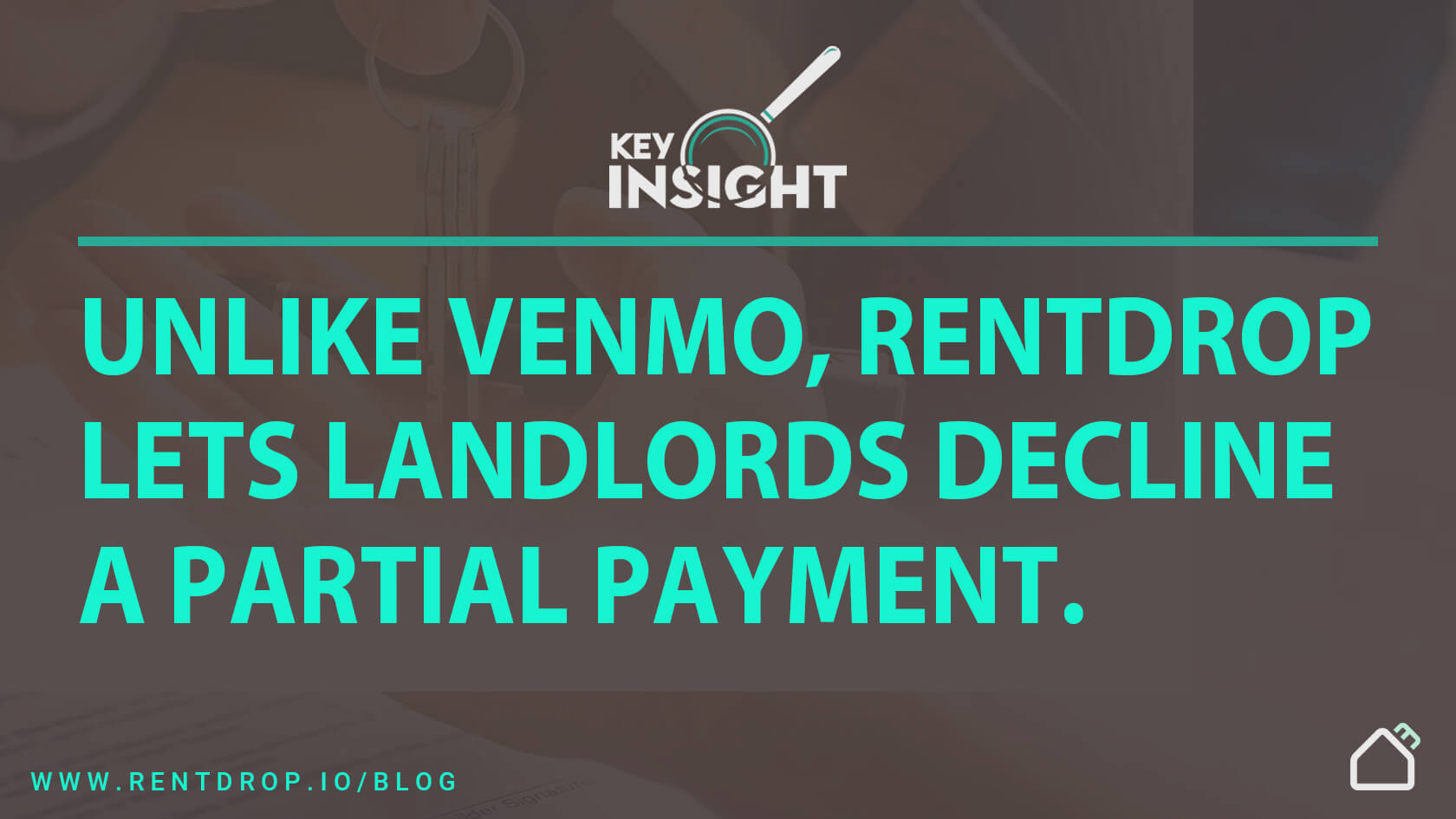 Alternative Ways to Decline a Venmo Payment for Rent
What happens if you're in a situation where you must reject a Venmo payment? For example, suppose you have served a quit notice due to unpaid rent. But the tenant continues to send partial amounts. In that case, you need a way to deny the payment so that eviction procedures can continue.
Unfortunately, sending a "Venmo Payment Declined" message is impossible. That means that the partial rent amount is in your account and is considered a partial payment.
If you want to reject the money and refund it, you must find the tenant's username, email, or phone number. Of course, that should be easy because it will be on the incoming payment notification. Then, you need to click on "Pay or Request" and then return the amount.
The issue with this method of "declining" a Venmo payment is that it doesn't resolve the eviction issue with the tenant.
There is, however, one way to decline a Venmo payment. You can accept or reject rent money sent by Venmo if the tenant uses iMessage Payments. But it's unlikely that a tenant who wants to stop an eviction would use this method, knowing that it's easy for a landlord to decline a partial rent payment.
Is Venmo the Best Rent Payment App?
Tenants like paying rent with Venmo because it's straightforward. All they need to do is enter your (the landlord's) username, phone number, or email address. Then they initiate and authorize the rent payment. The transaction is secure, and once authorized, the tenant has a digital copy of the rental payment.
Some of the handy features of Venmo that are good for paying rent are free money transfers, instant payments, and splitting rent with roommates.
But to answer the question: "Is Venmo the best rental payment app?" — the answer is no. Tenants should avoid paying rent with Venmo due to several reasons. Let's look at them in more detail.
Venmo doesn't support recurring payments for rent
One of the reasons tenants should look for an alternative is that Venmo doesn't support recurring payments. Having to enter the rental payment details each month is burdensome and increases the chances of making a mistake. The closest Venmo comes to automatic rent payments is using the "trusted circle" feature.
Venmo doesn't report rent payments to credit bureaus
Venmo limits the possibility of tenants using rent payments to build a healthy credit history. Think about it — monthly rent is the largest recurring bill that tenants have. If they could report this to Equifax, TransUnion, or Experian, they would be able to improve their credit score.
Why should landlords be concerned about reporting on-time rent payments to credit bureaus? The main reason is that tenants are incentivized to pay rent on time and regularly each month. They realize that a missed rent payment will negatively impact their credit rating.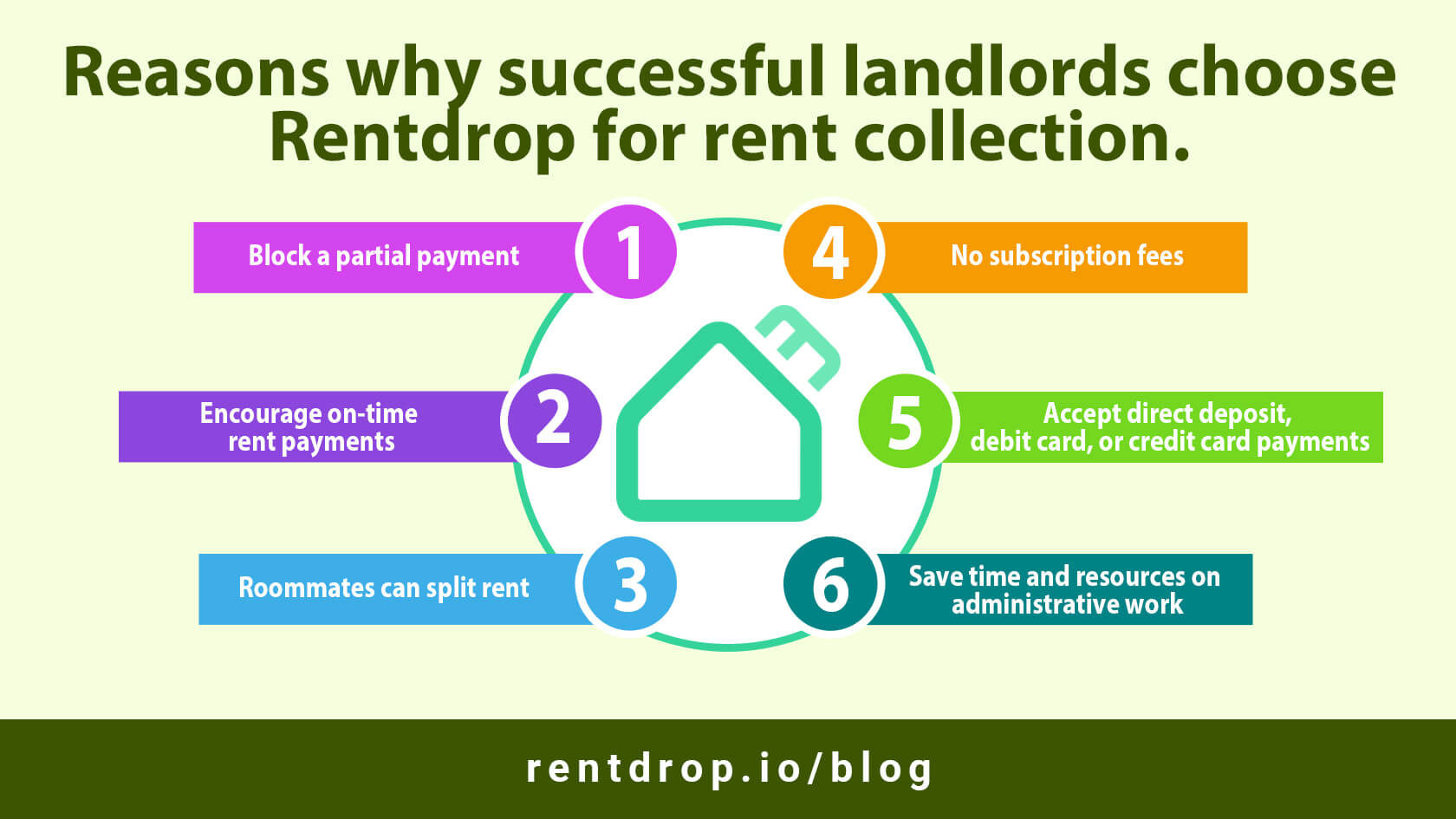 Should Landlords Use Venmo For Rent Collection?
Unfortunately, there are many compelling reasons not to use Venmo to collect rent. These include high fees for business transactions, no recurring payments, and no automatic late fee calculation. In addition, you can't decline a partial payment using Venmo. Let's look in detail at how Venmo could negatively impact your business.
Related reading: Venmo, Zelle, or PayPal — Which is Best for Rent Payments?
Venmo lacks an option to block a partial payment
The biggest issue with Venmo is that landlords cannot decline a rent payment. This flaw in the payment service means that evicting a non-paying tenant could become almost impossible. So not only will you lose rental revenue, but you have extra expenses trying to evict a tenant who makes partial payments.
Using Venmo for rent collection is expensive
Venmo charges fees to collect rent, and they can work out extremely expensive over a year. Venmo fees are 1.9% plus $0.10 for each rental payment. In addition, depending on the account and type of payment, you may incur additional fees when a tenant pays rent.
Let's say you manage three rental units, with an average rent payment of $1,600 per month. How much would Venmo charge you in fees in a 12-month period? A whopping $1,094 in fees.
What about using a personal account to accept rental payments? Unfortunately, this goes against Venmo's Terms and Conditions, and you must set up a business account. Alternatively, Rentdrop lets you collect rent online for free.
Venmo doesn't automatically calculate late fees
Venmo was never designed as a mobile app for rent payments. Therefore, it lacks many functions of a dedicated rental app. One helpful feature of the best rent payment apps that Venmo lacks is automatically calculating late fees. This saves you time and prevents making mistakes.
For example, Rentdrop lets landlords automatically charge late fees if a tenant misses the due date. The rent payment software takes into consideration rent control laws, the number of days late, and the grace period. In the end, you have less to do if a tenant is late with rent.
Venmo lacks rent payment reminders
Sending rent reminders is one of the best ways to ensure on-time payments. However, with Venmo, it's impossible to remind tenants that rent day is approaching. Of course, you could use a separate messaging service to send reminder emails or SMS messages. But that hardly makes sense when there are great alternatives to Venmo for rent collection.
Venmo has no payment protection for landlords or tenants
Your rental revenue could be at risk with Venmo because the purchase protection program doesn't cover rent payments. For example, the Venmo User Agreement clearly states that real estate transactions for residential properties are ineligible for the Venmo protection program. So, despite using your business profile for your incoming payments, they are not protected in a dispute.
Venmo Alternatives for Rent Collection
The best alternatives to Venmo for rent payments and collection are packed with features for landlords and tenants. For example, a rent payment solution like Rentdrop has no fees to pay or collect rent. In addition, the app automatically sends rent reminders, charges late fees, and lets roommates split rent.
One of the most important reasons to use Rentdrop rather than Venmo is the ability to decline a partial payment. Unlike Venmo, where you can't reject partial payments, Rentdrop has a feature only to allow rent payments in full. This option is extremely useful when trying to evict a tenant.
When comparing Venmo with Rentdrop, it's clear that both apps are excellent for instant money transfers. However, that's where the favorable comparison stops. Using Venmo to accept rent payments could severely impact your cash flow and rental revenue. Some features of Rentdrop that are lacking in Venmo include the following:
No charge to tenants to pay rent by debit card or ACH bank deposit
Landlords collect rent for free, even if a tenant pays rent by credit card
Accept a range of payment methods
Block a partial rent payment
No subscription fees
Automatic late fee calculation
Payment receipts and transaction activity
Send payment reminders to tenants about upcoming rent payments
Tenants have an automatic payment option
Split rent with co-tenants in a multi-tenancy rental unit
Report rent payments to credit bureaus (coming soon)
These features of Rentdrop encourage tenants to pay rent on time and eliminate many day-to-day tasks of being a successful landlord.
Decline a Venmo Payment — One Reason to Choose Rentdrop Over Venmo
Declining a rent payment is one of the most crucial features of a rental app for landlords. Unfortunately, it's impossible to reject a rent payment with Venmo making it unsuitable as a secure app for rent collection. In contrast, declining a payment is one of the many features Rentdrop includes.
Sign up for Rentdrop today and start taking advantage of how it can positively impact your rental business.