Calculating fair market rent is crucial to the success of your landlord business. Your rental income must be high enough to pay the mortgage, maintain properties, and make a profit. If you get the rental rate spot on, you will rarely struggle to find good tenants for your rental units. However, a high monthly rent rate can scare off potential tenants. This situation can leave you with vacant rental properties and struggling to find new occupants.
Whether you're a new landlord who is getting started in rental property investment, or an experienced landlord managing many properties, rental income depends on accurate market rent estimations.
In this article, you will learn about calculating fair market rental rates. You will also find out about estimating rent values based on the health of the current housing market. Whether you are buying a new investment property, thinking about increasing rent, or renting to Section 8 tenants, you'll find helpful advice here.
What is Fair Market Rent?
Fair market rent (FMR) is the going rate for rent in a particular area. The FMR represents the amount that renters are willing to pay for similar rental units in the neighborhood. Comparing similar rental properties helps determine the maximum you can reasonably charge for rent.
Usually, the U.S. Department of Housing and Urban Development (HUD) establishes fair market rental rates. HUD then uses the rates when approving rental properties under the Section 8 Housing Choice Voucher Program.
It's important to realize that fair market rent differs from current market rent. For example, current market rent depends on supply and demand. So, a two-bedroom rental unit may have an FMR of $1,200. However, suppose there's a massive demand for rental properties. In that case, it may be possible to set a higher monthly rent price for private tenants.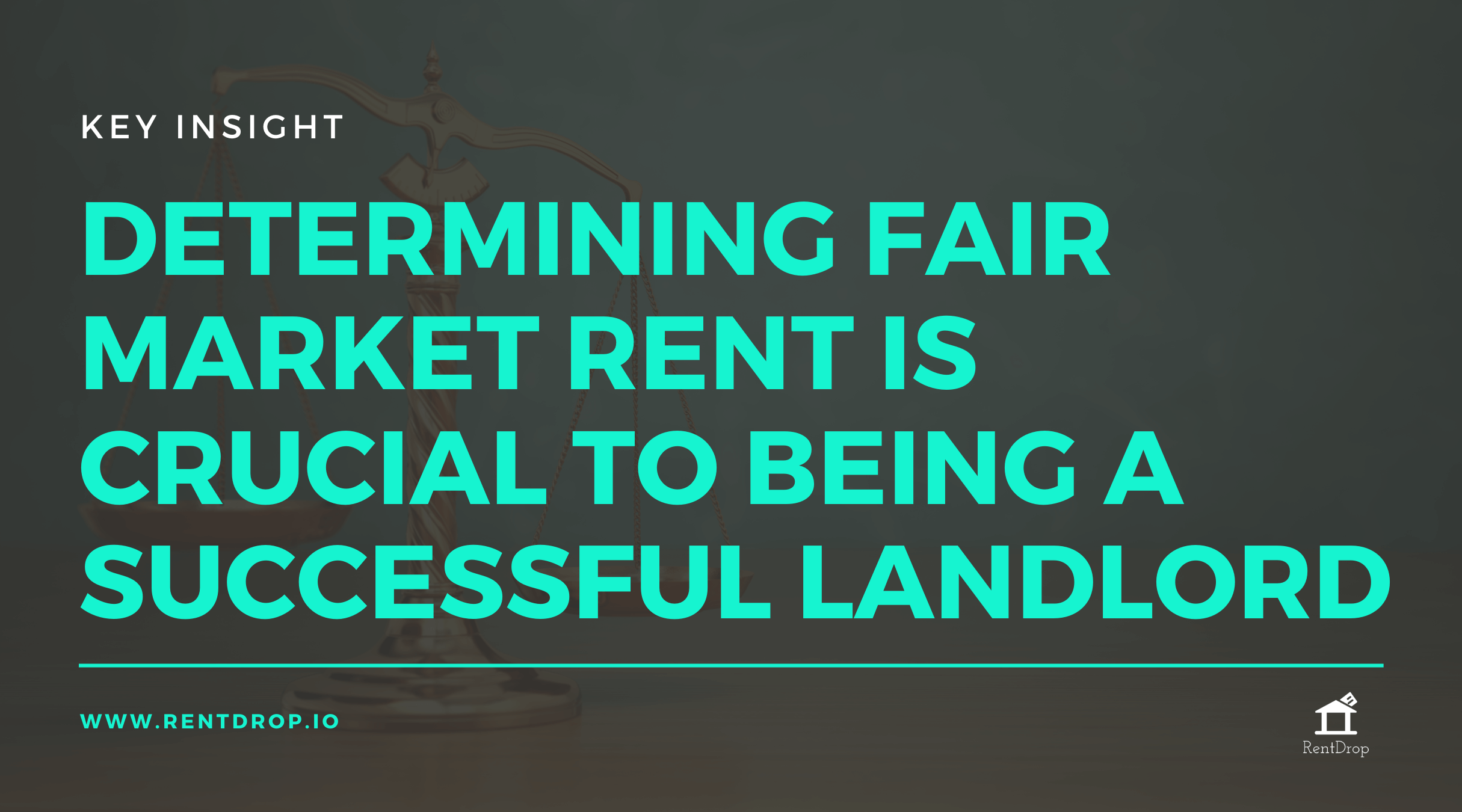 Factors Affecting the Fair Market Rental Price
Several factors determine the FMR. For most rental property owners who have private tenants, the FMR is a starting point to calculate rent. For Section 8 tenants, the FMR is the maximum you can charge for rent each month.
Here are the factors determining fair market rent:
Location of the property
Property type — apartment, duplex, single-family dwelling, multi-family property
Rental unit size — square footage
Number of bedrooms and bathrooms
Amenities included — gym, pool, air-conditioning, large yard
Property condition
Essential utilities included in the rental price — electricity, gas, or water
Generally, the more desirable features of your investment property, the higher rent you can charge.
Calculating Fair Market Rent for a Rental Property
Accurately pricing rent for your property is key to enjoying a positive cash flow. An accurate FMR calculation helps strike a balance between having units continuously occupied and maximizing rental income.
Let's look at how to calculate fair market rent for various types of properties.
Assessing fair market rent before listing a vacant rental unit
Determining the FMR rate is crucial before listing a vacant rental unit. The monthly rent price becomes part of the lease agreement. But getting the right rent rate will mean you will quickly find a new tenant. You can then charge a reasonable rate for rent and ensure the tenant stays for longer.
To calculate how much rent to charge, look at property comps in the neighborhood. It would help if you also considered proximity to local amenities such as shopping malls, schools, and open public areas. It's also worthwhile looking at current rent prices as these could be higher than the FMR.
FMR rent calculation when adjusting rent
The rental market can change over time. So, you may need to renegotiate an adjusted rental rate when renewing the lease. For example, the current market rent price could be too low or too high. In these cases, you'll have to adjust the rental price accordingly.
For example, if the average rent for the neighborhood drops, your tenants may be tempted to find another place to live. However, suppose the average rent in the area has increased. In that case, you can increase the rental charge and boost your rental income.
Calculating the best rental rates before buying a property
Determining fair market rent is crucial before investing in a rental property. The ideal real estate investment should allow you to make a healthy return on investment and comfortably cover your operating costs. Various property calculators can help you assess the profitability of different investment properties.
For example, the Cash-on-Cash calculator and Gross Rent Multiplier calculator are two helpful landlord tools that RentDrop provides. These property investment tools calculate the cost of investment against projected income. You can find out how long it will take for the real estate investment to pay for itself. Or you can compare various potential investment properties to find out which ones are worth pursuing.
Ultimately, the best real estate investments are those where the income from rent allows you to cover all your costs and provide healthy cash flow.
Determining the maximum rent price for Section 8 tenants
You need an accurate FMR price if you decide to rent property to renters who receive help in the government's rental assistance program. The government housing program only approves rental housing that doesn't exceed the average rental price for the property. If you decide to rent to Section 8 individuals, you must know your property's FMR.
If the FMR is higher than the current market rent, it can be more profitable to rent to low-income renters. However, it would be best to weigh up the pros and cons of having Section 8 tenants in your properties.
How to Calculate Fair Market Rental Rates
The best place to start to work out the amount of rent to charge is the HUD website. There you will get the latest figures on rent ceilings for rental units in your neighborhood. However, there are more factors to consider—especially if you plan to rent to private individuals.
To maximize rental income, you must know the health of the housing market in your area. This means looking at rental comps in the local neighborhood. Check out what other property managers are charging in monthly rent. Find three or four comparable occupied properties and then work out the average.
For example, a three-bedroom single-family home generally commands a higher rent than a one-bedroom apartment. However, if the apartment is in a Class A trendy neighborhood, you may get a higher rent than a home in a bad area.
It's also vital to remember that you can charge more than the average rent if your property has additional features or amenities.
Where are the best resources to find rental comps? Here are a few online resources to help find out how much you can charge in rent:
Craigslist: Go through the rental listings in your area to see what other landlords are charging. Look for the average monthly rates to get a competitive price for your units.
Zillow: Check out comparable rental listings in a specific area to get an idea of what your competitors are charging. You can also filter your search results by property type.
Facebook Marketplace: Landlords can find many rental listings on Facebook to compare. Facebook rental listings also syndicate from Zumper, another listings website for rentals.
RentBits: This website resource can help get an idea of the average monthly rents for the previous 14 months. However, it may not be easy to get specific rent amounts for neighborhoods.
Calculating Fair Market Rent — In Conclusion
Accurately calculating the fair market rent is key to being a profitable landlord. Knowing the average rental rates in your area for comparable properties helps to maximize your rental income. You can ensure that you keep vacancies to a minimum, afford property maintenance, and enjoy healthy cash from your real estate investment.