Rental property owners need a robust property management app to help run a successful business. Using software to manage rental properties helps landlords streamline all aspects of property management. The most important reason to use a property management system is for collecting rent online and setting up automatic payments. Many property apps also let you screen tenants, accept maintenance requests, and view rental applications.
AppFolio is a popular cloud-based app for property owners to run their business. The software is for managing all types of rental units—residential and commercial properties, as well as student housing, and community associations. The property management software gives landlords a complete overview of their entire portfolio.
If you're looking for the best property management software, is AppFolio worth considering? How much does AppFolio cost? What are the advantages and disadvantages of using AppFolio for rental properties? Do property owners have any better alternatives to using AppFolio?
The article is an in-depth review of AppFolio to help you make an informed decision on which online rental property portal to choose.
What to Look for in the Best Property Management System
Before checking out the feature of the AppFolio app, it's vital to know what to look for in online property management software. Some online portals only have their top features in paid plans, whereas others offer many free options.
Here are some of the features to look out for if you want your tenants to pay rent online:
Online rent collection:

Accepting payments online is at the heart of the rental property apps. The software should accept credit cards, debit cards, and ACH direct deposit rental payments.

Automated payments:

Tenant management software should let renters set up automatic payments. From the landlord's perspective, it crucial to automatically calculating late payments fees and send reminders

Property and unit overview:

Easy to use rental apps have dashboards providing complete an overview of all tenants' payment histories, vacant units, and rental applications.

Property maintenance scheduling:

Real estate management software helps keep up to date with rental unit maintenance schedules, as well as letting tenants make requests.

Integrated screenings:

In-app screening functions allow landlords to evaluate a prospective tenant's suitability to find high-quality tenants.
Now you know what to expect from a robust property management system. How does AppFolio property manager measure up?
What is AppFolio Property Management Software?
AppFolio is a property management system to give landlords complete control over large portfolios and multiple properties. The rental unit app is an all-in-one solution to cover all aspects of managing rental properties—everything from online rent collection to optimizing leases. There is only a paid version of the software. AppFolio costs a minimum of $250 per month, with additional costs for each rental unit.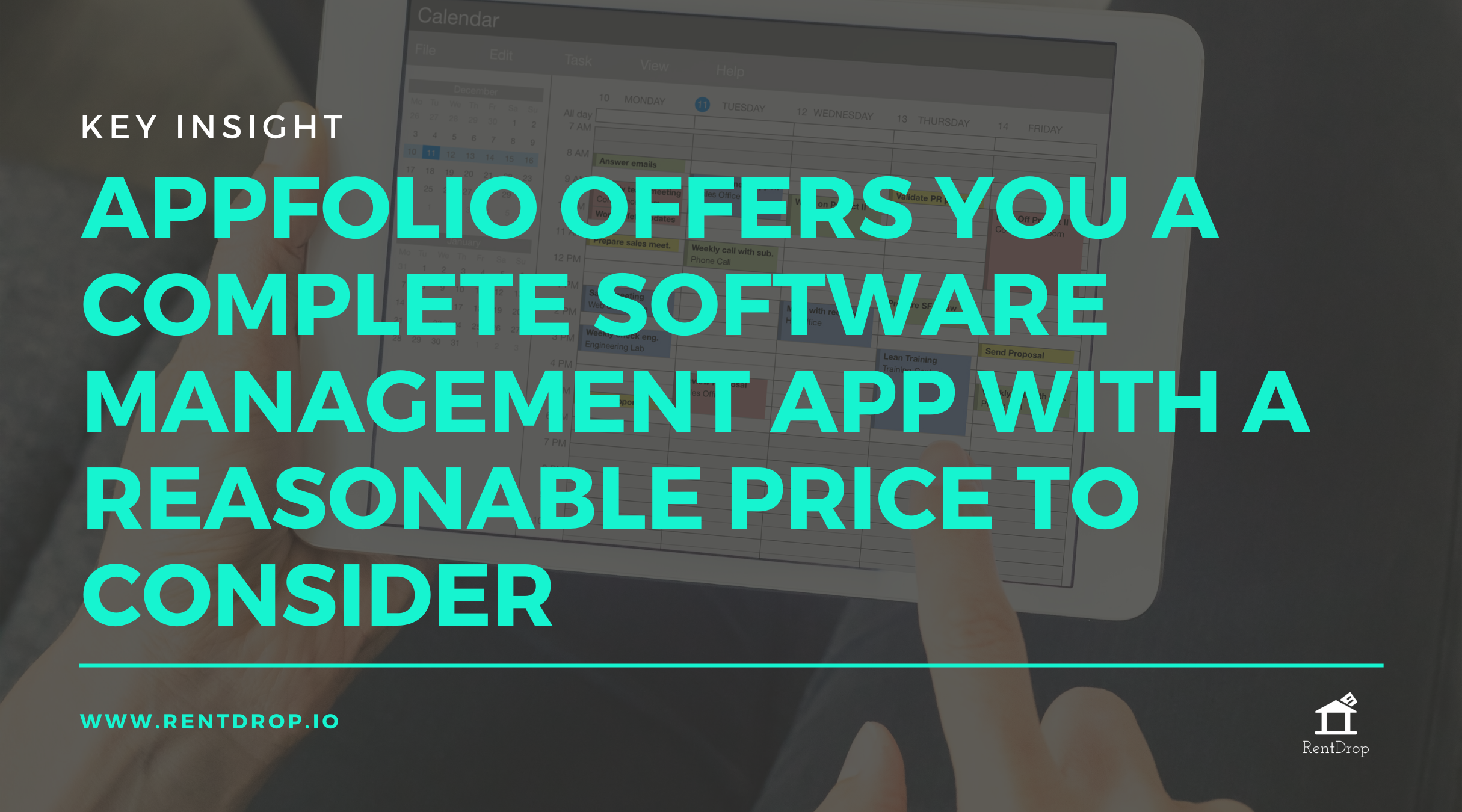 Features of AppFolio
How can you use the features of AppFolio if you are a property owner who is managing several commercial or residential properties? Let's take a look in more detail at AppFolio's many features.
Online rent collection
AppFolio cuts out the hassle of waiting for rental checks to arrive. Tenants can make rental payments through the app by credit card or debit card. Or, they can pay rent directly from their checking or savings account to your bank account.
Vacant rental unit posting
Property owners who use AppFolio can post vacant units to several listing websites. As any landlord knows, vacant units are expensive to maintain and eat into profits. With a single click, you can advertise rental properties, saving you the bother of having to manage multiple online listings. Landlords can also see the rental status of each unit.
Online applications and screening
Using AppFolio also allows you to screen tenants and carry out background checks. You can access a prospective tenant's credit history, check for criminal activity, and see dwelling histories. Thorough screening helps ensure that you get the best tenants in your rental units. Having responsible tenants reduces the risk of waiting for late payment or having to start an eviction process.
Maintenance requests
AppFolio helps rental property owners carry out the most crucial aspect of their job—keeping tenants happy. The AppFolio app lets tenants make in-app maintenance requests. Also, you get to keep up to date with regular maintenance schedules to ensure that you keep your rental units maintained to the highest possible standard.
Accounting software
With AppFolio, you don't have to spend a lot of time keeping track of your accounts. The integrated accounting system automatically records rent payments and expenses. This type of automation eliminates many mistakes and keeps you on top of your financials and business performance.
Suitable for all types of rental properties
AppFolio makes easy work of managing various types of rental properties. This software solution is ideal for property owners with an extensive and varied portfolio. Here are some of the ways that AppFolio can help manage various types of properties:
Commercial property management:

Keep track of commercial leases and calculate common area maintenance (CAM) expenses. You can also set up automatic rent increases based on the lease terms.

Student housing properties:

Rent by the bed, process online rental applications, and accept security deposits.

Residential properties:

Manage multifamily complexes or single-family properties with ease.

Community associations:

Expand property management to community associations. The app has options for architectural reviews, compliance inspections, maintenance, and board member approval.
How Much Does AppFolio Cost?
The cost to use AppFolio starts at $250 per month and can rise to over $1,500 per month. The app works on a scaled pricing plan depending on the number of rental units you manage and the types of properties. Depending on the size of your property management business, the app can be expensive to use. Here are the details of AppFolio's costs.
AppFolio Property Manager
The basic rental property management software costs $250 per month. However, you have to pay for each individual rental unit on top of the flat fee. The AppFolio pricing costs for each unit per month are as follows:
Residential units:

$1.25

Commercial:

$1.50

Community associations:

$0.80

Student housing:

$1.25
AppFolio Property Manager Plus
If you have an extremely large portfolio, then the app has the Plus version. This paid version has extra features such as revenue management, strategic account management, and performance insights. What do these additional features cost?
The minimum monthly fee for AppFolio Property Manager Plus is $1,500. The extra costs for the app are as follows:
Residential units:

$3.00

Commercial:

$3.00

Community associations:

$0.85

Student housing:

$3.00
Related reading: The best apps for online rent collection.
Is AppFolio Worth the Money?
If you are a property owner who is looking for the best property management software, it's crucial to balance features and costs. It's clear that AppFolio can work out very expensive, depending on the type and number of rental units you manage. Many other property manager apps offer some of the services in AppFolio for free—without any cost to you or your tenants.
Here is a brief overview of the pros and cons to help you decide if AppFolio is worth the cost.
AppFolio Pros:
Easy to accept rent payments, saving both tenants and landlords time

Receive security deposits

Screen potential renters and rental application processing

Extensive business metrics

Integrated rental management system

In-app communication with tenants
AppFolio Cons:
Expensive monthly fees plus costs for each rental unit

Many customers reviews complain about poor customer support

Difficult to customize electronic leases
Alternatives to AppFolio
There are many alternatives to AppFolio that offer both free and paid versions. If online rental collection, payment management, lease administration tools are what you're after, it is best to look for the best free-to-use online property management platform.
Related reading: The benefits of online rent collection.
One free online rent collection app is RentDrop. Unlike AppFolio, RentDrop has no monthly charge, and there are no fees for individual rental units. While there are other free rental apps for property owners, they tend to charge transaction fees for receiving payments. However, tenants can make rental payments through the RentDrop app directly and without any charge.
Why RentDrop is Our Preferred Property Management Software Solution
After examining the pros and cons of AppFolio, and the cost of using the software, our recommendation is RentDrop. What are the features that you get with RentDrop that are missing on AppFolio?
The main advantage for property owners of using RentDrop is its price—it is free forever. While it doesn't have some of the property management features of AppFolio, it has the essentials you need for managing online rent collection. Here is what RentDrop offers:
Rent and security deposits:

RentDrop lets you collect rent, security deposits, and late payment fees. As a landlord, you can send customized payment requests. Also, tenants can pay with a credit card, debit card, or make regular ACH payments directly into your bank account.

Stay on top of payments:

The

payment status dashboard lets you see who has paid and who is late with rent. The app allows for automated rent payments and late fees.

Easy property management:

Quickly see the status of all your rental units, manage tenants' leases, and communicate with tenants within the app.
It's easy to sign up with RentDrop and start using it today to collect rent online. Because the app is free to use forever, you don't have to worry about using a limited trial version. All the property management features are entirely free to use—forever.