Any landlord knows how challenging it is to deal with tenants who do not pay their rent on time and in full. But there's a simple fix that worked for many landlords—charging a late rent fee.
The late fee motivates tenants to prioritize rent payments. Depending on the applicable state law, late fees may be considered liquidated damages that can be deducted from the security deposit. With a penalty for late payment, tenants are less likely to miss their due dates.
But it doesn't end there—you need to be strict in charging that fee to make it effective.
Adding a late fee provision on your lease contract should not be a problem as long as the terms comply with local rental laws. But as a property manager, it makes your job harder.
Enforcing these fees becomes a greater burden, especially when you are managing multiple properties through a manual system. But if you always forget to charge late fees, tenants will not take it seriously, and they will continue to ignore due dates.
Is there a better way to bill late fees?
Yes, there is if you're willing to move to an online rent collection system.
With more businesses moving online, there's no better time to upgrade your rent collection system. Even before the coronavirus pandemic, six out of 10 landlords prefer collecting rent online.
Offering an online payment option makes life easier for you and your tenants. And rent collection platforms like RentDrop also support automatic late rent fees, multiple payment options, and more.
For landlords who take charge of the whole property management process, using an online collection system is the fastest way to stay on top of the collection process.
And there are many advantages to moving collecting rent online.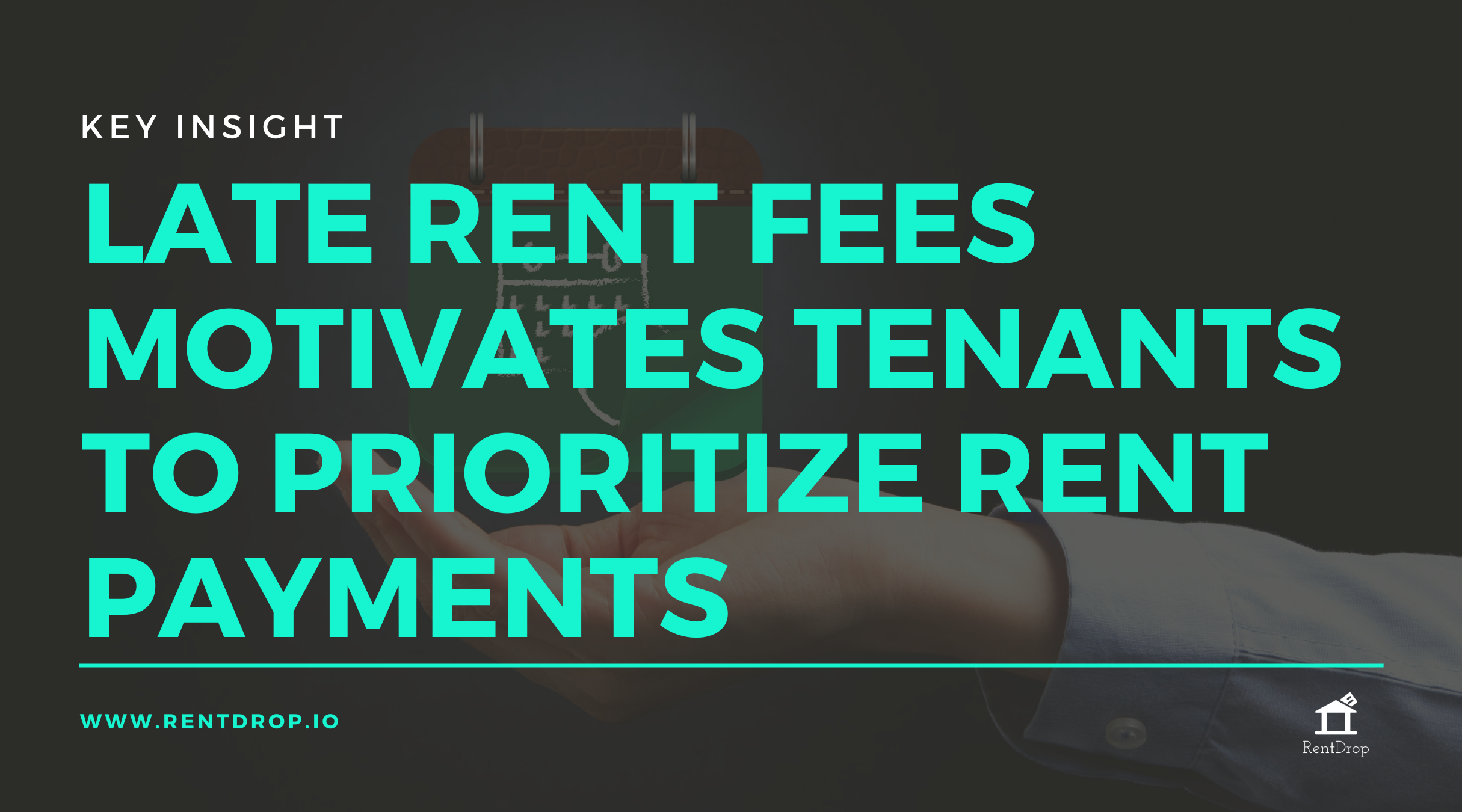 Automatic Late Rent Fees Provides More Muscle
Late rent fees are the muscle that encourages tenants to pay on time. But if you always forget to include the late payment fee or ignore it sometimes, it becomes less effective.
With an automatic late rent fee system, the late fees will be added to your tenant's overdue rent every billing period.
Of course, any late fee added to the overdue rent should be consistent with your lease contract. If your lease contract does not include a late rent fee, it's illegal to collect any penalty from your tenant, no matter how small.
And the terms related to imposing this penalty should also follow any applicable state law. In the absence of any local law, it should be reasonable.
Most lease contracts also allow a grace period of at least three days to give tenants extra time before imposing a late fee.
Grace periods and late fees are standard clauses in a rental agreement, but they make your job harder as a landlord.
You have to keep track of overdue payments, compute late fees for any tenant who paid after the grace period, and add the penalty to the bill.
And it doesn't end there.
State Laws Affect Late Rent Fees and Grace Periods
Laws related to late rent fees vary from state to state. Some states impose a maximum late rent fee and a minimum grace period.
In Texas, for instance, you can only impose late fees after two full days. So, if the rent is due on the first of the month, late fees will only apply on the fourth day.
For a dwelling with four units or less, the maximum late rent fee is 12%. But if there are more than four units, you can only impose a late rent fee of up to 10%.
Meanwhile, in DC, landlords can only charge the late rent fee after a five-day grace period and a late fee of up to 5%.
Imagine if one property has a late fee of 5% with a three-day grace period and the other charges 8% after six days. Tracking everything manually is going to get pretty confusing.
But with a system in place, billing tenants becomes less stressful even for landlords with properties across different states.
Using an automatic system, all you need to do is input the late fee and the applicable grace period. After the initial setup, you can generate billing statements with late fees anytime.
Even if you manage multiple properties, you will never be too tired or too busy to determine how much each tenant owes.
An online system also allows you to notify tenants of any late fees and send billing statements.
Online Collection Makes it Easier to be a Fair Landlord
Imposing the same policy for late payments helps you build a good relationship with tenants.
At the same time, it complies with the Fair Housing Act.
Some tenants are more likable than others. But being lenient with one tenant while ruling another with an iron fist could get you in trouble.
One way to take emotion out of managing the property is automating the process. Through automatic late fees, you can apply the same rules to all your tenants.
When dealing with tenants, always enforce the rules. As much as possible, don't accept excuses, but there are always exceptions.
Tenants who miss the deadline for the first time, for instance, may deserve some leniency. And it helps you build a better relationship with them. But even with an automatic system, you can still waive late rent fees when needed.
Pro Tip: If you do forgive the late rent fee, remind the tenant that the next time they slip up, they have to pay the fee in full. When the same tenant pays late for the second time, collect the late fee payment in full.
Digital Records Help You Stay More Organized
Landlords have to deal with tons of documentation—and not just for rent collection.
Keeping up with paperwork takes up too much time for a landlord who acts as the property manager.
Although landlords can still keep paper copies of their files, having an online system to manage collections is more convenient.
By adopting a better way to track collections, you can improve your efficiency. Instead of maintaining several spreadsheets and pulling information from your email, text logs, bank statements, and other resources, all you need to do is open your online collection system.
And it's also easier to pull up your tenant's payment records.
If there are disputes about rent payments, you and your tenant can check online records, which should be accessible to both parties.
Most online rent collection systems also allow you to send reminders and notifications to your tenants. By including this in the automation process, you can make sure that everyone receives a reminder before their due date and when their bills become overdue and subject to late payment fees.
It's Simpler to Update Late Fee Policies
Changes in your state law or lease contract affect the applicable late rent fees. At some point, you may have to change the late payment fee and the grace period.
With manual systems, it's easy to make a mistake, especially during the transition period. But with an automatic system where you set up everything and default settings carry over to the next month.
You still need to review your formulas for a quality check, but you can avoid doing manual entries, which could result in more errors.
Automatic Late Rent Fees are Integrated with the Collection System
Charging automatic late rent fees is a common feature among rent collection platforms.
Many landlords are starting to collect rent online to avoid accepting cash or checks. Most of these systems also support multiple payment methods like credit card payments. Accepting credit cards is also one way to help tenants who struggle with due dates because the rent is due before they receive their pay.
Since automatic late rent fees are already included in the system, you have all the tools you need in one place. This saves you from reconciling entries from separate accounts, and it could cut down the time you spend in tracking rent collections.
Keep Communication Open Even with Automatic Systems in Place
The late fee provides an incentive for tenants to prioritize paying their rent. But it doesn't end there—you need to be strict in charging that fee to motivate your tenants to pay on time.
While late rent fees are effective, they may not be enough. These automatic systems should never replace all the communication you have with your tenant.
Talk to tenants who struggle with paying on time. If possible, find out the cause for the late payment. It may also be useful to remind them that making late payments may affect their credit score.
Sometimes, the due date for the rent payment may fall before your tenant's pay date. Or your tenants may be traveling all the time, and they forgot to pay the rent.
By understanding the situation, you can find ways to help your tenant, such as changing the due date or sending due date reminders. And online rent collection could help too, especially when you offer several payment options.
But if your tenant struggles with rent payments because he or she can't afford it, it may be time to review your tenant screening procedure.
At the end of the day, you want to improve your relationship with tenants without hurting your rental property business.