Are you a landlord using Venmo for rent payments? If so, it's vital to know that Venmo charges fees for merchant transactions. In the past, some landlords could use digital wallets like Venmo to collect rent for free. They did this by requesting tenants to send money as a friend or personal transaction. However, Venmo changed its terms and conditions, meaning you must pay Venmo fees for small business transactions.
Of course, many tenants like using Venmo to pay rent. The peer-to-peer payment platform makes instant transfers straightforward. And if tenants fund the rent payments from their bank account or debit card, there are no Venmo fees to pay. However, in many cases, landlords have transaction fees to pay when using Venmo to run a rental business.
Using a mobile payment app to collect rent is an excellent idea. However, should you pay fees for transactions when many free rental payment apps are available? For example, Rentdrop is an alternative to Venmo and doesn't charge landlords or tenants fees. Additionally, property management apps have all the features you need to run a thriving rental business.
In the article, you will find about the fees Venmo charges for paying rent. You will also learn about alternatives to Venmo for your tenants to make monthly rent payments.
Venmo Charges a Fee for Rent Payments
Venmo charges landlords 1.9% plus $0.10 for each financial transaction. This is because sellers (in this case, landlords) must pay fees for providing "goods and services." Therefore, using digital wallets like Venmo, PayPal, and Cash App incurs expenses, which will ultimately affect your cash flow.
But you may think that you can get around these transaction fees by using a personal account. However, the fees Venmo charges apply to any single transaction for a service, regardless of the account type. So the issue for landlords is that trying to get around paying Venmo fees could land you in trouble.
In some cases, Venmo could freeze your account. And in a worst-case scenario, they could cancel your account altogether.
What are Other Venmo Transaction Fees?
Unfortunately, Venmo transaction fees for "goods and services" aren't the only ones landlords must pay. There are fees to pay for instant transfers, using a Venmo Mastercard, and buying or selling cryptocurrencies.
A quick look at Venmo transaction fees:
Sending and receiving money from a linked bank account or debit card — free.
Withdrawing money to your bank account using a standard transfer — free.
Sending money using a credit card — 3%.
Instant transfer of funds fee — 1.5% with a maximum fee of $15.
Using a Venmo credit card to send money — 3%.
Receiving money for goods and services — 1.9% of the amount plus $0.10.
There are some Venmo limits you should be aware of. For example, you can only transfer to your business bank account up to $999.99 per week if your identity isn't confirmed. You can raise this limit to $49,999.99 by verifying your identity.
Other limits to Venmo bank transactions include a weekly instant transfer limit of $10,000 to your debit card and $50,000 to your bank account.
Venmo Charges Fees for Rent Payments — Reasons to Avoid Collecting Rent with Venmo
Venmo charges a transaction fee for each rent payment, impacting your revenue and profit margins. However, there are several additional reasons to stop your tenants from using Venmo to pay rent. Reasons include that you can't block a partial payment, it's difficult to track rent payments, and it lacks landlord-friendly features.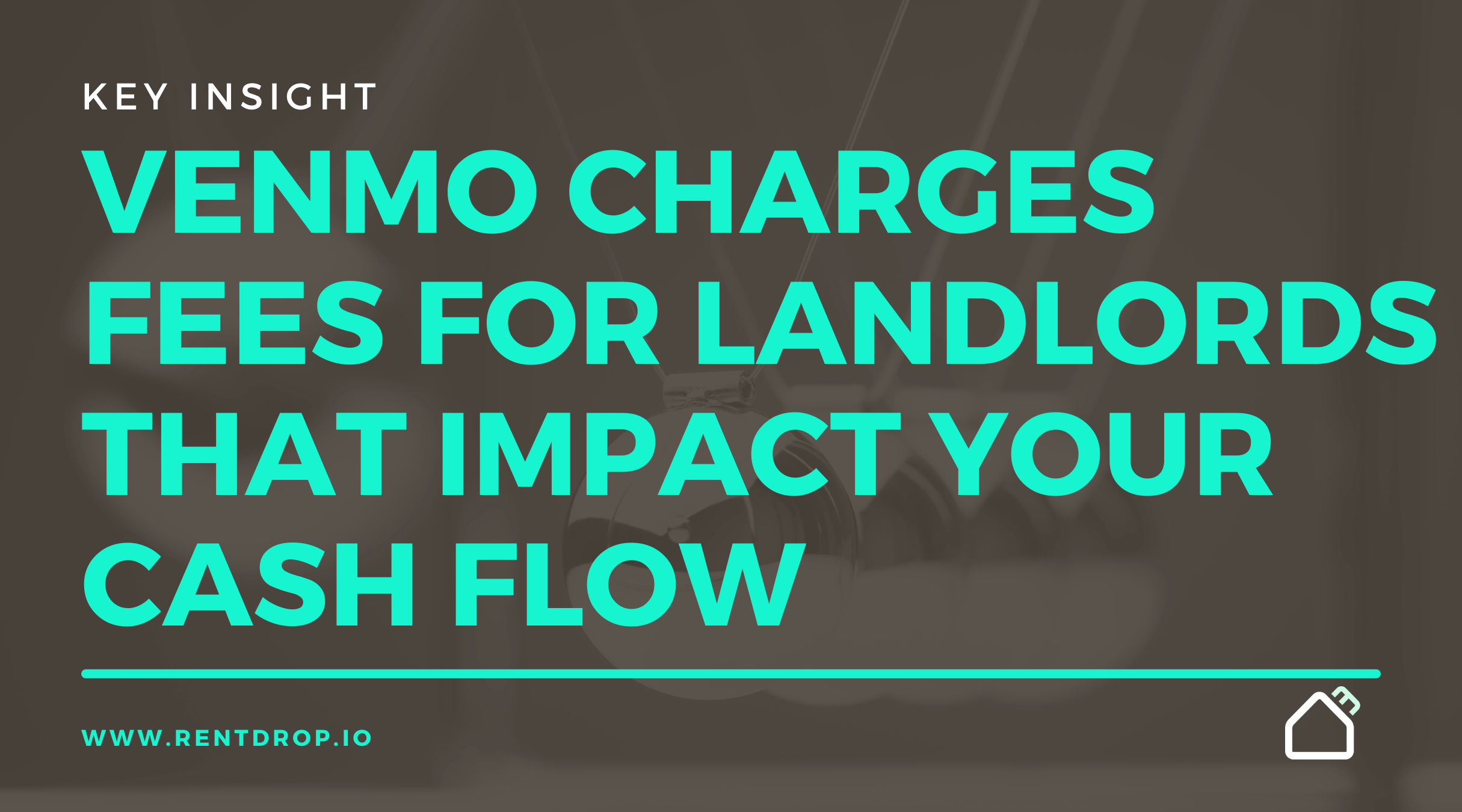 Let's look in more detail at these reasons to use an alternative to Venmo.
1. Venmo is not free for landlords
Landlords must pay Venmo transaction fees when accepting rent payments from tenants. So how much could it cost you to use this "free" mobile payment app? Let's say you manage three rental units, charging $1,500 per month. This means that you pay Venmo monthly fees of $86. Over a year, that is over $1,000 in charges.
2. It's easy to misdirect Venmo payment
You should be aware of the potential risks when allowing tenants to pay rent via Venmo. For example, it's easy for tenants to pay the wrong person. In this case, Venmo won't refund the money, and it's up to the tenant to retrieve the money. Again, this can severely impact your cash flow.
3. No protection for landlords
Even when using a Venmo business account, there is no purchase protection. When the tenant authorizes the payment, this is a valid payment. However, if the tenant makes an error and accidentally pays the wrong person, you miss out on a rent payment. The lack of protection means that Venmo won't refund the money. And you may lose your money if it ends up in the wrong hands.
Here is a worrying quote from the Venmo website regarding protection for business owners: "Venmo does not offer a buyer or seller protection program for transactions conducted using the Venmo app or Venmo.com, regardless of the nature of the payment." So even Venmo warns business users to be careful using their app.
Related reading: How to cancel a rent payment on Venmo.
4. Venmo causes serious issues with partial payments
One of the biggest issues landlords have with Venmo is that you can't block a partial payment. As soon as the tenant pays any amount of rent, the money arrives in your account. This is viewed as a partial payment. Unfortunately, accepting rent payments with Venmo could make it difficult to evict a tenant.
Related reading: The worst ways to accept rent payments.
5. Venmo doesn't offer recurring rent payments
Another significant downfall of Venmo is the inability for tenants to set up automatic monthly rent payments. This is important for landlords because automatic payments are one way to reduce late rent and avoid charging tenants late fees.
If your tenant uses Venmo to pay rent and wants to set up recurring payments, here is the answer from the Venmo website. "Can I set up automatic recurring payments or charge requests? No, Venmo doesn't offer this option at this time."
Related reading: The risks of using Venmo for rent payments.
Rentdrop is an Alternative to Venmo for Rent Payments
Using Venmo for rent collection isn't ideal. Suppose you want an easy solution for managing rental properties. In that case, you'll probably want one built especially for landlords and rental property owners. There is a wide range of choices when selecting online payment options for tenants.
Take, for example, Rentdrop. This easy-to-use mobile payment app is for landlords and tenants. It helps overcome all the issues that Venmo causes. The rent collection app helps you manage your properties by automating tasks such as rent collection, charging late fees, and tenant screening. Additionally, tenants can split the rent or pay on a flexible schedule.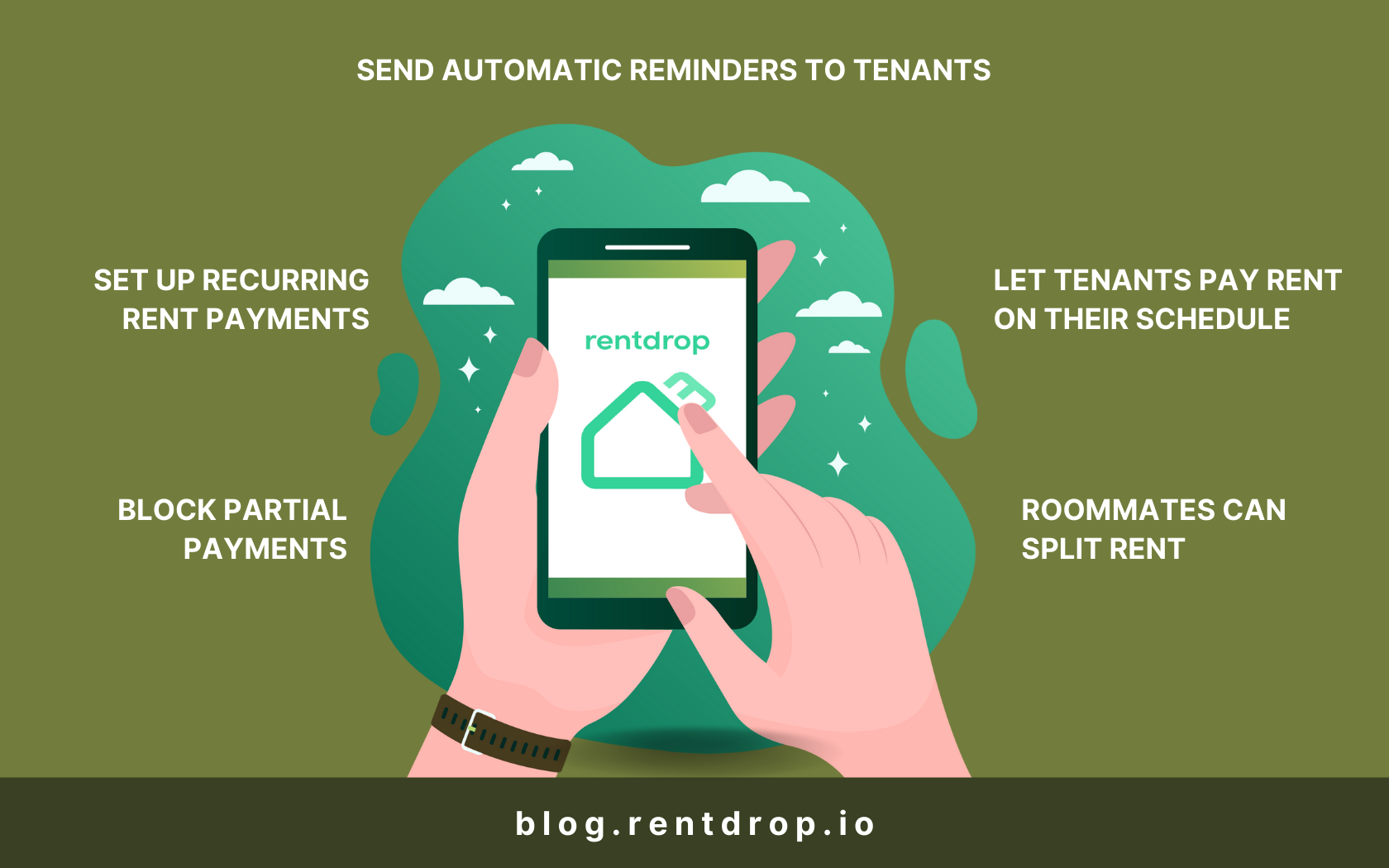 Here are some specific examples where Rentdrop could be helpful for you.
Free to use for landlords and tenants
Unlike Venmo charging fees for digital payments, Rentdrop is 100 percent free for landlords and tenants to use. In addition, all the rental collection features are free for tenants and landlords alike. This includes paying rent, receiving rent, sending rent reminders, charging late fees, and letting roommates split rent.
Most peer-to-peer payment apps charge business owners transactions fees to receive rent money. However, with Rentdrop, you have no fees to pay. Even if a tenant uses a credit card to fund the rent payment, the costs are charged to them, not you.
Rentdrop is built for landlords and tenants
Running a rental business is different from other enterprises. This is why typical mobile payment apps like Venmo are not suitable for landlords.
For example, Rentdrop helps you run a successful rental business because it has the following features:
Send rent payment reminders automatically
Setup recurring rent payments
Process security deposits
Allow roommates to split rent
Give tenants payment options of

paying rent on their schedules

No fees for tenants or landlords for direct debit or ACH bank transfers
Block partial payments
Receive notifications when tenants pay rent
Track the status of each tenant's rent payment
Built-in tools to prorate rent
Send bulk messages to all your tenants
Encourage tenants to pay rent on time every month
Report on-time rent payments to credit bureaus to help boost a tenant's credit score and encourage timely rent payments
Landlords can

accept credit card payments

for free (the tenant pays the fees)
The principal benefit of Rentdrop is that it puts you—the landlord—in control of rent payments. You never have to pay any fees to receive rent payments or transfer money to your bank account using standard transfers. More importantly, you can prevent issues with partial payments if you are going through an eviction process.
How to Use Rentdrop for Rent Collection
It's easy to start using Rentdrop to manage your rental business. First, you can ask your tenants to register with Rentdrop to begin using the app from the next payment. Then you and your tenants have an online portal to view rent payment history and balances. It is also possible to pay rent electronically, track past due amounts, and request refunds.
To stop using Venmo or other third-party payment apps for rent payments, it's vital to include a clause in the rental agreement. Most states require that landlords offer tenants two or more methods to pay rent. So, you can stipulate in the lease that tenants can pay rent using Rentdrop or by check.
Sign up today to see how Rentdrop can help simplify rent collection and start collecting rent online today.