Online rent collection is the most efficient way for landlords and property managers to run a successful business. Collecting rent online for free is much easier than waiting for checks to clear or chasing up tenants for cash payments. You also avoid the hassle of tenants who are always late with their rental payment. But finding the best online rent payment solutions to collect tenant rent online is challenging.
Arranging for ways to collect rent online isn't just an excellent idea for you as a landlord. Online rent collection methods are ideal for tenants too. Think about it—the majority of people spend most of their life on their mobile phones. They buy stuff, read the news, get directions, listen to iTunes, watch Netflix, and some people even make phone calls. So, it makes sense that they would also pay their rent online.
Providing your tenants with a solution to pay rent online is a win-win situation. They make their payments on time and avoid late fee charges. You have less hassle and trouble trying to collect rent to keep your rental business running successfully.
What are the different ways to collect tenant rent online? Is there a rent collection app that is suitable for your rental management business? You'll find the answers to those questions in this article.
How the Best Online Rent Collection Apps Work
The best online rent collection apps should allow tenants to pay with credit, debit, or ACH direct deposit and set up automatic payments. But an online rent collection app should give you an overview of all your rental units to stay on top of your priorities.
Before deciding on the best way to collect rent online, it's vital to know what to look for. After all, collecting rent is just one part of managing rental units successfully. Ideally, you should look for something that combines multiple features in one solution. Here are hallmarks of the best online rent collection services:
Mobile-friendly so tenants can pay directly from their phone
Allow tenants to set up automatic payments or one-time payments
Provide the payment status of all your rental units
Automatic payment notifications
Notifications of late or missed payments
Setup automatic late fee calculations
Send reminders to tenants about payments
Check payment history
Include multiple payment methods
The ability for landlords to collect rent online for free ensures that you lower the risk of late rent payments. Tenants who set up automatic payments from their debit or credit card are more likely to pay rent on time. This type of service saves you valuable time and saves tenants money.
Related reading: How to convince tenants to pay rent online.
Online Rent Collection Services
There are several ways that you can collect rent online. For example, you could arrange for tenants to pay via PayPal, Google Pay, or Apple Pay. But better online rent collection solutions are rent collection apps. These apps provide hassle-free ways for landlords to collect rent electronically.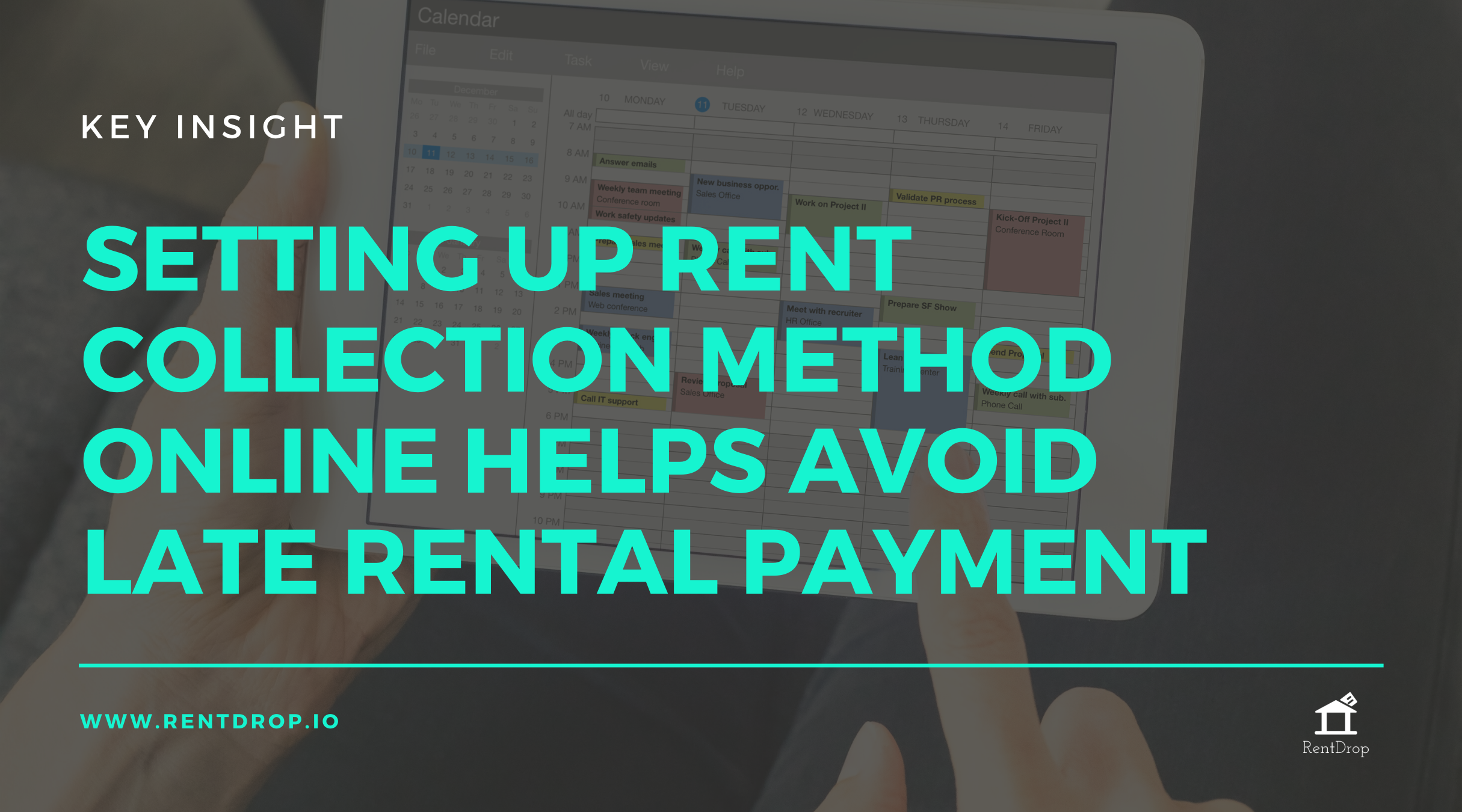 Let's look at some of the best options for collecting rent payments online.
RentDrop
RentDrop is an online rent collection solution with all the features you need for managing tenant rental payments. RentDrop lets tenants schedule recurring payments using their debit or credit cards. Or, they can arrange for an ACH direct deposit as the preferred payment method. All payments go directly into your bank account.
RentDrop gives landlords the ability to oversee all of their rental units and set up a payment schedule. The user-friendly interface shows the status of all payments, including late payments and occupancy. The app also sends payment notifications. One benefit that RentDrop has for landlords is the possibility to set up automatic late fees.
The most significant benefit to landlords of using RentDrop for online rent collection is that they can use the app for free. Unlike other vendors who charge a percentage for transactions or a monthly fee, it doesn't cost landlords anything to use RentDrop for online rent collection.
The team at RentDrop has also made sure the online rent payment solution is super easy to use for both landlords and tenants.
Pros:
Free online rent payment solution for landlords to use
Suitable for landlords with an extensive portfolio
Set up late payment fees
Allow tenants to set schedule recurring payments or make a one-time payment
Provides an overview of all rental units
Simple user-interface for easy rent collection
Cons:
Lacks some of the features other rental management apps have
PayRent
Another app that allows landlords to collect monthly rent payments online is PayRent. This automated rent payment solution lets tenants set up payments via e-checks or their credit card. As with most online rent collection apps, landlords can receive notifications, and send rent reminders. It is also possible to accept partial rent payments from tenants.
Although PayRent is a paid plan, you have to pay fees on transactions. The cost of using PayRent is 3.5% plus $0.30 for every credit card transaction and 0.25% for bank transfers. Depending on your portfolio, the app could be costly to use. Landlords either have to take a cut from their profits or increase tenant's rent by 3.5% to cover costs.
Pros:
Full accounting and tracking of rent payments
Send automated reminders to tenants
Set up automatic rent payment
Has a one-time payment option
Accepts cash in the form of e-checks
Cons:
Monthly cost in the form of transaction fees
Payments take 3 days to get into your account
Buildium
Buildium is a property management app that helps landlords care for all aspects of their rental business. Using the app, property managers can take care of rent payments, maintenance cycles, accept security deposit payments, and customer support. Landlords can also use Buildium to screen potential tenants and automatically list properties on Zillow, Trulia, and Craigslist.
From the tenant's perspective, the app allows them to complete applications, make maintenance requests, and pay their rent. As with all rent payment apps, tenants can set up automatic payments to avoid paying late fees.
Pros:
Care for all aspects of property management
Collect rent payments online and see payment history
Fast and reliable
Schedule automatic rent payments
Submit rental applications in the app
Easy to email tenants from the app
Cons:
Paid plans starting with a monthly fee starting at $50
Can be confusing and time consuming to use
AppFolio
Similar to Buildium, AppFolio is software for property management. The app helps to manage all types of properties, including mixed portfolios. Rental property management tools include online rent collection, tenant screening, marketing, and rent comparison tools. One useful feature is the bulk messaging service, just in case you need to send one message to multiple tenants.
Tenants can log in to their account to make rent payments, set up automatic payments, and request maintenance call outs. A handy feature of tenants is to arrange renter's insurance through the app.
Pros:
An all-in-one software solution for property management
Set up a company website from the rental software
Training provided
Automatic late fee calculations
Cons:
Paid plans with prices starting from $250 per month
Not suitable for startups or landlords with a small inventory
Can be complicated to use
Zelle
Zelle is a popular money transfer app to move money between banks for free. All tenants need to do is connect the app to their bank account. They can then send rent payments directly to your bank. Zelle has secure payment options, and money transfer happens almost instantly if you have a Zelle account.
Because Zelle transfers money instantly, there is the risk of sending payments to the wrong person. For landlords and tenants, this could cause confusion if a tenant mistakenly sends rent to the wrong person.
Pros:
No transaction fees
Money transfers are almost instant
Send money via mobile phone app
Cons
Very easy to send money to the wrong person
Landlords need a Zelle account to receive money instantly
No reminder or rent payment management system for landlords
Not possible to set up a payment schedule
Difficult to use for rent collection
Venmo
Another online money transfer app is Venmo. The app allows users to transfer money instantly. However, to send and receive business payments, users need to become an authorized merchant.
Venmo is not an ideal online rent payment solution for organizing online rent collection. Payments that seem to be instant, actually take place the next day. Also, payments can get flagged and put on hold for no apparent reason. This can put landlords at risk of fraud or receiving late rent payments.
Pros:
Excellent for sending money between friends
Cons:
Transaction fees of 3%
No protection for tenants or landlords
Easy to misdirect payments
No rent payment system
PayPal
Most people have heard of PayPal, and it's the standard money transfer app for websites such as eBay. But is PayPal a good option for collecting rent online? Similar to other online cash payment apps, PayPal doesn't have any protection for landlords or tenants. PayPal conditions state that its purchase protection doesn't include real estate-related transactions.
Pros:
Cons:
Not possible to resolve rent payment disputes
Easy to transfer fund to the wrong person
Tenants have to remember to send rent payments
Not suitable for property managers or landlords
Related reading: The best alternatives to PayPal for online rent collection.
Cash App
Unlike other money transfer solutions, Cash App can be used for online rent collection. Just like PayPal and Venmo, money transfers are instant, meaning that it's not possible to cancel transactions if tenants make a mistake. Another drawback of Cash App is that tenants need to remember to make payments. This can result in late fees and more headaches for landlords.
Cash App charges a 2.75% transaction fee. So, this means that your tenants' rent increases by nearly three percent, which not all tenants will be happy about.
Pros:
A cash app that is approved for online rent collection
Cons:
Costly transaction fee
No tenant and landlord protection
Long payment processing times if you don't have a Cash App account
Ways to Collect Tenant Rent Online
There are many ways that landlords and property managers can arrange for online rent collection. Many property management apps include rent collection as part of the many services they offer. However, they can be complicated to use. Simple ways to collect rent could be money transfer apps. However, they are difficult for landlords to manage and don't offer any financial protection.
RentDrop is one of the best free online rent collection methods that landlords can use for free. The online rent collection app is easy to use for both tenants and landlords. The automated software helps ensure that tenants always pay rent on time, helping you manage a successful rental business.