Are you among the many thousands of landlords who still collect rent checks? Paying rent by check is one of the oldest methods of rent collection. But as you know, cashing a check takes up your precious time. And, of course, checks can bounce, leaving you without a rent payment. Then, there the dreaded "the check is in the mail." In the end, collecting rent by check or cash could seriously impact your bottom line—a healthy cash flow.
Successful landlords understand why it's good practice to use a dedicated rental payment app to run their rental business. RentDrop is a rent collection app specifically designed to make your job as a landlord easier. With RentDrop—no more dealing with cash, recording checks in a ledger, and waiting for checks to clear.
But you may be wondering, is collecting rent online secure? You will be glad to know online transactions are the securest form of payment—more secure than cash or check. Also, your tenants are probably already using payment apps for groceries, restaurants, and paying bills. So, why not pay for rent as well?
Cash, Checks, and RentDrop Compared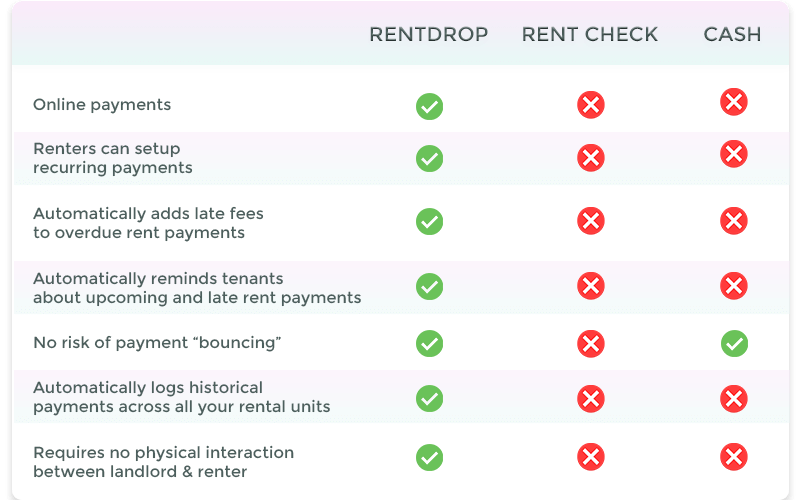 Why RentDrop is Superior to Collecting Rent by Check or Cash
RentDrop eliminates all the risks associated with checks and cash. Tenants transfer money directly to your bank account securely. Additionally, RentDrop has a host of landlord-friendly features such as collecting security deposits, adding late fees, and setting up recurring payments.
Think of the time you could save by using RentDrop. For example, what does it take to process a check? First, you must wait 2 to 3 days for the check to arrive. Next, you must drive to the bank to deposit the check. If you have many tenants, you are looking at a few hours out of your day. Then you must wait 2 or 3 days for the check to clear. So, a week can pass before the money is in your bank account. But, can you really afford to wait that long?
Then, there are the problems of checks bouncing, getting lost in the post, or your tenant just forgetting. The result? Dealing with checks and cash severely impacts your cashflow.
What is the RentDrop solution? Tenants make a rent payment using a debit card, credit card, or ACH transfer. The money instantly arrives in your bank account. You can also set up recurring payments or send reminders. All this without leaving your home or office.
Pros and Cons of Rent Checks
Here are the pros and cons to help you decide if accepting rent checks is still worth it:
Pros:
Some tenants prefer sending a check
Cons:
Rent checks take time to arrive by mail
Take a long time to process
Require a trip to the bank
Checks can bounce
You must record them by hand
Tenants can forget to send them
Pros and Cons of Cash Rental Payment
Here are the pros and cons that can help you decide if accepting cash is the best option:
Pros:
Some tenants prefer cash payments
Cons:
Record keeping is difficult
It's easy to make mistakes, lose cash, or have it stolen
Cash is an insecure payment method
Requires a trip to the bank
No proof of payment
You must take time out of your schedule to meet the tenant
Why Choose RentDrop to Collect Rent
Free to use for landlords
Most tenants already use online banking and payment apps
No chance of rent payment going missing
Rent payments arrive instantly in your bank account
No transaction fees
Automatic late fee calculation
Set up recurring ACH or debit card payments
We are sure that RentDrop provides one of the best solutions for rent collection. If you want to be one of the first to use it, sign up for our Waitlist today.