Venmo is a popular mobile payment app used to pay and collect rent money online. Many renters love using Venmo to send rent money to landlords because it's convenient and free. They can use Venmo to pay rent by debit card, credit card, direct deposit, or Venmo balance. Landlords also use Venmo for rent collection because it avoids tenants paying rent in cash or having to process paper checks.
However, there are many misconceptions about using Venmo to collect or pay rent money worth considering. For example, landlords can't decline a Venmo payment or automatically calculate late fees. And despite Venmo letting tenants pay rent for free, landlords incur transaction fees for every rental payment received.
Is Venmo the best mobile app for rent payments? Are there other free apps better than Venmo for sending rent money online? How does the convenience of Venmo compare with the features of a dedicated rent payment app? Please read on to find the answer to these questions and more.
First, let's look at how to use Venmo to pay rent every month.
How to Use Venmo To Pay Rent Money
Renters can use Venmo to pay rent by tapping "Pay & Request," entering the landlord's contact details, and then the rent amount. After that, they tap "Pay." The next step is to choose funding options, e.g., Venmo balance, tap "Send," and the money instantly transfers to the landlord's Venmo account.
The mobile payment app is relatively straightforward for online rent payments from the renter's perspective.
How To Venmo to Collect Monthly Rent Payments
Landlords need a Venmo business account to accept rent money online. Without an account, Venmo has limits on money transfer amounts. However, rent collection with Venmo is simple. The money arrives in your account usually within 30 minutes. You can then transfer the rent money to your bank account.
Landlords should be aware they must pay a fee per transaction. Also, there is an additional fee for credit card payments if the renter uses that payment method. So rather than Venmo being a fee-free rent payment app, it can be expensive for landlords to use it for processing rent money.
Is a digital wallet like PayPal, Zelle, or Cash App a better alternative to Venmo for rent payments? Unfortunately, all peer-to-peer payment services have similar issues.
Seven Common Misconceptions About Using Venmo to Collect Rent Money
The misconceptions about Venmo for online rent payments are regarding the payment control features for landlords. For example, it's impossible to decline a Venmo payment during an eviction process. Also, there are no features to calculate late fees, split rent with roommates, or send rent reminders.
Misconception #1 — Venmo card and bank payments are not always instant
It's a misconception that all Venmo payments are instant. In reality, Venmo reviews every transaction, and some transfers get flagged for security reasons. During this time, the renter won't have access to their funds, which may mean the monthly rent payment is late. This issue could impact your rent money cash flow.
According to Venmo Help Center, it can take up to 48 hours to resolve an issue with a "Payment Pending" message. So, this could be a big problem for the renter and landlord if funds get stuck in Venmo limbo for a few days.
Related reading: PayPal vs. Venmo for rent payments.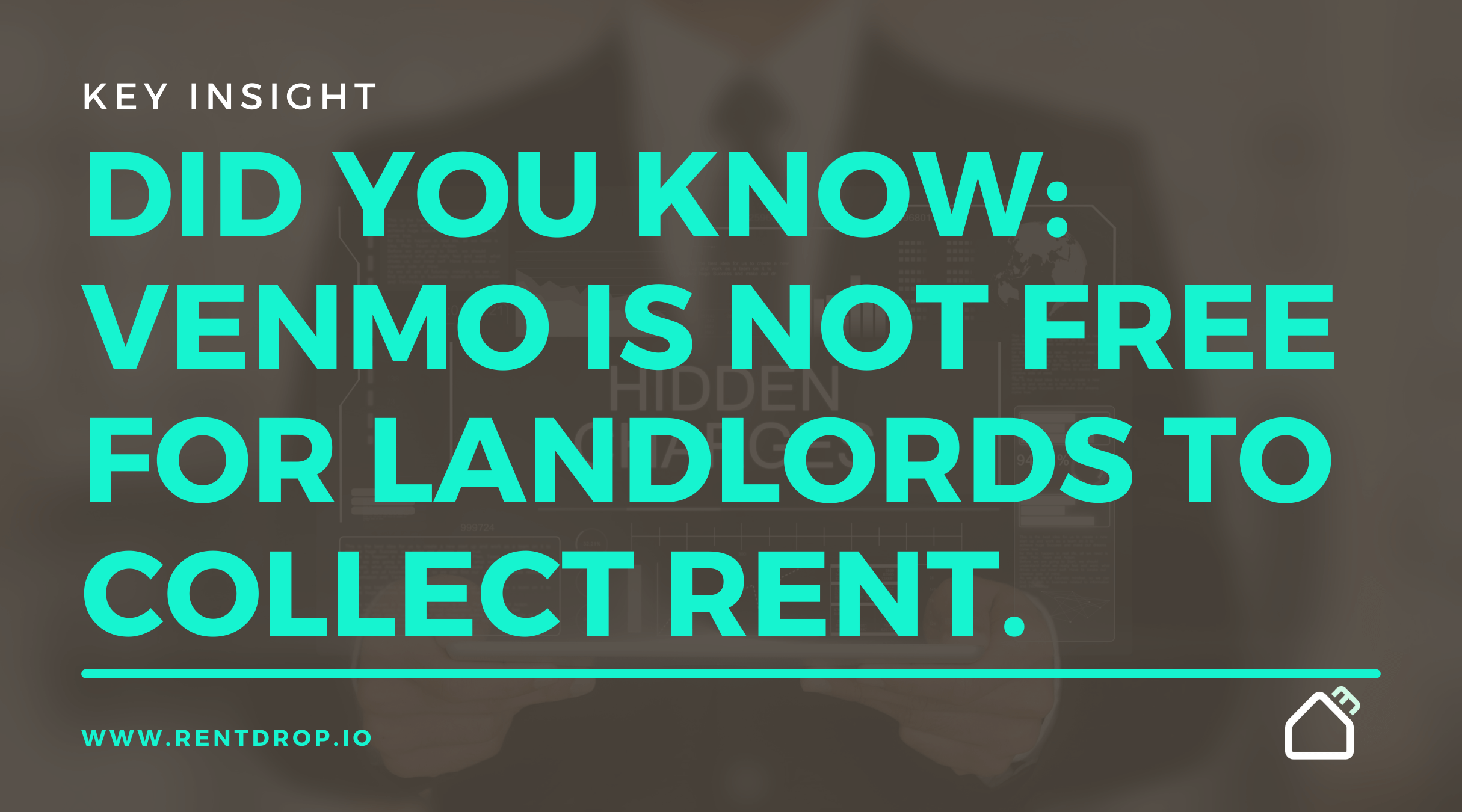 Misconception #2 — Venmo is free to use for rent payments
Using Venmo as a free rental payment app is a common misconception. The confusion occurs because there is no fee for tenants to send rent money. However, Venmo charges a fee for landlords for each incoming rental payment. What is the cost to landlords for using Venmo as a rent collection method?
According to Venmo, landlords must pay a processing fee of 1.9% + $0.10 every time a tenant sends rent money through the app. Of course, if you have one or two rental properties, that may not seem much. However, add up the Venmo fees over the year, and you find it costs hundreds of dollars to collect rent online.
There is another issue for landlords regarding Venmo fees. Suppose you need to make an instant bank transfer because you can't wait for two to three business days. In that case, you must pay extra fees. So, starting May 23, 2022, Venmo bank transfer fees are 1.75% up to a maximum fee of $25.
Misconception #3 — Landlords can use a personal Venmo account to accept rent money
It's a myth that you can collect rent from tenants for free with Venmo by using your personal profile. If you want to use the app for business transactions for the "sale of goods or services," you must use a business account. Otherwise, you could put your rental revenue at risk if Venmo closes your account.
According to Venmo, they could review the payment if a renter pays rent via the landlord's personal profile. In that case, the rental amount will be reversed. And this may not happen until you try and transfer the funds out of your Venmo account.
Additionally, a renter's money could also be at risk. Venmo warns that you could lose your money if you send a business payment to an unauthorized business profile.
Misconception #4 — Venmo allows landlords to decline a rent payment
It's a common misconception that it's possible to decline a payment on Venmo. Canceling a Venmo payment may be necessary during an eviction process. Unfortunately, Venmo allows the renter to send a partial payment to the landlord. The issue for landlords is that eviction proceedings must start over again.
Suppose you must evict a tenant for non-payment of rent. You serve the "cure or quit" notice and then file for eviction at the local court. However, the tenant could send a partial rent payment of a few dollars. Because you can't block the payment, the judge would view this as the tenant's efforts to pay rent. So, you are back to the start.
This means that using Venmo as a mobile rent payment app could impact your cash flow. Being unable to block a partial rent payment results in lost time and revenue. So, in the end, Venmo could prevent you from evicting a delinquent tenant. Instead, you would have to wait until the lease agreement ends to get them out of your apartment.
Misconception #5 — Venmo offers payment protection to renters and landlords
Unfortunately, it's a myth that rental payments are protected under Venmo Terms and Conditions. This misconception arises because Venmo has a purchase protection scheme for business accounts. However, this is generally for tangible goods that are shipped. Therefore, the payment protection doesn't include rent payments from tenants.
Venmo's User Agreement says that whether you are a buyer (tenant) or seller (landlord), real estate transactions, including personal property, are included under the "ineligible items and transactions under the Venmo Purchase Protection Program."
What does this mean? It means there is no payment protection for landlords.
For example, suppose your tenant mistakenly sends rent money to the wrong person. In that case, the tenant must recover the money and hope that the recipient returns it. Additionally, renters are at risk of scams with unscrupulous landlords using Venmo to defraud users' money.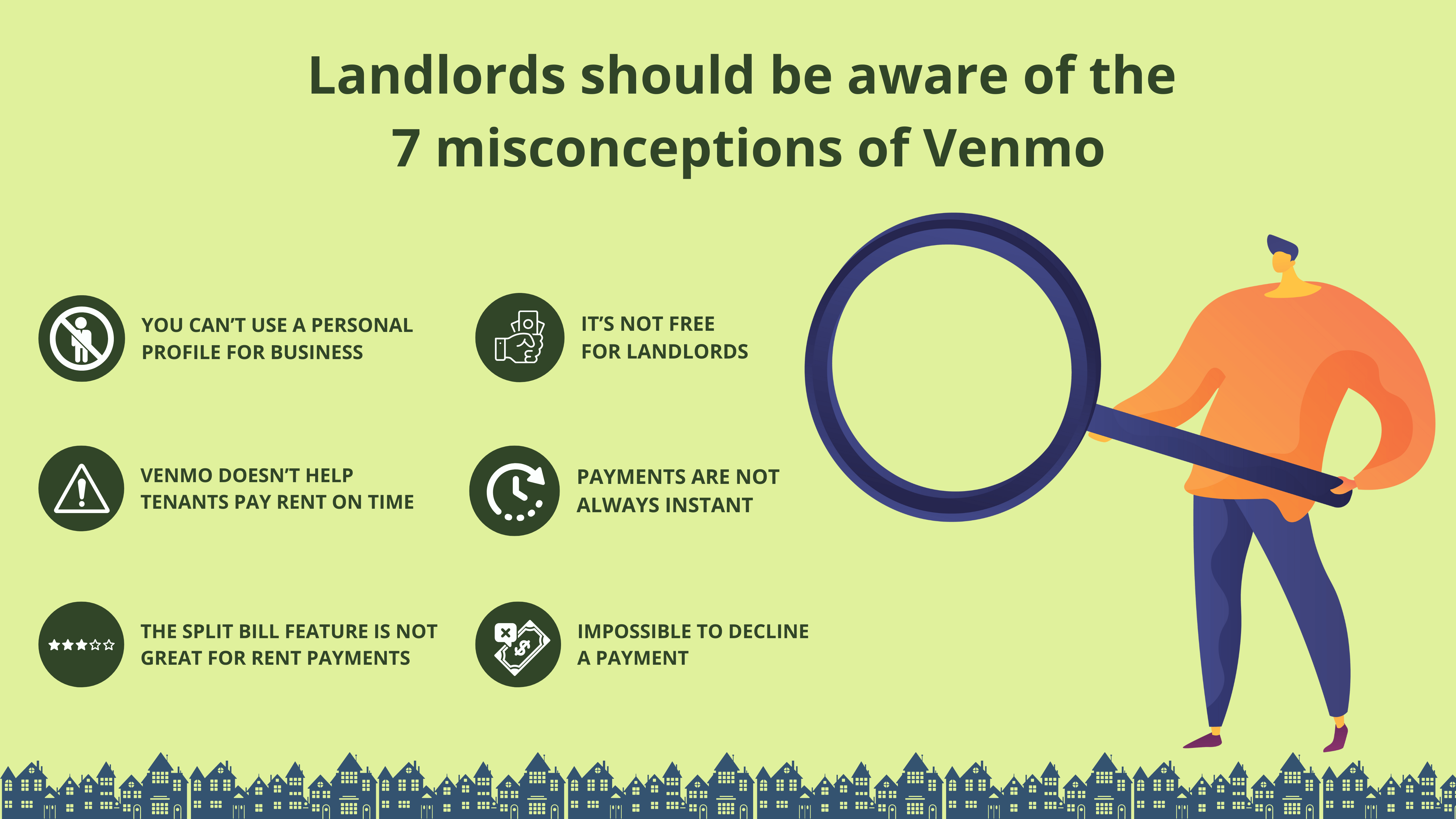 Misconception #6 — Venmo helps renters pay rent on time
Because Venmo facilitates instant online payments, it's easy to assume that it helps tenants make rental payments on time. This is not true. Although Venmo is faster than paying rent by check and safer than a cash payment for rent, there are no payment reminders or automatic rent payment options.
Venmo has no recurring payments option to pay rent automatically. However, this is an online rent payment feature of many rental apps. With them, a tenant can set up their payment schedule, enter the rent amount, and then forget about it. However, with Venmo, they must enter the data every month and remember to pay rent by the due date.
Additionally, Venmo doesn't have an option to allow landlords to send rent reminders. Sending reminders about rent and recurring payments are two of the best ways to encourage on-time rent payments. Because Venmo puts your cash flow at risk, it is another reason to avoid using the app to collect rent money.
Misconception #7 — Venmo helps roommates split rent
The feature to split bills with Venmo puts landlords under the false impression that it has a feature to split rent with roommates. However, comparing Venmo with a dedicated rent collection app highlights why it's not suitable for tenants or landlords.
Using Venmo to split the rent between roommates: One person is responsible for collecting rent from all co-tenants. When everyone in the apartment pays their share, the tenant forwards the rent money to the landlords.
Using a rent collection app to split the rent between roommates: Each tenant on the lease agreement is responsible for paying rent directly to the landlord. This means it's easier to resolve disputes if one roommate can't pay rent on time.
Therefore, Venmo makes it problematic to settle payment issues if several tenants pay on time and one can't. This can cause friction and arguments, and all the co-tenants are at risk of eviction for not paying the entire rent amount.
However, with an online rent payment app for landlords, the non-payment of rent issue is easier to solve. The landlord can take eviction action against the non-paying tenant.
Related reading: Reasons to avoid using Venmo for rent payments.
The Flaws of Using Venmo to Collect Rent Money
Venmo is a great money transfer app for sending money to friends or buying goods online. However, this fact leads to many misconceptions as being a good app for landlords. In addition, Venmo lacks payment controls for tenants and landlords. In the end, using Venmo for rent payments could severely impact your rental business.
Rentdrop vs. Venmo For Rent Money Payments and Collection
Rentdrop is an online rent payment system that includes vital payment controls for tenants and landlords. You get the convenience of Venmo, but without the hassles it causes landlords. Rentdrop incorporates the features you require to run a successful rental business.
Here is a list of features that come as standard in Rentdrop:
No subscription fee for landlords or tenants
Landlords can block a partial payment
Send automatic rent reminders to tenants
Accept rent payments by debit card, credit card, or ACH bank transfer
Landlords don't pay a fee for a credit card rent payment
Payment receipts and reporting
Rent reporting to credit bureaus (coming soon)
Automatically calculate late payment fees
View rent payment history
Tenants can make one-time payments or

set up automatic rent payments

Split rent option for roommates
How much does Rentdrop cost landlords?
Rentdrop is free rent payment for landlords to use. There is no subscription fee and no fees for incoming direct deposit payments. In addition, all the rent collection features of Rentdrop are in the standard package, with no additional costs.
How much does Rentdrop cost tenants?
Rentdrop is free for tenants to use, and tenants can use various payment methods. Therefore, tenants can make debit card payments for free, and there are no fees for bank transfers. The only cost for tenants is when paying rent by credit card. This means that, unlike Venmo, there are no credit card transaction fees for landlords to pay.
In Conclusion
Compared to Rentdrop, Venmo is a terrible online rent collection option for landlords and rental property owners. Also, for tenants, Rentdrop is superior to Venmo because it allows for automatic payments and splitting rent with roommates.
Sign up to Rentdrop today to discover how easy it is to pay or collect rent online and simplify the rental process.