Collecting rent money regularly is a major pain point for many landlords. Most landlords face two issues with the rent payment process. First, paying rent in cash is not secure because cash payments are difficult to document. Second, processing a rent check takes time, potentially impacting your rental income and cash flow. These are just two reasons to consider other solutions for collecting rent money online.
But which is the best online rent payment system for your rental business? After all, you want to make it easy and secure for tenants to make on-time rent payments. And the rent collection process should be simple and give you various rent payment options to streamline your business.
Because income from rent is a considerable part of your income, it's worth considering anything that simplifies the rental process.
Zelle is a popular online payment app to send money to friends and pay bills — including monthly rent payments. The benefit of using Zelle to pay rent is that the funds arrive directly into your bank account. This is safer, faster, and more secure than accepting cash payments in person. It is also a great alternative to paper checks.
But should you collect rent money online using Zelle? You may be surprised to find out that there are better alternatives to Zelle for rent payments. For example, many savvy landlords use a dedicated rent collection app for online payments.
This article examines whether using Zelle for rent payments is a good idea. Additionally, you'll learn about methods to collect rent money online that are designed for landlords and tenants.
What is Zelle?
Zelle is a mobile payment app that allows you to transfer money between bank accounts. Zelle acts as a payment gateway, meaning you don't hold funds in the app, but you access them directly through your bank. This is different from a peer-to-peer payment app like PayPal or Venmo.
Why Pay Rent Money Online?
The main reason to make online rent payments is that it's safer and more straightforward for tenants. They don't have to remember to write the paper check and mail it on time. In addition, paying rent online means they are sure you have received the payment.
There are also additional advantages when using a payment app to send rent money online. For example, many apps have an autopay option for recurring rent payments. Also, online rent payments are more transparent because there is a digital payment record.
Why Collect Rent Money Online?
Smart landlords recognize the benefits of switching to online rent payments. For example, processing a rent check takes time, and there is the risk of the check bouncing. Also, using an online rent payment tool allows tenants to pay rent by debit card, credit card, or bank deposit.
One of the most compelling reasons to collect rent online is that it's the preferred payment method for most people. According to reports, online payments using digital apps will account for 52.2% of all e-commerce transactions by 2023.
Can You Use Zelle To Pay Rent Online?
A tenant can use Zelle to send rent money to a landlord. But, first, the landlord will also need a Zelle account to accept the rental payment. The cost to use Zelle for rent payments depends on your bank or credit union. Also, Zelle's transfer limits depend on whether the tenant's bank offers Zelle.
Unfortunately, many landlords find it impossible to collect rent using Zelle. According to Zellepay.com, using Zelle for business transactions depends on the type of business bank account. And not all banks that offer Zelle to consumers also provide it for small businesses.
5 Reasons to Avoid Using Zelle to Collect Rent Money Online
Tenants can pay rent money with Zelle, but it's another question if landlords should accept these electronic payments. Issues like no automatic payments, blocking a partial payment, legal and compliance concerns, and possible errors all combine to make Zelle a lousy option for rent payments.
Let's look in more detail as to why it makes sense to look for a Zelle alternative.
1. Zelle doesn't allow landlords to block a partial payment
One of the biggest concerns for landlords is you can't decline a Zelle payment. This vital feature of rent collection apps is necessary during an eviction process. Landlords usually have to decline all rent payments not made in full. Otherwise, a delinquent tenant could easily derail eviction proceedings.
Rentdrop is superior to Zelle for rent payments because the landlord can stop a partial rent payment. So, suppose you are evicting a tenant for non-payment of rent. In that case, you must have the option to decline payments that are less than the entire rent amount. Rentdrop gives you control over rent payments.
2. Zelle limits transfer amounts
Zelle payment limits can also make using the app problematic for tenants. For example, Zelle, the limits are determined by the financial institutions involved in the transfer. Additionally, Zelle restricts payments to $500 per day if the bank or credit union doesn't support Zelle.
Even if your bank or credit union supports Zelle, there are still limits on how much money you can transfer. For example, the Bank of America imposes a daily transfer limit of $15,000 and a $60,000 monthly limit on a small business account. This could make accessing your money difficult if you manage several rental properties.
Some banks have even lower Zelle limits. For example, Citizens Bank doesn't allow a tenant to send more than $1000 a day. So, they would have to make multiple payments if their rent is more. In addition, all payments made through Zelle—not just rent payments—count toward the daily, weekly, and monthly Zelle limits.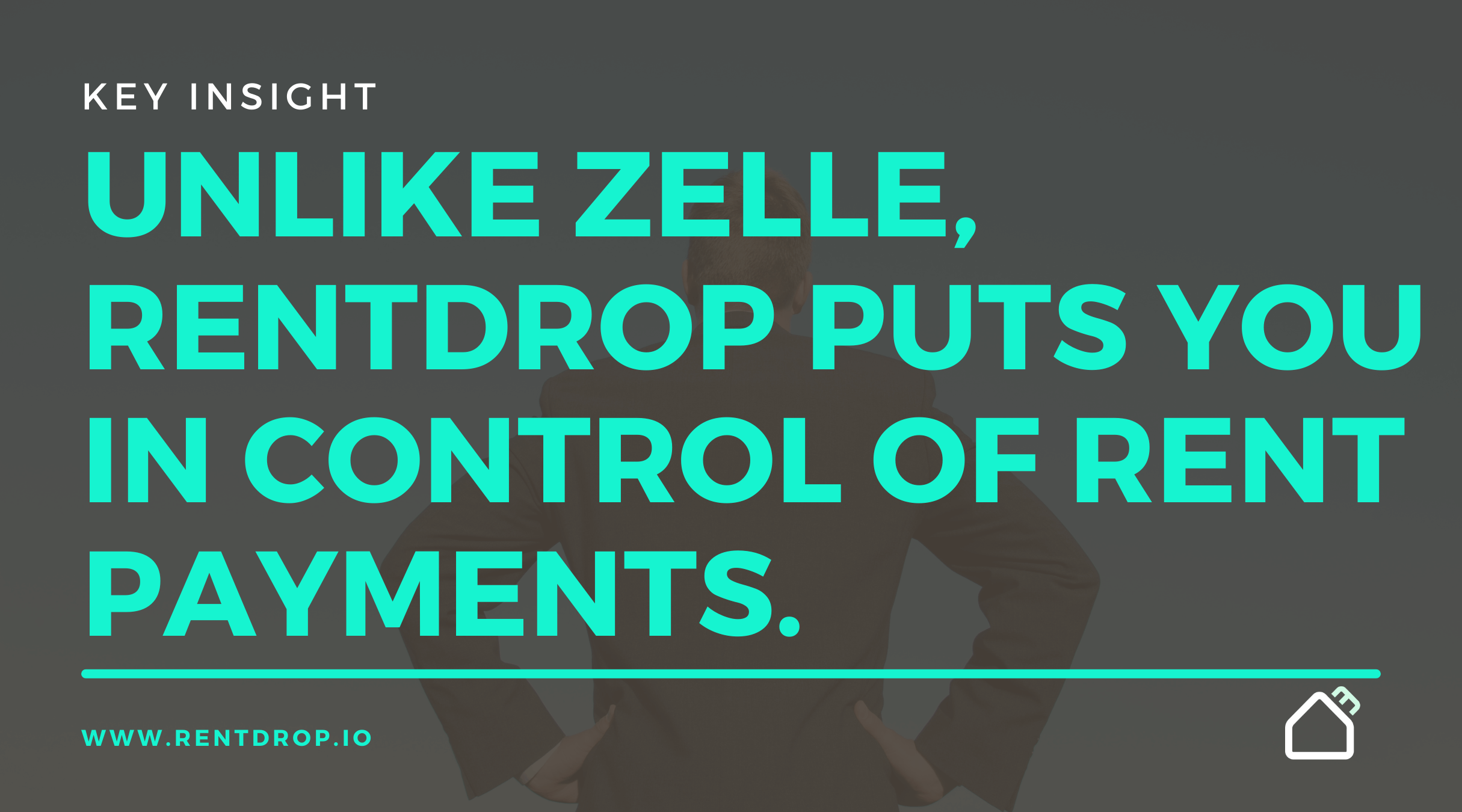 3. Zelle pending payment issues
Sometimes Zelle payments can get stuck on pending, which can cause landlords nightmares. It means that technically, the tenant has paid rent. However, rent money never arrives in your bank account. And it may not be the tenant's fault that there are Zelle payment pending issues.
Reasons why Zelle shows payment pending:
The tenant entered the wrong information
The tenant account shows suspicious activity, and Zelle temporary puts all payments to pending
In some cases, the "Zelle Stuck on Pending" is because the landlord's account is blocked
The Zelle payment pending status could show up because of issues with the bank or credit union.
How long does Zelle pending review take?
The Zelle pending review takes up to 14 days. During this time, the tenant may see messages on Zelle like "Awaiting Review" or "Pending Review." If for some reason, the payment fails, the money is returned to the sender's bank account.
4. No automatic rent payments with Zelle
Zelle lacks an important feature that most tenants want — recurring payments. For most tenants, setting up automatic bill payments is convenient. They simply set the amount to transfer and the date each month. This payment schedule keeps them organized and ensures that they know when payments are due.
Rentdrop makes it easy for tenants to set up automatic rent payments. This vital feature is not just useful for tenants. Landlords also benefit from recurring payments because it minimizes late payments and rent defaults. Therefore, using Rentdrop helps to stabilize rental income and cash flow.
5. Easy to make misdirected payments
One reason to avoid Zelle, Venmo, and PayPal for rent payments is that it's easy to send rent money to the wrong person. For example, Zelle bank transfers are instant, and the rent money arrives in minutes. However, if the tenant makes a mistake with the contact details, the wrong person could receive the money.
Related reading: Venmo or Zelle for rent payments – which is best?
Can you cancel a Zelle rent payment?
Unfortunately, it's not possible to cancel a Zelle payment. According to the Zellepay website, "if your recipient has already enrolled with Zelle, the money is sent directly to your recipient's bank account and cannot be canceled." So the only way to cancel a Zelle payment is if the recipient (landlord) doesn't use Zelle.
How to Block Someone on Zelle to Decline a Payment
The option to block someone on Zelle may seem like a way to stop an unwanted rent payment. But unfortunately, there is no way to block a sender (tenant) and restrict them from making a partial rent payment.
To prevent a rent payment from going through, you could contact your bank. However, it's up to the financial institution how they do this. But Zelle users can't restrict a delinquent tenant from sending a partial rent money payment on Zelle.
The answer to the question, "can you block someone on Zelle" only applies to blocking someone from sending money requests.
Can You Collect Rent Money for Free Using Zelle?
Zelle doesn't charge landlords transaction fees for online line rent collection. This means you can accept rent payments from tenants without incurring extra costs. However, you may have to pay business fees to your bank. For example, the US Bank charges 2.5% per transaction, whereas the Bank of America has no transaction fees.
What Are the Zelle Alternatives For Rent Collection?
Because Zelle isn't ideal for rent payments, it's best to look for another online rent collection service. There are several dedicated apps that help landlords collect rent on time and process rental payments. There are property management apps like Buildium that have costly subscription fees. Or there are other free rent collection apps like TurboTenant that have basic rent collection options.
Rentdrop — A Trusted Mobile Rent Payment App
Rentdrop is an online rent collection platform that has the convenience of Zelle but with a range of features for tenants and landlords.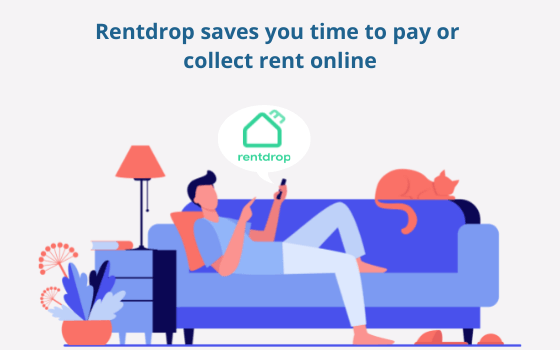 What makes Rentdrop a better option for running a successful rental business? Here are eight reasons why tenants and landlords Rentdrop rather than Zelle.
Rentdrop blocks partial payments
Unlike Zelle, Rentdrop makes it easy for landlords to block a partial payment. The feature is invaluable if you must start eviction proceedings for a lease violation. It means that you either force the tenant to pay the rent amount in whole or evict them faster.
Rentdrop is free for landlords and tenants
Rentdrop is a fee-free app for landlords and tenants. Therefore, tenants can pay rent by making an ACH bank deposit, debit card, or credit card transaction. There is no processing fee for debit cards or bank transfers. They only pay a small standard fee if they make a credit card payment.
Landlords never have to pay any fees to collect rent money online. But, unlike Zelle, which may or may not have fees associated with using it, you don't have to calculate additional costs.
Automatically calculate late fees with Rentdrop
A feature of Rentdrop lacking in Zelle is automatic late fee calculation. For example, suppose a tenant makes a late rent payment. In that case, Rentdrop calculates the exact amount of fees based on the grace period, number of days late, and local rent control laws.
This handy feature saves you valuable time when charging fees for overdue rent. In addition, it also helps in preventing mistakes and getting into disputes with tenants.
Report rent payments to credit bureaus
One of Rentdrop's handy features is that it reports on-time rent payments to credit bureaus (coming soon). Reporting rent payments to credit bureaus creates a strong incentive for tenants to pay rent on time. It's also a way to persuade them to switch over to paying rent online.
Automatic rent reminders
A simple way to prevent missed rent payments is to send automatic rent reminders. Unfortunately, a peer-to-peer payment service lacks this vital feature for landlords. But with Rentdrop, you can send friendly reminders before the rent due date.
Recurring rent payments to help tenants pay rent on time
One of the most valuable features of Rentdrop is the autopay feature. This allows tenants set recurring rent payments. Not only does this save your tenants time, but you ensure they never forget to pay rent in the future. This valuable feature for tenants is missing in Zelle.
Rentdrop accepts various forms of payment
Rentdrop is a great way to avoid getting paid rent by check and start accepting online payments. Although Zelle is great for bank-to-bank transfers, paying rent using a credit card can be problematic. Many tenants prefer credit card payments to take advantage of cashback offers.
Rentdrop lets tenants split the rent between roommates
Another handy feature of Rentdrop is the split rent feature. Suppose you have a multi-tenancy rental property. In that case, it makes sense that each roommate on the lease agreement is responsible for their share of the rent. Co-tenants who use Rentdrop can make rental payments directly to you.
The split rent feature of Rentdrop helps reduce disputes between tenants and facilitates on-time rental payments every month.
Use Rentdrop To Collect Rent Money Online
Rentdrop is rent collection software that saves you valuable time. While Zelle is fine for initiating bank-to-bank transfers, it lacks the functionality of a fully functional rent payment platform. Rentdrop has all the features your tenants need to make rent payments on time.
If you are a landlord, you'll appreciate Rentdrop's payment controls. You also get payment notifications, access to payment history, rent reminders, rent reporting, and fast payment processing times.
Why not sign up for Rentdrop today to see how simple it is to collect rent money online and streamline your rental business. In addition, Rentdrop has no subscription fee and no additional costs to landlords.