What is the best way to collect rent money online and on time every month? You have probably asked yourself this question if you are a landlord. After all, collecting rent money is one of the biggest pain points for landlords. Late rent payments don't just raise your stress levels. They severely impact your rental income and cash flow, causing financial headaches.
Getting tenants to pay rent money on time can be challenging. Some tenants are always late with the rent and have a barrage of excuses every month. Other tenants may occasionally forget to pay rent or are dealing with their own cash flow issues.
Collecting rent money is key to a successful rental business. Therefore, it makes sense to use a straightforward rent payment method. This rent payment system should be easy for tenants to pay rent and offer incentives to pay rent on time. Additionally, the online rent payment app should have the payment controls you need to run a profitable business.
This article explores the rising trend of using digital wallets to pay rent money online. You will find out the pros and cons of using Venmo, PayPal, and Zelle for rent payments. Also, you get valuable tips on how to find the best digital payment app to collect rent money online
How to Collect Rent Money From Tenants
The best way to get tenants to pay rent money is to use a fast and convenient rent payment service. Paying rent online is more secure and faster than traditional rent payment methods. In addition, tenants can make rent payments wherever they are, and you can collect rent money without leaving home.
Some studies indicate that cash payments, rent checks, and money orders are still the most common payment method. For example, a study published by Harvard Business School found that paying rent money in cash or check accounts for 64% of rent payments.
However, more tenants are choosing to make rent payments electronically. For example, reports indicate that since 2019, credit card payments for rent have increased by 59%. Also, 31% of consumers would switch payment methods if it meant a faster payment processing time.
Should You Accept Cash for Rent?
It is best to discourage tenants from paying rent in cash because it is risky. Cash payments are typically inconvenient, and they don't leave a paper or electronic paper trail. Cash payments also make extra work for landlords having to record cash rent payments in a ledger. Additionally, cash is tangible, and it is easy to lose or get stolen.
So, although tenants can pay rent in cash, it's best to discourage the practice.
Related reading: The risks of paying rent in cash.
Why Avoid Paper Checks to Collect Rent Money
Collecting rent checks remains one of the most popular rent collection methods. However, accepting a personal check from a tenant isn't the best option. Rent checks take time to process, and there is the risk of them getting lost or arriving late. Also, it takes time to record and track rental payment history.
Related reading: The best alternatives to receiving rent checks.
Mobile Payment Apps To Collect Rent Money on Time
Collecting rent money online ensures fast payments and makes it easier to manage rental payments. Tenants can pay rent with a debit card, credit card, or bank deposit. And landlords get rent money in their account in a matter of minutes, not two or three business days.
Digital wallets are a popular method for paying rent. Peer-to-peer payment services are easy to use, and tenants can pay rent for free. But are these digital payment services the best option for collecting rent money on time?
Let's look at three of the most popular online payment apps people use to send money to friends and pay bills.
How to Use PayPal to Collect Rent Money
Tenants find it easy to pay rent with PayPal. They can connect a debit card, credit card, or bank account balance. The tenant transfers rent to your PayPal account by entering your contact details. The money usually arrives instantly. From a tenant's perspective, PayPal is an easy rent payment solution.
However, PayPal has several drawbacks for landlords. First, PayPal lacks payment controls, meaning that you can't block a partial rent payment. This means that PayPal could hamper your ability to evict a tenant for non-payment of rent.
Another reason why PayPal isn't great for collecting online rent payments from tenants is that landlords must pay a fee per transaction. For example, PayPal fees for a business account are 3.49% plus 49 cents per transaction. This means that PayPal fees for rent payments can amount to hundreds of dollars over a year.
Other reasons landlords should avoid PayPal to collect rent money include no automatic payments, no payment protection, and the inability to charge late fees automatically.
Pros of PayPal:
Easy for tenants to pay rent money online
Instant transfers
Tenants can use various online payment methods
Cons of PayPal:
Landlords can't block a partial rent payment
High fee for landlords to collect online rent
No option for roommates to split rent
Tenants can't set up recurring payments
No rent reminders
PayPal doesn't report rent payments to credit bureaus
Related reading: Rentdrop vs. PayPal for rent payments.
How to Use Venmo to Collect Rent Money
Venmo is a type of digital wallet that lets a tenant pay rent money directly to the landlord. Like PayPal, Venmo facilitates instant money transfers that can't be reversed. If the tenant forgets, landlords can also use Venmo to request a rental payment.
Unfortunately, Venmo causes the same problems for landlords that PayPal does. Although Venmo fees are cheaper, the payment app is still expensive for landlords to use. Additionally, there is no purchase protection, no ability to decline a Venmo payment, and you can't send tenants automatic rent reminders.
One of the disadvantages of Venmo compared to an online rent collection app is there is no incentive for tenants to pay rent on time. For example, tenants can't set up recurring payments. This increases the risk of late or missed rent payments. Additionally, there is no way to report rent payments to credit bureaus.
Pros of Venmo:
It gives tenants the ability to pay rent money online
Use multiple digital payment methods, including Venmo balance
P2P payments are typically instant
Cons of Venmo:
You must have a Venmo business account to accept rental payments
Impossible to block a partial Venmo payment
No split rent option for tenants
No feature to

set up recurring payments

Impossible to report rent payments to credit bureaus
It's easy to pay the wrong person
Related reading: 8 reasons to look for a Venmo alternative.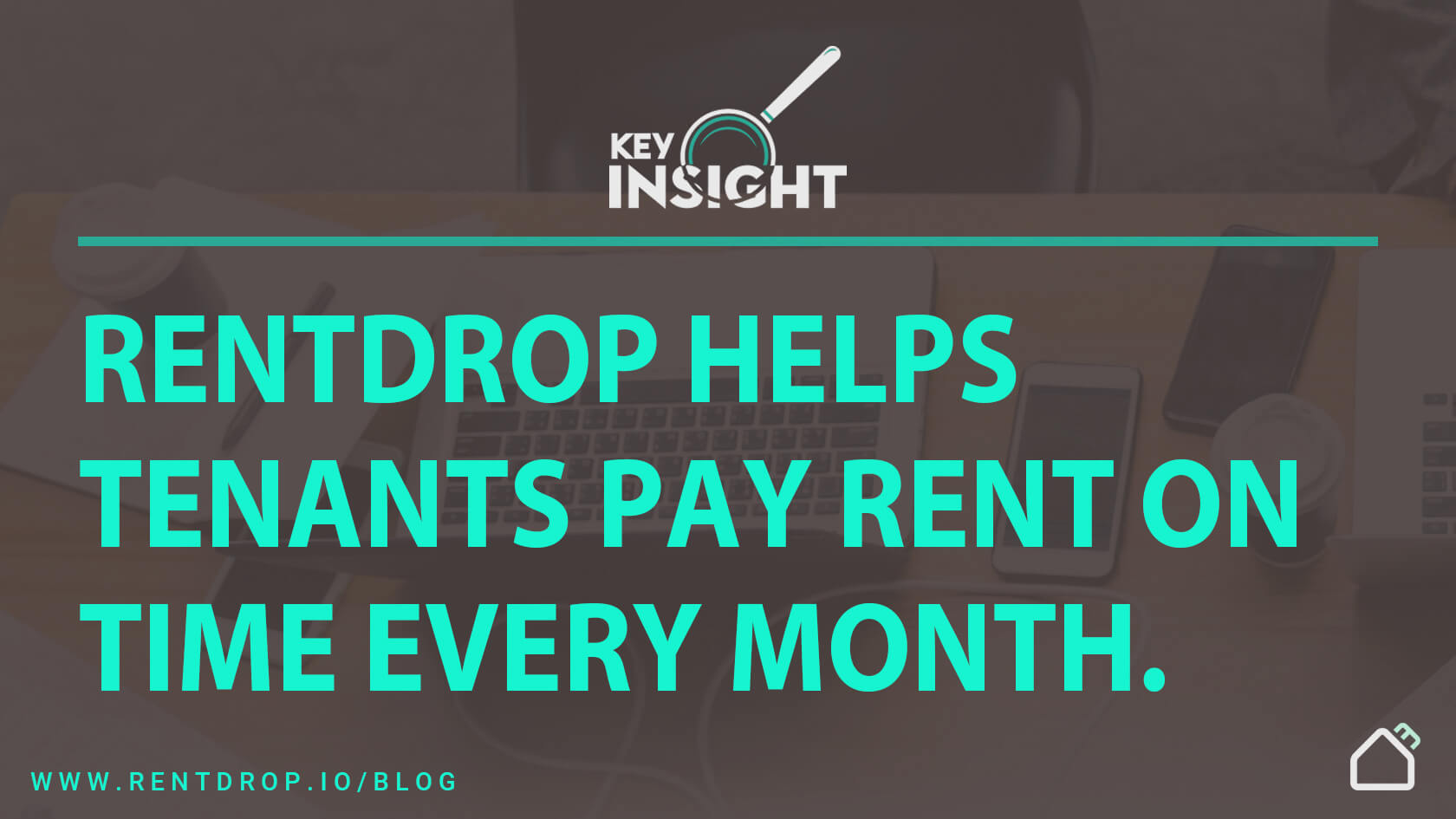 How to Use Zelle to Collect Rent Money
A tenant can use Zelle to send rent money to their landlord by connecting their bank account to the app. However, unlike PayPal and Venmo, Zellepay works as a banking app rather than a peer-to-peer payment service.
There are a few things for landlords to be aware of when using Zelle for rent payments.
First, Zelle fees depend on your bank or credit union. And your bank may not support Zelle business payments, even though it supports personal transactions. Additionally, your bank may have limits on Zelle transfers that could seriously impact your cash flow.
It's also vital to remember that Zelle isn't an app for landlords. That means it lacks crucial payment processing options to control rent payments. For example, recurring rent payments are dependent on the bank, not Zelle. Also, you can't block a partial payment, making it difficult to evict a delinquent tenant.
Pros of Zelle:
Straightforward for a tenant to pay rent online
Connects directly to your bank account
Fast rent payments
Cons of Zelle:
Impossible to

block a partial Zelle rent payment

The bank sets transfer limits and fees
Not all banks and credit unions support Zelle for business payments
No automatic rental payments
No option to automatically charge late fees.
Related reading: Should you collect rent money with Zelle?
Rent Payment Apps — Ways to Simplify Collecting Rent Money Online
Although digital wallets transfer money from tenants to landlords faster, they don't help tenants pay rent on time. This is because peer-to-peer payment apps lack tools for landlords to manage rent payments effectively. Rent payment apps include incentives to encourage on-time rent payments.
Let's look at some valuable ways a dedicated rent payment app helps landlords and rental property owners collect rent online and on time. As an example, we'll look at the features of Rentdrop—a trusted online rent payment service for landlords and tenants.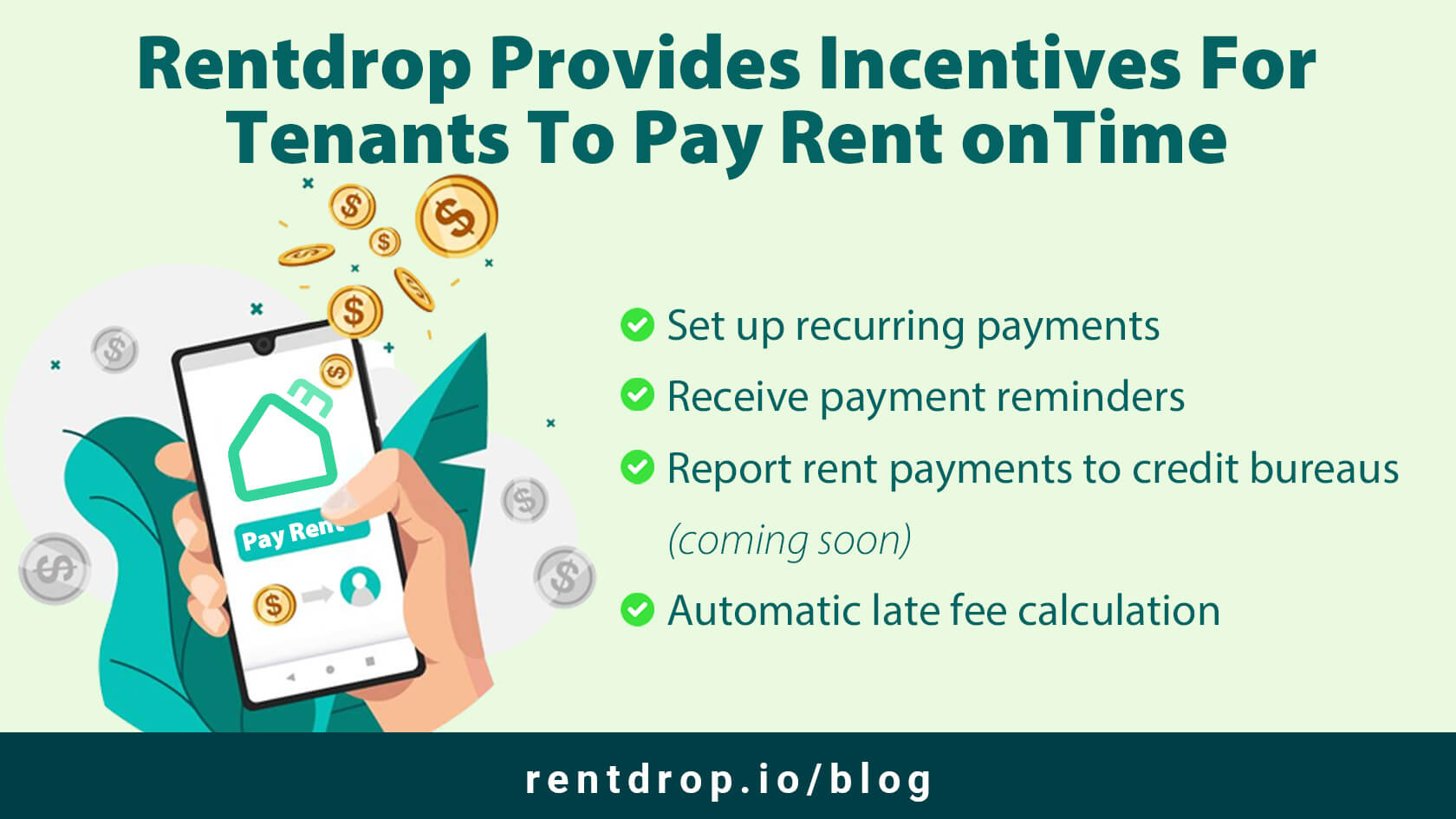 Tenants can set up recurring monthly rent payments
One of the best ways to avoid late payments is to give tenants the option to set up automatic rent payments. Tenants set the payment schedule once and then forget about it. This means they don't have to remember to mail a rent check or transfer rent money each month.
Rentdrop makes it easy for tenants to set up recurring payments.
Mobile rent collection apps report payments to credit bureaus
Rent reporting to the major credit bureaus is a great way to encourage on-time payments from tenants. Tenants can use rent reporting to improve their credit rating by including rental payment history. This, in turn, gives tenants a strong incentive to pay rent on time every month.
Rent reporting is soon to be a feature of Rentdrop. Offering this valuable service to tenants can also encourage them to pay rent online. At the same time, you set yourself apart from the competition because very few landlords offer this service.
Landlords send automatic rent payment reminders
Sending payment reminders to tenants is another way to promote on-time rent payments. We're all busy people, and it's easy to forget important tasks. Therefore, a friendly reminder that the rent due date is approaching may be the simplest way to collect rent on time.
Automatically calculate late fees
Automatic late fee calculation is a vital option for a rent collection app. Unfortunately, digital payment apps like Venmo, PayPal, and Zelle don't have this feature. So how does automatically calculating late payment fees help tenants pay rent on time?
Late fee calculation is time-consuming, and some landlords may be tempted to forgo this if it's only for a minimal amount. However, this could cause tenants to start making habitual late payments. And an occasional late payment could turn into regular late payments.
A rental payment app like Rentdrop does the hard work for you to calculate late fees. And because it happens automatically, you don't have to worry about it.
Collect Rent Money on Time With Rentdrop
Rentdrop has the convenience of digital wallets for fast, efficient, and direct rent payments. However, Rentdrop includes vital tools for simplifying the rent collection process. As a result, the payment app is straightforward for tenants, and it's easy for landlords.
Here are some of the features of Rentdrop to help collect rent money on time.
No subscription fees for landlords
Tenants don't pay a transaction fee for debit card or ACH bank transfers
Tenants, not landlords, pay credit card processing fees
Block a partial payment during an eviction process
Tenants can set up recurring rent payments
Automatically calculate late fees
Send reminders to tenants about upcoming payments
Rent reporting to credit bureaus (coming soon)
Split rent with roommates option
Sign up for Rentdrop today to see how easy it is to collect rent money online and on time every month. Tenants will be able to set up recurring payments and never miss the rent due date. In addition, you can send automatic payment reminders and offer to report rent payments to credit bureaus.