Do you collect rent using Cash App, Zelle, or Venmo? If so, you are among the thousands of landlords that use these mobile apps for rent collection. Of course, you use these apps because they are convenient. And that is true. But do you know the risks of using these payment apps to run a rental business? Apart from losing money in transaction fees, you could find it harder to evict tenants who pay rent with Venmo, Zelle, or Cash App.
Savvy landlords who want to run a successful landlord business used dedicated rental payment apps to collect rent. RentDrop is a rent collection app specifically for landlords to collect rent for free. RentDrop makes paying and collecting rent straightforward. But RentDrop allows you to do many other landlord tasks that are impossible with Cash App, Zelle, and Venmo.
Imagine running your landlord business from one convenient app. That's what RentDrop offers. With RentDrop, you can:
collect security deposits
process rental applications
handle maintenance requests
split rent payments
collect rent for free
And it doesn't even cost you anything to use. So, what's the catch? There is none.
Cash App, Zelle, Venmo, and RentDrop Compared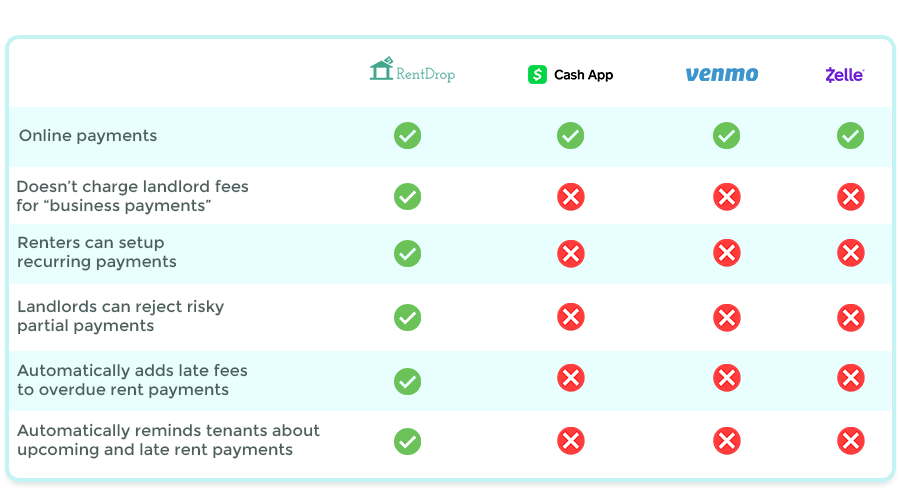 Why RentDrop is Superior to Mobile Payment Apps
You probably know that most of your tenants want to pay rent online. Cash App, Venmo, and Zelle are convenient digital wallets to request and send money between friends. The problem is that these peer-to-peer apps are not designed for businesses. They fail to offer the financial protection for landlords that RentDrop does.
For example, if you decide to Venmo for business transactions, you get hit with a 3% transaction fee. Some payment apps charge up to 5%. Depending on the number of rental units you have, you could be hundreds of dollars a month out of pocket. Can you afford that? RentDrop allows you to accept debit cards, ACH, and eCheck payments for free.
Here are a few scenarios where RentDrop protects your landlord interests where digital wallets could put your rental business at risk.
Suppose a tenant sends their rent payment to the wrong person by mistake? They may never get the money back. So, you lose a month's rent or must charge them late payment fees. RentDrop ensures that all your tenants' payments securely arrive in your bank account.
Now, what if you've got a delinquent tenant that you need to evict? You can't prevent them from paying part of the rent. So, even if they pay 1$ in rent by Venmo, Cash App, or Zelle, you can never evict them. RentDrop protects your interests because you can restrict partial payments.
Here's another pain point that many landlords have —late rent payments. Let's face it — we're all busy — you and your tenants. So, it's inevitable a tenant will forget to pay rent. But most cash apps don't allow you to set up recurring payments or send reminders? So, what's the RentDrop solution? Set up regular payments or send friendly reminders before rent is due.
Pros and Cons of Cash App, Zelle, and Venmo for Rent Collection
Here are the pros and cons that can help you decide if digital wallets are worth it for collecting rent:
Pros:
Easy to use
Send money instantly to anyone
Cons:
Costly fees for business transactions
No payment protection for landlords
Tenants can make partial payments
No recurring payments
Why Use RentDrop for Rent Collection
No transactions fees
Restrict partial payments
Set up recurring debit card or ACH payments
Automatically calculate late fees
Accept security deposits
What's more, there is no cost to you as a landlord for using RentDrop. All the features of the app are free forever.
We are sure that RentDrop will help streamline your rental business. If you want to be one of the first to use it, sign up for our Waitlist today.