The Cash App limit for rent payments could impact the cash flow of your rental business. Unless you are a verified user, letting your tenants use Cash App to pay rent could limit how much money you can transfer. Although the Cash App weekly limit resets, you will find it impractical to use the mobile payment app to collect rental payments. However, there are more reasons than the restrictive Cash App limit to avoid using this software.
Using a peer-to-peer transfer app like Cash App for accepting rent payments is better than cash or rent checks. And, most renters prefer using a mobile device to make payments.
Of course, mailing a personal check is not great for landlords. Checks can arrive late or not arrive at all. Also, by the time you cash the check, there may not be sufficient funds in the tenant's account, and the check will bounce. Additionally, personal details on a rent check could put you at risk of identity theft or fraud.
Digital wallets like Cash App, PayPal, and Venmo are more secure ways of transferring money. The transaction is encrypted, and the money arrives instantly in the recipient's account. So, it would seem that Cash App would be ideal for rent collection. And while it might be free to receive money on Cash App, limits to its functionality for landlords mean it's worthwhile to look for alternatives.
Rentdrop is a solution for landlords to resolve issues with collecting rent. This rent payment software is specifically designed for landlords and tenants to make secure rental payments. Additionally, unlike the limits of Cash App, Rentdrop has plenty of features tenants and landlords love. If you're interested to see how Rentdrop can benefit your rental business, sign up for free today.
If you are a landlord using Cash App for rent collection, you may be wondering why you should consider alternatives. This article examines several Cash App limits for rent payments.
What are Cash App Limits for Rent Payments?
Cash App limits receiving rent payments to $1,000 in a 30-day period. If you want to send money, then Cash App only lets you send up to $250 in a seven-day period. To increase your Cash App limits, you need to verify your identity. For this, you must use your full name, date of birth, and your Social Security Number (last four digits).
To verify your account and increase the Cash App limit, you can increase the amounts to receiving an unlimited amount of cash and send up to $7,500 a week. While these amounts seem suitable for running a successful landlord business, it's good to remember that Cash App charges fees for business transactions.
Related reading: The risks of using Cash App for rent collection.
When Does Cash App Weekly Limit Reset?
The Cash App weekly limit resets after the number of days passed since the transaction, rather than a particular day of the week. To check when the limit resets, you must check your payment history to find the transaction date. So if you received a rent payment on the 28th, the Cash App limit resets precisely 30 days later.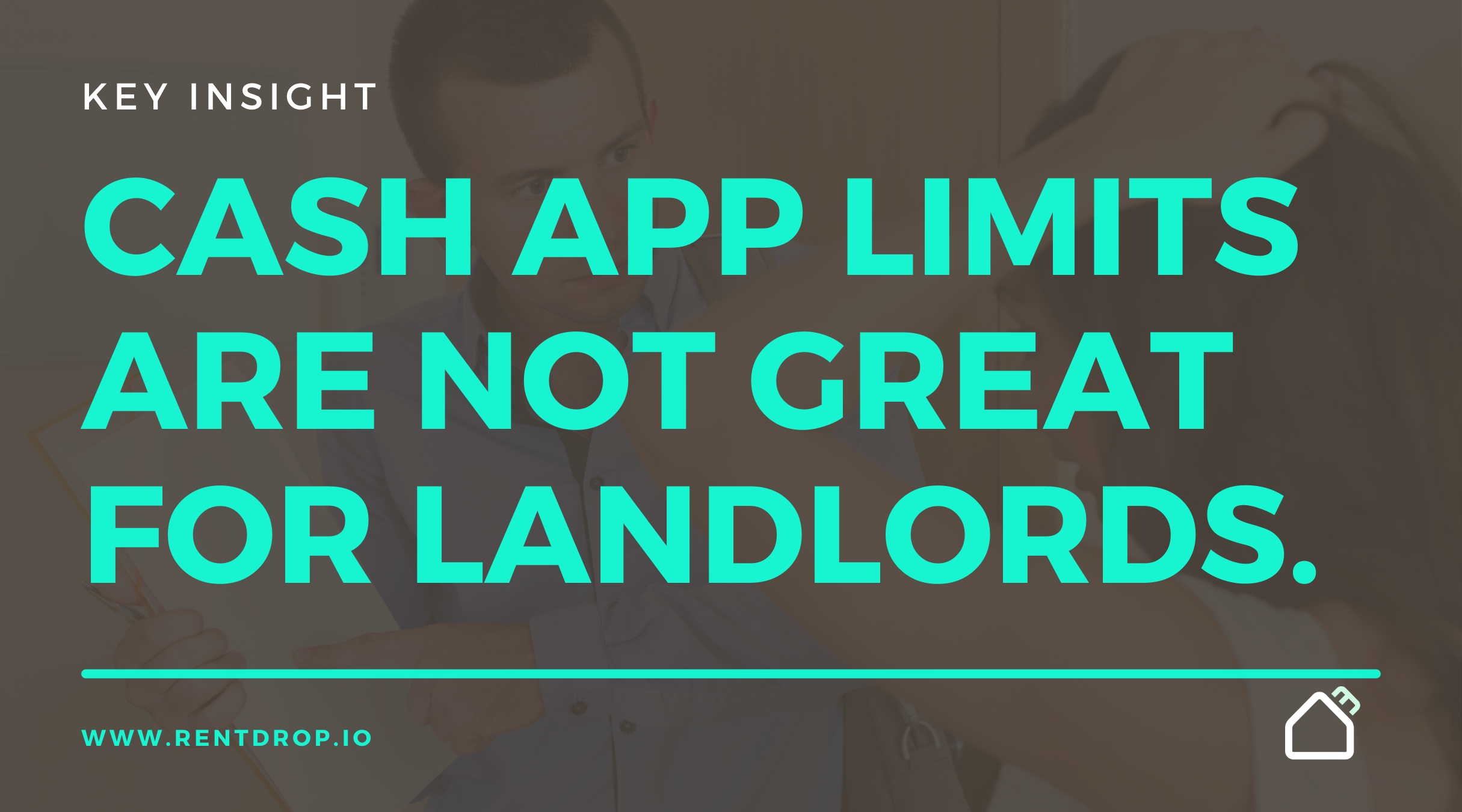 You Can Use Cash App to Pay Rent — But Should You?
Running a successful rental business requires having a robust and streamlined method to collect rent. With a busy schedule, you cannot afford to be standing in line to cash rent checks. And you can't have limits on transactions or be paying unnecessary Cash App fees.
Also, your tenants will feel happier if you can provide them with a secure and straightforward way to pay rent. For example, tenants find it easier to pay rent on time by setting up automatic payments. While Cash App doesn't limit recurring payments, it lacks the tenant-friendly features of a mobile payment app like Rentdrop.
Here are some compelling reasons to switch from Cash App and look for suitable alternatives for rent collection.
Cash App limits some transactions
Unless you are a verified user, Cash App limits the amount of money you can receive in a month. With average rents around $1,400 and the Cash App limit of $1,000, you can see why it's not a great app for landlords. However, even with the limits removed, Cash App is problematic for running a successful rental business.
Cash App charges landlords fees for rent payment
Unlike free rent collection apps like Rentdrop, Cash App business transactions—including receiving rent—incur fees. For each rent payment you receive, Cash App charges 2.75 percent. If you want to withdraw cash instantly, you must pay a 1.5 percent transaction fee.
But you thought that Cash App was free to send and receive money. It is free to send money to friends or receive money from friends. However, you—not the tenant—must pay a hefty transaction fee for each rent payment transaction.
Suppose you manage three rental units, charging an average of $1,400 for each apartment rental. That means you lose over $115 a month in Cash App business transactions.
Now, let's say that you need to get cash fast and can't wait two or three business days for the transfer. In that case, you must pay a 1.5 percent fee for the instant Cash App transfer.
That seems like a lot of money in transaction fees for landlords to pay for an app that is not designed to collect rent.
Cash App doesn't limit partial payments
One reason to look for an alternative to Cash App is that you can't block partial payments. This weakness of a peer-to-peer money transfer service means that you may find it impossible to evict a bad tenant for nonpayment of rent. Even if a tenant is in rent arrears makes a Cash App transaction of a few dollars, the eviction process gets halted.
Cash App lacks tenant-friendly features
A typical peer-to-peer payment service lacks functions that make paying rent straightforward. Typically, apps like Cash App only have basic transfer features for making a personal transaction. However, Cash App limits a tenant's ability to split rent with roommates. Additionally, it isn't easy to keep track of rent payments because all transactions are grouped together.
Cash App is not designed for landlords
There are serious flaws in Cash App when using it for rent payments. This means that it's wise to look for alternative forms of payment. Here are a few things to consider if you use Cash App to collect rent.
No purchase protection: With Cash App, it is easy for a tenant to pay the wrong person. A Cash App to Cash App payment is instant. If the tenant accidentally transfers cash, there is no Cash App support to resolve the issue. It's up to the tenant to retrieve the money. During this time, you don't receive any rent cash.
No landlord-friendly features: Cash App doesn't allow you to process a security deposit, automatically charge late fees, or set up

flexible rent payment schedules

for tenants. It will be challenging to track all your tenants' rent payments if you manage several rental units. Additionally, you can't use Cash App to communicate with tenants.
No control over payments: Using Cash App as a form of payment puts tenants in control. If you're a landlord, this is a serious issue. It means you can't enforce late fees, send reminders, or block a partial payment. These are vital features that

rent collections apps

feature as standard.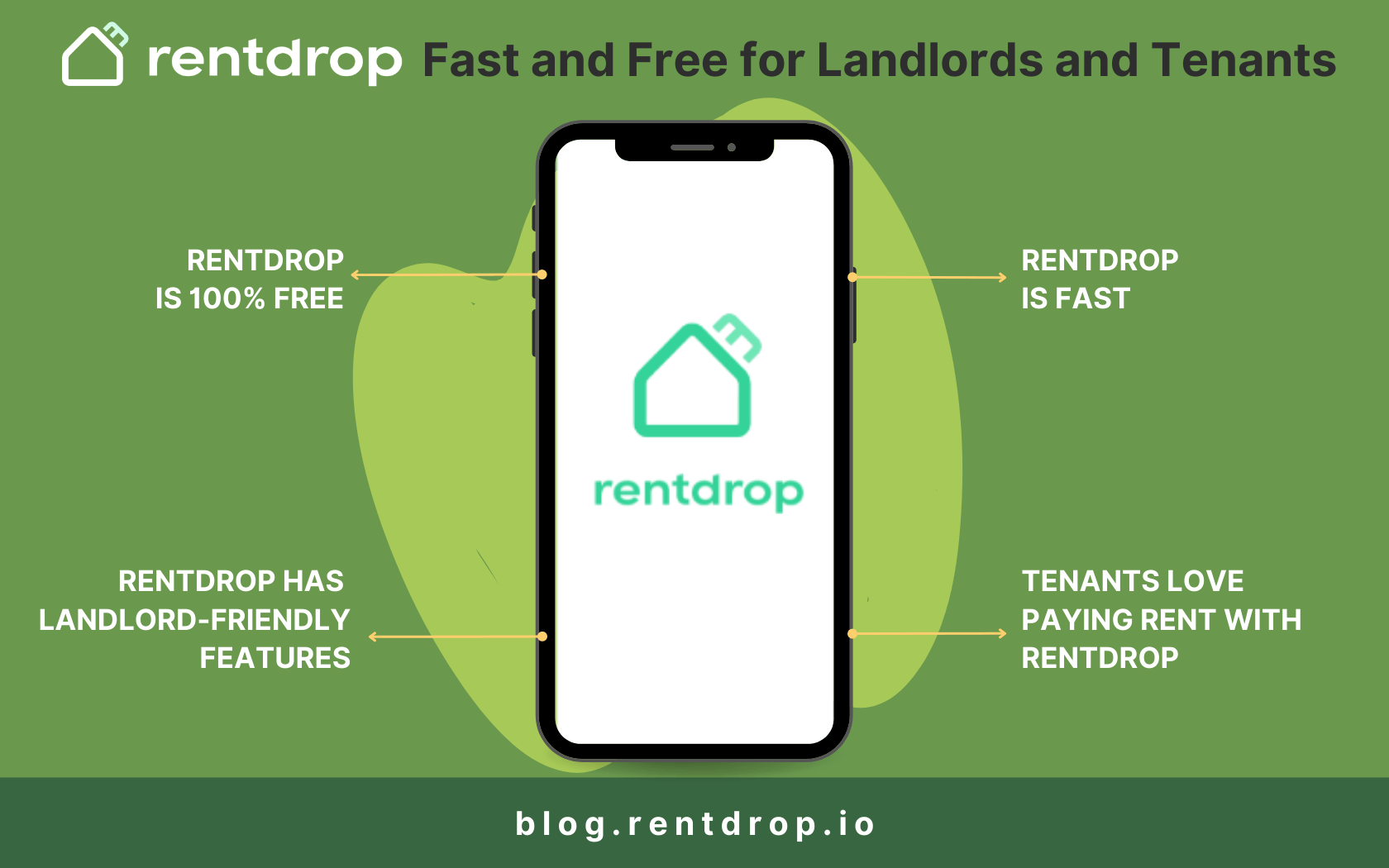 It's Not Safe if Tenants Pay Rent with Cash App
Even though tenants can pay rent with Cash App, it's not safe for landlords.
Letting your tenants pay rent with any form of peer-to-peer service can put your business at risk. This is because you hand over payment control to tenants and can find it challenging to keep track of payments.
For example, if a tenant doesn't enter the correct email address, the money goes to the wrong person. Additionally, suppose you accept rent money via Cash App. In that case, you let a tenant pay any amount—including a partial rent payment. This could result in being unable to evict someone.
Why Choose Rentdrop Instead of Cash App
Rentdrop is an app for collecting rent that landlords and tenants love. Because it's specifically designed to run a rental business, it has features that make receiving rent payments on time easy.
Here are some of the benefits of using Rentdrop:
Rentdrop is free: There are no fees associated with receiving rent. You can also deposit rent payments directly to your bank account—direct deposits are 100 percent free.
Rentdrop is fast: No more waiting for a rent check to arrive in the mail. Instead, money is in your bank account within a few days.
Rentdrop has landlord-friendly features: Unlike the limitations of Cash App, Rentdrop has lets you send reminders and get notifications when rent is paid. In addition, the fees for accepting credit card payments are charged to your tenant, not you.
Rentdrop has tenant-friendly features: Tenants can avoid the hassle of sending a check or worrying about not paying the correct persons. In addition, paying by debit card or bank transfer is free. Rentdrop also makes it is easy to split rent with roommates and schedule recurring payments.
Cash App Limits for Rent Payments — In Conclusion
Cash App is limited when it comes to collecting rent. Apart from being an expensive method for landlords to collect rent, it lacks the features you need to streamline a rental business. You also may find it difficult to evict a bad tenant if they pay rent with Cash App.
Rentdrop is 100 percent free for collecting and receiving rent. So why not sign up for Rentdrop today to see how this could transform your rental business. This app can save you precious time and resources, allowing you to focus on your core business—being a successful landlord.