A tenant may have several reasons to cancel a Zelle payment for rent. This could happen if they accidentally send their rent money to the wrong person. But if you're a landlord, canceling a Zelle rent payment may be necessary if the tenant sends a partial payment. In any case, if you collect rent using Zelle, it's vital to know how to cancel a payment.
Rent collection is a crucial part of any rental business. But tenants have various preferences when it comes to paying rent. And there are several ways to collect rent. Some tenants are stuck in their tracks and prefer to send a rent check in the mail. Others want to use an online rent payment method like Cash App, PayPal, or Zelle. A relatively safe way to pay rent is a bank-to-bank transfer.
However, if you're a landlord, you need to be in control of rental payments.
Many landlords use a dedicated rent collection app like RentDrop. Rent collection platforms like RentDrop have tools specifically for rental property owners. They include features like rent reminders, automatic payments, flexible payment options, split rent, and rent receipts. These are vital features that many digital wallets like Zelle Pay, PayPal, Venmo, and Cash App lack.
But what if your tenant asks you: "Can I pay rent with Zelle?" If you already use Zelle, it could seem like an easy option. However, the question of canceling a Zelle payment for rent is a crucial one.
This article looks at the pros and cons of using Zelle to run a successful rental business.
How to Cancel a Zelle Payment for Rent
Canceling a Zelle rent payment is only possible if the landlord doesn't use Zelle. In that case, you cancel the Zelle transfer by hitting "Cancel Payment" after you've sent the money. Additionally, you can cancel a Zelle payment if the payment is for a future date.
Unfortunately, it's impossible to cancel a Zelle transfer if both parties use the app. When both tenant and landlord use Zelle, the money transfers instantly. Although it takes 1 to 3 business days to clear, you can do nothing to cancel the Zelle payment.
What is Zelle?
Zelle is a mobile payment service. The mobile app allows users to send money to friends, family, and others they trust. All the user needs to send money is the recipient's mobile number or correct email address. Then, the cash instantly appears in the person's Zelle account.
How Does Zelle Work?
To make a rent payment through Zelle, the tenant enters the landlord's email address or mobile phone number. Then they specify the amount to transfer. If the landlord is enrolled in Zelle, the money is transferred to their bank account. This means that Zelle transfers are instant and are impossible to cancel.
Related reading: The risks of using Cash App, Zelle, or Venmo to collect rent.
Is Collecting Rent with Zelle a Good Idea?
If you manage rental properties, you may be wondering if it's a good idea to use Zelle for rent collection. After all, it might seem that offering as many options to pay rent as possible is the best idea. However, there are several reasons to avoid using mobile payment apps and digital wallets for rent collection.
Here are compelling reasons to look for a better solution to Zelle if you want to collect monthly rent payments without any problem.
1. Impossible to cancel a Zelle payment
The first reason to avoid using Zelle for rent payments is that it's impossible to cancel an instant transfer. For example, if payment issues arise, there is no customer support to help resolve the issue.
Suppose a tenant accidentally transfers money to the wrong person. In that case, there is no way for the tenant to cancel it. Instead, they would have to request that the recipient returns the money. However, the recipient is under no legal obligation to send the cash back.
This situation puts you and the tenant in a difficult position. From your point of view, the tenant has missed a rent payment. Unfortunately, this means you must charge late fees. And if the tenant can't retrieve the money, they either must find another month's rent or default.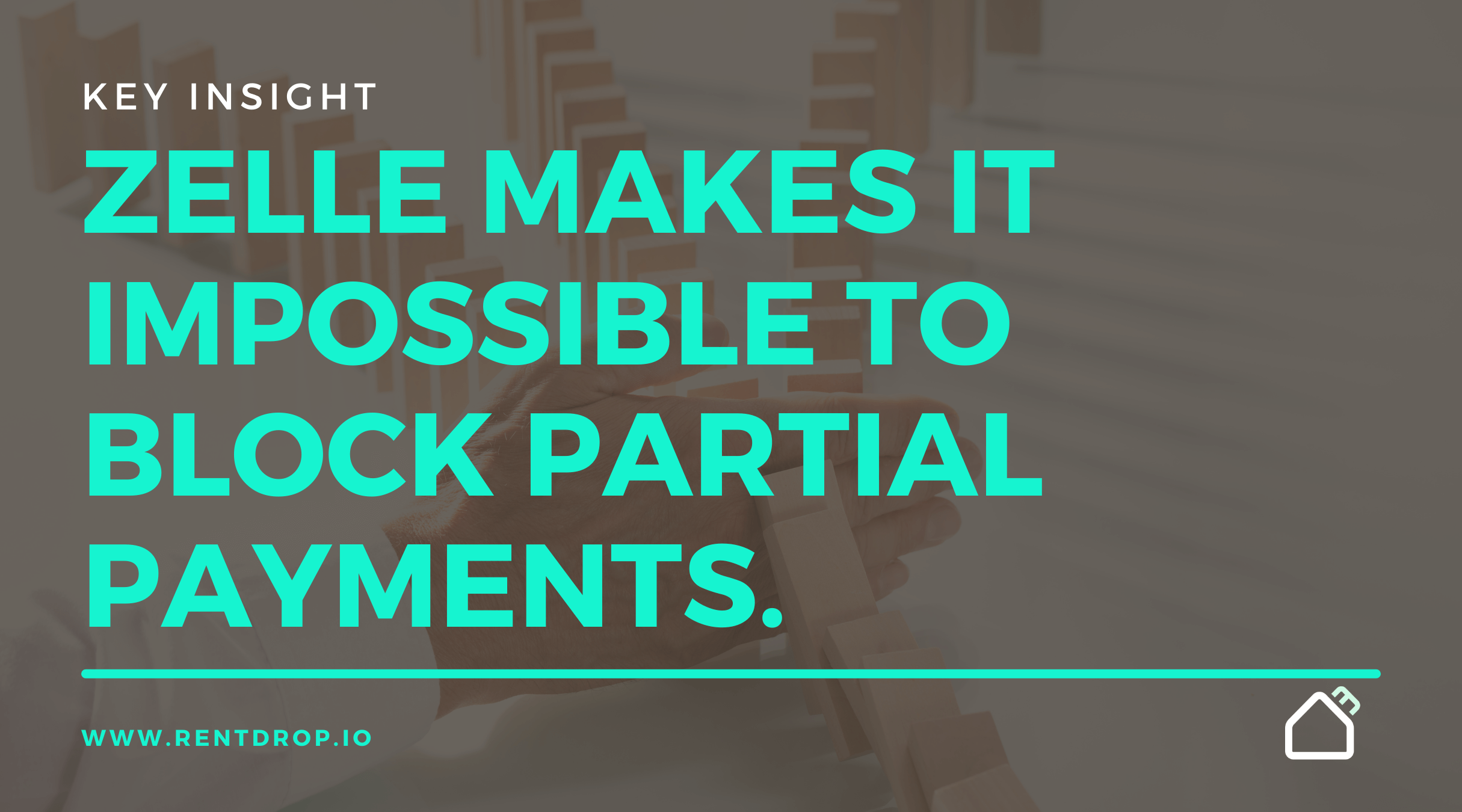 In the case of non-payment of rent, the question of starting an eviction process arises.
2. Zelle doesn't block partial payments
One of the compelling reasons to avoid Zelle for rent collection is to block payments from tenants. If you use a digital wallet for rent collection, a tenant can make a one-time payment. However, because you can't cancel the incoming payment or block a partial payment, you might find it impossible to evict a delinquent tenant.
Here's a scenario. Let's say a tenant is always making late payments. This means they have breached the rental agreement — non-payment of rent. So, you serve a notice to pay rent to quit. However, the next month they are late again. So, you begin eviction proceedings. But if the tenant makes a funds transfer of a few dollars, the eviction process stops.
Related reading: How to avoid evicting a tenant.
So, ask yourself: "Is it worth letting tenants use Zelle to pay rent? Would it not be better to use a rent collection app that allows me to block partial payments?"
That is the reason many landlords use apps like RentDrop. It puts them in control of rent collection. The benefits of RentDrop are:
Automatically charges late fees
No risk of paying the wrong recipient
Block partial rent payments
Set up recurring rent payments to avoid late rent
Let tenants pay rent on their schedule
Apart from being unable to cancel a Zelle payment for rent, there are other reasons to look for alternatives.
3. Tracking rent payments on multiple rental properties is difficult
It isn't easy to track rent payments using Zelle. If you use Zelle to manage numerous rental properties, you will find it challenging to keep track of payments. In addition, the app's payment history may have other non-business transactions. This means extra work for you to ensure tenants pay rent on time.
4. Zelle doesn't charge late fees automatically
Zelle is an app that makes it easy to transfer money to people. However, it lacks the functionality that rent collection apps have. For example, RentDrop automatically charges late fees. This handy feature reduces one of the tasks you have as a landlord. It also reduces tension between you and your tenant.
5. Zelle lacks automatic rent payment features
Property owners prefer when tenants set up recurring rent payments. However, Zelle doesn't have this feature that landlords require. With Zelle, the option to set up automatic payments is up to the bank or credit union. Depending on the financial institution, there may be costly setup fees or processing fees for every transaction.
Related reading: Venmo vs. Zelle for Rent Payments.
6. Zelle has transfer limits
Another consideration when choosing a suitable method for collecting rent is transfer limits. Your bank may have daily and monthly limits on the amount of money you can transfer. If you only manage a few rental properties, this may not be an issue. However, Zelle's transfer limits could severely impact your cash flow if you have several rental units.
If your bank doesn't support Zelle Pay, the amount you can transfer to your bank account is limited to a few hundred dollars.
7. No Payment protection for landlords
Zelle is an instant transfer payment platform; therefore, there are no protections for landlords. When the tenant makes a money transfer, they are authorizing the transaction. So, if the tenant mistakenly sends the money to the wrong recipient, Zelle won't refund the tenant. It's the tenant's responsibility to contact the person and try to recover the money
8. Zelle lacks features landlords and rental property owners need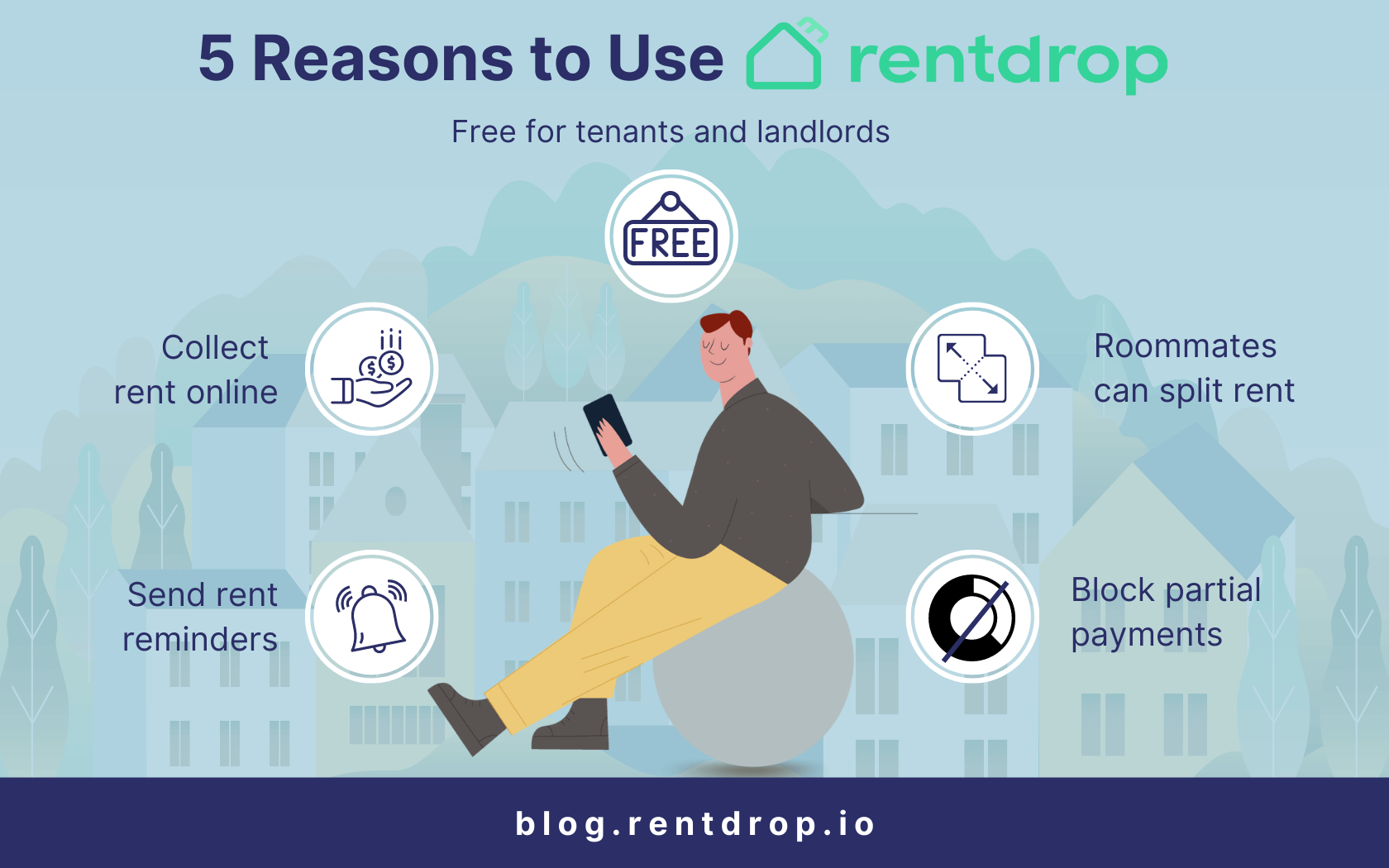 The most compelling reason to use a dedicated rent collection app rather than Zelle is that you get landlord-friendly features. Online rent payment services offer more flexibility than traditional methods.
Here are some of the features you can get by using an app like RentDrop:
Block the ability for tenants to make partial rent payments
Allow tenants to split rent with roommates
Accept debit card, credit card, and ACH bank transfers
Automatically charge late fees
Set up flexible rent schedules
Process security deposits
Send rent payment reminders
Monitor tenant payment from an easy dashboard
Free bank direct deposit
Payment notification when you receive rent
Report on-time rent payments to credit bureaus
No transaction fees for debit card payments or bank transfers
Why Choose RentDrop
RentDrop is for tenants and landlords. By using the app, you give tenants flexibility while staying in control of payments. The automatic payments and reminder features minimize the risk of late payments to landlords. You can also block partial payments if you have a dispute with a tenant.
All you have to do is invite your tenants to sign up for a free RentDrop account. This gives you and your tenant access to all rental payment information. They can schedule rent payments, choose a payment method, see their payment history, and track payments. RentDrop works on desktops and mobile devices. So, you can easily access your account from anywhere.
If you want to see how RentDrop can make collecting rent so much easier, sign up today.