Using Venmo for rent payments is popular with many tenants. Venmo allows tenants to pay rent money online, and usually, the rent money instantly appears in the landlord's bank account. However, a closer inspection reveals that Venmo lacks helpful landlord tools freely available on rent payments apps.
If you want your tenants to pay rent online, should you use Venmo or a free online rent payment platform? The article explores the pros and cons of using Venmo to pay rent online. You will also learn about the best online rent payment systems that don't cost landlords a cent to use.
What is Venmo For Rent Payments?
Venmo is a peer-to-peer payment app enabling tenants to send rental money instantly. This makes the digital payment app highly convenient for tenants. In addition, the chances are that tenants already use Venmo to send money to friends and pay bills online. So, it's easy to use the app to make monthly rent payments.
Unfortunately, the benefits of using Venmo for rent payments typically only apply to tenants. For landlords, it's a different story. For example, using Venmo for rent collection incurs fees for business transactions. The app also lacks vital tools to stop partial payments, calculate late fees, and report rent payments to credit bureaus.
How to Pay Rent Using Venmo
Paying rent with Venmo is as simple as sending money to friends. To transfer rent money, all you must do is enter your landlord's contact details and the rental amount and press send. Then, you can use it to pay rent by credit card, a debit card, or use your bank account or Venmo balance.
How to Collect Rent Using Venmo
If you want to accept Venmo rent payments, you must register a business profile. After that, rent money from tenants will appear almost instantly in your Venmo account. There is a processing fee to pay each time money is transferred. You can then transfer money from your Venmo account to your bank account.
For some landlords, Venmo allows them to rethink their approach to cashless payments. For example, accepting a cash rental payment is risky. And dealing with rent checks takes time because payment processing times are lengthy. Venmo offers the chance to switch to online rent payments.
But is Venmo the best electronic payment service for a rental business?
What Are Rent Payment Apps?
Apps specifically designed for landlords and tenants have the convenience of a digital wallet like Venmo. However, they also include tools for tenants to make it easier to pay rent on time every month. Also, landlords have several options to simplify the online rent collection process.
For example, the best rent payment apps have tools for landlords. These typically include blocking a partial rent payment, late fee calculation, rent receipts, and no transaction fees for incoming payments.
Fee-free rent collection apps also have incentives for tenants to pay rent online. These can include recurring rental payments, splitting rent with roommates, and rent reporting to credit bureaus.
Rather than being a simple money transfer app like Zelle, Venmo, or PayPal, rental payment apps streamline the entire rental process.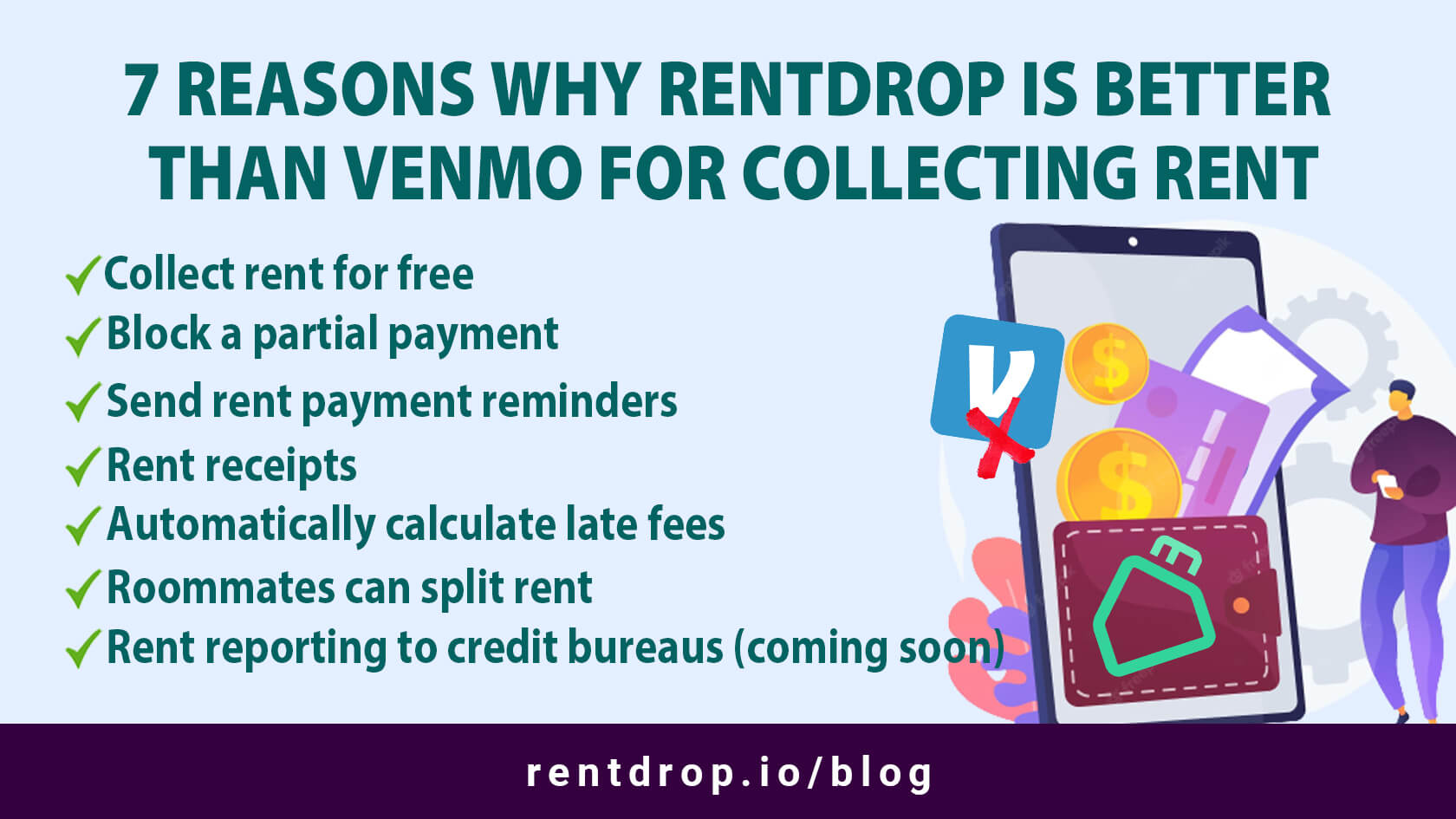 Why Look for Venmo Alternatives For Rental Payments
Any rental payment software you decide to use should simplify the rental process. Remember, your tenants are busy people who want to use the most efficient service to pay rent. Also, you are busy running a successful rental business. Therefore, the rent payment app must save you time, money, and other resources.
What are the reasons to look for alternatives to Venmo for rent payments? Here are five.
1. Venmo charges landlords fees
Landlords must pay a transaction fee for every incoming rental payment. How much are Venmo fees for landlords? The processing fee is 1.9% plus $0.10. Therefore, the amount of money in rent the tenant sends isn't what you receive.
The best rent payment apps don't have subscription fees for landlords nor charge hefty fees to accept payments.
2. No option to decline a Venmo rent payment
A serious issue for landlords and rental property owners when using Venmo is blocking partial payments. You can't decline a Venmo payment, meaning a tenant can pay part of the rent. This can have severe implications during an eviction process when you must have the option to block payments that are not for the total rental payment.
The best rent payment apps let landlords stop a partial rent payment. This makes it easier to evict a delinquent tenant for nonpayment of rent.
3. Tenants can't use recurring payments for rent
Venmo doesn't give tenants the ability to set up automatic rent payments. However, recurring rent payments make it easier for tenants to make monthly on-time rent payments. This is because they need to enter the payment information once and then forget about it.
The best rent payment apps facilitate automatic payments, minimizing the risk of cash flow issues because a tenant forgot to pay rent.
4. Venmo lacks the feature for roommates to split rent
Although Venmo lets friends split bills, it doesn't have a dedicated feature for splitting rent payments. Why is this important?
Suppose you have a rental unit with several roommates. With Venmo, one tenant is responsible for collecting rent from the others. However, without a feature to split the rent, one tenant who misses a payment puts everyone at risk of missing the rent payment.
The best rent payment apps have a feature to let co-tenants in a multi-tenancy rental unit split the rent. This means that each tenant on the lease agreement is responsible for their share of the rent.
5. No rent reporting to credit bureaus
Venmo doesn't let tenants report their rent payments to the major credit bureaus. This means that tenants can't use their largest recurring bill payment to improve their credit score. Having a feature to report rent also provides a strong incentive for tenants to pay rent on time.
Rent reporting to bureaus is a feature of the best online rent payment platforms. Offering a rent reporting service sets you apart from the local competition. Also, tenants are more inclined to make timely rent payments, knowing that missing one could impact their credit history.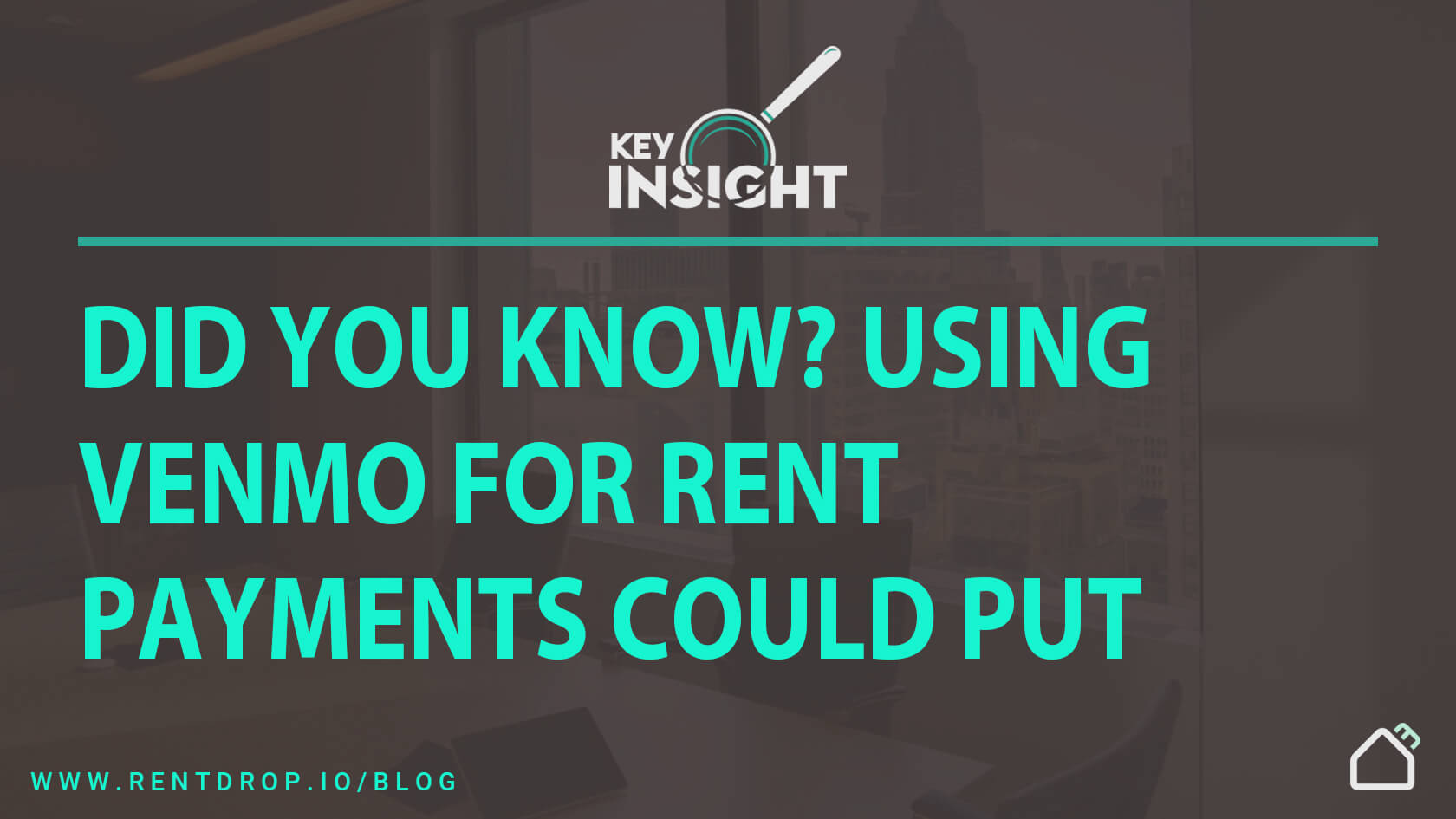 Related reading: Misconceptions about using Venmo for rent payments.
The Best Free Rent Apps for Online Payments
The best payment solutions for landlords should make collecting rent online easy and provide tenants with many accessible rent payment options. So what are the best mobile rent payments like Venmo, specifically designed for landlords and tenants?
Let's look at the rent payment features of Rentdrop—a trusted online rent payment service that is free for tenants and landlords. Of course, there are other apps for rent payments, but Rentdrop is one of the few that is entirely free to use.
Rentdrop — Features For Landlords
Unlike Venmo, which is only for sending money online, Rentdrop helps landlords streamline their rental business. Here are some of the best features for landlords.
1. Rentdrop has no subscription fee for landlords
You have no monthly subscription fee to pay when using Rentdrop. All Rentdrop's online rent collection features are free to use. Also, there are no processing fees to accept debit card or credit card payments. And ACH bank transfers are also free.
2. Block a partial rent payment
A useful landlord tool in Rentdrop is the option to block a partial payment. This feature means that you can stop a tenant from paying part of the rent during eviction proceedings. In many states, accepting a partial payment halts the eviction process.
3. Send rent reminders
Rentdrop gives landlords the option to send automatic reminders to pay rent. This simple feature encourages on-time rent payments every month. Of course, if tenants use the recurring rent payment option, you are almost ensured of never missing a rent payment.
4. Rent receipts
Rentdrop helps you run a successful business by providing accounting tools like rent receipts. Incoming rent payments automatically generate a rent receipt. This helpful feature eliminates many of your day-to-day administrative tasks. Unlike accepting cash for rent or rent checks, you have a digital paper trail for all rent payments.
5. Automatically calculate late fees
Another valuable feature of Rentdrop that saves you time is the automatic late fee calculation. Suppose a tenant misses a rental payment. In that case, Rentdrop automatically calculates the correct amount of fees to charge. This eliminates the risks of miscalculating the fees and getting into disputes with tenants.
Rentdrop — Tools For Tenants
Rentdrop has the convenience of Venmo for tenants but includes several features that enhance the rental process. Here are some of the ways that Rentdrop benefits your tenants.
1. Set up automatic rent payments
Rentdrop gives tenants the helpful feature of setting up recurring rent payments. Not only do tenants love this option, but it helps ensure you never miss rent from tenants.
2. Report rent to credit bureaus
A feature soon to be part of Rentdrop is rent reporting to credit bureaus. This option provides a massive incentive to tenants to pay rent online and on time. They can boost their credit score without increasing their credit liability. Tenants love that this helps them get lower interest rates and increase their chances of securing a loan or mortgage.
3. Multiple forms of payment
Rentdrop offers tenants several convenient ways to pay rent online for free. This is much better than mailing a rent check every month or having to meet you in person to pay rent by cash.
For example, tenants can use Rentdrop to pay rent by debit card or ACH bank transfer. There is no transaction fee for tenants or landlords when using this service.
Suppose a tenant wants to pay rent money via credit card. In that case, associated fees for credit card transactions are charged to the tenant, not the landlord.
In Conclusion
Several rent payments apps like Venmo include practical tools for tenants and landlords. The best payment apps for paying rent don't incur charges or extra fees. In addition, they have essential tools like partial payment blocking, splitting rent, recurring payments, and late fee calculation.
Rentdrop has all the features of the best rent payment apps. So why not sign up for Rentdrop today to see how it can simplify the rental process for you and your tenants.