Collecting rent is not an easy task. So, choosing the best rent payment option is crucial for landlords. Some landlords stick with the traditional method of collecting rent checks each month. Other rental property owners allow tenants to pay rent online using a digital wallet or payment system like Venmo or Zelle. However, savvy landlords use a dedicated rent payment app for straightforward rent collection.
One of the primary considerations when deciding which mobile app to use for rent collection is the cost. Unfortunately, not all apps for landlords are created equal. And although some rental payment apps are free, they may come with hidden charges. Also, using a peer-to-peer payment system to collect rent money from tenants comes at a high cost for business owners.
The article compares the fees associated with using popular rent payment apps. You also find what P2P digital wallets like Venmo, Zelle, or PayPal cost to collect rent.
The Best Payment Apps to Collect Rent Online for Free
The best free apps for rental payments shouldn't cost landlords fees to collect rent. Rent collection apps like Rentdrop, TurboTenant, Apartments.com (Cozy), and Rentler don't charge subscriptions. These fee-free payment apps also have features to make paying and collecting rent online easy for tenants and landlords.
Related reading: Hidden costs of the best free rent payment apps.
Rent Payment Apps for Free Online Rent Collection
Do you want to accept rent payments from tenants quickly and easily? If so, there are plenty of mobile payment apps designed specifically for landlords and tenants. In addition, the best rental payment apps should be free to use and not incur fees for accepting debit card payments or ACH direct deposits.
Let's look at the best mobile payment apps that are free for landlords and tenants and have advanced features for running a successful rental business.
Rentdrop — Fee-free rent collection app
Rentdrop is subscription-free and has rent collection features like automatic payments, split rent for co-tenants, block a partial payment, and rent reporting. This means that landlords who sign up for Rentdrop never pay anything to accept online payments. Additionally, funds are deposited in four days or fewer.
Like the best rent payment apps, Rentdrop accepts various forms of payment. Therefore, tenants can pay rent for free using a debit card or direct bank deposit. Tenants can also use Rentdrop to pay rent by credit card, which will incur a small transaction fee that the tenant, not the landlord, pays.
TurboTenant for rent collection
TurboTenant is an online rental payment solution with property management features. Like Rentdrop, there are no fees for landlords to accept debit or credit card payments or ACH transfers. Some of the additional options of TurboTenant are rental application processing, tenant screening, and listings.
Although TurboTenant is free for landlords, tenants incur processing fees of 3.49% for making credit card or debit card payments. This may deter tenants from using the app for rent payments in some cases. After all, sending a monthly rent payment by check is 100% free for tenants.
Related reading: TurboTenant vs. Rentdrop for rent payments.
Apartments.com (Cozy)
Formerly called Cozy, Apartments.com is a free rental management tool for tenants and landlords. In addition to free rent payments, rental property owners can list vacancies, process rental applications, and screen prospective tenants. If tenants want to pay by credit card, the processing fee is charged to them.
Even though Cozy is on the list of the best free rent payment apps, many landlords find it confusing and difficult to use. If you are only managing a few rental units, Cozy has more features than you will need. That is why many landlords use a free rent collection app like Rentdrop for its simplicity.
Related reading: Cozy vs. Rentdrop for rent payments.
Rentler
Rentler is free for landlords to collect monthly rent from tenants. However, unlike Rentdrop, Rentler charges tenants a fee to pay rent by debit card. Although the processing charge is lower than TurboTenant, it still adds extra money to the recurring rental costs. Other features of Rentler include split rent, recurring payments, and reporting to credit bureaus.
Related reading: Rentler vs. Rentdrop for rent payments.
Avail
Avail has a free-cost plan for landlords. Unfortunately, Avail doesn't let landlords collect rent for free. For example, tenants must pay $2.50 in fees for bank transfers. In addition, if a tenant wants the convenience of paying rent by card, credit card or debit card transactions cost an extra 3.5%.
The high transaction fees that Avail charges tenants make it one of the most expensive "free" rent collection apps on the market.
Related reading: Avail vs. Rentdrop for rent payments.
The Costs of Using Venmo, Zelle, or PayPal for Rent Payments
What about using a digital wallet like PayPal, Venmo, or Zelle for online payments? After all, you can typically transfer money to friends and family for free. Many P2P payment apps can cost landlords hundreds of dollars a year to collect rent. Despite being "free," money transfer apps have high costs for business transactions.
Here is a list of the fees that popular online payment apps charge for rent payments:
PayPal fees: It can cost you up to 3.49% + a fixed fee to collect rent using PayPal.
Venmo fees: The cost of accepting rent payments using Venmo is 1.9% + a fixed rate of $0.10.
Zelle fees: It costs nothing to use Zelle for business transactions in some cases. However, the price for a bank transfer depends on your bank or credit union. In addition, some banks don't support Zelle for small businesses.
Cash App fees: If using Cash App for rent collection, you must pay a 2.75% fee for receiving money.
While it may seem easy and convenient to let tenants pay rent using an online payment app, there are high costs involved if you are a landlord. For example, suppose you manage five rental units with an average rent of $1,600 each. You could pay a staggering $280 per month or $3,360 per year in additional business fees.
The high payment processing fees are just one reason to avoid peer-to-peer payment apps. Here are a few additional reasons to use a free rent payment app rather than a digital wallet:
No payment protection: It is easy to pay the wrong person using a digital wallet. Although instant transfers seem like a convenient option, you could lose money if the tenant makes a mistake. Also, some P2P payment services like PayPal don't cover real estate transactions.
Block a partial payment: One of the worst things about using a digital wallet for rent payments is the ability for tenants to make a one-time rent payment. Some tenants facing eviction use this loophole to make a partial rent payment. However, blocking partial payments is usually standard on the best rent payment apps. In addition, it allows landlords to enforce a "cure or quit" order during an eviction process.
Recurring payments: Most payment apps don't allow tenants to set up automatic monthly rent payments. This increases the risk of late rent payments, interfering with your cash flow and rental income.
Report rent to credit bureaus: A great incentive to get your tenants paying online is to report rent payments to credit bureaus. After all, rent is your tenant's biggest regular bill in the month. Also, rent reporting encourages tenants to pay rent on time.
The Cost of Collecting Rent by Paper Check
What about the cost of the traditional rent collection method — personal check. Even though rent checks are free for tenants to use and free for landlords to process, the cost of this rent collection method is measured in time. And there is the stress and hassle if a check bounces.
Here is what's typically involved if you collect rent by check. First, it can take three to five working days for the paper check to arrive in the mail. Next, you must drive to the bank and stand in line to deposit the checks. Next, you must wait on the checks to clear.
To calculate how much it costs to collect rent by check, put an hourly rate on your time. Then, multiply this by the time it takes you to process the check. You can easily see that collecting rent checks is expensive.
Compelling Reasons to Use a Free Rent Payment App
A dedicated rent collection app like Rentdrop saves valuable time. You can free up your time to focus on your business core and cut out tedious administration tasks. In addition, Rentdrop has the convenience of online digital payments, with a host of features for tenants and landlords.
With Rentdrop, you can set up automatic payments, split rent with roommates, automatically charge late fees, and block a partial payment.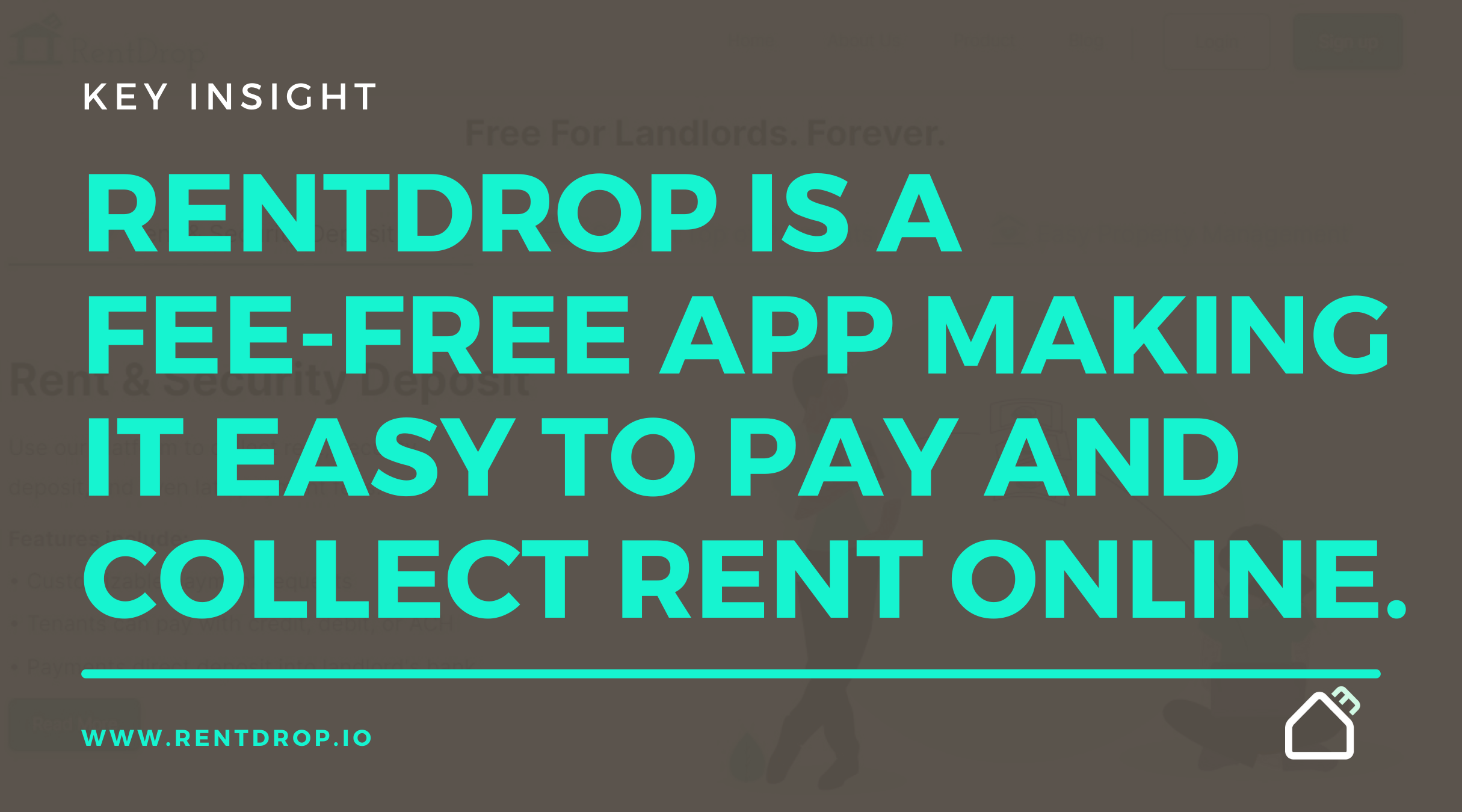 Rentdrop blocks partial rent payments
You can use Rentdrop to block a partial rent payment from a tenant during an eviction procedure. This feature is a crucial option for landlords to ensure an eviction process doesn't drag on for months. All you need to do is set the option in Rentdrop to accept rent payment in full.
Rentdrop is fee-free
Landlords and tenants can use Rentdrop for free. You pay nothing to receive payments for rent, whether it is an ACH transfer, debit card, or credit card transaction. Additionally, tenants don't incur fees to pay rent with their bank balance or debit card.
Send automatic reminder emails to tenants with Rentdrop
A handy feature in Rentdrop that you'll never find in Venmo is to send regular rent reminders for rent payments. A simple reminder to your tenants may be all it needs to remind them to make on-time rent payments.
Rentdrop automatically calculate late fees
One way that Rentdrop saves you time is its feature to calculate and charge late fees automatically. In many cases, charging late fees is a tiresome yet essential task. So, if a tenant misses the due date, Rentdrop automatically adds the appropriate cost to next month's bill.
Split rent with co-tenants
Rentdrop can facilitate smooth online rent collection from your tenants in a multi-tenancy rental unit. Of course, many roommates use cash apps like Venmo to split rent. However, Rentdrop lets tenants on the lease agreement split the rent and pay you directly.
Make one-time or recurring payments
Rentdrop helps landlords collect rent on time every month because it has an automatic rent payment feature for tenants. A tenant can set up the recurring payment option based on their income schedule or rent due date. This reduces late payments and helps protect your rental income.
Report rent to credit bureaus
Rentdrop will soon have the excellent feature to allow tenants to report their rent payments to credit bureaus. This option has several benefits for tenants and landlords. First, reporting rent to Equifax, TransUnion or Experian encourages your tenants to use Rentdrop. Second, tenants are more likely to pay rent on time, knowing how it impacts their credit score.
Use Rentdrop to Collect Rent for Free
Rentdrop is 100% free for tenants and landlords to pay and collect rent. However, Rentdrop is more than just an online rent payment service. It is a fully functioning software solution for you to manage a successful rental business. You can sign up for Rentdrop for free and include this as your preferred payment option in your rent collection policy.