Property management is no easy task—especially when you have to do it manually. Collecting rent through checks, trying to enforce late payments, signing paperwork, tracking expenses, and other accounting tasks. Yes, the list seems to go on and on.
Property management is no easy task—especially when you have to do it manually. Collecting rent through checks, trying to enforce late payments, signing paperwork, tracking expenses, and other accounting tasks. Yes, the list seems to go on and on.
The best property management apps take the hard work out of managing rental units. With the latest developments in web and app development, we now have several apps that help accomplish these tasks, and even more.
Property management apps allow you to do the following automatically:
Collect payments

Screen potential tenants

List your property

Monitor tenant payments

Allow tenants to request maintenance.
Since there are several of these apps, it may be challenging to choose the best one. To help you make an informed decision, we have compiled a list of six of the best property management apps in 2021. Our review examines the features they offer and how much they cost.
If you want to start collecting rent online, please read our review.
RentDrop
RentDrop is one of the best property management apps. It enables landlords to collect rent online, monitor payments, and manage their properties. Property managers can automate recurring payments and automatic late fees. Like most top-level property management software, it has an easy to use dashboard for both the tenant and landlords.
Tenants can pay their bills, rent, and request maintenance. The RentDrop app offers all of these features for free. Regardless of the number of units you have, you won't pay a dime. Since most platforms charge some onboarding fees, which may be on overkill for those with few units, this platform is a better option.
Pros
It's free.

It's easy to use.

This platform has some advanced features like automated rent payments and late fees.

It's an easier way to collect rent from credit cards and ACH deposits.
Cons
It lacks some advanced features like tenant screening and insurance tracking.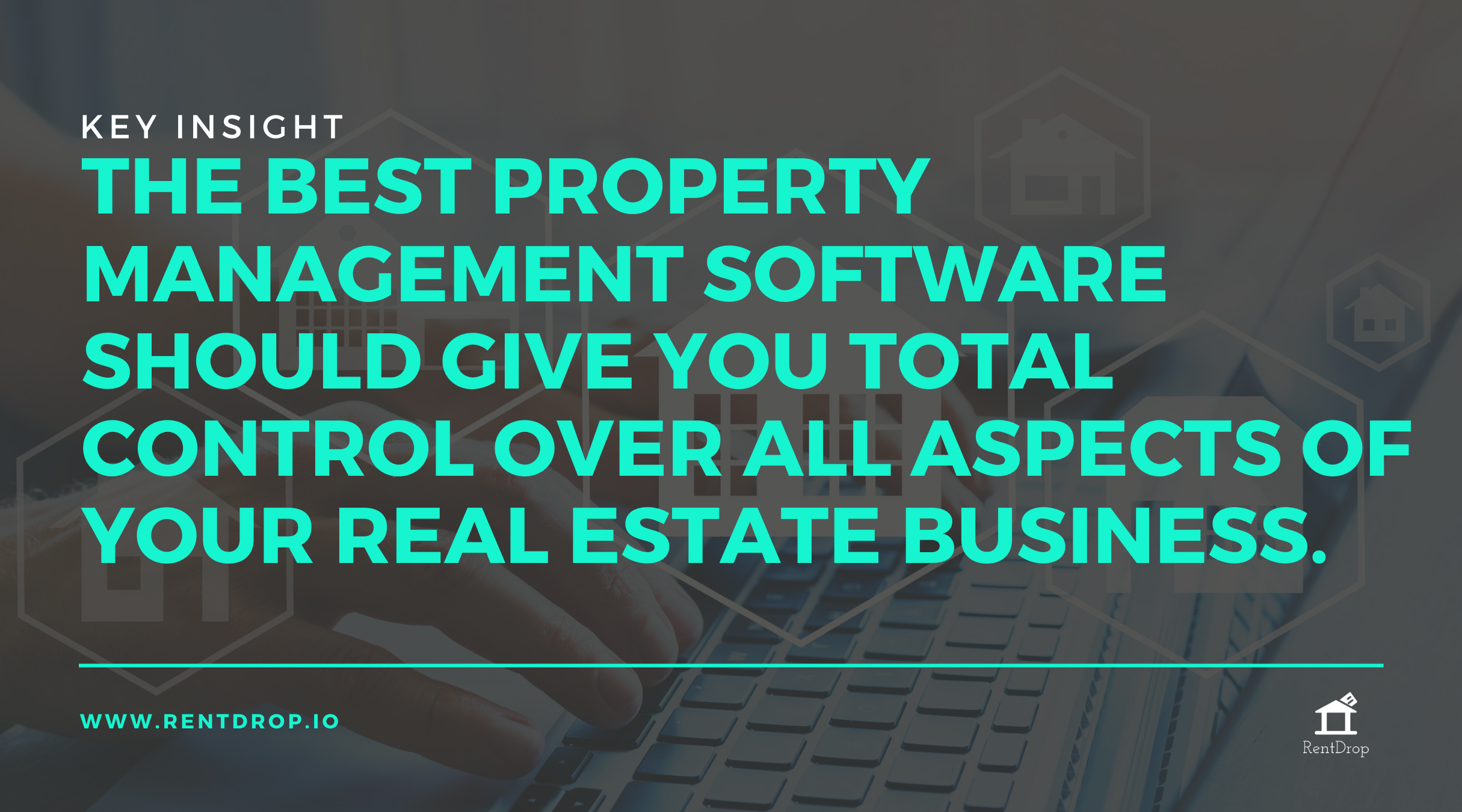 AppFolio
If you're looking for an all-round property management app, you'll love Appfolio. It enables you to list your property, market it, lease it, and allow for online payment of rent. Appfolio also facilitates screening of tenants and creating a platform for maintenance requests.
Fortunately, it is available both as software and as a mobile app.
One distinctive feature on this app is that its pricing depends on the kind of real estate you own. You could be the landlord to a student hostel, residential unit, or commercial units. These different types of rental properties don't bring in the same income. Therefore, having a software package that matches the income of your unit is an added advantage.
Appfolio's monthly charges per unit are $1.50 for commercial units, $1.25 for residential units, and $1.25 for students' hostels. If the property belongs to a community association, the charge drops to 0.80$ per unit.
Pros
It can compute profits and losses from your property.

Landlords can screen prospective tenants on the grounds of credit history or a criminal past.

It can track insurance

Comes in handy in the advertisement of the property

Tenants can compare rent for the listed properties

Bulk texting functionality to reach tenants.

Excellent customer service.
Cons
It is not cost-effective for property owners with few units

Regardless of the property type, there's a minimum monthly payment of $250.
Related reading: A comprehensive review of AppFolio.
Rentec Direct
Rentec is one of the best property management apps for 2021. The app is popular with landlords because it has no setup costs. It screens new tenants, helps landlords share information with tenants, receives maintenance requests from tenants, lists the vacant property, and markets their properties. Moreover, it allows for online rent collection.
Rentec Direct has a flexible pricing plan. Rentec Pro has features for those landowners who would wish to take up the responsibility of managing their property for themselves. It comes with all the necessary control tools for rental units with an appealing price of $35 per unit.
On the other hand, Rentec PM comes in handy for real estate management professionals who manage the property on behalf of the property owners. However, it comes at a higher cost of $40, although it has an extra Trust Accounting feature. This feature helps property managers to effectively handle tenants' and property owner's finances. There is also audit trained staff at your disposal in case of an audit.
Tenant screening requires an extra $7, $10, and $15 based on the required level of screening.
Pros
It facilitates rent collection through credit cards and other automated money transfers.

There's a free trial for two weeks.

Timely technical support for app users.

Supports website customization.

Supports the integration of utility bills.
Cons
There's an extra cost of screening a prospective tenant

It is quite costly for low portfolio property managers.
Buildium
Are you looking for that solution that suits the property managers with a small rental portfolio? Wonder, no more. Buildium will help you collect rent payments and track property expenses, list rental properties, and market vacant units. It is an excellent accounting software integrated with QuickBooks. Buildium makes it easy to create reports, track payments, and create work orders.
It offers a platform for landlords to create subdomains and customize them to fit their needs. Each user can access their end to request maintenance and pay bills.
At a mere $50 per month, Buildium offers a basic property management plan—Essential. This plan provides a free marketing website, standard reports, ticket support, and primary tenant screening and eLeases each at $5.
Additionally, there's the Growth plan for managing real estate rental units. This plant is a competitive $160 per month. It comes with unlimited eLeases, property inspections, performance analytics, premium screening, and live phone support.
However, if you are a landlord with an extensive portfolio and many rental units, it would be advisable to go for the $460 per month premium package. Besides additional annual discounts, you will enjoy consultancy for new tenant leads, openAPI, and business Analytics.
Pros
It has no monthly minimum payment.

The premium plan comes with a 15% discount when tenants use select services.
Cons
There are extra fees for using all the plans.

It does not offer client leads unless you pay an additional cost.
Related reading: The best alternatives to Buildium.
ManageCasa
The most striking feature of the ManageCasa online property management tool is that it is available online (cloud-based app) or as a mobile application.
This easy-to-use property management software is simple to use. It manages tenants, lease contracts, maintenance records, and accounting records.
On top of that, ManageCasa may qualify as one of the best property management apps for 202 for the following reasons:
It stores digital lease contracts.

Enables collaboration on maintenance tasks.

Generates essential financial reports, and shares them with property owners.

Subscription to ePayments rent and the same application can collect rent and pay service providers.
Fortunately, for property managers who are yet to make up their minds about using the application, there is a free trial plan. However, this only manages up to three properties. The free plan comes with maintenance records, expense tracking, and facilitates real-time discussions.
ManageCasa costs $50 per month to use and allows you to manage between four and 50 units. For more than 50 units, there is an additional charge of $1 per unit.
Pros
It's relatively cheap.

It has a free basic plan for property managers managing a few units.

You can sync your data if you're still on the go and using different devices.

There's no set minimum monthly fee.

It can be applied in the management of a single unit.

It's easy to set up.
Cons
Their tariff plan is somewhat complicated to follow.

The free pricing plan is only applicable for landlords managing less than three units.

The applications may sometimes load slowly.
TenantCloud
There's no better offer than having rent collection, tenant screening, maintenance requests, and property listing applications all for free if you have 75 rental units or less. Believe it or not, the TenantCloud Property management app does just that.
Packaged with a portal for the tenant, the property owner, and even service providers, this is more than just an online rent collection tool. Communication, timely handling of requests, storage of unit information is all possible.
There are affordable tariffs of $9 per month for property managers with up to 150 rental units. For more than 150 rental properties, the price is $35 per month for up to 500 rental units.
The paid plans are capable of handling tenant leads, equipment tracking, e-sign on rental contracts, insurance tracking, and online rental applications and full accounting.
Pros
It has a free plan.

Process payments from PayPal, debit cards, and credit cards.

Financial reports are stored online, and they are easily accessed.

You can always sync your data if you're still on the go and using different devices.

Investment in servers is not necessary since data is backed up in the cloud.
Cons
It does not have a plan for managing more than 500 units.

Tenant users face challenges in linking their accounts to that of their property owners.
Conclusion
Due to rapid developments in technology, the ideal property management apps in 2021 help automate rent collection, communicate with tenants, and monitor their payments. If it is available as a mobile app and supports data security, that's an added advantage.
The best property management software should give you total control over all aspects of your real estate business. The right rental unit management app will help you increase your competitiveness concerning pricing, marketing, and income and expense controls.