Collecting rent is key to running a successful rental business. For many landlords, rent checks are still the preferred payment method to collect rent. But there are many reasons to look for alternatives to receiving rent checks. Rental payments made by check take time to arrive in the mail, then you have to cash the check, and lastly, you have an anxious wait for a few days to see if the check clears.
Thankfully, many advanced rent payment options get rent payments into your bank account faster and more securely. Electronic payment methods are more straightforward for tenants to use and help streamline rent collection. Using other methods of collecting rent rather than checks gives you time to concentrate on other essential aspects of your business.
Finding the best alternative to receiving rent checks is challenging. There are a ton of options available for receiving rent payments directly into your bank account. For example, direct deposits, mobile payment apps, or online rent collection software are all viable alternatives for collecting rent checks or cash payments.
When choosing a suitable rent collection method, it's vital to remember that not all rent payment methods are created equal. Some online payment methods are difficult to use and don't provide payment protection. But other rent collection apps are more accessible for tenants and landlords to use as they allow for secure payment with debit cards or credit cards.
Related reading: Why many tenants prefer paying rent with a credit card.
If you're a new landlord just starting out or already manage an extensive rental portfolio—this article is just for you. You'll find the best alternatives to rent checks to ensure that you never have cash flow problems due to late rental payments.
The Problems with Receiving Rent Checks
Written checks can contain errors, they take time to process checks, and there's a lot of personal information on checks. Of course, landlords also face the possibility that checks bounce. So, it's clear that receiving rental payments by check can pose a severe threat to your rental business.
Even though checks are an outdated payment method, many landlords still use them for rent collection. Why should you stop collecting rent by check and look for alternatives? Here are a few more reasons to consider:
Insecure payment method: If a check gets into the wrong hands, tenants can become victims of fraud or identity theft.
Checks can bounce: Even if there were funds in the tenant's bank account when they wrote the check, there might not be enough to cover the payment by the time you cash it. This puts you as a landlord in a tricky situation—you'll need to contact your tenant to arrange another payment.
Personal checks can go missing: Neither the tenant nor you can control what happens to the check in the mail. Checks for one reason or another commonly go missing.
Difficult to track rental payment history: It takes a lot of time to record all checks in a ledger by hand. Also, following your tenants' rent payment history is time-consuming and prone to errors and mistakes. After all, you don't want to confront a tenant about a missed rent check when they had already sent it.
The Worst Rent Check Alternatives
When looking for alternatives to receiving rent checks, it's good to stay clear of a few. The worst ways to collect checks are by cash or direct deposit. These two payment methods are even worse than getting tenants to mail you a check. Here are the reasons why these ways are not good options:
Rental cash payments: It's difficult to resolve disputes if you accept rent in cash. Cash doesn't leave a paper trail, and you risk losing money or having a heated argument with your tenant.
Direct deposits: Although you get money directly into your bank account, there are safer alternatives to this payment method. Setting up direct deposits usually requires giving out your bank details. Also, direct deposits could affect an eviction process if your tenant makes small, partial rent payments.
Online Rent Payment Options — The Alternatives to Receiving Checks
Accepting monthly rent payments online is a far superior payment method for receiving checks. Electronic payments are more secure, easy to manage, and easy to set up regular payments. Also, collecting rent online is less prone to fraud and errors.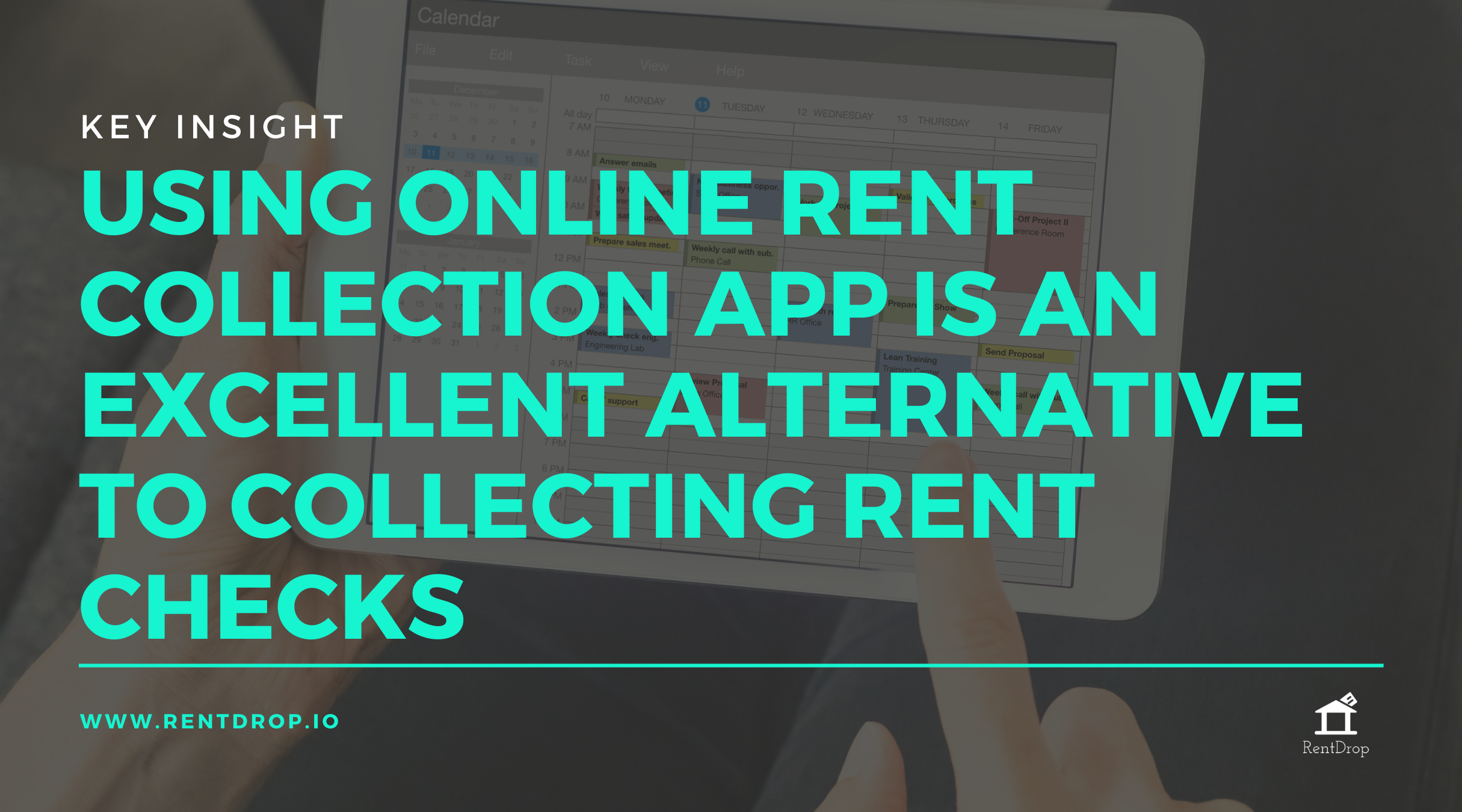 Why look for alternatives to receiving checks? Here are three excellent reasons to forget paper checks and start collecting rent online:
Convenient: Most people pay their bills online anyway. You don't have to check the mail, drive to the bank, and wait on the check clearing.
Automatic rent payments: Rent collection apps benefit landlords and tenants as they let you set up regular electronic payments. This option reduces the risk of missed rent checks.
Save time: Accepting online payment methods saves you a ton of time. You can quickly check a tenant's rental status, automatically calculate late fees, and checking your bank account from home.
What are some excellent options for collecting rent that doesn't involve receiving checks and cashing them?
PayPal
PayPal is a popular online payment option to pay for services and goods. Tenants can pay rent directly into your account, or you can send payment requests. However, PayPal isn't the best alternative to collecting rent checks as there is no payment protection for landlords. Also, PayPal can sometimes freeze tenant's accounts if they suspect any suspicious activity.
Pros:
Cons:
Business users have to pay $30 a month plus transaction fees
No option to resolve disputes
According to PayPal's terms, it's not suitable for monthly rent collection
Zelle Pay
Zelle Pay allows tenants to send rent payments from the app instantly. If your bank supports the Zelle app, money appears directly in your bank account. One benefit of Zelle is that there are no transaction fees. But a drawback is that it's easy for tenants to send money to the wrong person. Also, it's difficult to settle disputes if you accept this payment method.
Pros:
Free to use and no transaction fees
Receive rent payments instantly
Cons:
Difficult to link Zelle to multiple bank accounts
No property management possibilities
Must have the Zelle Pay app to receive rent
ACH Direct Deposit
Setting up a direct deposit with tenants is an excellent option to receive regular rent payment. The bank automatically debits the rental payments from the tenant's bank account and transfers them directly to your account. One of the disadvantages of direct deposits is that they can be tricky to set up. You will also need the tenant to sign a mandate to approve the regular money transfer.
Pros:
Save time by setting up monthly rent payments
Reduce the risk of late or missed payments
Reliable
Cons:
Difficult to set up
Pay bank fees in line with their terms and conditions
PayRent
PayRent is an online solution for landlords to collect rent regularly and effortlessly. The app allows landlords to track their tenants' rental payment history and set up automated rent reminders. Also, tenants have payment options for paying by debit card or credit card. They can also make payments from their checking account with e-checks. One of the disadvantages of PayRent is its transaction fees.
Pros:
Complete property management software
Schedule recurring payments
Track rent payment and send reminders
Cons:
Can become costly with the transaction fees
Money takes three days to get to your bank account
Buildium
Buildium is a fully-functional property management app for landlords with an extensive portfolio. The Buildium app helps landlords streamline rent collection by processing payments, sending reminders, and calculating late fees. It is also possible to list a vacant rental property on sites such as Zillow and Trulia. Tenants can also request maintenance visits, pay security deposits, and schedule automatic rent payments.
Pros:
A one-stop property management app
Accounting options
Automatically calculate and charge late fees
Cons:
Expensive and not suitable for landlords with only a few rental units
Complicated and confusing to use
RentDrop
RentDrop is an easy-to-use online rent collection app and is an excellent alternative to collecting rent checks. The app is free for both landlords and tenants to use. With RentDrop, it's possible to manage all aspects of monthly rent collection online. Schedule automatic payments, collect security deposits, send rent reminders—these are just some of the benefits of RentDrop. The handy dashboard gives landlords a complete overview of all their properties and helps check tenants' rental payment history.
Pros:
Free to use and no transaction fees
Easy property management that allows you to keep in touch with tenants
Lease management tools
Automated rent payments
Accept credit card, debit card, or ACH direct deposit
Cons:
Lacks some of the functions of some property management apps with paid plans
Receiving Rent Checks — The Alternatives
The days of collecting rent checks are numbered. There are plenty of alternative ways of collecting rent and doing away with paper checks. Online rent collection apps will save you time and money, and you will also almost eliminate the problems of late rental payments.
Our recommendation as an alternative to receiving rent checks is RentDrop. The online rent collection app is free to use, and you or your tenants will never incur any transaction fees. The secure property management software allows you to collect security deposits, set up automatic rent payment, collect late fees, and receive money directly in your bank account.
Use online rent collection apps as an excellent alternative to collecting rent checks. The time you save will allow you to focus on tenant screening to get the right tenant in your rental property—a vital aspect of running a successful rental business.