Collecting rent is the most crucial aspect of a rental property. If, as a landlord, you don't nail how to collect rent effectively, you'll have a big problem. The original rental collection methods were checks, money orders, and cash payments. However, with most financial transactions taking place online, the real estate sector has no option but to move with the trend. Millennials also don't like dealing with checks.
Since most people now prefer to pay their bills online, an online rent collection method is a must-have. Getting tenants to use a trusted app to pay rent online is better since payments can be automatic, and the landlord doesn't have to meet with the tenant to collect the payment.
In this article, we will discuss PayPal and several other methods that are suitable for rent collection.
PayPal
PayPal is one of the online payment systems that has been around for a long time. It revolutionized how we conduct payments online, allowing people to send money from anywhere in the world.
The landlord and the tenant need to have a PayPal account, which connects to their bank accounts through the debit card.
Pros
PayPal is easy to set up and use. All the tenant needs is your email address.
Unless you're using a business account, cash transfers are free.
The money also reflects in the landlord's account instantly.
Cons
You give the tenant control of when and how much to pay. If you're dealing with a problematic tenant, you will have a lot of issues.
It's challenging to make recurring payments, and you may never have control over the tenants' type of payment.
The payment lands in the landlord's PayPal account, and you have to transfer it to their bank account manually.
PayPal also tends to side with the tenant in case of a dispute. For instance, if the tenant wants to leave, and they are not eligible for a Security Deposit Refund, the PayPal representatives may still feel that you defrauded the tenant. Whether you like it or not, you may have to refund the tenant.
If you'd like to be more secure, you can set up a PayPal business account. However, its purchase protection policy still doesn't cover real estate.
The good news is that, over time, better online methods have sprung up. There's no perfect method, but you can compare their functionalities and pick one that suits your needs.
Let's look in detail as some of the best PayPal alternatives for collecting rent online.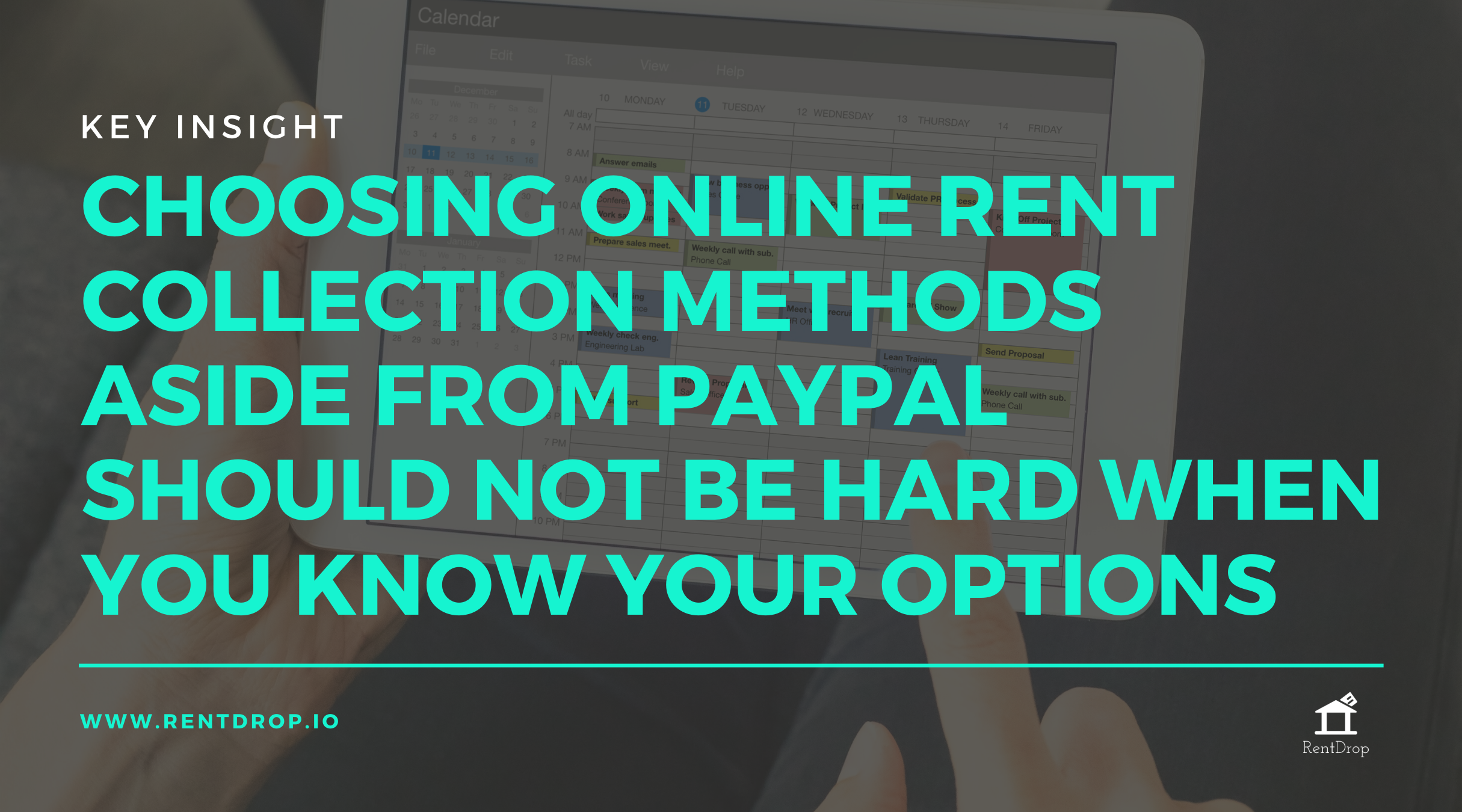 Rentec Direct
Rentec is a fully-fledged landlord and property managers' digital payment tool. Besides allowing you as a landlord to collect rent, it also has a professional website that enables you to manage other aspects of your property. Think of it as a content management system for landlords where you can post updates, collect rent, customize pages, and even access Google Analytics.
It's also an accounting platform that enables landlords to conduct income tracking, do a background check on the tenants' criminal record, eviction history, payment history, and Credit Score. Its services packages in paid plans, but it gives you a lot more control than many other payment options.
Pros
It enables tenants to make automatic payments and late fees.
The rent payment goes directly to the landlord's bank account.
It offers advanced features, such as tenant screening and accounting.
It also has a free trial on all of its paid plans.
Cons
No mobile app.
It costs at least $35 per unit, so it's quite expensive, especially for landlords with several rental units.
Buildium
Buildium is another excellent full-featured rental management software and payment platform. This platform stands out because of its ease of use and tremendous accounting capability. It allows property managers to set up automatic payments, alerts for rent payments, track leases, and manage vacancies.
The costs start at $50 per month, where you can manage a maximum of five units. If you have many rental units, you can choose the Growth plan ($160 per month), or the Premium plan ($460 per month). Both of these plans allow you to manage unlimited leases.
If you're looking for a free rental management app, you can check out some options, such as RentDrop.
With Buildium, tenants also have a portal where they can request maintenance. It also has a desktop and mobile app to allow both landlords and tenants to carry out their activities remotely. All of its packages are paid plans, but you can always try it out with the free trial.
Pros
It's fast and easy to use.
It allows landlords to automate rent payments and late fees.
It enables property managers to communicate with tenants through emails effectively.
It builds relationships between property managers and tenants.
Cons
It's not ideal for people with too many units, and it's too expensive for people with a few rental units.
Some users also had an issue with the rollover of leases.
Related reading: Buildium alternatives for online rent collection.
Venmo
Venmo is another excellent payment method that resonates well with the latest trends. It's a P2P money transfer platform, which means that it was designed for transactions between people who already know each other. However, it still works great as an online rent collection service, and it's safer than the direct deposit and more convenient than money orders. It's free, and it doesn't require the landlord to share their bank details. However, payments made through credit cards incur a 3% fee.
Pros
It's easy to set up and use.
It's free.
It doesn't reveal any sensitive bank information.
Cons
Business transactions incur a 3% fee.
The tenant can easily cancel the payment before it reaches the landlord's bank.
Its primary function is to transfer money between friends. In some situations, it may not be the best for paying bills.
The payment ends up in the landlord's Venmo account, and not in the bank.
It's hard to set up automatic payments.
Zelle
Zelle is a better alternative payment method, whereby the cash goes directly into the landlord's bank account. As long as both the tenant and the landlord have Zelle accounts, the money transfer process is effortless. Better yet, if the online banking platform supports it, the landlord and tenant can set up recurring payments. You can also connect with multiple accounts, but each bank account needs a dedicated email address or phone number.
Pros
You can quickly receive money through your online bank account, or the Zelle app.
It's easy to use.
The landlord can also set up an automatic payment schedule.
The setup process only requires an email address and a phone number. It doesn't reveal any sensitive bank information.
Cons
Not all online banking platforms support recurring payments.
The email address for each bank account can be quite overwhelming and hard to manage.
AppFolio
AppFolio is an online payment system that enables property managers to collect rent online, screen tenants for their payment history, manage their accounting, and even send their tenants messages. Tenants, on the other hand, can request maintenance, make payments, and track their leases. It's a fully-fledged rental properties software that works great for students' apartments and commercial apartments. AppFolio is a renowned income tracking digital payment platform, which also has a mobile app that makes it more convenient.
Pros
It's a great CRM tool that facilitates easier communication between tenants and landlords while allowing them to collect payment.
It enables the tenants and landlords to automate the payment schedule.
Cons
AppFolio can be quite overwhelming to new users.
It's also slightly more expensive than most similar platforms.
There were also several complaints about inadequate customer service.
Cash App
Cash App is also a peer-2-peer commercial payment platform that is acceptable for rent payment. To use it to collect rent online, the transaction has to be marked as a business transaction, and it will incur a 2.75% fee. All payments made by credit card are also charged a 3% fee but not in addition to the business fee.
After money has been transferred, it's difficult to cancel. In case of fraud, you will have to take it up with the Cash App support team who may, or may not, reverse the transaction. Withdrawals take 1 to 3 business days, but you can withdraw instantly at a 1.5% fee.
Pros
It's very straightforward; all you need is the recipient's email or phone number.
The business account is safer for rent payments.
It's free for P2P money transfers.
It is instant.
Once the tenant transfers the money, they can't cancel the transaction.
Cons
There's a 3% fee when a credit card is used.
If you'd love to use it as a business account, you will incur a 2.75% charge.
A Preferred Payment Method - RentDrop
One of the main issues arising from most of the peer-2-peer rent payment options is the lack of proper buyer-seller protection. Also, most of these platforms don't meet the requirements for the tenant-landlord transaction. RentDrop for paying rent online, on the other hand, is a preferred method since it was designed with landlords in mind. It features the versatility you'll find in Rentec while maintaining the simplicity of payment options like Venmo.
It's aimed at helping landlords get the most out of their property while maintaining a good relationship with their tenants. Tenants can pay through credit cards, ACH deposits, and debit cards. And landlords receive the money directly in their bank accounts. Better yet, landlords get to automate rent and late fees.
Related reading: How to get your tenants to pay rent online.
This platform also offers property management tools, such as lease tracking, dashboards, and email notifications. The easy to use panel allows both tenants and landlords to track payment details and other property management aspects. All of these features come at no cost to the landlord or the tenant.
What to look for when choosing an online rent payment method
This process is often overlooked, but choosing a payment option can make or break your rental business. Below are some of the factors you need to keep in mind:
Difficult tenants: One of the main reasons you need a reliable online rent collection method is dealing with difficult tenants. They are always looking for loopholes in the lease agreement, unprofessionalism, or any other reasons for failing to pay. Others may reject your payment method. In such a case, you have to conduct a background check before allowing them to use your property.
The tenants' ability to use the method: A tenant may have some trouble using the platform due to old age, disability, or any other issue. In such a case, you can look for a method that's easier to use, and always assist when needed. In most cases, all you need to do is help them set up the payments, and they will be able to do it every month.
Automatic payment: Giving tenants control over when they can pay is a bad idea. Therefore, you need to look for a payment option that automatically deducts money from their accounts. If you're using P2P options, make sure they have an alert, or invoicing system to avoid late payments.
Automatic late fees: I have stressed this a lot, but I will mention it again. Giving tenants all the control causes issues in case of late payments. Without a policy in place, they may never pay the fees. It's good to go for an option that automatically charges a fine if the tenant fails to pay at the agreed time without a valid reason.
Accepting only full amount payments: Partial payments can be an issue, especially during an eviction situation. Make sure that the method allows only for full rent payment. It also should allow cancellation of the payments when a tenant decides to leave.
Conclusion
Since rent is the only way a landlord can earn from their property, it's essential to carefully select a digital payment platform. PayPal has been around for quite some time, but it's very limited. We have reviewed some online payment systems, from fully-featured methods with all the bells and whistles to P2P options that are acceptable as rent payment methods. They all have their strengths and weaknesses.
However, RentDrop is a preferred alternative payment method since it strikes a better balance of both strengths and weaknesses to offer a payment method that every landlord can use. It's free, the payments are direct deposits to the landlord's bank, and tenants can also make automatic payments.