Late rent payments are one of the most frustrating aspects of being a landlord. Running a successful property management business requires healthy cash flow. You have property expenses, mortgage payments, and other costs to make. Tenants who don't pay their full rent amount or pay rent late can cause significant financial headaches.
The best way to avoid late rent payments is to set up a robust rent collection system from the start. This can involve a rental agreement that includes late fee charges, offering various ways to pay, sending out reminders, and setting up automatic rent payments.
Landlords who set up easy rent collection methods usually find that they rarely have to wait for late rent payments. This improves landlord-tenant relationships and reduces the risk of having to take eviction action to protect your assets.
Of course, there are many reasons why tenants can be late with rent payments. For some, it's just a case of forgetfulness. Other tenants may be dealing with financial issues and never seem to have rent money when it's due. But whatever the reason, not paying rent is a serious rental agreement violation.
In this article, you'll find nine helpful tips and tricks to help ensure that you always get full rent paid on time.
1. Screen Tenants to Reduce Late Rent Payments
Screening tenants is one of the most important steps to reduce the risk of having to wait for rent. The purpose of screening tenants is to ensure they can afford rent, have a history of paying rent on time, and are not guilty of other lease violations.
When you screen each potential tenant, pay close attention to their financial situation. You need to check two essential facts:
Tenant's income
Their credit report
Verifying an applicant's income ensures that they can comfortably afford the agreed rent amount. According to government sources, a tenant shouldn't spend more than 30 percent of their income on rent. If a tenant plans to spend 40 percent of their income or more on rent, they will most likely have difficulty regularly paying the entire amount of rent.
The applicant's credit report can also help evaluate if they are a risk. Be wary of potential tenants who have a history of making late rent payments or are currently servicing a mountain of debt. A definite red flag would be a tenant who has been through an eviction lawsuit.
2. Use an Online Rent Collection Method
If you never want to wait for late rent payments again, get your tenants to pay online. Landlords who collect rent online find that it's easier for tenants to pay rent, and it's easier for you to collect rent. Online rent collection options streamline the rent payment process.
Think about it—the majority of your tenants already pay their bills online—so why not rent? Of course, there are different ways to collect tenant rent online. Using a rent collection app such as RentDrop is one of the simplest methods for rental unit owners to receive rent on time.
Here are some of the advantages of an online rent collection app:
Tenants can set up automatic payments to never miss paying rent
Tenants have multiple options to pay, including paying rent with a credit card, debit card, or ACH
Collect security deposits online
Automatically calculate and charge late payment fees
Collect rent directly into your bank account
Overview of your tenants' payment status
Lease management tools
3. Communicate Clearly with Tenants about Payment Dates
If a tenant is having difficulty making full rent payments, it's essential to speak with them. Sometimes, there is just a misunderstanding, or the tenant forgot. It could be that they have lost their job, been hit with medical bills, so some other life-changing event.
Of course, paying the agreed rent amount in the lease is the tenant's responsibility. So, you may need to explain about late fee charges, how much is due, and when a deadline to pay the entire amount of rent.
Another way to avoid late rent payments is to send out reminders. For example, the RentDrop rent collection app sends out automatic reminders to tenants when rent is due. Also, you can collect late payment fees through the app—an excellent way to avoid a potentially awkward situation.
4. Have a Policy for Late Rent Fees and Grace Periods
The rental agreement should have a late payment penalty clause—as a way to encourage tenants to pay rent on time, not penalize them. Any late rent fees have to be in line with local laws on rental properties. But tenants are usually highly motivated to pay rent on time to avoid paying the standard late fee.
Many successful landlords also offer tenants a grace period before the late fee clause kicks in. Sometimes, tenants have to wait for checks to clear before they pay rent. Or, some ACH bank deposits can take a day to two to clear. Giving your tenant a few extra days to pay rent in full also helps strengthen landlord-tenant relationships.
5. Give Incentives for Paying Full Rent on Time
One neat trick to encourage prompt rent payment is to offer incentives. Although paying rent in full is a term of the rental agreement, tenants appreciate receiving a reward for their efforts. It's also in your interest to keep tenants happy and rental units occupied.
What are some incentives you can offer responsible tenants who are never late with rent? Here are a few:
Put aside $10 every month they pay rent on time and reward them with an Amazon gift card every year or when the lease renews
Offer a reduction in one month's rent if they make payments on time for a certain number of months in a row
Give tenants an early payment discount
Upgrade appliances to higher-end models for renters who always pay rent promptly
6. Report Late Rent Payments to Credit Bureaus
Tenants who know that late rent payments could negatively impact their credit score are more likely to pay rent on time. The rental agreement can include a late fee clause that you will report these to credit bureaus. For tenants concerned about their credit history, they will think twice before making a late payment.
Of course, there could be a valid reason why a tenant can't make full payment. But the fact that you report late rent payments to credit agencies makes the tenant more responsible. They are more likely to communicate with you to resolve the issue. In which case, you may not need to report them.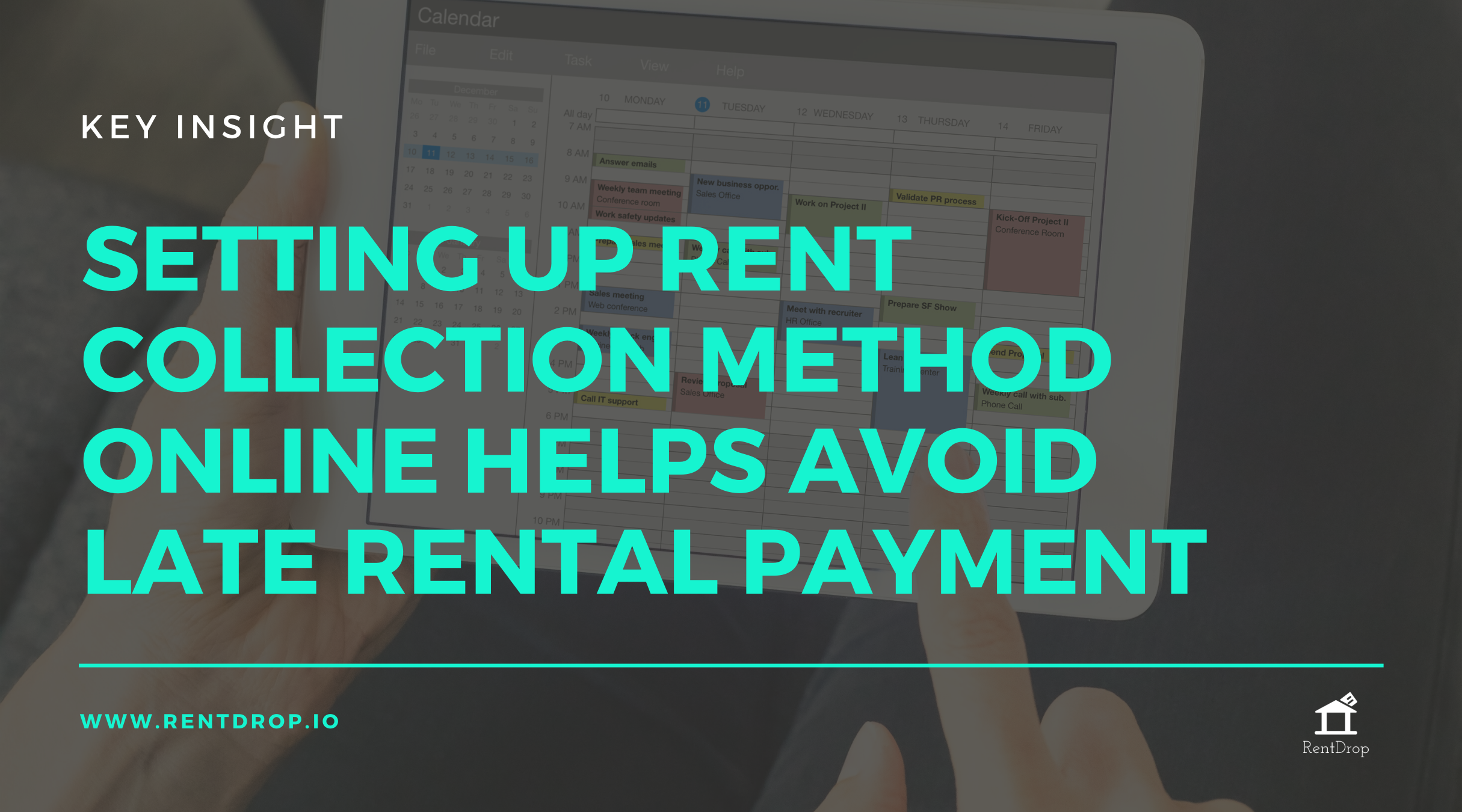 7. Send Out Reminder Notices
A simple reminder can be all it needs to never wait for late rent payments again. As already mentioned, there can be many legitimate reasons why a tenant sometimes misses their rent. If you have a policy of sending reminders a few days beforehand, you will likely see an increase in cash flow.
If you send out regular rent payment reminders, it's always good to follow up with a thank-you email for prompt payment. This can help make sure that tenants view reminders positively.
Automated reminders are one reason why many landlords use an online rent collection app. Automation is one of the best ways to ensure you never miss a payment. Even if a tenant is late with the rent, the app automatically calculates and charges late fees.
8. Review the Terms of Your Rental Agreement
It may be necessary to review terms and clauses in rental agreements, especially if you have to wait for rent frequently. It could be that tenants are not aware of late charges, payment dates, grace periods, and discount clauses.
Here are the most critical aspects of any rental lease agreement to ensure prompt payments:
The amount of rent—Check that the lease agreement clearly states the full rent amount. It makes good sense to ensure that you're charging fair rent, within the limits as set out in local laws allow.
Due date—Set out in writing the payment dates for paying rent in full, if there is any grace period, and what to do if the due date falls on a weekend or holiday.
Payment options—The rental agreement should state if you accept money orders, paper checks, or if you just accept online rent payments.
Late fee charge—The amount you charge for late rent should adhere to local laws on landlord-tenant agreements.
Communicating clearly with tenants about payment options and late payment consequences can help to keep your cash flow situation healthy.
9. Make Paying Rent Convenient for Your Tenants
The best way to reduce late rent payments to a minimum is to make it easy for tenants to pay rent. Using methods such as cash, money orders, or paper checks usually means dealing with more late payments. Moving the rent payment process online makes it easier to collect rent.
Even if a tenant mails their rent check by the due day, you still have to wait for a few days until it clears. And, there is always the risk of dealing with a bounced check.
Related reading: The best alternatives to rent checks.
How to Make Sure You Never Wait for Rent Payments
Ways to encourage tenants to pay rent on time include clear communication, screening tenants, and providing discounts for prompt payment. But you can significantly reduce instances of late rent payments by moving online.
Give your tenants the option of using a rent collection app, such as RentDrop. Apart from streamlining your work as a landlord, your tenants are more likely to pay rent on time.