The COVID-19 pandemic has made an enormous impact on the lives of everyone. Executive orders placed millions of folks under lockdown and shut many businesses to help stop the spread of the virus. The surge in unemployment has had a severe knock-on effect on landlords. Due to losing employment and receiving unemployment benefits, millions of tenants can't pay their rent.
So, this raises the questions: how can landlords continue to collect rent despite the COVID-19 pandemic? How can you continue to run a successful property management business when many people can't afford rent?
To say it's a challenging time to be a landlord is an understatement. Apart from tenants being unable to pay their rent in May, June, or the foreseeable future, state executive orders put a moratorium on evictions. If you're a landlord, you're in a tricky situation. On the one hand, you want to show empathy to tenants who've lost their job. On the other hand, you've got expenses, mortgages, property tax, and debts to cover. Without rental income, that's pretty much impossible.
This article aims to provide answers to how landlords can continue to collect rent despite the financial carnage that coronavirus has caused.
How COVID-19 Pandemic Affects Landlords
According to official real estate statistics, over 43 million Americans rent their home. This figure means that there are more renters in the U.S. than at any point during the last 50 years. One survey found that 20 percent of tenants couldn't make any rent payments in June, and 12 percent only made partial payments.
The types of tenants most likely to miss rental payments are low-income households, younger renters, and urban dwellers.
May and June only signaled the start of the COVID-19 crisis in the real estate rental market. But many things will continue to impact landlords even more. For example, under the CARES Act, people claiming welfare received an extra $600 per week for unemployment benefits. But that runs out at the end of July unless the Senate approves a second round of stimulus packages.
One news report used the terms housing "apocalypse" and "tsunami of evictions" to describe how COVID-19 will continue to affect the property market business. The reason? Nearly 40 percent of tenants are worried they won't make their rent payments and will face eviction.
If you manage several rental units, you already know the effect that the coronavirus health crisis is causing. How can you manage rent collection during COVID-19?
Ways to Collect Rent During the COVID-19 Pandemic
Let's look at seven ways you can keep a healthy cash flow during a global pandemic.
1. Find out local government regulations
First, read up on what regulations apply to tenants and landlords during COVID-19 emergency measures. During a time of crisis, the federal government or state government can approve emergency legislation. During the coronavirus pandemic, many state governments passed eviction moratoriums before the federal government did.
For example, in New York State, the Governor extended the ban evicting tenants beyond the original date of August 20. Although the state-wide moratorium on evictions puts financial strain on landlords, many states also provide financial assistance for landlords.
It's vital to remember that a moratorium on evictions doesn't mean that tenants don't have to pay rent. Eventually, tenants have to make up the full amount of rent they are due to landlords. Unfortunately, evictions could become inevitable when moratoriums end.
Also, just because you can evict a tenant doesn't always mean that it's a good idea. It could also be a mistake to evict a tenant who would start making full rent payments as soon as their circumstances allow. For example, maybe a furloughed tenant can make partial payments? During the current coronavirus pandemic, it may be challenging to find new tenants for your rental properties. After all, a partial payment is better than no amount.
2. Communicate with your tenants
Communication with your tenant during COVID-19 is crucial. Many tenants are hesitant to reach out to landlords for several reasons—fear of eviction, embarrassment, or getting an angry response. So, if you haven't already done so, reach out to tenants who are struggling to make monthly rent payments.
Every tenant's situation is different, and it helps to know their financial situation. One rent collection service found that the majority of renters are more likely to share employment information when landlords reached out to them.
In many cases, tenants who feel that landlords treat them with respect are more likely to pay rent. After all, if a hard-up, stressed out, anxious tenant gets a threatening message to pay up or quit, they may just do that—leave. And, then you can't collect any rent from them at all.
Remember that a little empathy can go a long way and help keep some cash coming in. However, it's still vital to send a message that you're serious about collecting rent payments.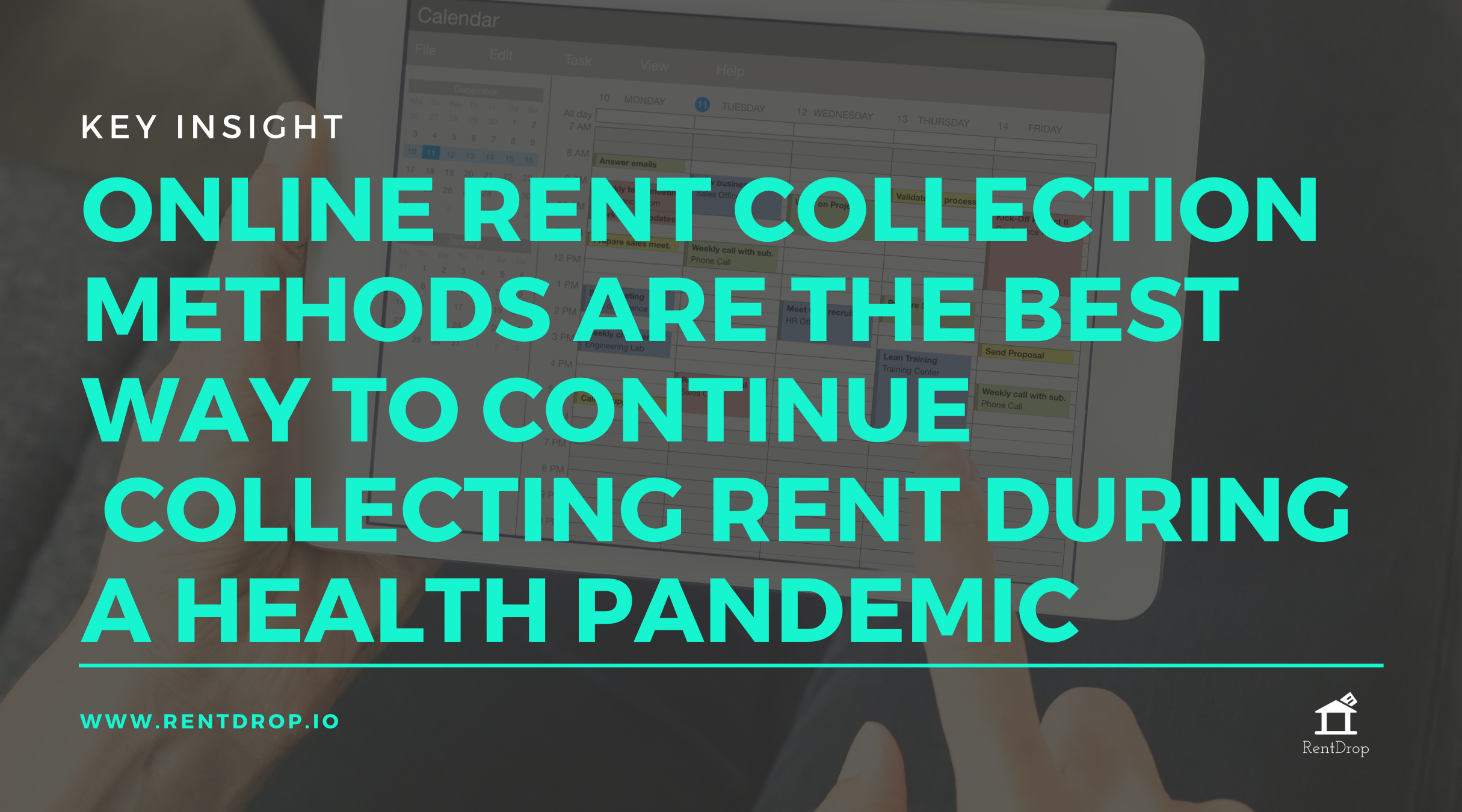 3. Accept partial payments or offer rental payment plans
If you have a federally backed mortgage, you may get financial assistance with your mortgage payment. Under the CARES Act, mortgage lenders can forbear mortgage payments for up to 180 days. If you are still undergoing financial hardship, you can apply for an additional 180 days for mortgage forbearance.
How does the CARES Act help you collect rent during COVID-19? Because you can get a forbearance on your mortgage payment, you can work out solutions for tenants to make partial payments. If you agree to accept partial payments, ensure that you put everything down in writing. The document should also state that partial payments don't satisfy their full rental payment obligations.
Most state governments allow landlords to set up payment plans to collect unpaid rent. First of all, you need to determine what the tenant can afford. Allow them to pay the set amount for six months. Once the state of emergency is over, you can add the amount to their monthly rent payment until the rent debt is repaid.
4. Get proof of tenant's income
In some cases, it makes sense—if local state laws allow—to get proof of income. Sometimes, a tenant can't pay rent due to the COVID-19 pandemic for legitimate reasons. In other cases, tenants take advantage of the health crisis.
It's clear that you can collect rent from a tenant who's now working from home during the pandemic. If they're still making a few grand a month, chances are they can afford rent. If they don't pay, it's a reason to start eviction proceedings—as long as there is no eviction moratorium in force.
But, say a tenant lost their job due to the coronavirus? And, they're eking out a living on welfare. Maybe it's possible to come up with a temporary solution to continue collecting some rent until they get back on their feet.
5. Offer incentives during COVID-19 pandemic to reduce vacancies
Let's face it—it's impossible to collect rent during the COVID-19 pandemic if you've got vacancies. Is there more you could do to entice new tenants to live in your rental property? Here are some ideas to market a rental unit during the coronavirus:
Virtual tours:

Offer virtual tours of vacant units over Facetime, Skype, WhatsApp, or Zoom. Use these opportunities to showcase the best features in your rental unit while, at the same time, observing social distancing.

Provide incentives:

You may be able to fill vacant units to improve your cash flow by offering incentives. You could offer a month's free rent, waive the security deposit, or free broadband for six months.
6. Apply for a federal government loan
If you are unable to apply for mortgage forbearance with your lender, a government-backed loan may help you avoid financial disaster. Landlords can apply for assistance through the Economic Injury Disaster Loan (EIDL). The benefits to landlords who've taken a hit due to the COVID-19 pandemic are as follows:
Loans of up to $2 million

No payments for the first 12 months

Payment terms are 3.75% over 30 years

No penalty for prepayment
One of the drawbacks is that landlords can only access EIDL loans if they have employees.
7. Use an online rent collection service
Using an online rent payment system can help you collect rent during the COVID-19 health crisis. Property management apps such as RentDrop allow tenants to pay rent by debit or credit card. Also, they can make partial payments or set up automatic payments. In many cases, tenants who can pay rent online are more likely to make regular payments than those who pay by check.
Also, accepting online rent payments benefits landlords. For example, you get a complete overview of your tenants' payment status. You can also send rent reminders, accept partial payments, set up a rent payment schedule, and manage leases.
Collecting Rent During the COVID-19 Pandemic: In Conclusion
The coronavirus outbreak has affected everyone—landlords, tenants, and homeowners. For landlords, it's vital to continue collecting rent during the COVID-19 crisis. After all, that is your job, and you don't have an option of furlough or claiming welfare.
Open communication, working out solutions with tenants, and online rent collection methods are excellent ways to continue collecting rent during a health pandemic.