Collecting rent on time is one of the most challenging tasks that landlords face. Traditionally, landlords collect rent on the first of the month. If all goes well, your tenants pay their rent on time, and you enjoy a healthy cash flow. But many tenants struggle to pay their full month's rent by the first. For some tenants, allowing them to pay rent on their schedule is the perfect solution.
How Flex Rent Payments Benefit Landlords
Offering tenants flex pay options to pay rent has multiple benefits for landlords. First, you have a better chance to collect rent on time. Also, you improve landlord-tenant relationships as you don't have to charge late fees. Plus, you minimize the need to start an eviction process for late rent payments.
There are many legitimate reasons why some tenants struggle to pay rent. They could work in the gig economy and don't receive regular paychecks. Or some tenants could face unexpected bills or other financial challenges. However, allowing some tenants to split up rent payments throughout the month means they can always pay rent on time.
The most successful landlords in the country are starting to offer tenants flex pay options for paying rent. The payment schedule could be based on when they get their paycheck. Or you could split rent payments into two or three regular payments. In the end, your tenants are happier because they don't have to pay late fees. Also, your rental business benefits because you always receive rent on time.
Why Allow Tenants to Pay Rent on Their Schedule?
The global health crisis in 2020 highlighted the need for landlords to be flexible. Millions of people lost their job and couldn't afford to pay rent. Even though many people received financial aid, it still wasn't enough to pay rent.
Landlords quickly realized that offering flexible payment plans for tenants was a win-win situation. The National Multifamily Housing Council (NMHC) reported on the benefits of flex pay. Investment property owners who adjusted payment schedules matching a tenants' income flow tended to fare better through the pandemic. Also, flex pay allowed tenants to stay in their homes, thus reducing the number of vacancies.
Apart from the 2020 pandemic, there are many reasons to let tenants pay on their schedule. For example, self-employed, hourly employees, or gig workers can manage their expenses relative to income. Then some tenants face temporary financial setbacks—the ones who will continue paying rent when they get back on their feed.
Though a new concept for many, flex pay for rent payments is the latest solution for landlords to help tenants pay rent regularly.
How Does Flexible Rent Payment Work?
Flexible rent payments allow tenants to make rental payments that suit them. They can pay weekly, biweekly, or pay it all off in one lump sum. If they don't have the cash to pay the rent one month, they can pay off other expenses and then catch up on installments in the following month.
As a landlord, you probably feel that flexible payments will bring about a lot of headaches. Many landlords are still under the impression that being flexible with rent payments leads to further problems down the line. For example, you also need regular income to pay your bills.
One of the benefits of RentDrop's rent collection app is that it makes flex pay easy for landlords and tenants. Remember, flex pay doesn't mean deferring rent payments. It means that you collect a full month's rent, every month—but in installments. Together with allowing tenants to pay rent online, flex payments can minimize the risk of late payments.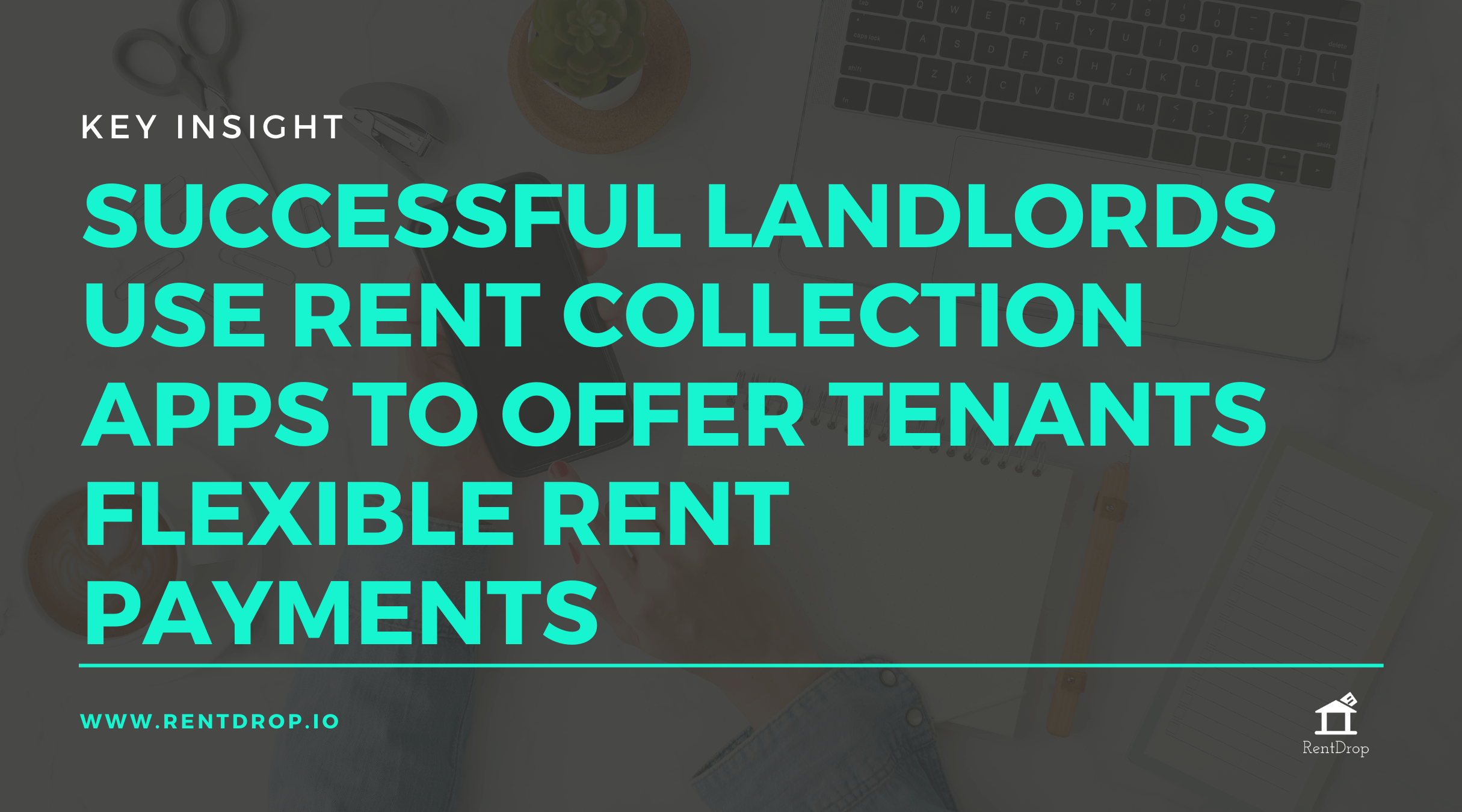 7 Awesome Reasons to Let Tenants Pay Rent on Their Schedule
There are seven excellent reasons why you should consider allowing flexible payments among your tenants.
1. Flex pay makes tenants are far happier
Flex pay shows that you're an understanding landlord who has tenants' interests in mind. After all, nobody wants to get behind on their rent payments. And tenants find it embarrassing and awkward when they miss a payment. Also, tenants can be stressed if their paycheck arrives on the third or fourth of the month, but the rent was due on the first.
2. Flex pay reduces the late fees
Offering tenants flex pay solutions to pay rent can significantly reduce the need to charge late fees. Having to charge a struggling tenant with an extra $30-$50 fee doesn't do anything for the relationship. With flexible rent payments, you remove the need for late payment fees.
3. Flex pay builds your reputation as a top-class landlord
Matching the rent payment schedule to a tenant's income flow is excellent for your reputation. Tenants love the option for flexible rent payments. If they're happy with their rental accommodation, they will talk about you to friends and family. The result is that your rental business flourishes because you get referrals from satisfied tenants.
4. Flex pay results in fewer vacant properties
Flex pay allows tenants to pay rent on time, never having to miss a rent payment. This means that you have fewer evictions for non-payment of rent. During an eviction process, you are unlikely to receive any rent payments. Then, when you evict the tenant, you need to fill the vacancy quickly to reduce losses.
Offering shorter payment schedules reduces your costs of evictions, empty properties, screening new tenants, and filling vacancies.
5. Flex pay means no juggling act on the first of the month
In a perfect world, collecting rent on the first of the month is ideal. It seems to make tracking payments easy, and keeping accounts up to date is more straightforward. But changing economies mean that not everyone gets paid on the last day of the month.
A tenant whose salary clears on the fifth or who is self-employed may not have the full month's rent on the first. So, either they have late fees to pay every month or must find another solution to pay rent on time.
6. Flexible payments don't mean you are out of pocket
You always receive the full amount of the rent every month. Either you collect rent online in two or three installments. Or some months tenants will overpay, and other months they will underpay. The bottom line is that the full amount is still paid.
In some cases, you could decide to defer payments if a tenant has temporary financial hardship—losing their job or unexpected medical bills. In those cases, you could easily set up a payment schedule to spread out the rent payments.
7. Flex pay sets you apart from other landlords
Offering flex pay rent options sets you apart from the competition. You can mention flexible payment schedules in interviews with potential tenants. If they are self-employed, gig workers, or have a varying income, flex pay helps you attract more tenants.
Of course, when offering flex pay, it's still vital to go through the normal tenant screening process—income, credit checks, background checks.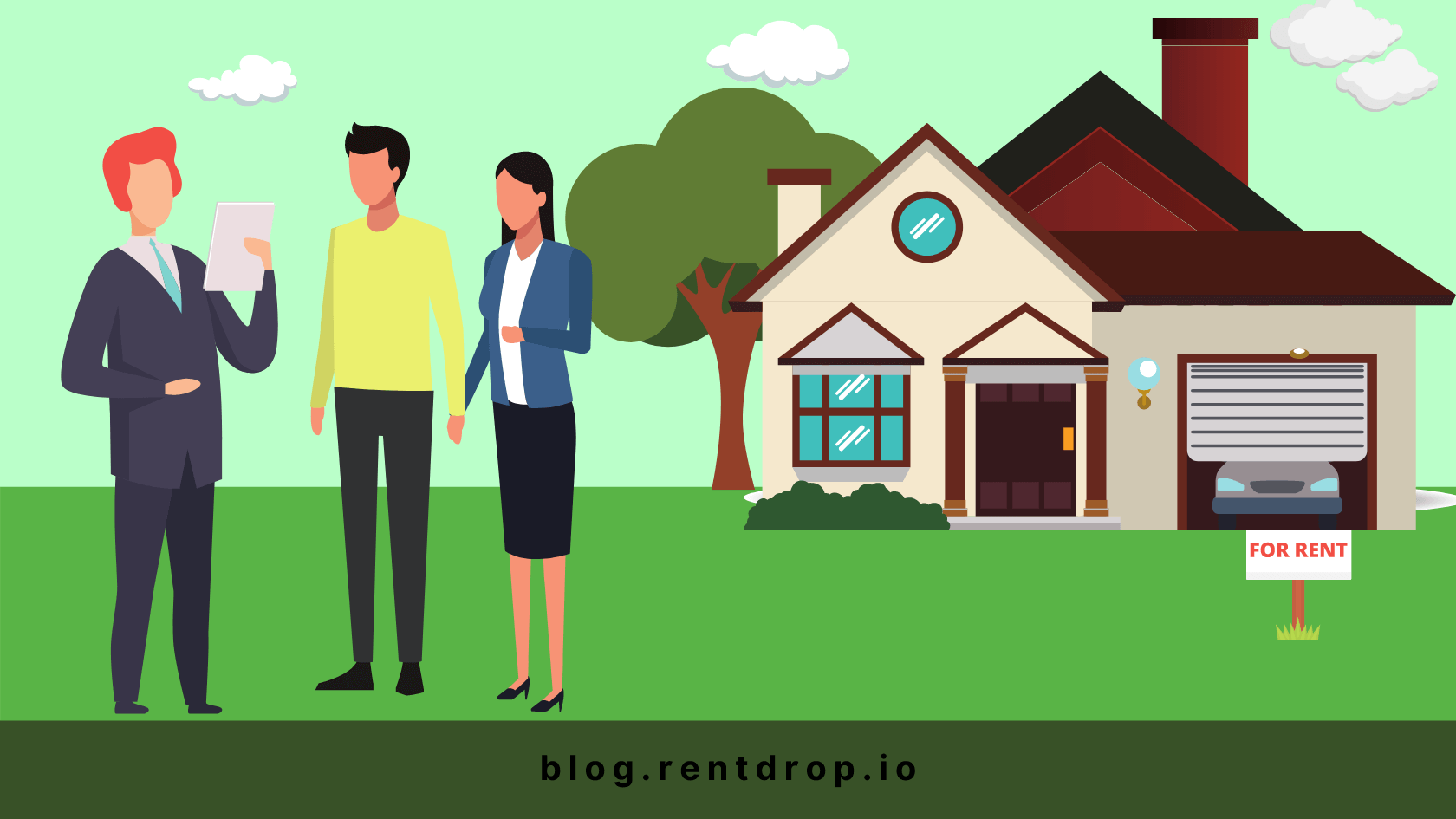 Suppose a prospective tenant checks out. They've got a solid credit history and can easily afford the monthly rent. But they're looking at two similarly-placed apartments. One landlord insists on rent payments by the first and threatens late fees if they miss rent by a day or two. The other landlord offers a flexible payment schedule—one that's relative to their income. Which apartment is now the more attractive proposition?
How Should Landlords Go About Setting Up Flex Pay?
Flex pay is easy to set up if you use a rent collection app that has this feature. However, there are a few things to keep in mind when switching to a flexible rent payment schedule.
First, you need to ensure you have enough savings to cover expenses during the transition period. If you still have a mortgage to pay, you must have the cash flow to pay it—as well as other responsibilities
The second thing to do is contact one of the friendly team members of RentDrop. Flexible rent payments are one of the many features of the app. Landlords who use our RentDrop app can collect online rent payments in full on the first or according to the tenants' schedule.
RentDrop Rent Collection App and Flex Pay
RentDrop is an easy to use rent collection app for landlords. The features of rent drop help with essential property management and online payments. You will also find tools to set up flex pay options for eligible tenants.
Your handy RentDrop app comes with property and unit overview dashboards, lease management tools, and in-app email notifications. With the payment status dashboard, you can see which tenants have paid and how much—taking away the potential work of tracking flexible payments. And if that's not enough, RentDrop is free for landlords—forever!
You can chat with a team member online or email us at support@rentdrop.io for more information.