A rent payment app is the best way for your tenants to pay rent electronically. Rent collection is key to running a successful rental business. Using an online rental payment solution encourages tenants to pay rent on time, makes collecting rent, and helps simplify administration tasks. So what should you look for in a rent payment app to make your life as a landlord or property owner more straightforward?
Avail is a popular rent payment service that facilitates a smooth online rent collection process. However, there are many excellent alternatives to Avail that are worthy of consideration. Some include subscription fees, while others are free for tenants and landlords.
This article reviews the features of seven online rent payment solutions suitable for landlords and rental property owners. All of the apps reviewed are the best alternatives to Avail. We're sure you'll find the right app that suits your and your tenants' needs.
What is Avail?
Avail is an online platform for landlords to collect rent. The rental payment app has a free version that includes basic rent collection and maintenance tracking. However, you must pay fees for accepting direct ACH deposits. The paid-for version includes applications, lease agreements, and next-day rent payments.
Avail pricing
The cost to use Avail for rent payments is one reason why some landlords look for an alternative.
The free version of Avail costs $2.50 per ACH bank transfer. And if you accept credit cards, you must pay a 3.5% transaction fee. However, you can avoid Avail fees by signing up for the unlimited plan for $5 per month.
Why Landlords Collect Rent Online
Avail is just one of the many rent payment apps that streamline rental property management. However, before looking at the alternatives, it's a good idea to know what to look for in a suitable online rent payment service. Here are the essential features to look out for.
Pay rent with a debit card, credit card, or direct deposit: Make it easy for tenants to pay rent by offering a range of payment methods. This way, you help safeguard your rental income.
Automatic rent payments: Tenants who set up recurring monthly payments usually make timely payments.
Report rent to credit bureaus: An online payment app that reports on-time rent payments to the major credit bureaus is a great idea. This is an excellent incentive for tenants to use a rental app. It also encourages on-time payments, thus boosting your cash flow.
Block a partial payment: It's crucial to block partial payments from tenants you are trying to evict.
Split rent with roommates: Do you own a multi-tenancy rental unit? If so, a rental payment app with a split-rent feature is ideal for co-tenants.
Incoming rent payment tracking: The best online rent payment platforms should have robust rent tracking features. This way, you can track rent payment history.
Automatic late fee calculation: On the rare occasion when a tenant is late with the rent, the automatic fee calculation function helps cut down administration work.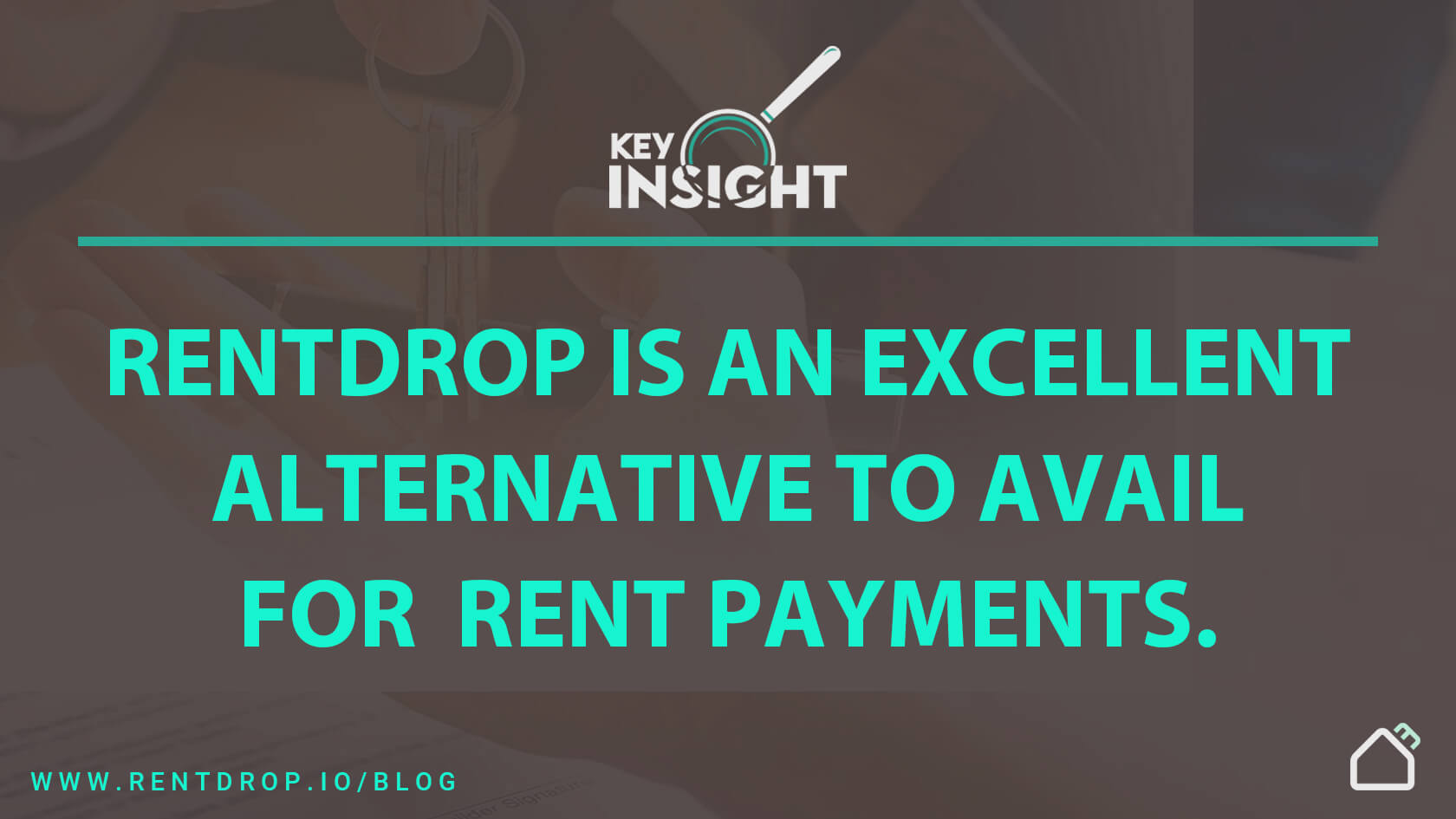 Alternatives to Avail for Rent Payments
What are the best rental payment platforms to make your life as a landlord easier? Here are seven rent payment apps that have the essential features you need. This information will help you know if the payment app is suitable for your business.
Rentdrop
Rentdrop is a free payment app to automate the entire rent-paying process for tenants and landlords. Tenants can pay rent using a debit card, credit card, or ACH bank transfer. At the same time, Rentdrop has payment reminders, options to block a partial payment, set up recurring payments, and split rent.
Rentdrop pricing
Rentdrop is free to use without the need to upgrade for extra services. Unlike Avail, which charges for ACH deposits, landlords can collect rent free. Additionally, processing fees for credit card payments are made to the tenant, not the landlord.
Who is Rentdrop for?
Rentdrop is designed for landlords who manage between one and 100 rental units. The rent payment system is easy for tenants to use. Rentdrop also helps maximize rental income because it's a fee-free payment app.
Buildium
Buildium is property management software that includes online rent collection. Apart from rent payments, the software provides tenant screening, credit history checks, online payments, rent reporting, and rental application processing. However, because Buildium is for comprehensive property management, it comes at a hefty price for property owners or landlords.
Buildium pricing
Buildium has three pricing plans that start at $50/mo. However, depending on the number of units you manage and the services you require, Buildium can cost as much as $460/mo. Landlords also pay additional fees for each incoming rent payment.
Who is Buildium for?
Buildium is for rental property owners who have an extensive investment portfolio. Unfortunately, the expensive pricing plans mean it's not cost-friendly for small-time landlords who manage a handful of rental units.
Related reading: Rentdrop vs. Buildium.
Apartments.com (Cozy)
Formerly called Cozy, Apartments.com is a rental management tool that allows a landlord to collect rent electronically, list vacancies, and manage properties. The software has all the essential features of a payment app but includes maintenance requests, tenant screening, and renters' insurance. There is also a handy messaging function to facilitate communication between you and tenants.
Cozy pricing
Cozy is a free rental app for landlords and tenants to use. However, transfers to bank accounts take seven to ten business days. Therefore, if you need expedited payouts in fewer than four days, you must pay a fee of $2.99 per unit. Additionally, there is a 2.75% processing fee for credit card transactions.
Who is Cozy for?
Apartments.com (Cozy) is designed for medium to large-scale property owners who need the option of listing vacancies regularly. It must be said that Cozy used to be popular with. However, since its transition to Apartments.com, many landlords report that it's difficult to use and confusing.
Related reading: Rentdrop vs. Cozy.
TenantCloud
TenantCloud is a rent payment tool with property management features. The paid-for payment app lets tenants pay monthly rent electronically and set up recurring payments. In addition, the software has features for rental application processing, rental listing management, maintenance requests, and accountancy.
One thing to consider about TenantCloud as an alternative to Avail is that it doesn't report rent payments to credit reporting agencies. Also, it can take up to seven business days to deposit funds in bank accounts.
TenantCloud pricing
TenantCloud only has basic rent collection features in the free version. Unlocking the extra features incurs a subscription fee of either $12 or $40. There are also customized pricing plans to manage a team.
Who is TenantCloud for?
TenantCloud is suitable for investment property owners who need features for complete property management. However, when it comes to online rent collection and rent payment features for tenants, Rentdrop is a better solution.
Related reading: Rentdrop vs. TenantCoud.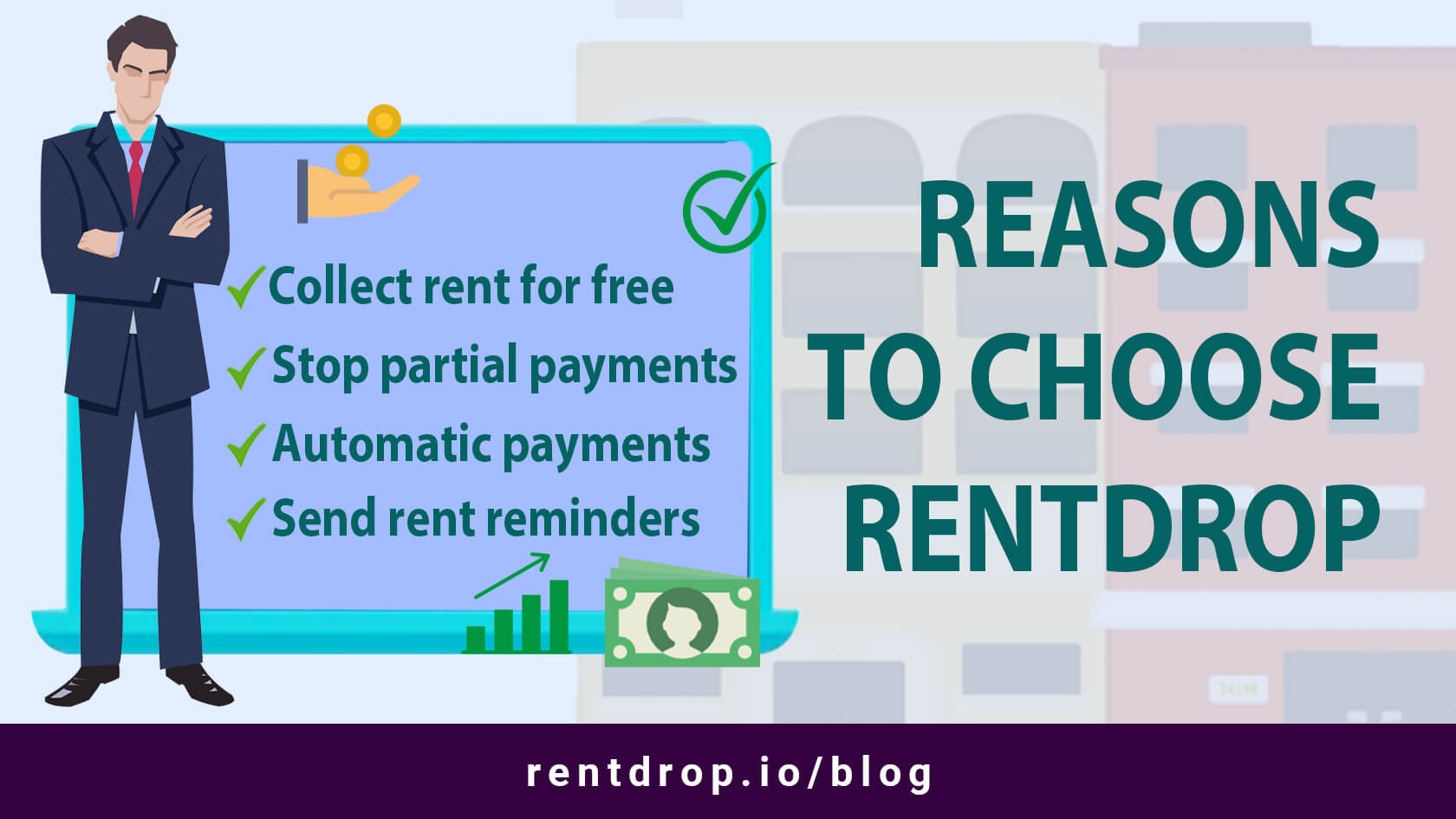 Rentler
Rentler is a lesser-known rent payment platform that is free to use. The app has a good range of tenant-friendly features. These include reporting rent payments to credit bureaus, offering various payment options, and processing digital applications. Additionally, landlords can use Rentler to accept maintenance requests, screen tenants, and list vacancies.
However, there are a few essential issues that Rentler seems to lack. The most important is that it seems impossible to block a partial payment. This means that the rental app may make it difficult to evict a tenant for a lease violation or non-payment of rent.
Rentler pricing
Rentler is free to use if tenants pay rent by direct deposit. However, a tenant must pay a 2.9% processing fee to pay rent with a debit card or credit card. Unfortunately, this fact means that tenants have few incentives to use online payment methods because their rent could be more expensive.
Who is Rentler for?
Rentler is a basic property management app for landlords. However, there are better alternatives to Avail and Rentler that are free for tenants and landlords to use. For example, the lack of a partial payment blocking option is a significant reason to look for an alternative.
Related reading: Rentdrop vs. Rentler.
Rent Manager
Rent Manager is an expensive landlord tool to manage hundreds of rental units. Although Rent Manager has basic features to collect rent online, it is geared toward property managers. It is a suitable solution for listing vacancies, handling vacancy requests, processing rental applications, and screening tenants.
Unfortunately, if you are looking for a free-to-use rent collection app, Rent Manager isn't the best option. Apart from having a high subscription fee, many of the standard rent collection functions on free apps like Rentdrop come at an additional cost.
Rent Manager pricing
Rent manager costs a minimum of $200/mo to use. Suppose you want to add features like reporting rent payments to credit bureaus or blocking a partial payment. In that case, you should expect to pay even more.
Who is Rent Manager for?
Rent Manager is designed for rental property owners with an extensive investment portfolio. Unfortunately, its high monthly cost makes the rent collection tool unsuitable for most landlords who manage a few units.
Related reading: Rentdrop vs. Rent Manager.
TurboTenant
TurboTenant is another alternative to Avail because it lets landlords collect rent for free. The rent collection app includes blocking a partial payment, automatic late fee calculation, reporting rent to credit bureaus, and payment receipts. However, there are no features for setting up automated rent payments.
TurboTenant pricing
TurboTenant is free for landlords to use, making a suitable Avail alternative. However, tenants can only pay rent for free with a bank transfer (ACH). To pay rent by credit card or debit card incurs a hefty processing fee of 3.49%.
Who is TurboTenant for?
TurboTenant is designed for online rental payments and managing several rental properties. Although the app has excellent features for landlords, it has limited payment options for tenants who want to pay rent online for free.
Related reading: Rentdrop vs. TurboTenant.
Avail for Rent Payments — What are the Alternatives?
There are several suitable alternatives to Avail if you want to offer tenants online rental payment options. From the rent payment apps we've reviewed, Rentdrop is an excellent Avail alternative. Rentdrop is free for tenants and landlords to use, without costly processing fees for paying rent online.
Related reading: Rentdrop vs. Avail.
Here are some of the valuable features you get with Rentdrop:
No subscription fees
Accept ACH deposits, credit card, and debit card payments for free
Split rent with roommates
Automatic late fee calculation
Tenants can set up automatic payments
Send payment reminders to tenants
Report rent payments to credit bureaus (coming soon)
In Conclusion
Rent payment apps are convenient for landlords and tenants. Although Avail is popular, there are plenty of alternatives to choose from. Rent payment apps like Rentdrop save time by cutting out the need for checks or cash, help generate rent reports, and automate rent payment processes.
Sign up for Rentdrop today to see how it can save you time and resources to let you concentrate on your core. Additionally, your tenants will love using Rentdrop because it's one of the easiest apps to pay rent currently in the industry.