Collecting rent is one of the most significant issues that landlords face. Some tenants are forgetful and need payment reminders. Or, sometimes, rent payments are late or checks bounce. And some tenants regularly default on rent payments or make partial rent payments. Any rent collection method that helps tenants pay rent on time is going to save you a ton of stress.
Traditionally, the most common rent payment method is sending a check to the landlord. But the days of paper checks are coming to an end. Apart from being clumsy, checks take a few business days to clear. During the check processing time, the cash you need in your bank account is held up somewhere else.
Digital rent payments are one of the best ways to collect rent regularly. Using an online rent collection method, you can set up a payment schedule, accept debit or credit cards, and check your tenants' payment history.
But an online rent payment method also benefits tenants. They can schedule recurring payments, pay by direct deposit, or choose from several payment options. Some online rent collection apps allow tenants to send maintenance requests.
It doesn't matter if you own a single rental property or have an extensive rental portfolio—collecting rent on time is a priority.
In this article, you'll find out 11 reasons why collecting rent online is the best option for landlords.
1. It's Easier to Collect Rent Online
Choosing an online payment method to collect rent is the easiest way for landlords to run a rental business. Most people do the majority of their banking and purchases online anyway—so, why should paying rent be any different?
According to one survey 79 percent of tenants would prefer to pay rent online. Digital rent payment options for rent can include ACH direct deposits, credit cards, money transfer apps, or rent collection apps. Your tenants will be happier making rent payments from the comfort of their home. You receive automatic notifications when you receive money in your bank account.
2. Online Rent Collection Saves You Time
Collecting rent online saves you and your tenants time. No more driving to the Post Office to pick up rental checks and then off to the bank to cash them. Even then, when you deposit the check, you still have to wait days for funds to clear. And what if the check bounces? You've got to spend time even more time contacting your tenant with the risk of an unpleasant confrontation.
Making mobile rent payments or setting up automatic payments also saves your tenants' time. They can either make one-time payments from the comfort of their home or set up a payment schedule and then forget about it.
3. Online Payment Methods are Secure
One of the benefits of convincing tenants to pay rent online is that it is more secure than paper checks. Information that tenants send through the mail contains sensitive data that—in the wrong hands—could make them a victim of identity theft. Online bank payments are encrypted to reduce the risk of identity theft.
Another way that collecting rent online benefits landlords is that you don't have to share sensitive information with your tenants. They make rent payments via the mobile app. Your financial information is safe, and your tenants' financial data is secure.
Depending on the type of digital rent collection method used, landlords can collect rent by the following means:
Direct deposit in bank accounts

Specialized rent collection apps such as RentDrop

eCheck

Debit Card

Credit Card

Money transfer apps such as PayPal, Cash App, or Vimeo

SMS payment
4. Payments Reminders to Avoid Late Rent
The best online rent collection apps send automatic payment reminders. These notifications help to reduce the number of tenants who pay rent late rent. Depending on the payment schedule, you can send out payment reminders some days or a week before rent is due.
Payment reminders help to keep tenants informed about their payment responsibilities and encourage prompt rent payments. After all, circumstances in life can change suddenly, and a tenant could easily forget to make their payment.
5. Landlords Benefit When Tenants Schedule Recurring Payments
Landlords benefit from online rent collection when tenants set up recurring rent payments. All the tenant has to do is schedule their recurring payments, and they are safe in the knowledge that they will not miss a rent payment due to forgetfulness.
The majority of millennials prefer paying online. Now more older people are turning to online shopping and paying their bills electronically.
Getting rent payments automatically in your bank account also removes laborious accounting work. For example, manually recording check payments, driving to the rental property to pick up the check, or making deposits in your bank account.
6. See Payment Status in Rent Collection Apps
Rent collection online means that landlords can easily keep track of rental property payments. Rent collection apps automatically show due rent payment, tenants who've paid, and any late rent payments. This frees up a lot of your time as a landlord to concentrate on tenant screening or managing your rental units.
As well as going online to check on payment status, you can receive in-app or email notifications when you collect rent.
7. Landlords Receive Payments Faster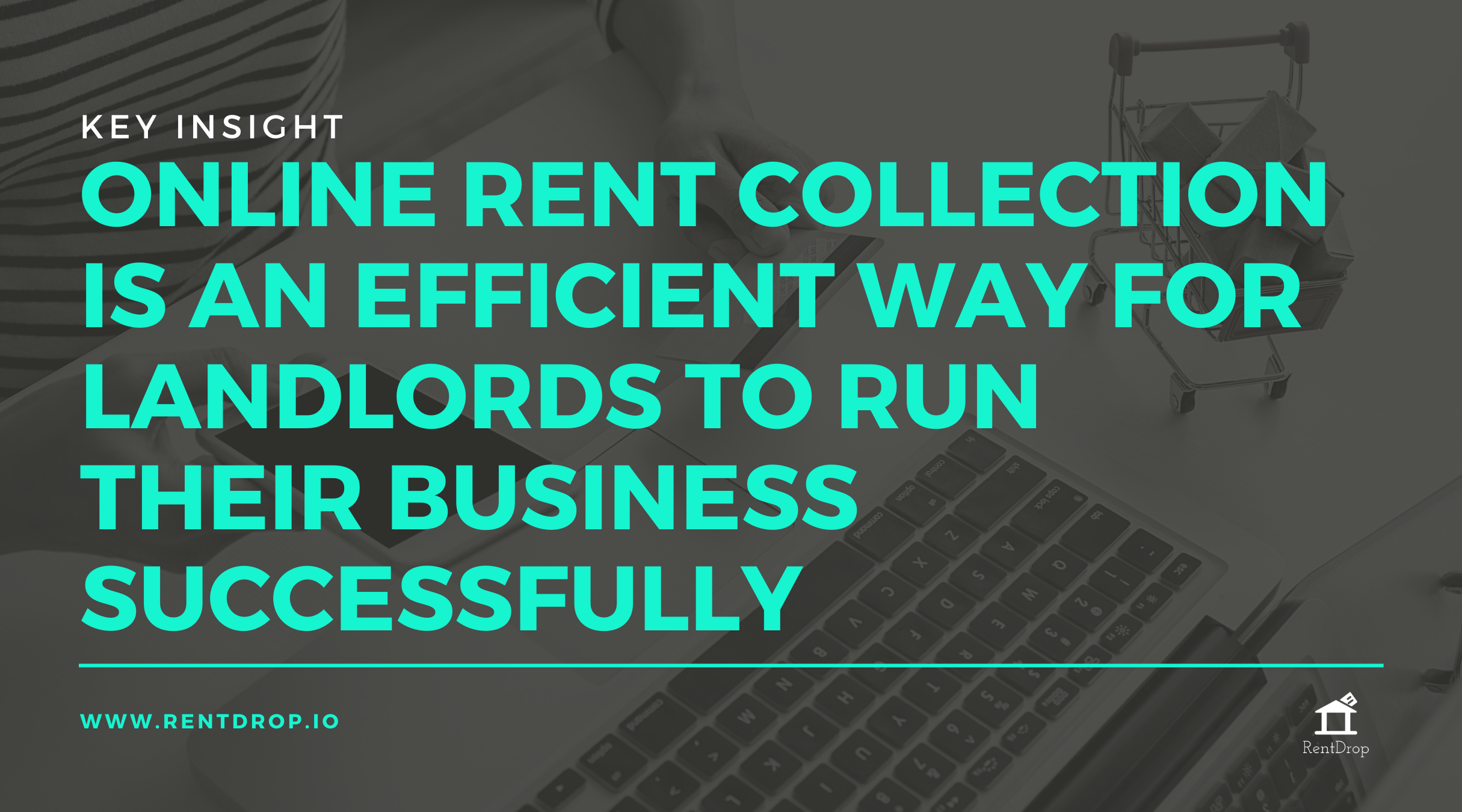 Using digital tools to collect rent usually means that you receive payments instantly. Running a successful rental business is all about cash flow. If you're collecting rent by paper checks, you know how frustrating it is to wait for rent checks to clear. Sometimes, you can expect to wait a week from when your tenant mails the check until it clears. So, the less time that you have to wait for checks to clear, the better. You also avoid the worry of waiting to see if checks clear or not.
8. Online rent collection is Better for Tenants
Most of your tenants already pay their bills online anyway; so, they'll thank you for arranging to collect rent using a mobile app or online. Most people—even ones from the older generation—are switching to online banking. Apart from making rent collection easier for your tenants, you show that your business moves with the times.
9. Online Rent Collection Helps Landlords Stay Organized
Using a highly-rated rent collection app is a great way to improve organization. Let's face it, as a landlord, you've already got so much to do in looking after your rental property. There is regular maintenance work, emergencies, filling vacant rental units, and managing tenants. If you have to process rent checks on top of that, you are just giving yourself more work.
Collecting rent payments online requires no effort from you or your tenants. Setting up automatic payment reminders, offering tenants online payment options, and cutting out paperwork maximizes effectiveness. You get more time to focus on managing rental properties and keeping tenants happy.
10. Streamline your Rental Property Business
As you can imagine, a digital rent payment system will streamline your business operations. Having the ability to set up automatic payments, payment reminders, and accept digital payments help to keep you on top of your rental business. Communication with tenants is much more manageable as more processes become automated.
Some online rent collection apps also include paid plans to make rental property management software more straightforward. For example, tenants can request maintenance repairs and communicate directly with you. Furthermore, tenant screening can be an in-app option to help boost rental application processing time.
11. Improve Landlord-Tenant Relationship
Online rent collection apps improve landlord-tenant relationships because they help avoid unpleasant confrontations. Apps to collect rent automatically send payment reminders and calculate late fees. Because this is an in-app process, you don't have to confront tenants who pay late.
Another benefit of collecting rent online is that there are fewer mistakes. For example, rent checks can get lost in the post. Collecting rent online eliminates cash methods of payments. And, you can easily track our tenants' payment history. All of these factors allow you to build positive relationships with tenants. In the end, tenants who can pay rent online are more likely to pay rent on time.
RentDrop Online Rent Collection
RentDrop is a fully automated for online rent collection method. The easy-to-use app lets you, as a responsible landlord, stay on top of your priorities to focus on your rental business. With RentDrop, you can collect rent online via credit cards, debit cards, or ACH direct deposit. Tenants can make one-time rent payments or set up automated payments to ensure they are never late.
Landlords can manage rent collection more efficiently with RentDrop because they have a complete overview of their tenants' payment status. This saves you time and helps you manage your rental properties more efficiently.